Published Date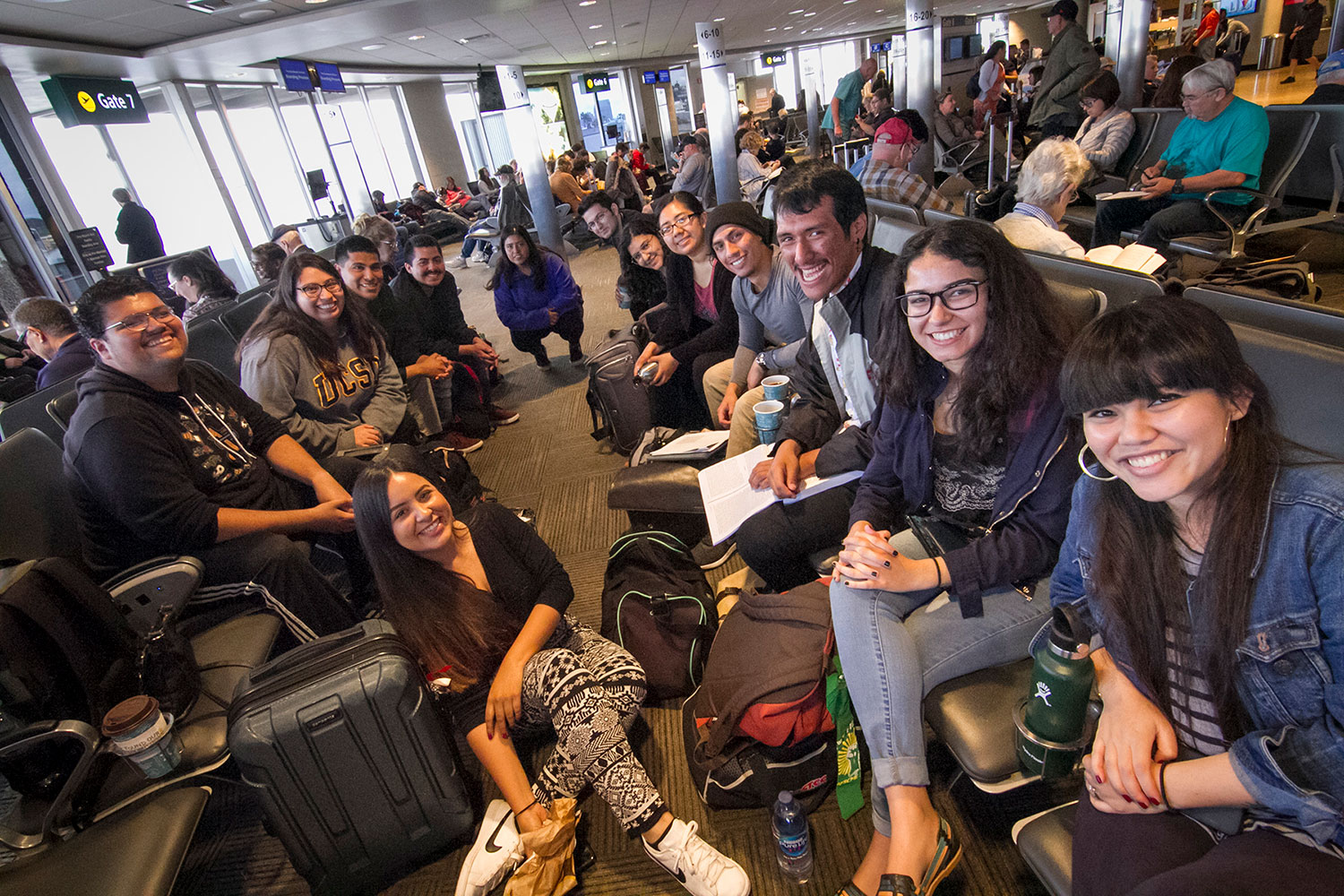 Students Bring Heart to Untold Stories
Raza Resource Centro's Research and Conference Program prepares students for graduate school and national conferences
Writing was never a passion for Leonel Pérez Hernández—until he realized he didn't want anyone else to tell his story. Born in Mexico and raised in Los Angeles, the UC San Diego senior has always held a desire to give back. For the past three years, he has been conducting independent research with the goal of bridging the gap between higher education and his community. Through involvement in the Raza Resource Centro's Research and Conference Program, he has gained access to mentorship and the opportunity to travel and present his ideas at national conferences.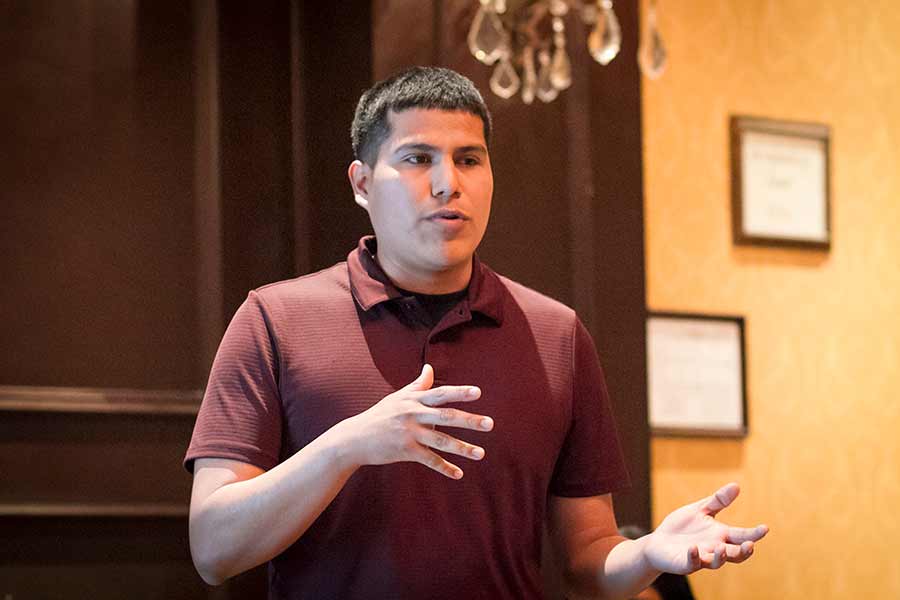 The goal of the program is to engage students in high impact learning opportunities that will help them recognize their potential for graduate school and build their confidence as a scholar. Beginning in the fall, students gather at the Raza Resource Centro's Writing Collective to brainstorm conference proposals and learn about how to construct a research abstract. The weekly sessions, held Fridays at lunchtime, serve as a friendly roundtable to discuss critical feedback, interrogate scientific methods and develop presentation skills.
"The feedback that I have received has been reaffirming—that my stories and ideas matter," said Pérez Hernández. "The basics of writing are important, but the biggest thing they did for me is center my position and push me to continue."
Pérez Hernández was one of 13 UC San Diego students who journeyed to Albuquerque, N.M. from April 3 to 6 to present original research at the National Association for Chicano and Chicana Studies Conference. This year, 100 percent of UC San Diego applicants who submitted abstracts were accepted into the competitive forum. That number has been steadily growing over the past five years—from just two students in 2014 to 11 undergraduate and two graduate students in 2019.
For each student, research projects are deeply personal and community-oriented. Belen Hernandez Garcia spent two months last summer interviewing local immigrant families affected by deportation. Before she began, she conversed with Raza Centro Director Gerardo Arellano about the purpose of research and what it can achieve. Rather than simply theoretical, Hernandez Garcia wanted to ensure that her work was action-oriented and created benefit for the populations she engaged.
"I wanted to do a research project that was intentional and that would highlight the voices of the immigrant community," said Hernandez Garcia. "It has been very empowering and it helps you believe that you are capable of doing this work in a graduate program or as a career."
Not only are students gaining valuable research and writing experience, they are developing leadership skills, expanding their academic networks and becoming more competitive for graduate school. Student research projects are conducted in addition to regular classwork and center around topics that reflect the passions of each.
Often, inspiration strikes as a collective. Senior Angeles Tellez recalled one Writing Collective meeting where nobody knew what they wanted to pursue, but everyone had something to contribute. "We all shared what we were interested in and each of us had a resource to give each other—one had attended a talk and offered to share notes, another had completed a class on a particular topic and could help with an outline."
According to Gerardo Arellano, director of the Raza Resource Centro, it is this critical engagement that is most beneficial. "It is important for us to hold a space within the Centro where we are cultivating our scholars to be competitive but also feel included and validated within academics. I'm excited to do this work, building on the talents of our scholars and creating an infrastructure to expand learning experiences outside of the classroom."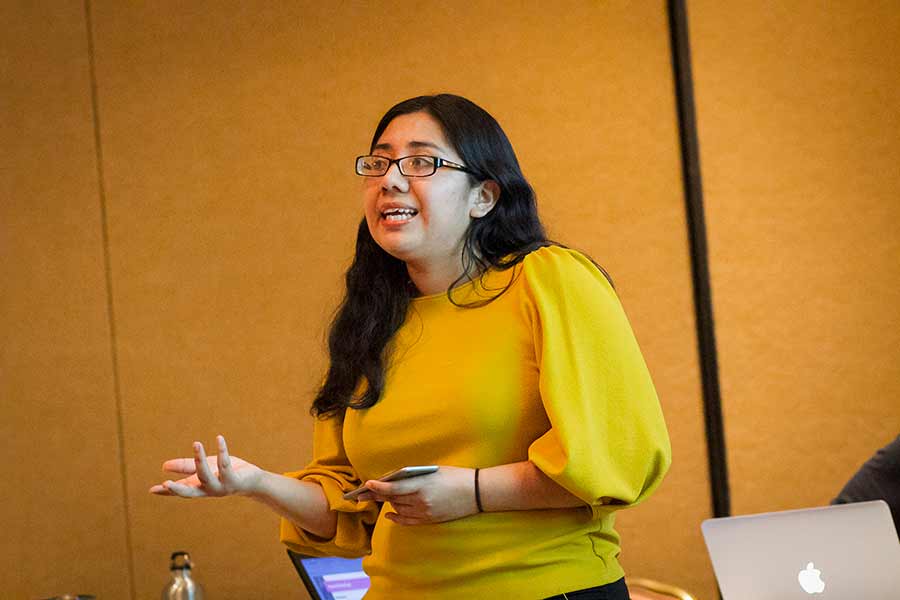 Tellez added that in addition to developing public speaking and time management skills, she also grew as a person, "What I've discovered is that school is much more than just learning; it's about what you do with those tools. And in this case, everything we have learned through research and at the conference, we are taking back to our communities."
Beyond being an academic preparation program, the Raza Research and Conference Program builds community among scholars—especially between undergraduate and graduate students. "Having these spaces allows us to be at the same level," explained Jessica Aguilar, a UC San Diego graduate student. "When you are in graduate school, there is a separation from undergraduate students, when there shouldn't be. I consider them to be my compañeros, my friends. Gerardo invites us all together at different events—it doesn't matter if you are about to finish your undergraduate degree or your Ph.D."
Programs for Latinx/Chicanx students at UC San Diego are expanding greatly to increase student access and success. Through the newly launched Latinx/Chicanx Academic Excellence Initiative, the campus is multiplying opportunities to build community and boost academic success through programs that affirm identity, celebrate culture and history and recognize diverse backgrounds—all of which contribute to a positive college experience.
The Raza Resource Centro, one of six campus community centers, is designed to be a space of belonging, where all students can find family. The Raza Centro invites students to partake in a multitude of high impact learning activities, engage in open dialogue and develop as leaders within a vibrant community. To learn more visit the Raza Resource Centro website.
Stay in the Know
Keep up with all the latest from UC San Diego. Subscribe to the newsletter today.