Swimming with 'Sickie'
As UC San Diego's Masters Swimming Program coach, Ronald "Sickie" Marcikic, celebrates 40 years on campus, an anonymous donor has established an inspiration challenge with a $1 million donation to honor the coach
Published Date
By:
Topics:
Share This:
Article Content
If you ask participants in the UC San Diego Masters Swimming Program, they will tell you, with a smile, that UC San Diego is home to a beloved local legend – by the name of Sickie.
Ronald "Sickie" Marcikic has coached the Masters Swimming at UC San Diego since 1983, recently celebrating 40 years training swimmers of all ages on campus. Some members of the program have swam with him since his first year at UC San Diego – or even before that time. Others recount multiple chance meetings on airplanes with strangers where the conversation moves to San Diego, then swimming, then inevitably, "Do you know Sickie?"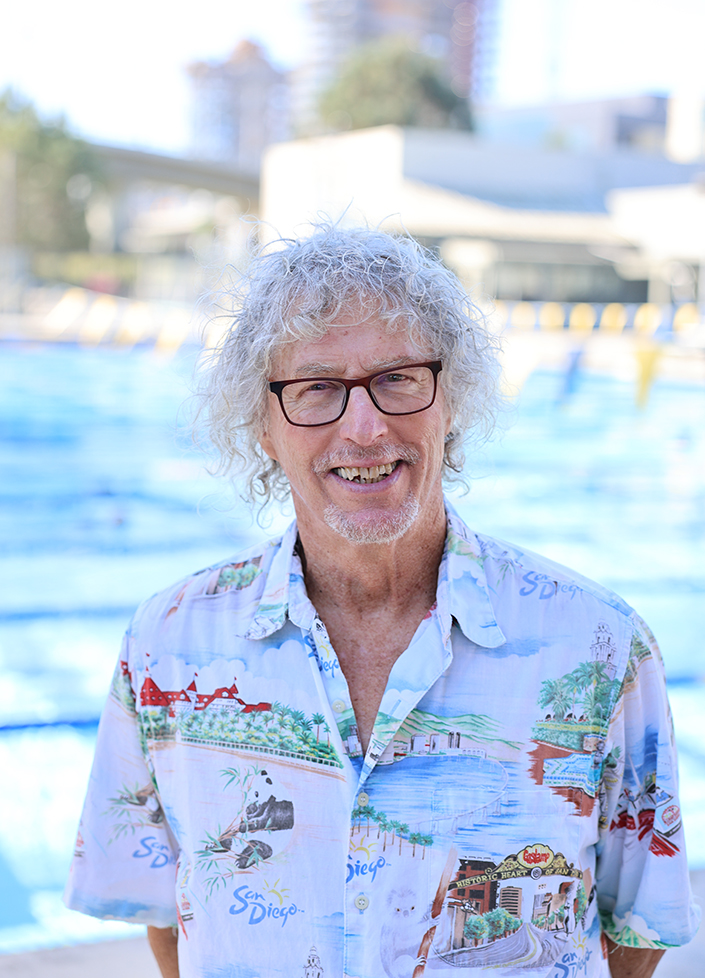 In recognition of Marcikic's efforts to build a program, which for four decades has brought the campus and San Diego community together at the UC San Diego Canyonview Aquatic Center, an anonymous donor has given $1 million to UC San Diego in his honor.
In addition to supporting access to swimming for those from all backgrounds, the gift establishes an inspirational challenge, with the goal of raising an additional $1 million to name the east pool at the Canyonview Aquatic Center after Marcikic. The challenge will run through Jan. 31, 2026.
The gift is designated to support the Recreation, Access, Inclusion, Swim Education (RAISE) fund at UC San Diego, which will fuel programs and initiatives focused on wellness, equity, diversity and inclusion in the UC San Diego Recreation department, including the Masters Swimming Program. The funds will support adult swim classes and water safety education programs that provide students the basic skills to learn to swim and become safe in the water, providing financial assistance for those who may lack the resources to pay for swim classes.
"We are so grateful for this gift to UC San Diego, which honors Sickie for his accomplishments over the years, and which will allow us to provide increased access to swim training for students, staff, faculty and community members," said Alysson Satterlund, vice chancellor of Student Affairs.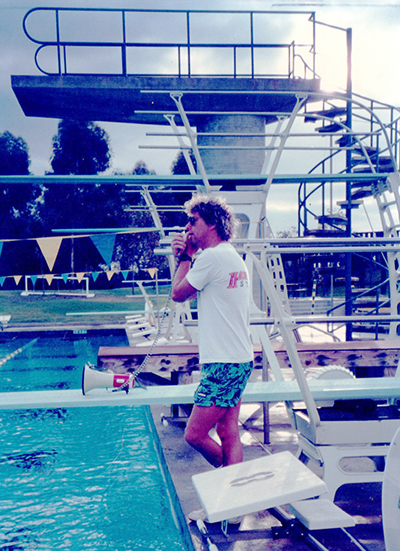 The donation will also support surf programs and experiences for students, staff and faculty to learn to surf, as well as supporting the Active Triton Initiative, Outback Adventures, Sports Clubs access and the Tritons Flourish initiative, which is a partnership between Recreation and Counseling and Psychological Services (CAPS) and Student Health and Well-Being to help students reach their full potential in all areas of their lives.
"Thanks to Sickie, UC San Diego is home to an inclusive, close-knit Masters Swimming Program that brings together members of the community of all ages and backgrounds in an environment that promotes health and well-being," said Rich Mylin, director of UC San Diego Recreation. "It is only fitting that we will be able to extend access to even more individuals in the campus and local communities thanks to this generous gift in his honor."
Coach Sickie
Marcikic did not start his career in swimming. After earning his bachelor's degree in business administration with a minor in marketing and advertising, his first job was at an ad agency in Hawaii, earning $20,000 per year in 1972.
"I lasted for two hours," recalled Marcikic. "My boss told me that people would kill for my job, that it was a good salary for someone just out of college, but I told him I was sorry – I just couldn't do it. I headed to the beach and got a job as a lifeguard and started coaching."
He later moved to San Diego, and with his passion for the water, found himself as the coach of the Masters Swimming Program at UC San Diego in 1983. He was offered the position for five years, "And now, 40 years later," he laughed, "I'm still here!"
Since then, he estimates that he has had about 10,000 swimmers go through the program, many who have been with him for decades.
"When I come to work, I get to see my friends every day and get to do what I love, working with swimmers and helping them feel better. And I get paid for it! This is what I was made to do," said Marcikic.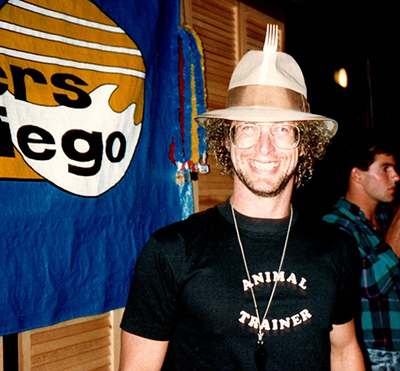 Over the years, a tight-knit community of swimmers and friends developed, with Marcikic leading the charge. The swimmers get together periodically at the La Jolla Cove for swims, including annual events like "Sickies of the Sea Cove-Pier-Cove Swim." But over the years, the cove swims evolved into something bigger.
"Many of us have been friends since we had no kids, and then we got married and had kids, so we'd have family gatherings at the beach with soccer games, someone would bring a boombox," said Sickie. "It was a party."
Nadine Padilla '85, joined UC San Diego Masters Swimming her junior year of college in 1983 and she has continued with the program to this day.
"I was a 'burned out' student and my doctor told me about the program," said Padilla. "Sickie's training brought all the physical benefits you would expect, but it has also helped me train for life. He takes a personal interest in his swimmers and offers support and friendship. His unique perspective has often helped me to broaden my thinking, be creative and try to inject fun into all areas of my life."
Dennis Roth has swam with Marcikic even longer. Roth followed him at three different pool locations before Marcikic landed at UC San Diego.
"If you ask why Coach Sickie should be honored, I have to say it is because of the community he has built. We are an ever-growing family who all share a passion for the sport of swimming – and it doesn't matter whether you swim in one of the faster lanes or the 'not faster lanes,'" said Roth. "Sickie brought us together and keeps us together. He is always there. Always happy. Never late."
The Masters Swimming Program takes dedication from its swimmers as well, with start times during the week at 6 a.m., 7:30 a.m. or 6 p.m., and 7:30 a.m. on Saturdays. But each day, rain or shine, the pool is always full of swimmers, ready for Marcikic's training.
"There's no better feeling than jumping into the pool with the community of amazing people that Sickie has brought together," said Padilla.
Roth agreed, "Every morning, I know I will be surrounded by the best friends a person can have. It's truly a happy place where the Coach knows everyone's name."
The inspirational challenge set up in honor of Marcikic will run through Jan. 31, 2026, with the goal of raising an additional $1 million to name the east pool at the Canyonview Aquatic Center in Marcikic's honor. To learn more or make a gift, please contact Tiffany Ayres at tayres@ucsd.edu.
To learn more about joining UC San Diego Masters Swimming, please visit recreation.ucsd.edu/competitive-sports/masters. As the program website points out, "It's not just a swim workout, it's a lifestyle every swimmer in the program believes in."

Topics:
Share This:
Stay in the Know
Keep up with all the latest from UC San Diego. Subscribe to the newsletter today.