Surf's Up in San Diego, Thanks to Alumni-led Startup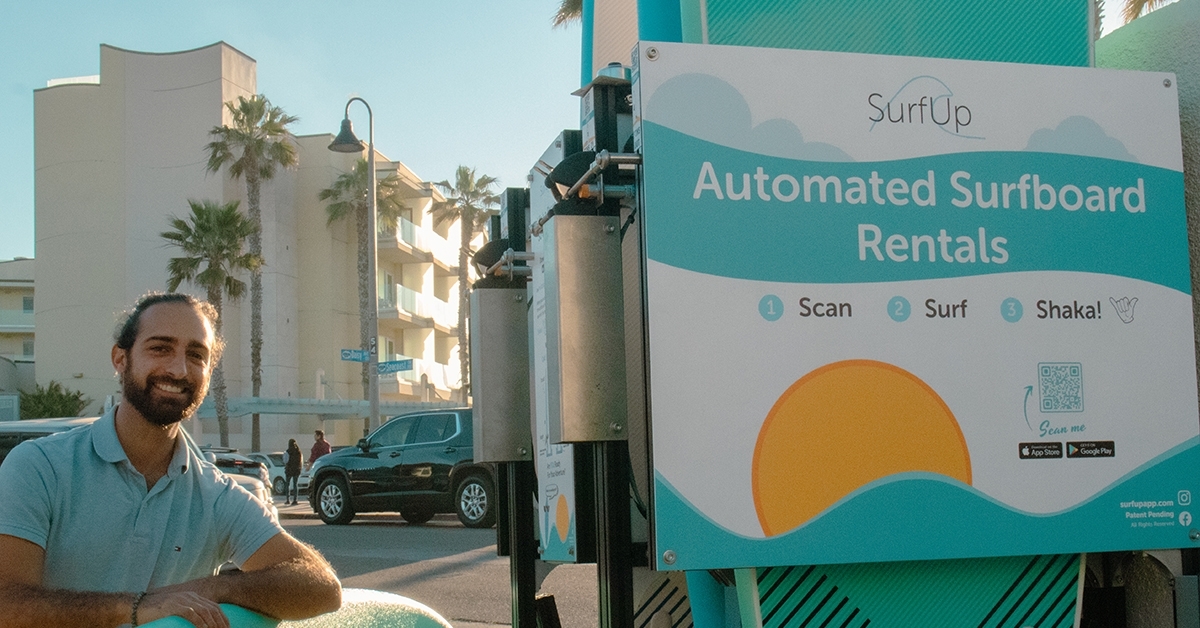 Published Date
By:
Share This:
Article Content
Surfing in San Diego just got a whole lot easier, thanks to a team of UC San Diego alumni bringing app-based, accessible board rental right where it's needed. The SurfUp App functions much like Bird scooters or Citi Bike— several boards are available in convenient locations along the coast, with a customer simply renting one for as long as needed with the app. The renter checks the board back into the surf rack when done—no rental car, surfboard car rack, or day or week-long rental needed.
"What we really aim to do with SurfUp is minimize the barriers to entry to make it more accessible and easier for somebody who wants to try out surfing," said Chris Hissom, SurfUp co-founder and CEO, who earned bachelor's degrees in physiology and neuroscience from UC San Diego, as well as his MBA from the campus' Rady School of Management.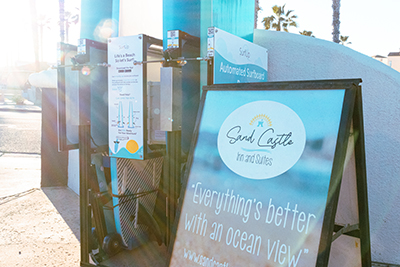 The startup currently has four racks actively renting out boards: three in Pacific Beach, and one in Imperial Beach, all just a short walk from the waves. For now, the concept is geared toward beginners—vacationers, or locals simply wanting to give it a go—with larger boards for newbies available in each quiver. Ultimately, Hissom envisions an expanded offering where even experienced surfers could rent a board to try out different sizes, shapes and makers for a session to find what they like. The concept will be expanded to paddle boards and other water-based activities as well.
Year-over-year, SurfUp has seen a 250 percent increase in rentals and sales, and a 100 percent increase in new accounts. Perhaps even more promising is that customers enjoy the experience enough to return; Hissom said that more than a fifth of customers return for a second rental session.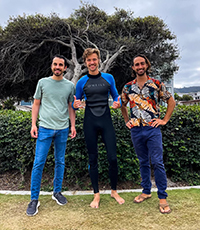 How does it work?
Mazen Abugharbieh, chief product officer at SurfUp, who earned a bachelor's degree in structural engineering from the Jacobs School of Engineering and his MBA from the Rady School of Management at UC San Diego, led much of the early hardware and software work. The team wanted to design a surfboard rack that would adequately secure the boards. But it also needed to not be fully enclosed like a locker, supporting the open look of an actual surfboard rack.
"We wanted the user experience, from downloading the app to actually renting a surfboard, to be seamless," Abugharbieh said. "So, we wanted to leverage some of the learned behaviors that people have learned from Uber and Citi Bike and a lot of these software services where they also interact with hardware."
After many prototypes for the secure surf rack—including design help from teams of mechanical and electrical engineering students in the Jacobs School of Engineering capstone senior design course—they settled on a design where the surfboard is locked into the rack while the board remains visible; a gate latch securing the surfboard opens when a user rents that particular board on the app and closes once the board has been returned. A patent on their design is pending.
Malcolm McSwain, a current computer science student at UC San Diego and full-stack developer for SurfUp, said getting the app to function seamlessly was also a challenge.
"One of our biggest technical hurdles was getting that initial link between the rental station and the app—that took months of R&D, trying different platforms and solutions," he said.
Since the rental stations aren't allowed to be physically on city beaches, the team got creative. After exploring their options, they partnered with several hotel chains including Diamond Head Inn, which agreed that having such a rental system near their beach-adjacent hotels would be a boon for their guests.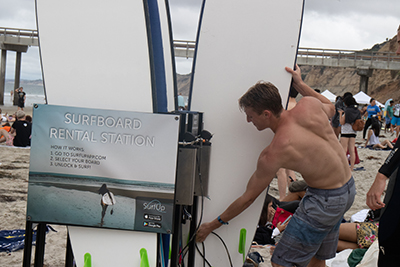 The origin story
The SurfUp concept first surfaced in the Rady School of Management Lab to Market capstone course in 2018, taught by lecturer Del Foit. Here, Hissom and Abugharbieh teamed up to identify an opportunity and create a business model. Hissom, a life-long surfer, had noticed that while the market had plenty of options that catered to him and other intermediate and advanced surfers, it's a highly fragmented market for beginners like his wife.
The students workshopped various business ideas in the beginning surfer space, and eventually settled on an app-based, surfboards as a service (SaaS) platform.
The SurfUp team first tested their concept at UC San Diego's annual Meet the Beach event for incoming students, where they proved that the concept worked. In the intervening years, they've upgraded from cardboard signs to wooden frames to the metallic surf rack system they have deployed now.
The validation testing, feasibility studies and go-to-market strategies that Hissom and Abugharbieh learned about in the Rady MBA program were crucial to SurfUp's success, as were the StartR incubator and StartRImpact incubator. The engineering and computer science skills Abugharbieh and McSwain learned through their Jacobs School of Engineering education was also key to a fully functioning system, as was the prototyping help of teams of mechanical and electrical engineering students in their capstone senior design courses. All in all, UC San Diego has been at the center of SurfUp since the beginning, providing the alums the opportunities to collaborate across schools to merge their science and business interests. The team has bold visions to take the startup to the next level.
"We'd like to expand up through the Los Angeles region, Hawaii, Australia, and other places where the waves attract tourism, but we don't want to stop there," Hissom said. "We also have a patent pending for paddle board stations to hit the best stand up paddle (SUP) spots in the world. That means we can be by the beaches, bays, and lakes. We're excited to make board rental more accessible to a lot more people."
Stay in the Know
Keep up with all the latest from UC San Diego. Subscribe to the newsletter today.