Suraj Israni Center for Cinematic Arts Established in Memory of Promising Film Student
Israni family commits $6 million to help create new center in the Division of Arts and Humanities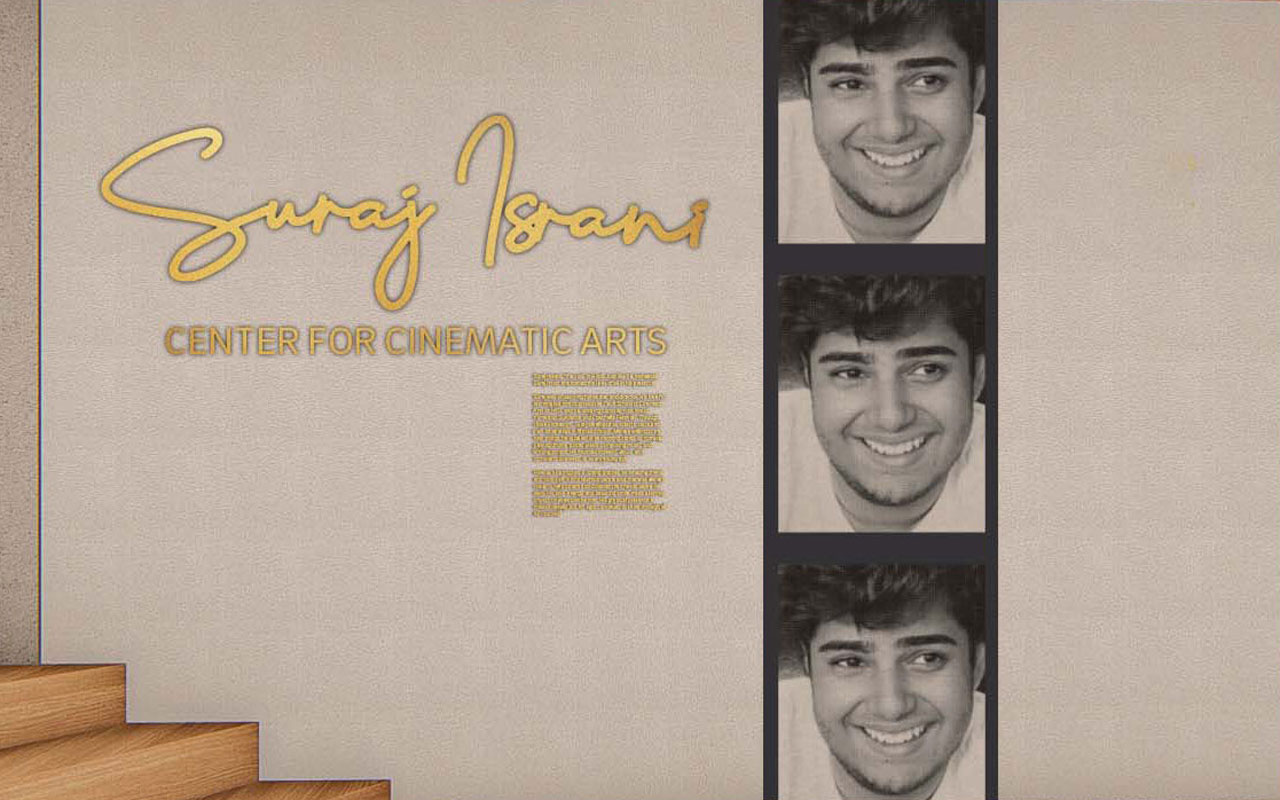 By:
Anthony King

Stacy Marshall
Media Contact:
Published Date
Article Content
An aspiring filmmaker, Suraj Israni understood the way film has the capacity to inspire social change. While attending school in New York City, he would encourage his family at home in San Diego to watch independent movies and documentaries, sharing with them the films that moved him the most.
After his passing, his family is ensuring their son's legacy will be carried forward with an endowment commitment that will establish a new center at the University of California San Diego committed to promoting, advancing and advocating for film, filmmaking and the cinematic arts. The gift contributes to The Campaign for UC San Diego, the university's comprehensive fundraising campaign concluding June 30, 2022.
In recognition of the generous gift from Deepak and Varsha Israni, UC San Diego is proud to establish the Suraj Israni Center for Cinematic Arts within the Division of Arts and Humanities, the university's hub for creative and academic advancement in culture, music, theater, film and the arts.
"Deepak and Varsha Israni have a deep commitment to providing access and opportunity for current UC San Diego students to pursue their passion in film," said UC San Diego Chancellor Pradeep K. Khosla. "Establishing the Suraj Israni Center for Cinematic Arts will continue to elevate UC San Diego as the premiere destination in California for interdisciplinary, rigorous engagement with the arts and artists."
In Hindi, "suraj" means "the sun" and just like his namesake, Suraj brightened the lives of all in his presence, the Israni family said. "His love, energy and beautiful smile made a lasting impact on everyone he met," they said. "His physical presence is missed deeply, but his light continues to shine through all he touched."
Suraj Israni's passion for film writing and directing led him to enroll in the Tisch School of the Arts at New York University, and he became dedicated to following and attending multiple film festivals, including Sundance. He developed an eclectic taste and deep knowledge of both film and music, and was always learning new skills: he excelled in stand-up comedy, composing music, playing multiple instruments and writing scripts.
The Isranis said their son was extremely passionate about all aspects of filmmaking, and through his passion they developed an appreciation for and growing understanding of the impact and potential of film. In particular, he introduced them to the great benefit festivals have for young filmmakers and professionals, and the Isranis want to provide opportunity and access to students who share similar interests as Suraj.
"Suraj showed us that while being great story-telling medium, films educate and inspire change in individuals and society at large," they said. "He shared movies with us that impacted social change, and reflected his own compassionate beliefs."
Film festivals and symposiums, student scholarships and apprenticeships, and other student-centered activities — including film competitions and awards, and even travel in support of academic work — will all be developed under the new center. The central location for nearly all public programming will be in the North Torrey Pines Living and Learning Neighborhood.
The Israni's commitment also establishes the Suraj Israni Chancellor's Endowed Chair in Cinematic Arts to support the teaching, research and service of a distinguished faculty member focused on cinematic arts in the Division of Arts and Humanities.
UC San Diego and the Division of Arts and Humanities in particular is uniquely positioned to establish the Suraj Israni Center for Cinematic Arts, and the new center will elevate the university's role as a leader in innovative, interdisciplinary collaboration in a global perspective. From film scholars specializing in the history of Asian, American and European film, to practitioners in sound design, composition, writing and acting, the new center will engage across boundaries to combine research, learning and doing, all focused on the cinematic arts.
The Suraj Israni Center will help map the future of the cinematic arts at UC San Diego as a space that combines learning and doing, creativity and business, storytelling and social engagement, and cross-media innovation. Highlighting the strengths already established in the Division of Arts and Humanities — the university's minor in film studies recently moved from Thurgood Marshall College to the division's Institute of Arts and Humanities, and a committee is being organized to discuss a proposal for a major in cinematic arts — the new center will be the nexus where rich conversations take place to spur creative excellence and innovation.
"As the cinematic arts in the UC San Diego Division of Arts and Humanities moves into a new phase of preparing the next generation of creative leaders, the Israni name will become deeply familiar to students and recognized among the global cinematic arts community," said Cristina Della Coletta, dean of the Division of Arts and Humanities and an Italian film scholar. "We are grateful to Deepak and Varsha Israni for their commitment to supporting our current and future students, all with the drive to understand and create film for the common good."
The Isranis said they are privileged and honored to be a part of the new center at UC San Diego, a world-class public institution. They specifically hope local students who aspire to careers in film will find the same opportunities here that are offered at private institutions around the world.
"We hope to see Suraj's kind-heartedness and helpful nature live through students who benefit from this center. Our vision is to see his dreams and aspirations come to life via the artistic work produced by students," Deepak and Varsha Israni said. "Suraj's passion will live on through the success of the Suraj Israni Center for Cinematic Arts."
Stay in the Know
Keep up with all the latest from UC San Diego. Subscribe to the newsletter today.