Study: Immunotherapy Better than Chemotherapy for Subtype of Head and Neck Cancer
Randomized clinical trial shows pembrolizumab is more effective, safer than standard therapy for disease that progresses or recurs
Published Date
Article Content
A randomized clinical trial involving 97 medical centers in 20 countries, including Moores Cancer Center at UC San Diego Health, found that treating patients who have chemotherapy-resistant head and neck cancer with the immunotherapy drug pembrolizumab is more effective and less toxic than standard chemotherapy, reports an international team of researchers in the November 30 online issue of The Lancet.
Previous research had shown that pembrolizumab (Keytruda) was safe and effective for treating patients with recurrent or metastatic head and neck squamous cell carcinoma whose disease had progressed while on or after receiving standard chemotherapy. Data from this clinical trial called KEYNOTE-040, a phase III study sponsored by Merck & Co., the manufacturer of the drug, takes the research a step further by comparing the immunotherapy drug head-to-head to three go-to chemotherapy drugs currently used as standard treatment: methotrexate, docetaxel and cetuximab.
"We compared pembrolizumab against standard of care to see if it fulfilled the promise of early data for patients who are unlikely to do well on standard therapy," said Ezra Cohen, MD, professor of medicine at University of California San Diego School of Medicine and corresponding author on the study.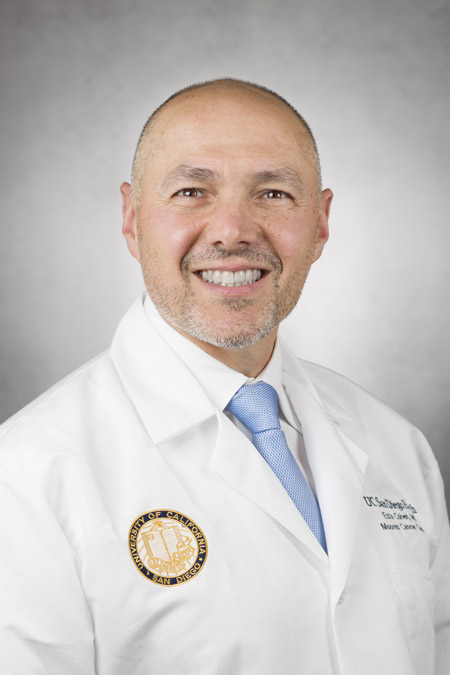 "In this trial, patients who received pembrolizumab alone had a higher response rate compared to those receiving standard chemotherapy while those responses lasted, on average, one-and-a-half years. Furthermore, the median survival at one year was markedly better. I feel it is safe to say that these types of therapies should be the new standard therapy for people with cancer that recurs and is resistant to therapy."
Pembrolizumab is an antibody that inhibits the abnormal interaction between the molecule PD-1 on immune cells and the molecule PD-L1 on tumor cells, allowing the immune cells to activate and attack tumors. Similar results were recently published for another anti-PD-1 drug, nivolumab (Opdivo). Both drugs should be considered by treating physicians for patients with this disease, said Cohen.
The study also pointed to potential biomarkers that can guide oncologists to determine which patients are most likely to respond to these anti-PD-1 drugs.
"It's fairly clear that patients whose tumors express PD-L1 are most likely to benefit from this type of immunotherapy drug," said Cohen, associate director for translational science at Moores Cancer Center and an internationally recognized physician-scientist who specializes in novel cancer therapies. "In this trial, overall survival was driven by PD-L1 expression. Only patients whose tumors expressed PD-L1 had a response to pembrolizumab and those responses tended to be durable."
Over a 17-month period, 247 patients were randomized to receive pembrolizumab and 248 patients were randomly selected by their physicians to receive one of the three standard therapies. The median overall survival for patients receiving immunotherapy was 8.4 months and 6.9 months for patients treated with standard care. Patients received treatment until their cancer progressed, they developed unacceptable toxicity, they withdrew or their physician removed them.
The median duration of response was 18.4 months in the pembrolizumab group, compared with five months in the standard therapy group.
Twelve months after initiating the trial, 37 percent of patients receiving pembrolizumab were alive compared to 26.5 percent of patients on standard therapy.
Co-authors include: Denis Soulières, Centre Hospitalier de l'Université de Montréal; Christophe Le Tourneau, Institut Curie, INSERM U900 Research Unit, Versailles-Saint-Quentinen-Yvelines University; José Dinis, Instituto Português de Oncologia do Porto Francisco Gentil; Lisa Licitra, Fondazione IRCCS Istituto Nazionale dei Tumori; Myung-Ju Ahn, Samsung Medical Centre; Ainara Soria, Hospital Universitario Ramón y Cajal; Jean-Pascal Machiels, Cliniques Universitaires Saint-Luc, Université Catholique de Louvain; Nicolas Mach, Hôpitaux Universitaires de Genève; Ranee Mehra, Fox Chase Cancer Center; Barbara Burtness, Yale University School of Medicine and Yale Cancer Center; Pingye Zhang, Jonathan Cheng, Ramona F Swaby, Merck & Co; and Kevin J Harrington, The Institute of Cancer Research, The Royal Marsden NHS Foundation Trust, National Institute of Health Research Biomedical Research Centre.
This research was funded by Merck Sharp & Dohme, a subsidiary of Merck & Co. The funder contributed to study design, data collection, data analysis, data interpretation, and the writing of The Lancet paper. The funder maintained the study database. All authors had full access to all the data in the study and had final responsibility for the decision to submit for publication.
Disclosure: Cohen reports grant support to the institution from Merck Sharp & Dohme for clinical research related to the submitted work and serving an advisory role for AstraZeneca, Bristol-Myers Squibb, Eisai, Merck, Human Longevity and Pfizer, all outside the submitted work.
Stay in the Know
Keep up with all the latest from UC San Diego. Subscribe to the newsletter today.