Students for a Democratic Society Founder Tom Hayden to Speak on Activism at UC San Diego
Published Date
Article Content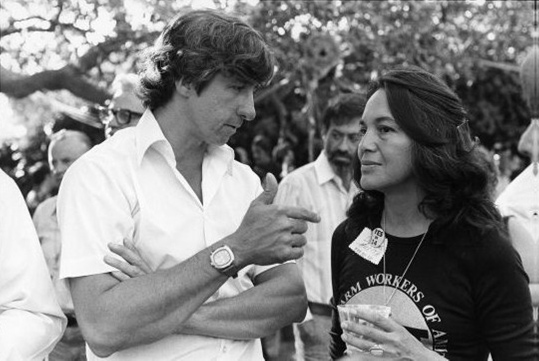 Tom Hayden with Dolores Huerta in 1977
Tom Hayden – activist, founder of Students for a Democratic Society (SDS) and former Calif. state Senator and Assemblyman – will deliver a talk titled "Student Movements: Then and Now" at 6 p.m., Nov. 5 at the Robinson Auditorium on the campus of the University of California, San Diego. The event, free and open to the public, is sponsored by the Chicano/a~Latino/a Arts and Humanities (CLAH) minor, Thurgood Marshall College, the Department of Political Science and the Department of literature.
"The election of Barack Obama in 2008 turned largely on the participation of young people," said Jorge Mariscal, UC San Diego professor of Chicano studies. "In 2012, the ebbs and flows of student activism continue and the day after Hayden's talk students will help elect the next President."
Hayden served as president of SDS from 1962 to 1963 and was a student at the University of Michigan when he drafted his most famous work, the Port Huron Statement. The statement reflected the dissatisfaction and disillusionment many young people were feeling in the 1960s, and determined that race and alienation were the two major issues plaguing the nation.
Mariscal added, "Although the issues today are not as dramatic as they were in the late 1960s –ending legal segregation and the U.S. war in Southeast Asia ­– student organizers today are driving movements for marriage equality, access to higher education and rethinking the social compact. Tom Hayden, who has been a leader for progressive causes for the last 50 years, has much to teach today's young generation."
In 1976, Hayden created the Campaign for Economic Democracy that promoted solar energy, environmental protection and renters' rights policies. He has served in the Calif. State Assembly (1982-1992) and the State Senate (1992-2000). In 2006, he drafted and lobbied successfully for Los Angeles and San Francisco ordinances to end all taxpayer subsidies for domestic sweatshops.
Hayden is the author or editor of seventeen books, including "Rebel: A Personal History of the 1960s" and "The Lost Gospel of the Earth."
Hayden has taught at UC Los Angeles, Pitzer College, Occidental College and Harvard's Institute of Politics. He regularly speaks at college campuses and is still engaged in activism on a number of issues.
Stay in the Know
Keep up with all the latest from UC San Diego. Subscribe to the newsletter today.