Students Integrating Engineering in Medicine Honored as Siebel Scholars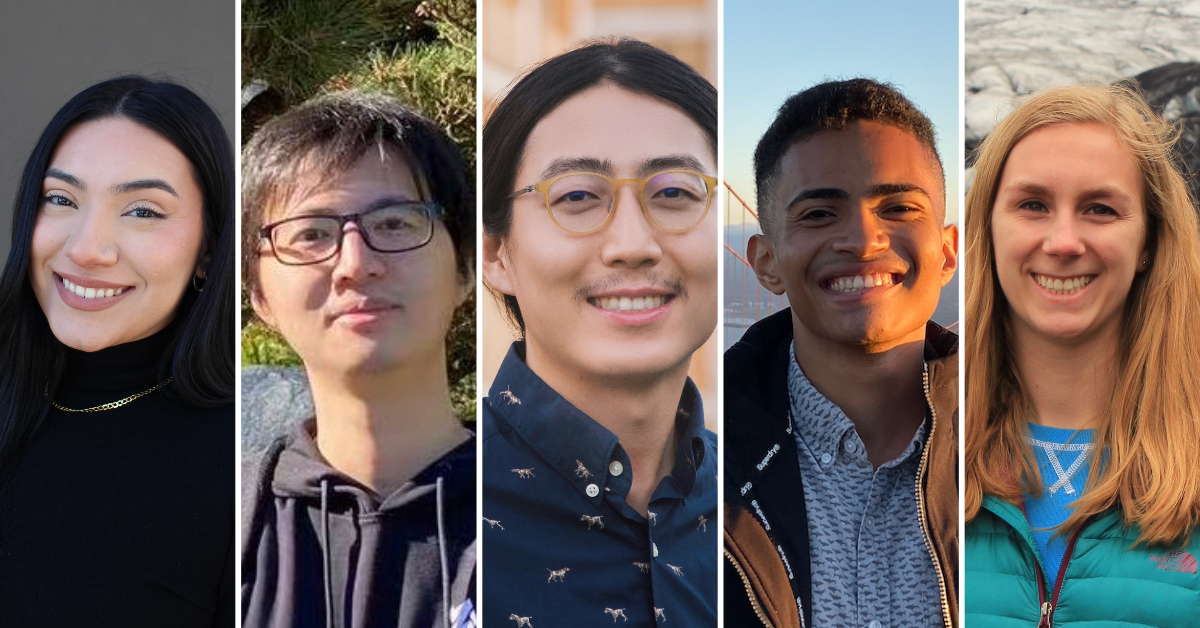 Published Date
By:
Share This:
Article Content
Five UC San Diego graduate students working at the intersection of engineering and medicine have been selected as 2024 Siebel Scholars. The Siebel Scholars program recognizes the most talented students in the world's leading graduate schools of business, computer science, bioengineering and energy science. The students are selected based on outstanding academic performance and leadership, and each receive a $35,000 award toward their final year of study.
These UC San Diego Siebel Scholars are developing nanovaccines that can capture toxins on cell membrane-coated nanoparticles; designing tools to better image the brain; evaluating the efficacy of biomaterials to treat heart disease; creating genomic imaging technologies; and studying the use of engineered materials to develop mature heart cells in the lab.
The Siebel Scholars are all part of the Institute of Engineering in Medicine, which brings together researchers from UC San Diego's Schools of Medicine, Skaggs School of Pharmacy, and the Jacobs School of Engineering to translate creative ideas into clinical medicine and novel products that will transform patient care and well-being.
The 2024 UC San Diego Siebel Scholars are: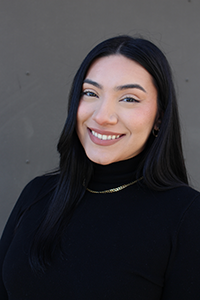 Gisselle Gonzalez: Gonzalez is a bioengineering PhD candidate in the lab of Professor Adam Engler. She studies the use of engineered conductive polymer matrices for stem cell-derived cardiomyocyte maturation as a National Science Foundation and San Diego Predoctoral Fellow. Gonzalez remains involved in her community by advocating for early access to STEM for underrepresented minority students through events geared towards exposing middle and high school students to STEM activities. Additionally, she has mentored multiple underrepresented minority students to become proficient lab researchers and continues to offer mentorship and guidance as they pursue STEM studies and careers. After graduate school, her goal is to continue the advancement of disease modeling while maintaining her efforts to increase access to STEM. She received her bachelor's degree in biomedical engineering from the University of Arizona, where her research efforts focused on developing extracellular matrix structures for wound healing and biological models.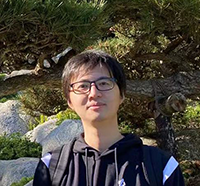 Zhongyuan Guo: Guo is a PhD candidate in NanoEngineering advised by Professor Liangfang Zhang. His research focuses on two main areas: biomimetic nanocarriers, including modified lipid nanoparticles for cytosolic delivery of nucleic acids and long-circulating nanoparticles; and development of nanovaccines by capturing toxins as multivalent antigens onto cell membrane-coated nanoparticles, whose protection efficacy can be further enhanced after encapsulation into the immunostimulatory hydrogel. He has made valuable contributions to the field, with 15 scientific papers published. He actively participates in the graduate society, serving as the president of the Graduate Society of NanoEngineers at UC San Diego and as a graduate member of the Academic Integrity Review Board. He is also a dedicated mentor to undergraduate students in the lab, fostering their scientific curiosity and empowering them to design and conduct independent experiments.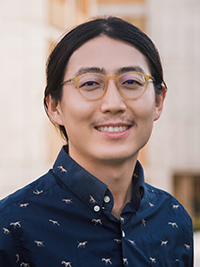 Bojing Blair Jia: Jia is an MD-PhD candidate in the bioinformatics and systems biology program at UC San Diego advised by Professor Bing Ren. Jia received his bachelor's degree in quantitative biology from McGill University, where he won the Reginald Fessenden Prize for an innovative "cytoindentor" he built to study cellular force perception. At UC San Diego, Jia develops new imaging technologies to resolve genomic sequences directly within single-cells of complex tissues. His thesis introduces the "spatial genome aligner," a new algorithm that aligns noisy genomic imaging signals to a polymer physics model of DNA, mapping 3D chromatin architectures. His algorithm solves a longstanding challenge in genome imaging, leading the first 3D reconstruction of sister chromatids in interphase, unlocking their structure beyond their well-known "X-shape" in metaphase. Jia contributes to the UC San Diego Medical Scientist Training Program's Disability and Chronic Illness group and also organizes a weekly genomics seminar series. As an MD-PhD student with a disability, he aspires to be a physician-scientist with a focus on patient advocacy.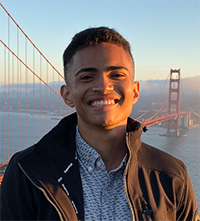 Josh Mesfin: Mesfin is a PhD candidate in the Department of Bioengineering at UC San Diego, advised by Professor Karen Christman. Mesfin's research involves evaluating the mechanism and efficacy of natural and synthetic biomaterials for myocardial infarction treatment. In addition to being a Siebel Scholar, he was also named a Sloan Scholar, ARCS Scholar, and GEM Associate Fellow, and received the NHLBI T32 Training Grant and an American Heart Association predoctoral fellowship. Outside of research, Mesfin has advocated for other underrepresented minorities wanting to pursue STEM research, through mentorship, editing graduate applications, and championing underrepresented minority students for graduate admission to UC San Diego. He has been involved in the Bioengineering Graduate Society since 2019, where he has advocated for other graduate students and acted as a liaison between the faculty and graduate students. Mesfin's goal is to continue pursuing STEM advocacy and literacy, alongside championing URMs to succeed in STEM. He received his bachelor's degree in biological engineering from MIT.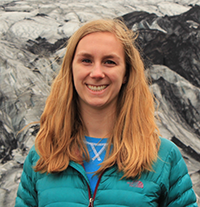 Madison Wilson: Wilson is a PhD student in electrical engineering Professor Duygu Kuzum's Neuroelectronics Lab at UC San Diego. Her research lies at the intersection of electrical engineering and neuroscience, working to develop 3-dimensional, transparent electrode arrays to study cortical organoids. In addition to developing tools to study the brain, Wilson is the president of the Electrical and Computer Engineering Graduate Student Council, whose mission is to foster community among the roughly 1000 ECE students and provide them with social, professional, and outreach opportunities. She also enjoys mentoring graduate and high school students and is co-creator of Escribamos Ciencia, an outreach program teaching scientific English reading and writing skills through interactive video modules to bilingual middle school students in Baja California, Mexico. In what little spare time remains, she enjoys crafting, surfing, rock climbing, and planning parties for friends, which feeds into her goal to someday coordinate a national academic conference.
Stay in the Know
Keep up with all the latest from UC San Diego. Subscribe to the newsletter today.