Students, Faculty and Staff Assemble Do-It-Yourself Air Filtration Boxes that Fight COVID-19 Spread
Filters will be used in campus classrooms, lecture halls and labs throughout campus, and donated to The Preuss School UC San Diego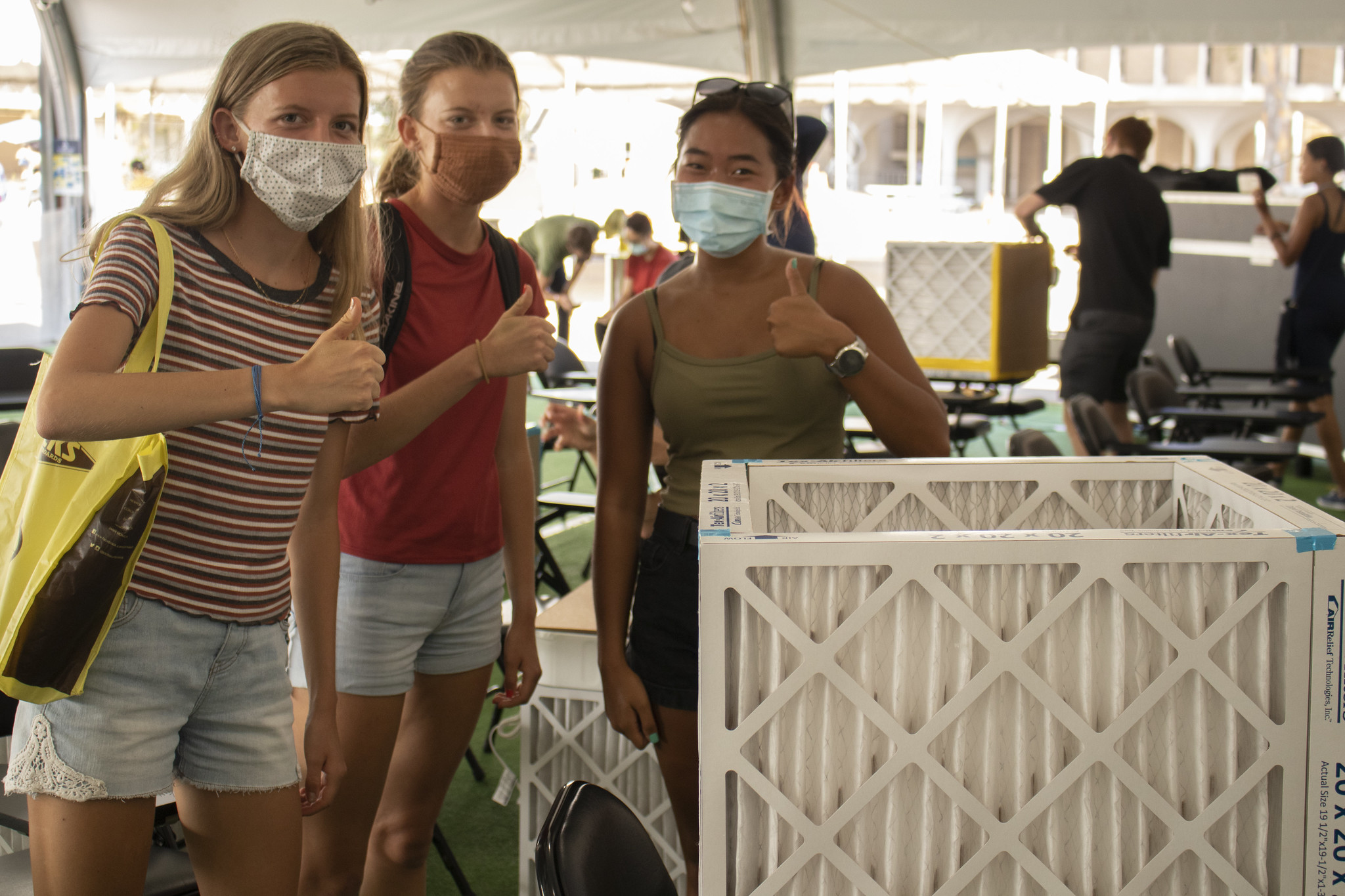 Published Date
Article Content
Throughout the pandemic, UC San Diego has led with science, using the campus as a living laboratory and collaborating with experts to find solutions and put best practices in place. Our award-winning Return to Learn plan applies multiple layers of defense—masking, daily symptom and exposure screening, testing and vaccination—and has highlighted the importance of air filtration in academic and research settings.
Last week, as students returned to in-person classes, dozens of UC San Diego students, faculty and staff gathered on campus in one of the outdoor classrooms to build 250 do-it-yourself air filters to support our Return to Learn program. The filters will be used in various campus classrooms, lecture halls and labs throughout campus, and also donated to The Preuss School UC San Diego.
The undergraduate and graduate students gathered to assemble the air filters noted the value to the campus. Nikki Mercer, a graduate student studying Biology said, "Cleaner air benefits the university and its students, so I wanted to play my part in keeping our health predicament in check." Ellie Peterson, an undergraduate student studying Biochemistry, also appreciated the initiative, "It's a great opportunity to improve our general situation. I am excited to be back on campus attending in-person classes."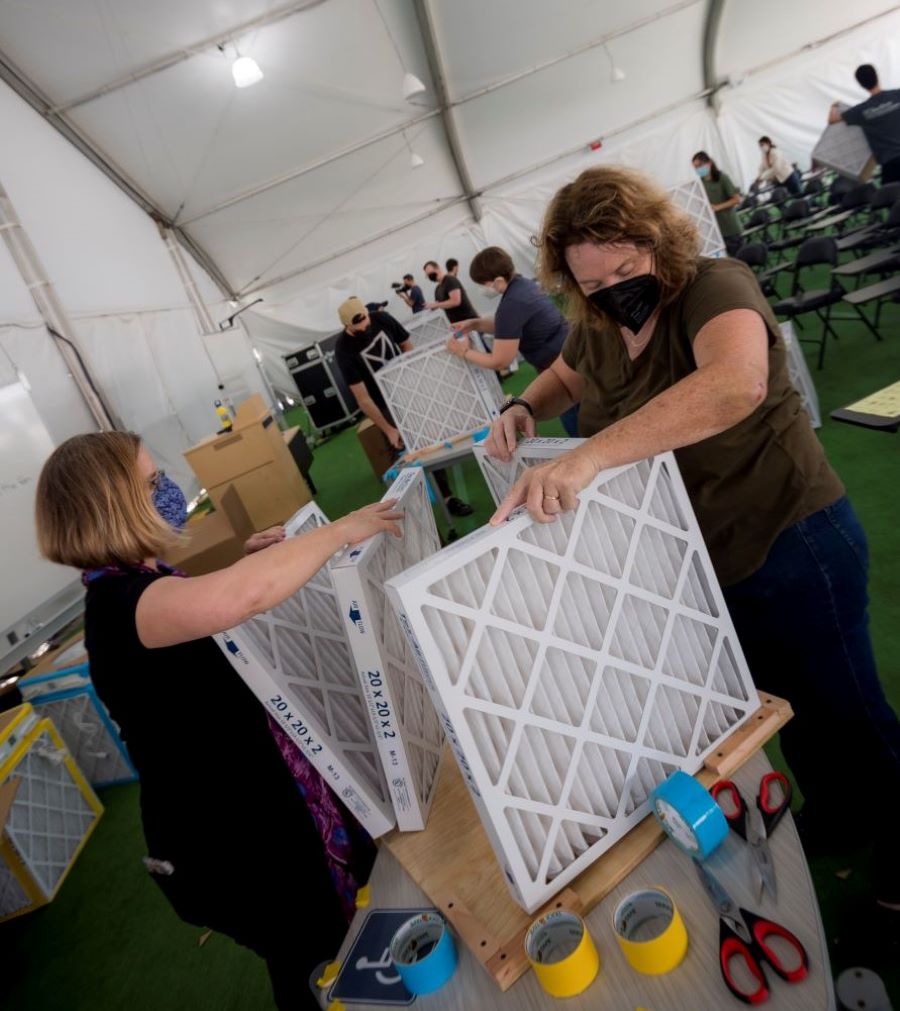 The effort was spearheaded by atmospheric chemist Kimberly Prather, who has become a national expert on aerosol transmission of SARS-CoV-2. Prather, who is a distinguished professor at Scripps Institution of Oceanography and the Department of Chemistry and Biochemistry, has spent the past year focused on communicating the latest scientific evidence about the major role of aerosol transmission in silently spreading the SARS-CoV-2 virus.
"Once it is acknowledged the virus travels in the air, it becomes a very fixable problem. We need to focus on cleaning the air through multiple layers of protection," said Prather. "These air filters add one more layer the university is implementing to protect our campus community."
A team from several campus departments—Academic Affairs, Biological Sciences, Business & Financial Services, Halıcıoğlu Data Science Institute, Resource Management & Planning, Scripps Institution of Oceanography and Student Affairs—learned about the innovative filters and created a cross-campus action plan to put them in use.
Division of Biological Sciences Dean Kit Pogliano said of the event, "This event and the boxes will raise awareness of the importance of indoor air quality. Masks, open windows and air filters can dramatically reduce the transmission of this disease, and these simple air filters also remove harmful pollutants, including wildfire smoke, from indoor air."
The air filter, named the Corsi-Rosenthal Box, is low-cost, easy to assemble and effective. It was first created when Richard Corsi, Dean of the Engineering School at UC Davis, suggested the idea on Twitter, and Jim Rosenthal, owner of Tex-Air Filters, built the first box in response. The materials—a box fan, 4 or 5 MERV-13 filters and duct tape—cost somewhere between $70 and $120, and the box is designed to last six months.
The air filters supplement the existing efforts UC San Diego has in place to monitor the air quality and keep the campus as safe as possible. With the understanding of how the virus is spread through aerosols, UC San Diego regularly monitors air quality in campus buildings, assessing air volume and adjusting the airflow. "This is something we have done in our labs for years, but this is technology that we took out of the labs and applied to general buildings," said Gary Matthews, Vice Chancellor of Resource Management & Planning. "We updated HVAC system filters to mirror what is used in a hospital, and now use outside fresh air to flush the buildings around the clock."
Stay in the Know
Keep up with all the latest from UC San Diego. Subscribe to the newsletter today.