Student Startup 'Limber' Makes 3D-Printed Prostheses Affordable and Accessible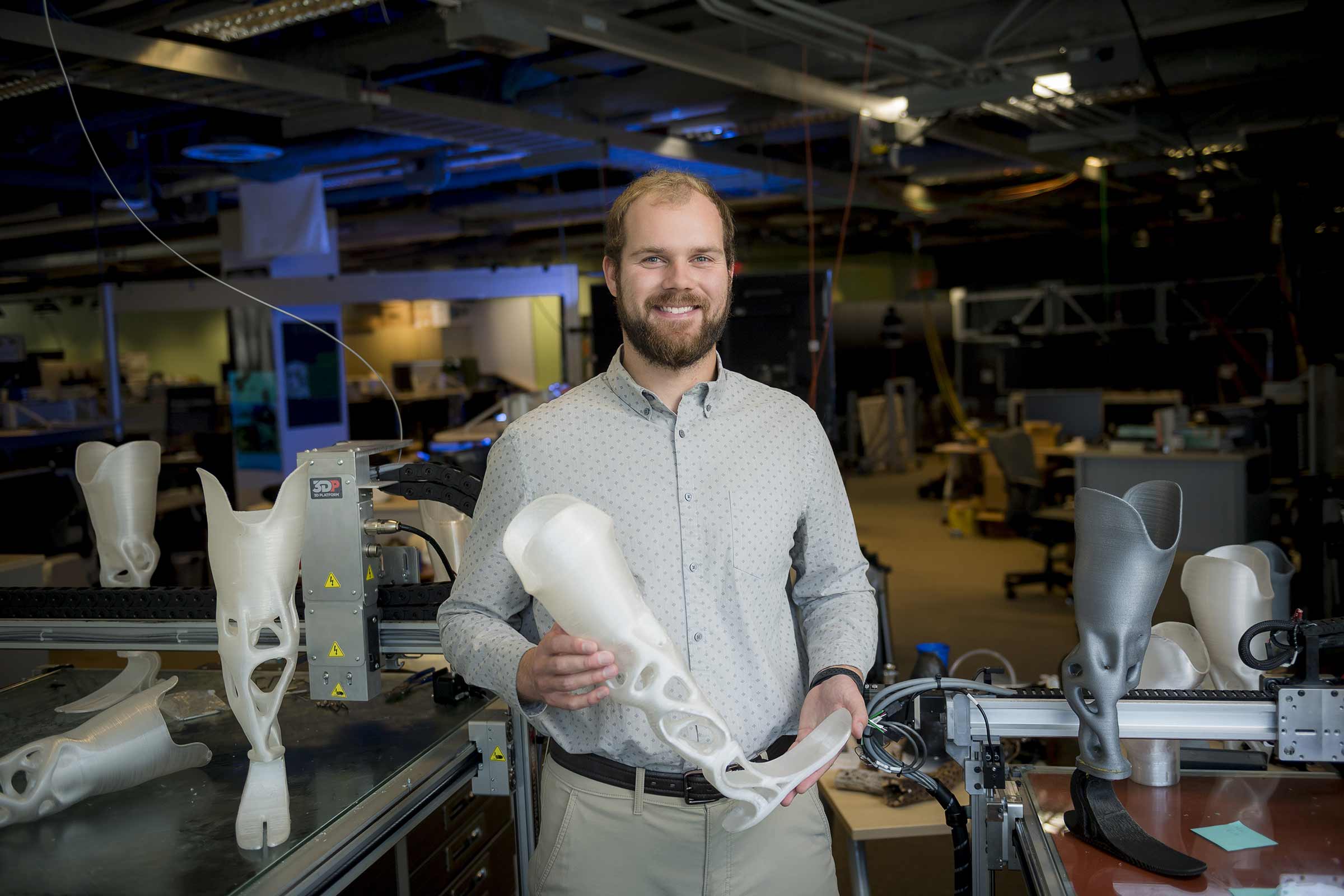 Joshua Pelz, a Ph.D. student in the Department of Structural Engineering, co-founded LIMBER Prosthetics, which develops custom bioinspired, 3D-printed prostheses. Photo by Erik Jepsen/University Communications.
Every quarter, UC San Diego engineers Joshua Pelz and Luca De Vivo, as well as prosthetics specialist Herb Barrack, travel to Ensenada, Mexico, where they work with amputees to provide free, 3D-printed, custom-made prostheses.
The team takes scans of the amputees' residual limbs with smartphones, which they then bring back to the UC San Diego campus. They use the scans to build a digital model of the amputated limb and a compatible prosthesis. Then, using a 3D printer the team developed, the prosthesis is printed in just 12 hours.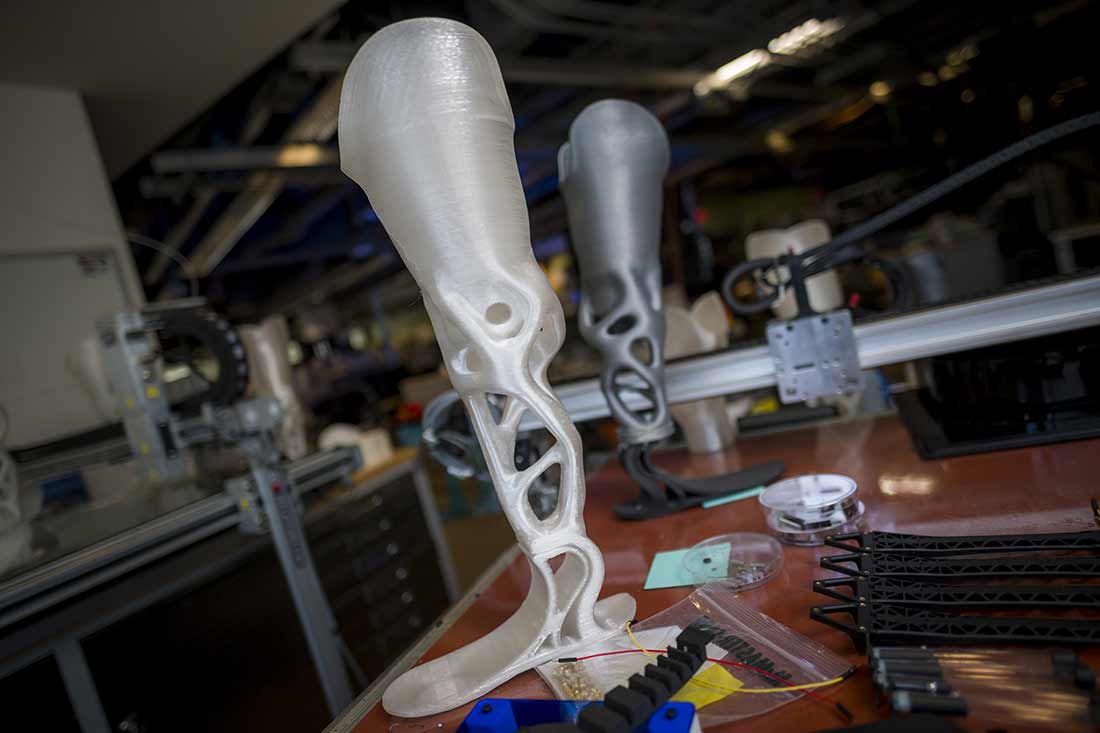 After the prosthesis is 3D-printed, the team returns to Mexico, where they fine-tune the fit. The project is supported by the Rotary Foundation and is looking for other funding sources as well. Information on how to make a donation is available on the project's website.
The World Health Organization estimates that there are 40 million amputees in developing countries, 95% of whom have to make do without a prosthetic limb. This is because prosthetic limbs are expensive and time-consuming to manufacture. Patients have to undergo repeated visits to doctor's offices and need to have access to specialists.
Using this combination of personalized scans as well as digital designs and 3D-printing on a large scale could reduce the cost of a prosthesis by anywhere from 50% to 90% and deliver prosthetics much faster to those who need them. Pelz, De Vivo and Barrack have formed a startup, LIMBER Prosthetics & Orthotics, Inc., to commercialize the technology.
LIMBER's business plan is two-fold. The company plans to sell its personalized prostheses in developed countries while providing its services for developing countries at discounted prices or for free.
The company will revolutionize access to prostheses for amputees, said Diana Zambrano, a San Diego resident who is herself an amputee and has helped the team test the devices.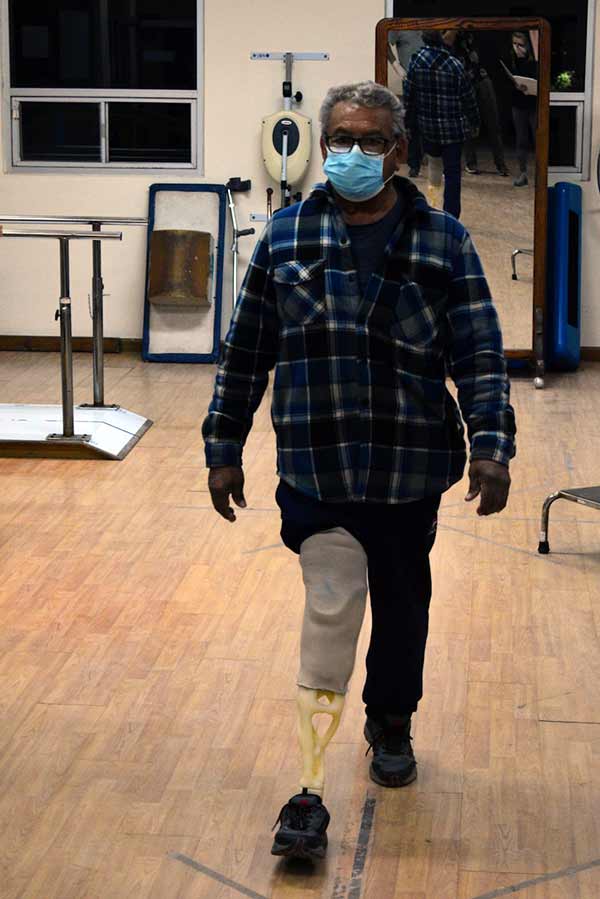 "Mobility is a necessity," Zambrano said. "LIMBER can print out a leg in a day, and right away, you have a leg to walk on. It's amazing."
LIMBER's methods will also make prostheses much more affordable–costs currently can run upwards of $20,000, Zambrano said. "It's going to be wonderful to have prosthetics that are affordable for everyone," she added.
The LIMBER devices are comfortable, she said. They are also made from water-proof materials, in contrast to traditional prosthetics made of carbon fiber and metal. Materials for prosthetics have improved dramatically over the last 35 years, from wood all the way to space-age materials and materials that can be 3D-printed, said Barrack, who is a certified prosthetist and orthotist.
LIMBER has conducted many tests to see what kinds of loads 3D materials could bear and design their prosthetics accordingly, Barrack said. They also are conducting testing to make sure the prosthetics are safe. "Patient safety comes first," he said.
UC San Diego roots
LIMBER has deep roots at UC San Diego: it is currently part of the medical technology accelerator in the Institute for the Global Entrepreneur (IGE) at the UC San Diego Jacobs School of Engineering. LIMBER is also part of UC San Diego's Basement startup accelerator. The company will soon start raising a seed round of funding. They connected with mentors through IGE, including medical device executive Michael Collins.
The project started in 2016 in the research group of Falko Kuester, a professor in the Department of Structural Engineering. Dubbed the Limber Integrative Imaging Modeling Manufacturing for Bold Exoskeleton Research project, or LIMBER, the project's goal was to bring together imagining, modeling, simulation testing and 3D-printing to create low-cost, one-piece prostheses that can be tailored specifically to match user needs. Preliminary, proof-of-concept studies with lower-limb amputees have shown the potential of this approach. The project was housed in the Qualcomm Institute here on campus.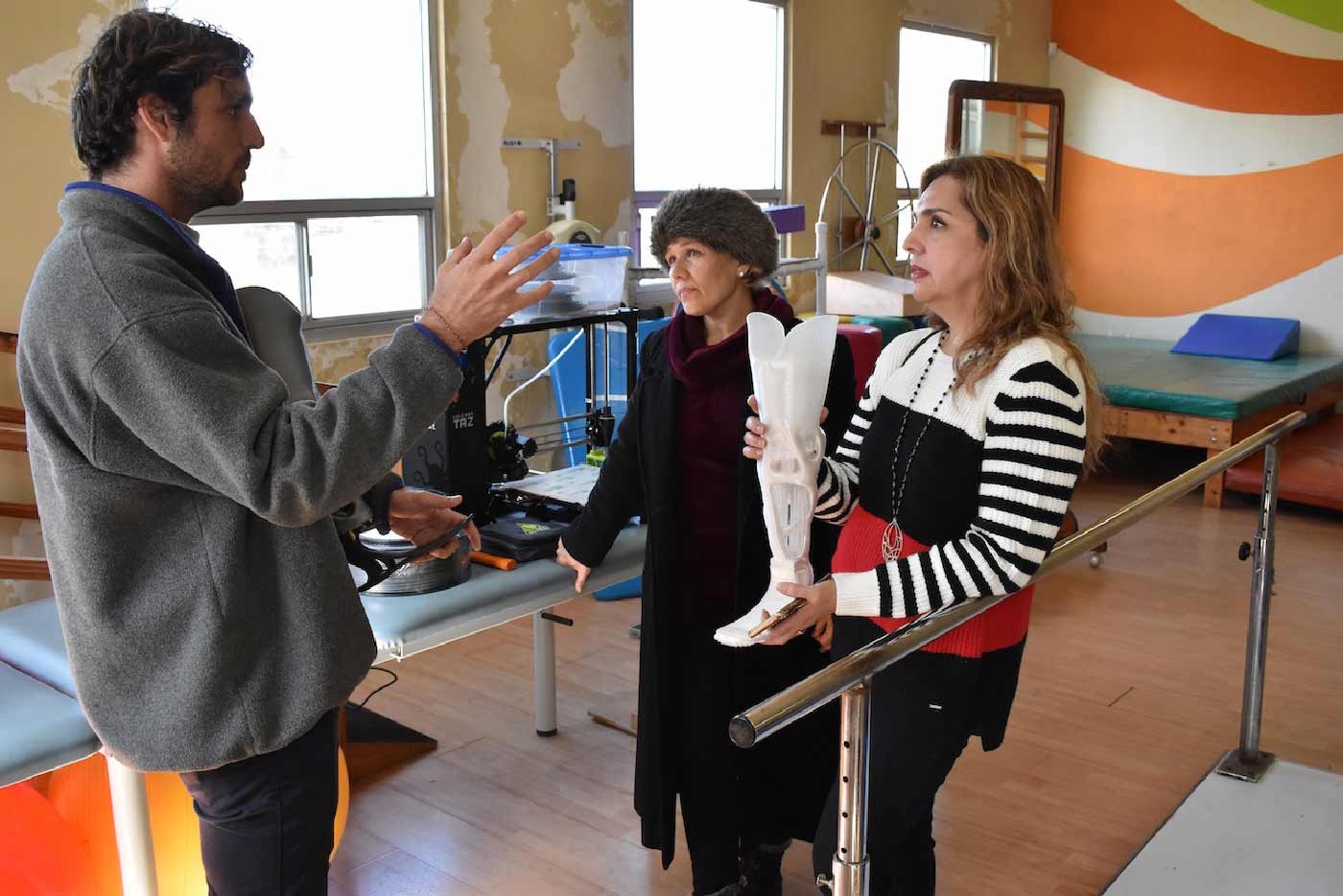 "It is truly inspiring to work with enthusiastic and innovative students in the classroom and the lab and see their ideas and careers take flight," Kuester said.
De Vivo and Pelz both took Engineering Frontiers, a graduate-level class taught by Kuester, and later served as teaching assistants and mentors in the class. They made the work part of their doctoral research and launched their startup at the same time. They also connected with Barrack thanks to Kuester. Pelz and De Vivo started going on Rotary Foundation trips to Ensenada to help amputees.
"I found my passion for this project when we visited a clinic in Mexico and saw the huge impact our technology can have," Pelz said.
De Vivo became interested in the connection between natural structures and materials science as an undergraduate student in structural engineering at UC San Diego. He decided to deepen his understanding as a doctoral student.
Democratizing prosthesis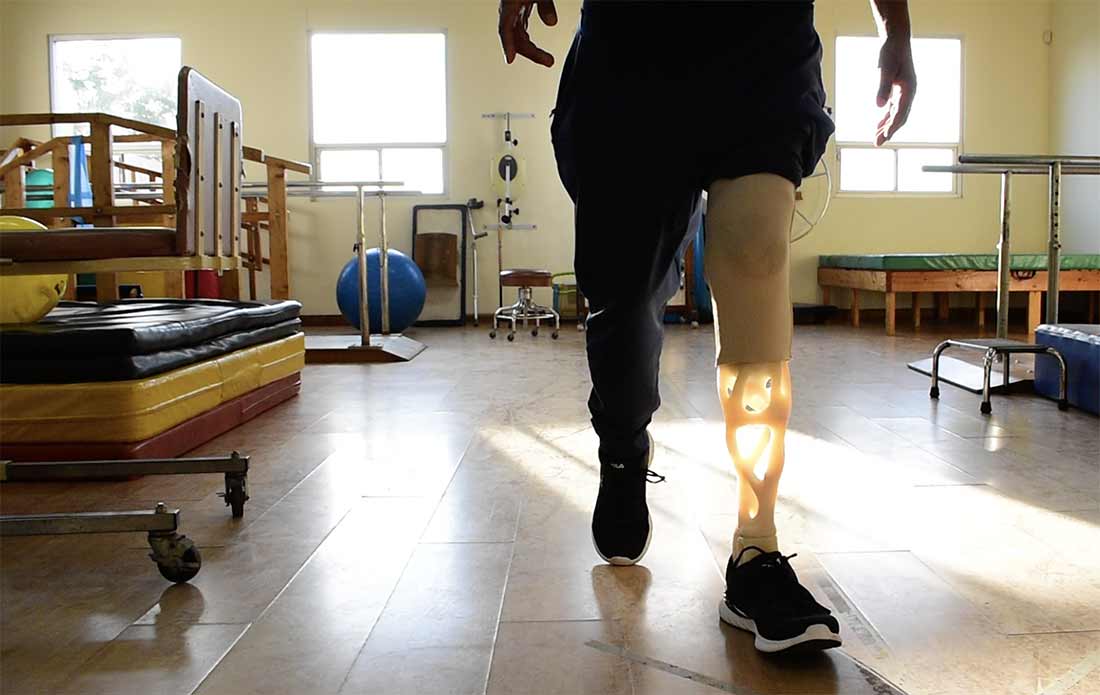 Traditionally, a model of the residual limb is carved by hand by a specialist; a time-consuming process that is expensive and can't be replicated. "They are like sculptors," De Vivo said. "And there are not enough of them." Specialists then build the prosthesis to fit around this model.
Instead, LIMBER uses digital tools to democratize access. The team is using an off-the-shelf app on their phones to scan the amputated limb. They upload the data to a computer-aided design program to build a digital twin of the patient's residual limb. They then build a model of the prosthesis to complement the digital twin. This allows the researchers to save a lot of time, as they don't have to do several fittings to get the shape of the prosthetic right.
Researchers also decreased the weight of the prosthetic by using cutting-edge 3D-printing materials. Most of their new prosthetics are made from a combination of nylon and nylon filled with chopped carbon fiber. By 3D-printing with the two materials, the team can vary the stiffness of the limb, making the foot more flexible, for example. Researchers also built a custom 3D printer from the ground up.
Bioinspiration and next steps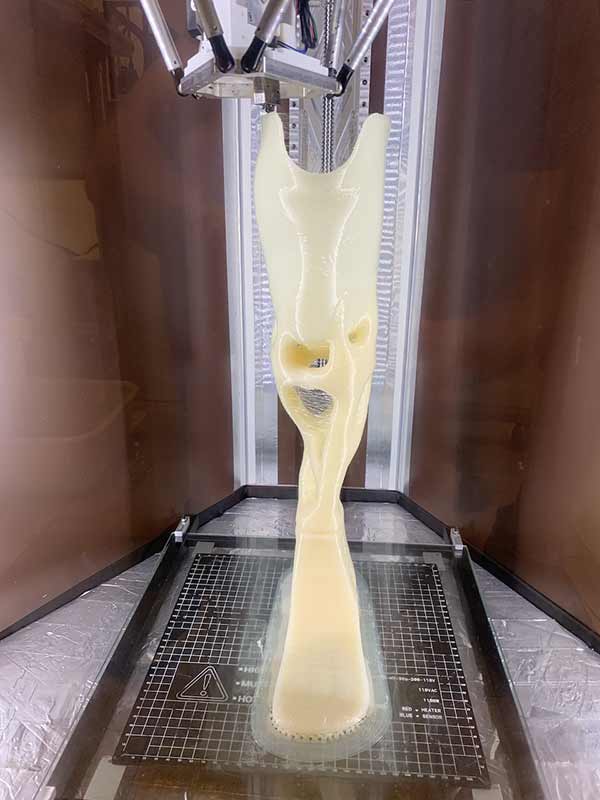 The design of the prosthesis is inspired by the structure of the Cholla cactus, which De Vivo studied both as an undergraduate and graduate student. The cacti's wooden skeleton needs to withstand difficult desert conditions and hurricane force winds. It does this thanks to its skeleton: a cylinder of wooden fibers that crisscross at a 45 degree angle, with oval empty spaces in between them, a little like a chain link fence. This open space allows the cacti skeleton to bend or rotate in windy conditions.
Pelz and De Vivo are still working to perfect their process. They are now conducting materials testing. This summer, they will start a human subject study to evaluate the prosthetics' performance. They also plan to incorporate sensors within the prosthesis for better performance. Their work will be documented in several scientific articles set to appear this year.
"Digital twin technology combined with 3D-printing holds tremendous promise to change the way prosthetics are manufactured–and made accessible," Kuester, the structural engineering professor, said.
Stay in the Know
Keep up with all the latest from UC San Diego. Subscribe to the newsletter today.