Stories of Transformative Impact Shared During Changemaker Fellow Showcase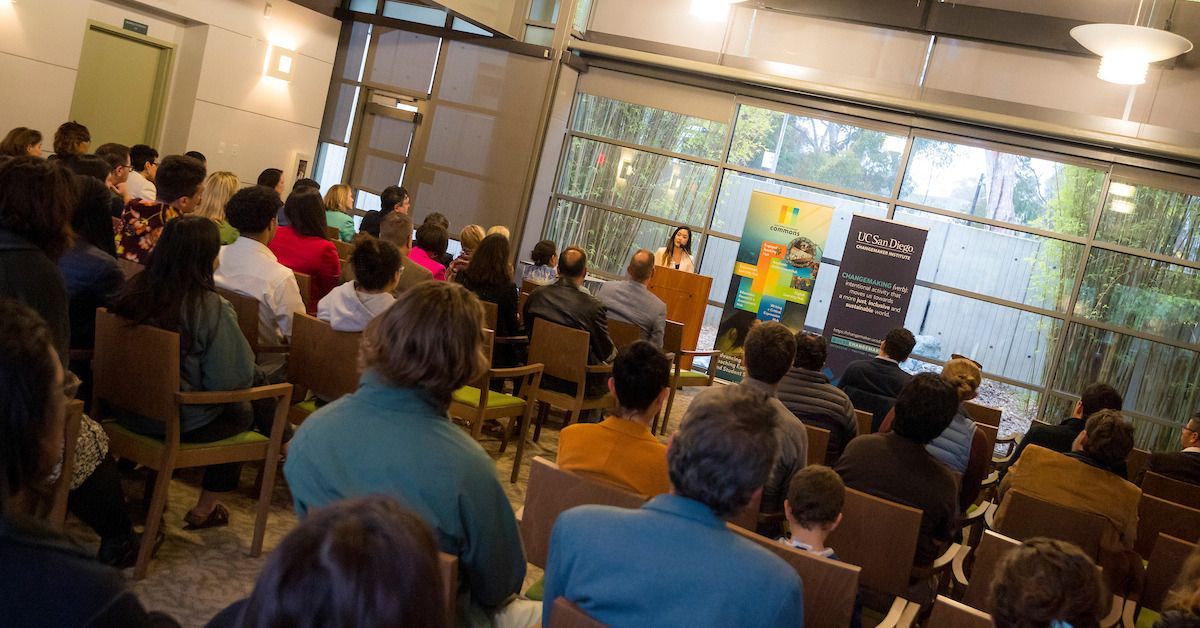 Published Date
By:
Share This:
Article Content
How do you educate children about the importance of mental health and wellbeing? What happens when you take an anti-racist approach to examine quantitative research? How do you address the problematic narratives that prevent solidarity among communities of color?
These are just a few of the questions that UC San Diego graduate students and faculty members are exploring with the support of two Teaching + Learning Commons Changemaker fellowship programs at the university—the Changemaker Faculty Fellows Program in Community Engaged Learning (CEL) and the Changemaker Fellows Anti-Racist Pedagogy Learning Community (ARPLC).
During the 2023 Teaching and Learning Commons Changemaker Fellow Showcase—hosted by The Changemaker Institute in partnership with the Teaching + Learning Commons—three fellows took the stage to share how their projects are driving positive change inside and outside the classroom. Across the university through the support of the CEL and ARPLC programs, there are over 130 graduate students and faculty members leading projects in fields ranging from biological sciences to the arts and humanities. The projects strive to promote community-based learning as well as examine teaching practices through a racial equity lens.
Amy Bintliff
For Amy Bintliff, an assistant teaching professor in the Department of Education, the fellowship opened the door for her to embark on her second career after serving as a public school teacher for 14 years.
"My classes were filled with black and brown students, many refugee and low-income youth, who needed additional support or were facing injustices in their schools and community. It was terrible. They were being pushed out based on their identities," said Bintliff, reflecting on her time as a teacher in Minneapolis. "Issues of social justice and education and social justice pedagogy became my passion and much of it centered around youth development, mental health and wellbeing."
Bintliff joined the UC San Diego faculty community in 2019 to teach adolescent development, going on to launch three projects designed to support the mental health and wellbeing of youth. Among these projects included piloting a wellbeing club for low-income youth in Uganda, a country whose schools experienced the longest pandemic-related closure on record. This June, she'll be traveling to Uganda with her doctoral students to meet their project partners face-to-face for the first time.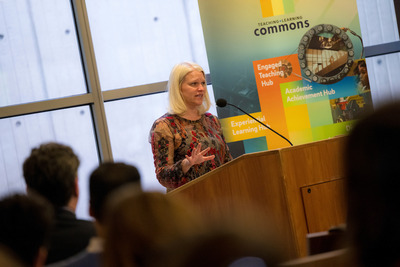 Leonardo Falabella
Ph.D. candidate in the Department of Political Science Leonardo Falabella used his fellowship to develop a classroom experience that challenges racist ideologies. He is taking an anti-racist approach to teaching statistical methods for the social sciences, looking at how government policies established unequal access to subsidized mortgage loans.
As an instructor, he has seen how students can enter statistics courses with the mistaken belief that quantitative research is purely objective. "But, when students critically examine race as a variable and discuss historical events, they become better equipped to avoid such mistakes when conducting and interpreting quantitative research in the social sciences."
Back in his home country of Brazil, Falabella is actively working to promote access to higher education. He explains that while Brazil is the second blackest nation in the world, access to "graduate education in Brazil still remains largely restricted to white people from privileged areas." Falabella also works as pedagogical coordinator at the Instituto Itéramãxe in Brazil helping to fight exclusion and promote diversity in academic spaces.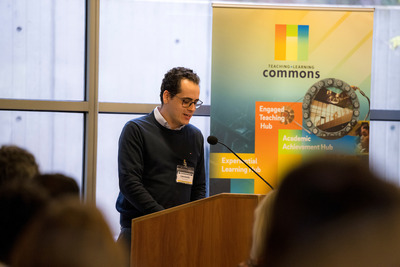 Vanessa Na
As the first daughter of Cambodian refugees, Education Studies Ph.D. student Vanessa Na has held the importance of identity and family history close to heart throughout her fellowship.
"Asian Americans have had a really long-standing history of activism and investment in anti-racist organizing, specifically on college campuses and even here at UC San Diego," said Na. "However, these histories are often subsumed under narratives of white supremacy, and this unfounded narrative of Asian Americans as model minorities, as successful, as having great academic success and all of these narratives that racialize Asian American students as a monolithic community."
Na explained that these narratives are problematic because they facilitate structures that prevent solidarity among communities of color. As a fellow, she was inspired to create a course that would help cultivate a more critical understanding of how communities of color can build solidarities and coalition on college campuses. The class was piloted in winter 2021, garnering so much interest that it was offered for an additional quarter.
"This class really created a new home for me on campus," said Na. "I'm just so grateful for the generosity and compassion and just collective energy of all the students and partners who are involved."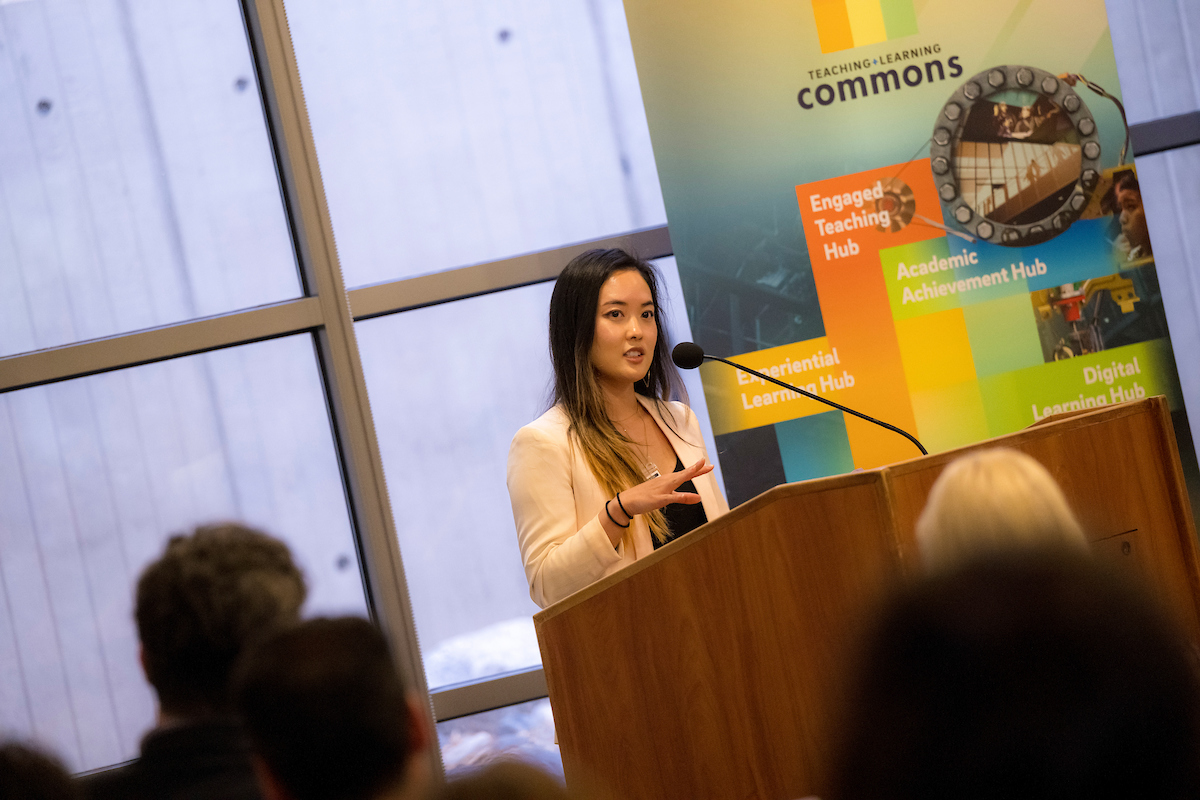 Support for Campus Members Leading Changemaking Work
Through both the Community Engaged Learning (CEL) and Anti-Racist Pedagogy (ARPLC) fellowship communities, faculty and graduate students like Bintliff, Falabella and Na are given the space to share their knowledge, collaborate on courses and learn from each other to improve student learning.
At the showcase, Associate Director of the Teaching + Learning Commons Carolyn Sandoval outlined the goals and history behind both the CEL and ARPLC programs.
CEL aims to develop a faculty learning community to support teaching, innovating, networking and leadership toward strengthening and expanding UC San Diego's community engaged learning efforts, as well as provide funding for faculty who want to develop courses that focus on community engaged learning.
Sandoval also shared that in the wake of the 2020 murder of George Floyd and the public response to racism and police brutality targeting the Black community, there were multiple requests across departments on how to address microaggressions in the classroom and teach from an equity-focused approach.
"That really fueled the need for and was the inspiration for the Anti-Racist Pedagogy Learning Community," said Sandoval.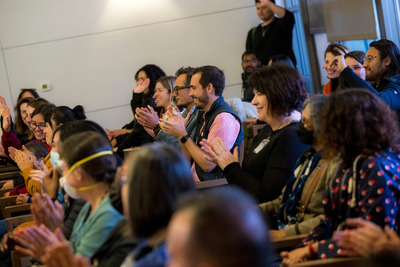 A goal of ARPLC is to support fellows dedicated to anti-racist work and to strengthen a campus culture that welcomes and values diverse perspectives. It also strives to enhance empathy and compassion in the context of education, especially around building inclusive and equitable classroom environments.
To help continue the university's changemaking efforts, the following individuals have been selected as the newest cohort of Teaching + Learning Commons Community Engaged Changemaker Fellows.
● Alison Black, Continuing Lecturer and Supervisor of Teacher Education
● Amy Eguchi, Associate Teaching Professor, Teaching Professor, Department of Education Studies
● Rachel Millstone, Continuing Lecturer and Supervisor of Teacher Education
● David Pedersen, Associate Professor, Department of Anthropology
● Susan R. "Sue" Peerson, Continuing Lecturer, Department of Urban Studies and Planning
● Giorgia Pirino, Continuing Lecturer, School of Biological Sciences
● Lillian Walkover, Assistant Teaching Professor, Department of Communication and Global Health Program
The Anti-Racist Pedagogy Learning Community fellowships are made possible with funding support from the Changemaker Institute, Division Graduate Education and Postdoctoral Affairs, School of Biological Sciences, and the T. Denny Sanford Institute for Empathy and Compassion.
To learn more about the fellowship programs, please visit the Teaching + Learning Commons Engaged Teaching Hub website.
Stay in the Know
Keep up with all the latest from UC San Diego. Subscribe to the newsletter today.