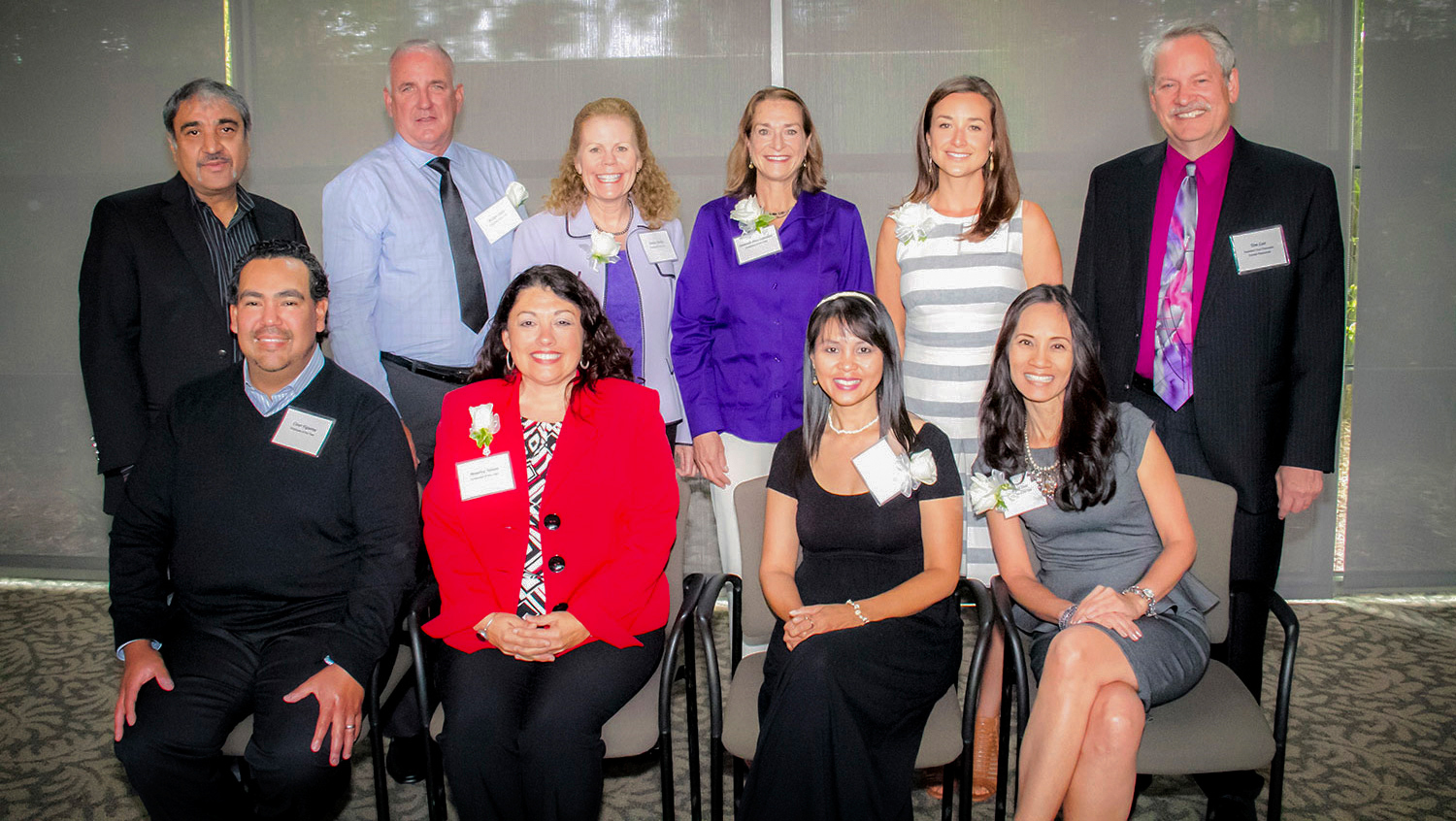 Staff Members Recognized for Exemplary Service to Campus and Community at Annual Employee Awards
When Cesar Figueroa, assistant resident dean at Warren College, learned that students at Bayside Elementary lacked basic classroom supplies, he decided to take action. An underserved school located in Imperial Beach, the majority of Bayside students come from low-income families and many qualify for free or reduced lunch. Determined to make their lives better, Figueroa has recruited UC San Diego students and staff to join in revitalization efforts as volunteers and mentors and has cultivated community partnerships to garner resources for the school.
Figueroa was named this year's Principal Exemplary Employee and was honored along with nine other staff members for going above and beyond their assigned responsibilities to support UC San Diego's mission through leadership and service. The 29th annual Exemplary Staff Employee of the Year awards ceremony was held on June 2 in the Atkinson Pavilion at the Faculty Club. A video was presented highlighting the impact of each recipient's contributions and was followed by a reception where campus colleagues and family members could celebrate with award winners.
"Thank you for making a direct and lasting contribution to our campus and community," said Chancellor Pradeep K. Khosla during the ceremony. "Your commitment to our campus' goals is inspirational. You—and all of our staff—make a difference on our campus and in our community every day."
Last fall, Figueroa began seeking out resources for Bayside Elementary. With the help of UC San Diego students from the Warren Association for Volunteer Enthusiasts (WAVE), he organized a clothing and school supply drive, gathering extra T-shirts, athletic equipment and more to benefit 150 Bayside Elementary families. Writing to local businesses for support, Figueroa also collected books from organizations such as the San Diego Star Wars Society and secured a scholarship through the La Jolla Playhouse's Adopt-a-School program; students were treated to two full performances of "Suzette Who Went to Sea."
Collaborating with Bayside Elementary teacher Kymberly Nichols, Figueroa worked hard to ensure Bayside Elementary was chosen as the UC San Diego 2014 Martin Luther King Jr. Day of Service site. As a result, more than 150 UC San Diego volunteers gathered on Jan. 19 at the school to help rejuvenate the garden with flowers, decorate the blacktop with murals and clean up the playground.
"Working with Bayside Elementary has been more rewarding than I could have ever imagined," said Figueroa, who checks in regularly to find out what students need. "As a result of the multiple donation drives and volunteer days we have done for the school, I am able to see an immediate positive impact in the lives of the students and the infrastructure of the school."
Conducting similar outreach in the community, Thanh Maxwell, undergraduate coordinator in the department of cognitive science, was inspired to increase awareness about the opportunities in STEM fields (science, technology, engineering and mathematics) after coordinating a cognitive science speaker for her daughter's career day.
"I believe in introducing cognitive science to elementary school children to get them interested in science, so that by the time they reach high school, they can further explore the possibilities," said Maxwell, who devotes her time to encouraging youth to discover the potential of fields such as cognitive science. "I participate in career day at local high schools; I'm involved with science fairs; I coordinate cognitive science lab tours; and I secure speakers for high school science classes."
Also one of this year's exemplary staff employees, Maxwell is a cheerleader and resource to nearly 650 undergraduate cognitive science students at UC San Diego as the only academic advisor in her department. In 2011, Maxwell joined the curriculum development committee of California Project Lead the Way, a nonprofit that strives to increase the number of females and underrepresented students in science, engineering and technology careers. Comprised of teachers, scientists, industry leaders and more, Maxwell assists in looking over middle and high school course requirements and makes recommendations to support student learning.
On being named among this year's exemplary employees, Maxwell exclaimed, "Someone pinch me please! There were 86 wonderful nominees, and I somehow got in the mix. I am extremely grateful."
Figueroa, Maxwell and the eight other staff members recognized were presented with a cash award—the principal honoree $2,500 and the other recipients $1,500. Each of their names will be inscribed on the perpetual plaque at the Human Resources office. During the ceremony, Chancellor Khosla presented them with a goodie bag that included a quarter pass for the campus recreation center; season tickets to theatre and dance department performances, two VIP passes to the Birch Aquarium, lunch for two at the Faculty Club and more.
The 2013-14 Exemplary Staff Employee of the Year Award Program Recipients
Principal Exemplary Staff Employee of the Year
Cesar Figueroa—Resident Director 1
Student Affairs: Warren College (video)
Exemplary Staff Employees of the Year
Beverly Bernhardt—Student Affairs Officer Assistant
Academic Affairs: Sociology (video)
Michael Datte—Associate Engineer Resource Management and Planning: Facilities Management (video)
Thanh Maxwell—Student Affairs Officer 1
Academic Affairs: Cognitive Science (video)
Joanna Mickle—Administrative Analyst
Academic Affairs: Office of the Executive Vice Chancellor—Academic Affairs (video)
Minerva Nelson—Principal Administrative Analyst—Supervisor
Marine Sciences: Integrative Oceanography Division (video)
Deborah Pino-Saballett—Student Affairs Officer 4—Supervisor
Health Sciences: Student Health Services (video)
Linsey Sala—Museum Scientist
Marine Sciences: Scripps Institution of Oceanography Director's Office (video)
Tonia Snee—Personnel Analyst
Business Affairs: Human Resources Department (video)
Kelley Thompson—Senior Public Administration Analyst
Health Sciences: Pediatrics (video)
Stay in the Know
Keep up with all the latest from UC San Diego. Subscribe to the newsletter today.