New Sports Medicine Chief Blends New Techniques with Old School Philosophy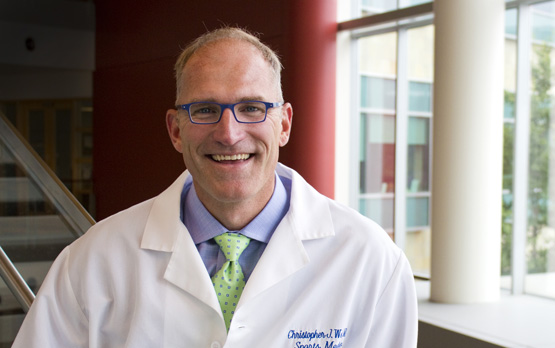 Published Date
Article Content
Nationally recognized orthopedic surgeon Christopher Wahl, MD, has joined the University of California, San Diego Health System as the new chief of Sports Medicine. Recognized for his specialty in treating complex, high-energy traumatic sports injuries, Wahl will further elevate UC San Diego Health System's reputation for offering compassionate and innovative surgical care that dramatically improves patients' lives.
"Wahl is passionate about treating elite and recreational athletes and is one of the nation's most distinguished surgeons in the treatment of complex knee ligament injuries and dislocations," said Steven Garfin, MD, professor and chair of the Department of Orthopedic Surgery at UC San Diego School of Medicine. "We are honored to have Dr. Wahl join us and bring new approaches and treatment philosophies to our patients."
Wahl's practice will also focus on cartilage restoration and transplantation, repair of the knee and shoulder, rotator cuff pathology, shoulder stabilization and treatment of fractures.
"As the new chief of UC San Diego Sports Medicine, I am enthusiastic to build on UC San Diego Health System's exceptional resources to cultivate something unique for our patients," said Wahl, associate professor of surgery, UC San Diego School of Medicine. "I'm honored to bring some new ideas and expertise to UC San Diego Health System, to work with my regional orthopedic colleagues and become a valuable part of the active San Diego community."
Wahl, named repeatedly as a U.S. News & World Report "Top Doctor" in orthopedics and sports medicine surgery, said he recognizes that a single medical issue can have many different solutions and that there is no "one-size-fits-all" approach to treating injures.
"Whether working with elite athletes or not, my treatment philosophy has always been to try to act on my patients behalf as their advocate and educator and to be an exceptional physician and surgeon. I try to learn about my patients as individuals, understand their goals and work toward these goals in the greater context of what the state-of-the-art orthopedic science has to offer," said Wahl. "This quality of care takes the kind of time and effort that is rarely seen in today's medical climate."
Prior to joining UC San Diego Health System, Wahl served as associate professor and team physician for the University of Washington in Seattle, where he was the orthopedic surgeon for the Huskies' athletic teams, including football, men's basketball, volleyball, softball, gymnastics and tennis.
Wahl is also an academician who has lectured and published extensively on sports medicine and surgery, including: the anatomic factors predisposing to anterior cruciate ligament tears, the treatment of recurrent shoulder dislocations associated with bone loss and the diagnosis and management of knee dislocations and multiple-ligament knee injuries. In addition, he has developed several innovative surgical techniques for the treatment of cartilage repair, shoulder instability and revision surgery for failed procedures.
Wahl attended medical school and completed his residency training at Yale University. He completed a sports medicine and shoulder surgery fellowship at the Hospital for Special Surgery in New York. He continued his professional education studying trauma surgery in Germany and Switzerland before starting his clinical practice. In 2011, Wahl was awarded the American Orthopedic Society Traveling Sports Medicine Fellowship and traveled throughout the countries of South America to visit sports medicine clinics, hospitals and institutes.
The specialty trained orthopedic surgeons and nonsurgical sports medicine specialists at UC San Diego Health System are on the leading edge of innovation, with access to the latest technological advances, diagnostic techniques and treatment strategies. UC San Diego Sports Medicine specialists include primary care physicians, specializing in sports medicine, as well as orthopedic surgeons trained in advanced, minimally-invasive surgical techniques. Patients benefit from a multi-disciplinary team approach geared toward making the correct diagnosis, treating the injury and identifying and minimizing underlying causative factors.
Stay in the Know
Keep up with all the latest from UC San Diego. Subscribe to the newsletter today.