Showcasing the Power of Academic Medicine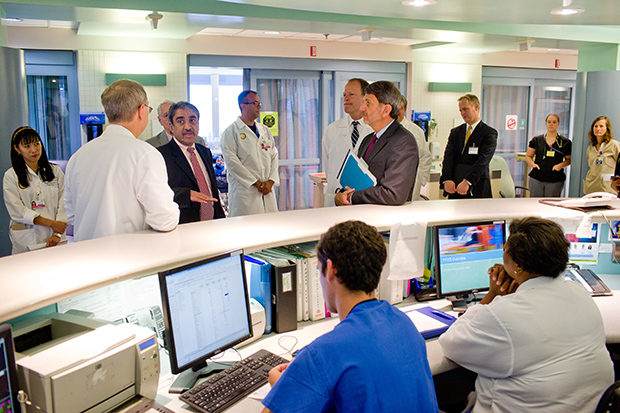 Our new Chancellor made the rounds with physicians and administrators at the UC San Diego Medical Center in Hillcrest on Aug. 6. Pradeep K. Khosla said it was important for him to visit the hospital because of our commitment to the Hillcrest community and the clinical programs offered there. The "We Heal" tour was part of the Making Connections plan to introduce the chancellor to the campus and community.
More on Making Connections
"UC San Diego Health System was honored to have Chancellor Khosla visit the Hillcrest campus during his first week," CEO Paul Viviano said. "A special behind-the-scenes tour provided the opportunity to show him our signature programs, including Women and Infants Services, Neonatal Intensive Care Unit, UCSD Regional Burn Center, Level 1 Trauma Center, and the newly expanded Emergency Department, as well as meet the outstanding staff, faculty physicians and leaders at UC San Diego Health System."
Khosla learned about some of the unique services that are offered by UC San Diego Health System, and he met numerous physicians and staff who provide leading-edge patient care. In the briefing, Viviano, Vice Chancellor of Health Sciences and Dean of the School of Medicine Dr. David Brenner, Chief Strategy Officer Max Reynolds, and Director of Government and Community Affairs Aaron Byzak told Khosla about UC San Diego Medical Center's history and plans.
In a reception with members of the Health System Senior Management Team, Khosla congratulated them on the UC San Diego Health System's recent number one ranking in San Diego in U.S. News & World Report's "Best Hospitals" issue. UC San Diego is one campus with many strong components – from the health sciences and marine sciences, to arts and humanities, he said. Khosla shared his commitment to shared governance and his plan to meet with campus and community members to shape common campus goals.
Stay in the Know
Keep up with all the latest from UC San Diego. Subscribe to the newsletter today.