Serious Business: Expanding the Talent Pool for a More Inclusive Economy
Department of Economics and Rady School of Management form new mentorship program to support students in the business economics major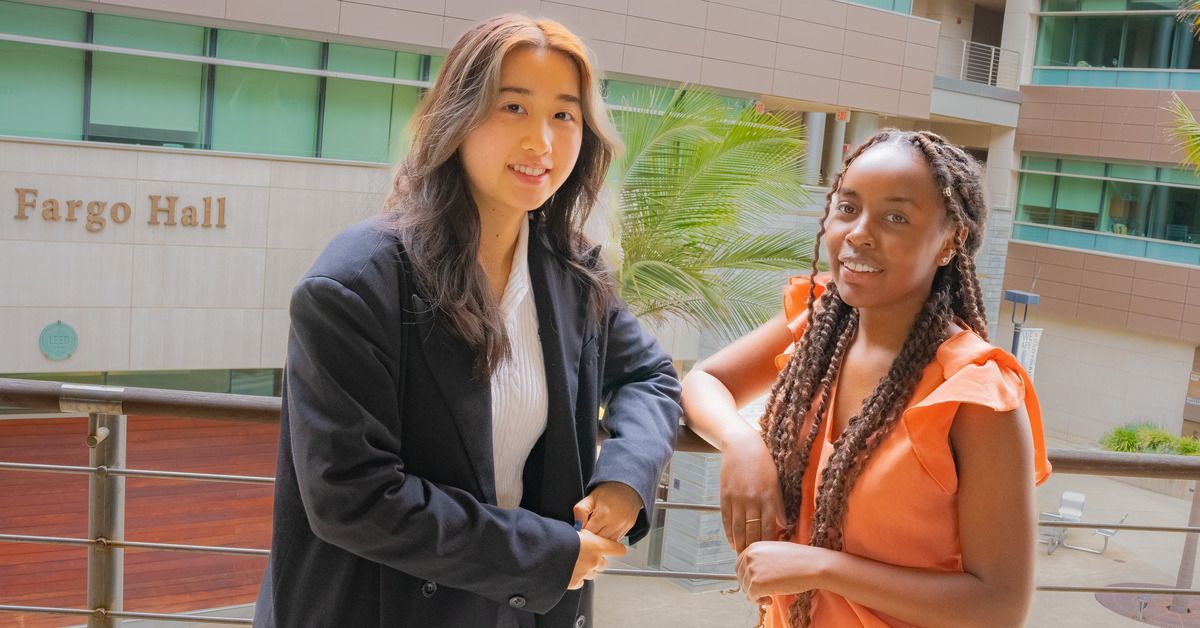 By:
Media Contact:
Published Date
By:
Media Contact:
Share This:
Article Content
UC San Diego first-year student Grace Njuguna is headed to the University of Chicago for a summer internship where she will have an immersive educational experience in the field of economics, learning quantitative skills and coding. She will also get to travel to Washington DC to explore national economic policymaking at the U.S. Capitol, the Federal Reserve Bank, the International Monetary Fund headquarters and more. As a business economics major, Njuguna already has a lot of hands-on experience exploring her major. She has spent her first year as an undergraduate research assistant in Emanuel Vespa's lab in the Department of Economics at the School of Social Sciences, where her work sought to understand economic decision making.
These opportunities and others were made possible by the Business and Economics Mentoring Program, an initiative from the Department of Economics and the Rady School of Management.
The goal of the program, which welcomed its first cohort in Fall 2022, is to expand the diversity of students in the Business Economics major that was launched in 2021. Statistics continue to show an alarming lack of diversity in business education and leadership as well as in STEM education as a whole.
The Business and Economics Mentoring Program is trying to change that and serve as a model for other universities. Students from underrepresented populations, or who come from low-income households and those who are first-generation, are encouraged to join the program. Participants have access to academic support, peer-to-peer mentoring, social activities, as well as networking and research opportunities.
"It's added so much value to my first year by getting that access to a supportive community, networking and different opportunities," Njuguna said.
The Earl Warren College student credits her mentor Andrea Lai, a third-year business economics major, for support during her first year at UC San Diego.
"I have really liked having that connection with my mentor, Andrea," Njuguna said. "Having that support and connection right off the bat was really helpful. For example, I was able to get into the summer internship program at the University of Chicago after my mentor shared the opportunity with me. She also introduced me to Rady's student-led business organization, Cornerstone Community Consultants, which has provided me with hands-on career and leadership experience."
The Bachelor of Science in business economics, offered by the Department of Economics and the Rady School of Management, is designed to prepare students with an understanding of economic fundamentals and functions of businesses, so they will graduate with the knowledge required as well as the skills needed to predict and respond effectively to future changes in their industry, the workplace and the world.
The Business and Economics Mentoring Program is not only opening doors and welcoming students from all backgrounds, but also preparing them to excel in their academic and professional careers, expanding the talent pool of future generations of industry leaders who will contribute to the innovation economy.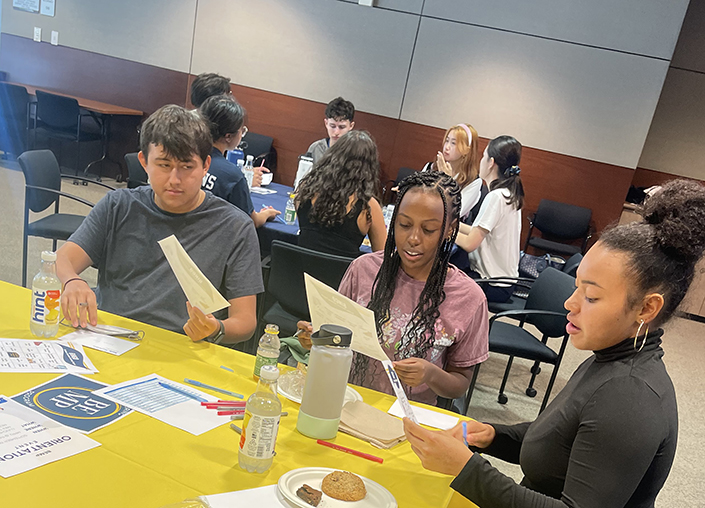 A major part of ensuring students in the mentorship program succeed is by creating a sense of belonging – assisting them to identify themselves as part of the campus community before they start their freshman year and all throughout their college experience.
"Having this program and network at a school where there's not many black students has been really helpful for me to be able to make those connections and find resources," said Njuguna, who is from Sacramento.
A collaborative effort among students, faculty and staff building a mentorship program from the ground up
The first cohort of the Business and Economics Mentoring Program has 20 mentees who work with three mentors who are third- and fourth-year students.
The mentees work with their mentors to plan courses, including what they can do over the summer to prepare for the fall.
All the mentor students meet weekly with program manager Gregorio Figueroa, Sally Sadoff, an associate professor at the Rady School of Management, Emanuel Vespa, an associate professor in the Department of Economics and Maysoon Lehmeidi, associate director for the education and community outreach department at UC San Diego Extension. The collaboration among the group has been critical to shaping the program in its first year along with partnerships with admissions, the Department of Mathematics and the Teaching + Learning Commons.
"One of my professional highlights at Rady is my contribution to the design and launch of the Business and Economics Mentoring Program," said Figueroa. "So far, we've been able to create an inaugural cohort of freshman students in the business and economics major from diverse backgrounds: 60% first-generation, 60% female, 65% black and Latiné and 65% low income."
Figueroa added, "It has been a really hands-on, collaborative experience creating the program. We have utilized the expertise of UC San Diego's world-renowned economists and sought student input every step of the way."
Njuguna's mentor Andrea Lai says she has appreciated the partnership that she and other mentors have formed with faculty and staff to tailor the program to specifically meet the needs of the students.
"We constantly brainstorm on how to keep students interested and what resources they need to adapt to campus," Lai, a student at Revelle College, said. "I have really liked the flexibility the professors have shown to being able to give students what they want."
The first cohort of students and mentors started in 2022-23 and they have been central to shaping the program, according to Sadoff.
"Working together, they've created social activities that allow the students to connect and relax," said Sadoff. "The students have also driven the kinds of support services we've developed. For example, they told us they wanted to focus on summer opportunities and so we put together resources on available programs, helped them with their applications and connected them to internships and summer institutes."
Providing students with hands-on experience, such as internships and undergraduate research opportunities, is critical to ensuring their understanding of business economics and it further demonstrates the university's investment in their success, according to Vespa.
"Having students like Grace Njuguna and Grace Baldwin involved with research in the EconLab has been a pleasure," Vespa said. "They have been attentive to detail, energetic, curious and open-minded. Through their work, I got to better understand my own data. I only hope that the experience is as valuable to them as it is for the rest of the research team."
Baldwin is another first-year participant in the Business and Economics Mentoring Program who works with Vespa as an undergraduate research assistant.
"What's really been special is the opportunity to connect with professors, like working with professor Vespa," said Baldwin, an Eleanor Roosevelt College student. "In addition, it's been great to connect with other people in my same situation that are also first-year students and are figuring things out and having this little community of ours."
Rady School of Management Dean Lisa Ordóñez personally knows how important it is for students to feel as though they have a sense of belonging on their college campus.
"Making all students feel included at institutions of higher learning is extremely important to me as a first-generation high school and college graduate," Ordóñez said. "At Rady, we prioritize advancing equity, diversity and inclusion through our partnership with the Department of Economics in the Business and Economics Mentoring Program and other initiatives. We know inclusion in business is essential. It's not only the right thing to do, but it also brings many advantages to organizations – and society – such as a greater and more diverse talent pool, increased innovation and profitability."
Building a pipeline for students of all backgrounds to pursue business degrees
Data has shown that addition to limited financial resources, the most prominent barriers students must overcome to pursue quantitatively rigorous degrees, such as the business economics major, are a lack of academic preparation, support and belonging on the campus.
"By breaking down barriers to STEM education, we will be able to provide diverse students with the opportunity to acquire knowledge, skills and experiences that can lead to higher-paying jobs, increased upward mobility and improved quality of life," said Julie Cullen, chair of the Department of Economics. "Also, working toward solutions for many of the world's most pressing challenges, such as climate change and poverty, requires the kind of rigorous analytical training that economics can provide. Having diverse voices in the field will enhance our ability to understand and respond to the needs of different communities, leading to more inclusive and effective solutions."
The program was established with the help of a gift from Karen and Jeff Silberman to the Rady School of Management. The Silberman gift is covering one-third of the program's costs over the first four years.
"We are thankful to the Silbermans for their support of our program and its efforts to create a viable pipeline of students from diverse backgrounds so they can achieve a STEM education," said Ordóñez.
The plan is to grow the program by working with UC San Diego's Extension to establish pathways to attract and enroll diverse high school graduates throughout the region.
In addition, graduates of the program will be eligible for a fellowship at the Rady School, advancing the school's long-term goal of building an inclusive economy.
This opportunity has piqued Njuguna's interest, who is interested in the Master's in Professional Accountancy program at Rady, to which she can apply as a third-year student.
"The exposure to a graduate school has been really beneficial for us," Njuguna said. "I am very grateful to have been able to be in this program and really thankful to all those who helped make this program possible."
For more information about the Business and Economics Mentoring Program, go to the program's website, or you can email Greg Figueroa.
Stay in the Know
Keep up with all the latest from UC San Diego. Subscribe to the newsletter today.