SDSC Receives HPCwire Readers' and Editors' Choice Awards
Multi-partner Awards in Artificial Intelligence and Life Sciences Achievements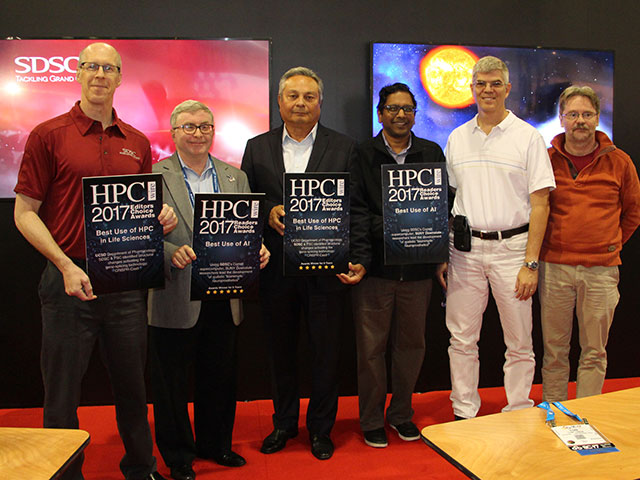 Published Date
Article Content
The San Diego Supercomputer Center (SDSC) at the University of California San Diego received two key HPCwire awards for 2017, recognizing the use of its Comet supercomputer in the areas of artificial intelligence (AI) research and the life sciences. The online news organization covering high-performance computing and applications recognized SDSC and partner institutions with the following awards:
Readers' Choice- Best Use of AI: For using SDSC's Comet supercomputer to develop realistic "biomimetic neuroprosthetics" by replicating brain circuitry to direct a realistic prosthetic arm.
Editors' Choice - Best Use of HPC in Life Sciences: To UC San Diego, SDSC, and the Pittsburgh Supercomputing Center, for research that identified structural changes activating the gene-splicing technology called CRISPR-Cas9. The awards were presented at the 2017 International Conference for High Performance Computing, Networking, Storage and Analysis (SC17), in Denver, CO.
"These two awards recognize not only the significance of such research breakthroughs in AI and genetics research, but the fact that supercomputers such as Comet are now crucial resources to enable such advances in 'Grand Challenge' areas identified by the National Science Foundation, in this case Enriching Human Life and Society and Working at the Human-Technology Frontier," said SDSC Director Michael Norman.
"From innovative industry leaders to the end consumer, the HPCwire readership reaches and engages every aspect of the high-performance computing community," said Tom Tabor, CEO of Tabor Communications, publisher of HPCwire. "We proudly recognize these efforts and achievements and gladly allow the voices of our readers to be heard. Our sincere congratulations to all of the winners."
Best Use of AI
By applying a novel computer algorithm to mimic how the brain learns, a team of researchers – with the aid of SDSC's Comet supercomputer and the Center's Neuroscience Gateway – has identified and replicated neural circuitry that resembles how an unimpaired brain controls limb movement. William Lytton, a professor of physiology and pharmacology at State University of New York's Downstate Medical Center, is the study's principal investigator. Lytton worked with Amit Majumdar, director of SDSC's Data Enabled Scientific Computing division, and his team by using Comet to run through thousands of modeling possibilities to create a neuroprosthetic arm. Majumdar also is the PI for the NSF-funded Neuroscience Gateway. The research was published in the March-May 2017 issue of the IBM Journal of Research and Development and opens the door for "biomimetic neuroprosthetics" -- brain implants that replicate brain circuits and their function -- that one day could replace lost or damaged brain cells or tissue from tumors, stroke, and other diseases. Subhashini Sivagnanam, a senior scientific computing specialist at SDSC and co-PI of the NSG project, is a co-author of the IBM Journal paper.
Best Use of HPC in Life Sciences
A team led by researchers at UC San Diego has captured in step-by-step atomic detail the editing of DNA strands by CRISPR (Clustered Regularly Interspaced Short Palindromic Repeats)-Cas9, the innovative gene-splicing technology that in recent years has transformed the field of genetic engineering. Researchers from the McCammon Lab at UC San Diego used SDSC's Comet supercomputer – in addition to SDSC's Triton Shared Computing Cluster (TSCC) and Bridges at the Pittsburgh Supercomputing Center – to perform atomistic molecular dynamics, a method that captures a more complete vision of the myriad shapes and conformations that a target protein molecule may go through at petascale speeds (one quadrillion arithmetic calculations per second).
By shedding light at atomic level scale on the biophysical details governing the mechanics of CRISPR-Cas9 activity, the study provides a fundamental framework for designing a more efficient and accurate genome-splicing technology that doesn't yield "off-target" DNA breaks currently frustrating the potential of the CRISPR-Cas9- system, particularly for clinical uses.
Leading authors of these studies are J. Andrew McCammon, the Joseph E. Mayer Chair of Theoretical Chemistry and Distinguished Professor of Pharmacology at UC San Diego; and Giulia Palermo, post-doctoral scientist in McCammon's lab. Also participating the study: Clarisse G. Ricci (McCammon's lab), Yinglong Miao (former member of McCammon's lab, currently assistant professor at University of Kansas), and Martin Jinek, currently an assistant professor at the University of Zurich. This work also includes the collaboration with Victor S. Batista at Yale University, which enabled decipering allosteric signalling in CRISPR-Cas9.
More information on these awards can be found at the HPCwire website (http://www.HPCwire.com) or on Twitter through the following hashtag: #HPCwireAwards.
Stay in the Know
Keep up with all the latest from UC San Diego. Subscribe to the newsletter today.