Scientists Race to Outpace Lethal Bacterial Infections
Collaborative researchers including a UC San Diego chemist post novel gains using silicon nanoparticles in gene therapy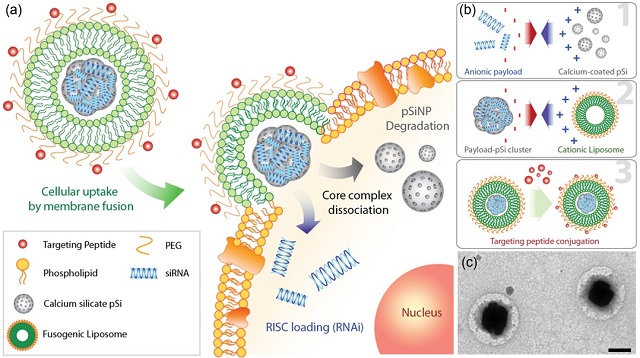 Published Date
Article Content
The race is on between new antibiotics and drug-resistant bacteria—and scientists are challenged to keep up. By 2050, according to a Wellcome Trust study, deaths from deadly infections will be more common than cancer deaths. Scientists report that currently antimicrobial resistance causes 23,000 deaths annually in the U.S.; 700,000 deaths worldwide. Better methods to treat bacterial infections are urgently needed. So researchers, including a University of California San Diego professor, are gaining ground by demonstrating the first example of an effective gene therapy for deadly bacterial infections.
In a paper recently published in the journal Nature Communications, UC San Diego Department of Chemistry and Biochemistry's Michael Sailor, along with colleagues from the Sanford Burnham Prebys Medical Discovery Institute (SBP), the University of Minnesota and the Korea Advanced Institute of Science and Technology (KAIST), outline how they used a nanotherapeutic to deliver siRNA that targets cells in the immune system—marking the first time an siRNA therapeutic was fully effective against a lethal bacterial infection of Staphyloccocus aureus pneumonia in mice.
"This is a really great example of convergent research," said Sailor. "To get this concept to work we needed to combine our nanomaterials expertise at UC San Diego and the membrane and cell biology expertise at KAIST with the peptides and disease models developed by our biomedical collaborators at the SBP."
While currently under-utilized for fighting bacterial infections, gene therapy bolsters the body's own immune system to attack a wide range of bacterial infections, including emerging strains. Certain gene therapeutics from a class known as "short interfering RNA" (siRNA) have been found to be able to enhance the ability of some of the body's innate immune cells to attack bacteria, while at the same time shutting down the immune system's inflammatory response, which sometimes interferes with recovery. Delivery of siRNA-based therapeutics in the body, however, has been very difficult because of barriers built by both the body and by bacteria. These barriers have impeded progress in gene therapeutic treatment of bacterial infections, including single siRNA therapeutics.
To remedy this, Sailor's team, guided by previous research, generated a porous nanoparticle host that protected its siRNA payload from premature degradation in the blood stream. In collaboration with Erkki Ruoslahti at SBP and Hong-Bo Pang at the University of Minnesota, a peptide molecule was added to the surface of the nanoparticle that selectively attached to targeted immune cells, called macrophages. The researchers relied on the expertise of Ji-Ho Park at KAIST to engineer a chemical coating, a fusogenic lipid, which allowed the nanoparticle to fuse with the cellular membrane and squirt the nanoparticle with its gene payload into the cell. The fusion mechanism also provided a means to induce dissolution of the silicon nanoparticles, releasing the siRNA therapeutic. This siRNA payload then reprogrammed the macrophage, activating it to engulf the bacterial invaders.
The study was supported by the Defense Advanced Research Projects Agency (DARPA) under a cooperative agreement (HR0011-13-2-0017), and by the National Institutes of Health (grants CA152327, EB022652 and AI132413-01).
At UC San Diego, our research efforts are designed to change the world for the better—through new medicines, innovative technologies and more that will help address disease, global security, public policy, climate change and more.
Stay in the Know
Keep up with all the latest from UC San Diego. Subscribe to the newsletter today.