Safe, Autonomous Driving Tech Takes the Wheel at Research Expo 2023
UC San Diego engineering and computer science graduate students competed for cash prizes while showcasing their research to a non-technical audience
Published Date
By:
Topics:
Share This:
Article Content
Ross Greer, an electrical and computer engineering graduate student at the University of California San Diego, won the grand prize at Research Expo 2023 for his work on a technology that could enable vehicles to drive more autonomously and decide when the driver is prepared to take back control of the wheel.
His ability to articulate his work to a diverse panel of judges earned Greer the Lea Rudee Outstanding Poster Award, which came with a $1500 cash prize. He also received the Best Poster Award for the Department of Electrical and Computer Engineering at the UC San Diego Jacobs School of Engineering.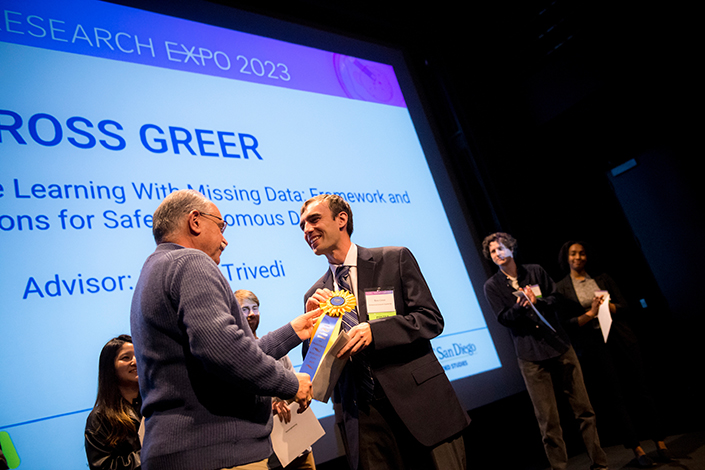 Greer is a fourth year Ph.D. candidate in the Laboratory for Intelligent and Safe Automobiles (LISA), which is directed by UC San Diego electrical and computer engineering professor Mohan Trivedi.
"The goal of our research is to advance the state of safe, autonomous driving," said Greer.
As a step towards that goal, Greer is developing an autonomous driving system that can make intelligent and informed decisions about when to ask the driver to take over. The system assesses the driver's readiness to take the wheel by collecting information about the driver's hands—where they are positioned, what they are doing, and what objects they are holding. It uses multiple cameras and infrared sensors that are stationed at various spots inside the vehicle to collect this information.
The key here is that the system collects multiple views of the driver's hands at any given moment, extracts features from the images, and fuses them together.
"By combining more of these views together, the system has better awareness about the driver's state and can make more informed decisions than any individual model on its own," said Greer.
Greer was one of more than 100 graduate students to present their work to a group of judges at Research Expo, an annual event for alumni, industry partners and faculty to connect, collaborate and recruit graduate students.
"It's fun to come to this event each year," he said. "This is the third Research Expo that I've attended. Hearing the perspectives of the judges and industry guests helps me understand the place of our research in solving real-world problems and motivates our continued exploration."
Research Expo provides an opportunity for engineering and computer science graduate students to explain their research and communicate why it's important.
"This event showcases the work and talent of our students," said Albert P. Pisano, dean of the UC San Diego Jacobs School of Engineering. "Engineering is necessary and one of the few things that grows the pie. If the larger community does not understand the important role that engineering plays in solving important problems, then we have failed."
In addition to the Lea Rudee Outstanding Poster Award, one poster in each department was recognized. The six department Best Poster winners (highlighted below) each received a $750 cash prize and a voucher for a UC San Diego Extended Studies course.
Participants also had the opportunity to vote for their favorite poster. The winner received the People's Choice Award, which came with a $500 cash prize and a Sony PlayStation® 5 console, courtesy of one of the event's sponsors.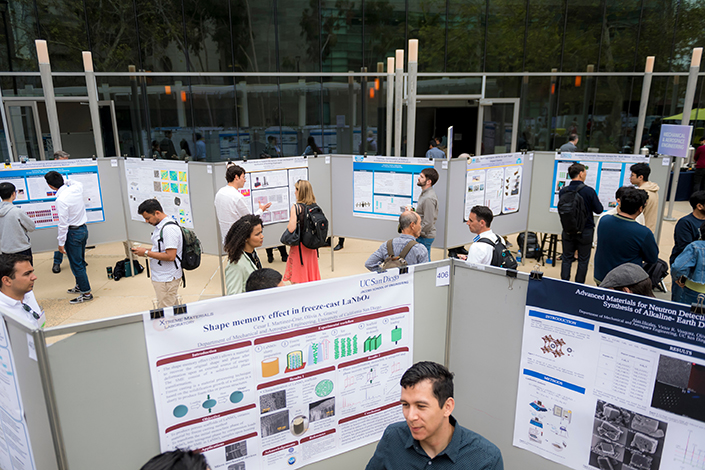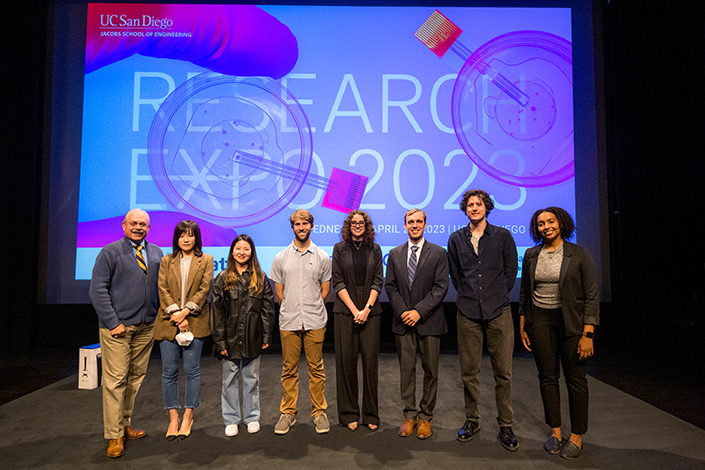 Award winners:
Bioengineering—Shu and K.C. Chien Best Poster
"Sex-specific Valvular Myofibroblast Activation in Response to Nansocale Stiffness Cues"
Student: Rayyan Gorashi
Advisor: Brian Aguado
Computer Science and Engineering Best Poster
"Contrastive Attention Networks for Attribution of Early Modern Print"
Student: Nikolai Vogler
Advisor: Taylor Berg-Kirkpatrick
Electrical and Computer Engineering Best Poster
"Multi-View Ensemble Learning With Missing Data: Framework and Evaluations for Safe Autonomous Driving"
Student: Ross Greer
Advisor: Mohan Trivedi
Mechanical and Aerospace Engineering—Katie Osterday Best Poster
"Energy and Particle Balance During Plasma Detachment in Long-Leg Divertor Configurations"
Student: Rebecca Masline
Advisor: Sergei Krasheninnikov
NanoEngineering Best Poster
"Intra-articular Immunoregulation Promotes Systemic Modulation of Autoimmune Arthritis"
Student: Dave McBride
Advisor: Nisarg Shah
Structural Engineering Best Poster
"Beyond Traditional Designs: Mechanical Metamaterials for Surface Morphing and Adaptive Stiffness"
Student: Yujin Park
Advisor: Kenneth J. Loh
People's Choice Award
"Computation-Guided Tunable Self-Assembly of Nanocrystals"
Students: Yufei Wang
Advisor: Andrea Tao
Topics:
Share This:
Stay in the Know
Keep up with all the latest from UC San Diego. Subscribe to the newsletter today.