Richard Seymour: 1929-2021
Architect of the iconic Coastal Data Information Program, world's largest repository of scientific, directional wave data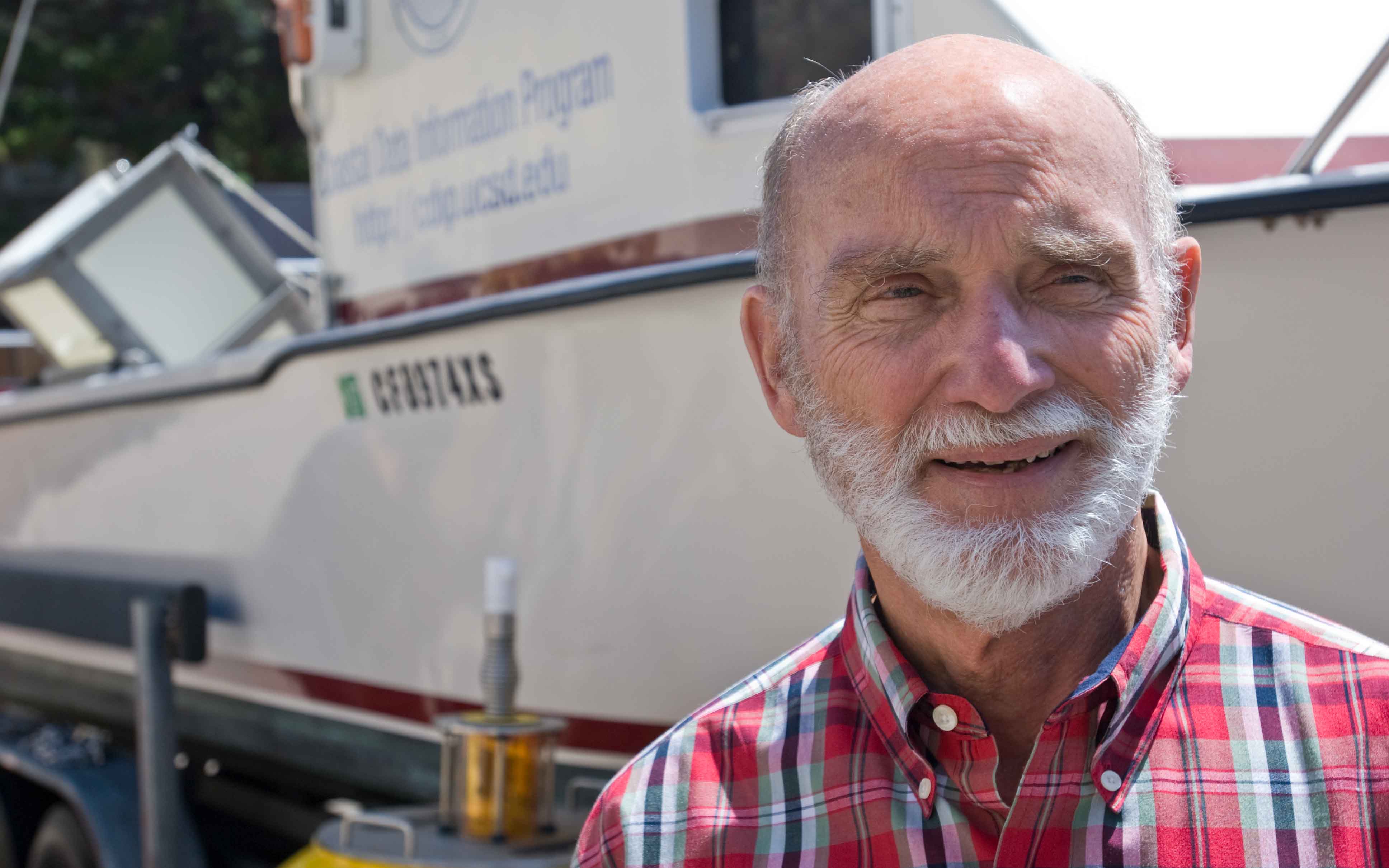 Published Date
Article Content
Richard Seymour, a renowned research engineer at the Scripps Institution of Oceanography at UC San Diego, who envisioned a network to collect coastal data as a graduate student, died May 22, 2021. He was 91 years old.
Seymour had already pursued a varied career including military service and entrepreneurial ventures when he enrolled at Scripps Oceanography in his early 40s. He received his PhD in 1974 with an idea to collect data on wave climatology over a long term already in his mind. One year later, he launched the Coastal Data Information Program (CDIP), deploying one research wave sensor off Imperial Beach, Calif.
The network now has 70 active stations that continuously log wave height, direction, and water temperature and in selected locations current and wind velocity. To date, data from 290 global stations have been collected, qualified and archived. CDIP provides vital information to a host of users on the West Coast of the United States, ranging from harbormasters and cargo vessel captains to surfers, checking conditions at the beach before they leave their homes.
"Driven and demanding, Dick was a patient educator, enthusiastic mentor, tolerant of student mistakes and remarkably generous with his time," said David Castel, a retired Scripps Oceanography principal development engineer and manager of theOcean Engineering Research Group laboratory, which includes CDIP. "He had a clear vision of what he wanted to accomplish and how to achieve his goals. He was hands-on no matter the task, his focus was unrelenting. Leading by example he satisfied the prime prerequisite of any organization. Seymour was a born leader."
"It was an honor to work in CDIP under Dick's guidance," said CDIP Program Manager Julie Thomas. "His passion for waves manifested in critical societal impacts for mariners' safety, for the ocean environment and economic benefit."
During his career at Scripps Oceanography, Seymour led the Scripps Ocean Engineering Research Group. Besides wave research, he also studied nearshore processes such as sediment transport and shoreline erosion, as well as ocean technology, robotic work systems, and wave mechanics.
Seymour was born on Aug. 28, 1929, in Harrisburg, Penn. He received a BA in engineering from the U.S. Naval Academy in Annapolis, Md., in 1951. Poor eyesight prematurely ended his naval career. After establishing a wire and cable company, Seymour moved to California where he worked in the aerospace industry. During that time, he became a volunteer marine collector for Bay Area aquariums. The experience motivated him to pursue a marine science career and enroll at Scripps.
During his time at Scripps Oceanography, Seymour served as executive director of the Foundation for Ocean Research (1983-1987) and as a member of the National Research Council's Marine Board (1984-1990). He served as a Professor Emeritus in Ocean Engineering at Texas A&M University, where he held the Wofford Cain Senior Chair in Offshore Technology.
In 2000 Seymour was honored with the John G. Moffatt–Frank E. Nichol Harbor and Coastal Engineering Award from the American Society of Civil Engineers. In 1997 he received the Joe Johnson Outstanding Service Award from the California Shore and Beach Preservation Association for Outstanding Contributions to the Sciences of Nearshore Processes and Oceanography. He was a member of the American Shore and Beach Preservation Association and the American Society of Mechanical Engineers, U.S. Army Corps Civil Engineering Research Board and a fellow in both the American Society of Civil Engineers and the Marine Technology Society. He authored more than 100 scientific papers.
"As a humble statesman of our field, Dick would be embarrassed by our recognition of his unparalleled contributions to making science and engineering accessible to a global audience that operates, lives, or recreates on the ocean," said Scripps oceanographer and CDIP Principal Investigator Eric Terrill.
Seymour is survived by wife Barbara of La Jolla, Calif. and son Mark of Pennsylvania. A Celebration of Life, held in Dick's honor, will be announced in the future.
Colleagues are welcome to submit tributes to Seymour by emailing them to scrippsnews@ucsd.edu.
Stay in the Know
Keep up with all the latest from UC San Diego. Subscribe to the newsletter today.