Record Number of Tritons Selected for National Soccer Coaches Association of America Team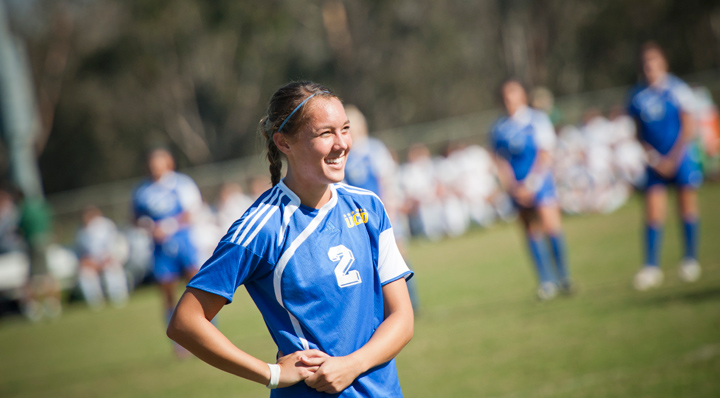 Sarah McTigue earned NSCAA All-America Third Team honors, it was announced on November 9.
Photos by Erik Jepsen/UC San Diego Publications
UC San Diego has placed a school-record six players on the National Soccer Coaches Association of America Division II All-West Region Team. In addition, senior forward Sarah McTigue was named to the NSCAA All-America Third Team.
McTigue, Kristin Armstrong, Anne Wethe and Hayley Johnson were selected to the First Team while Shelby Wong and Cassie Callahan were placed on the Second and Third Team, respectively. UCSD head coach Brian McManus was named the NSCAA West Region Coach of the Year last week for the second consecutive season.
UCSD placed five players on the NSCAA West Region Team in 2009 and 2010, but has never before had six players honored in a single season. UCSD got off to its best start since 1994, going undefeated (8-0-4) in its first 12 games on the way to a CCAA South title and a No. 1 seed in the NCAA Tournament. The Tritons were ousted in the second round and finished the year 13-3-4 overall.
McTigue led the Tritons with eight goals and 19 points in her final campaign, finishing the regular season tied for third in goals and fourth in points in the California Collegiate Athletic Association. Already a First Team All-CCAA and Second Team Daktronics All-West Region honoree in 2011, the distinction of NSCAA All-American is a first for McTigue. She's earned NSCAA All-West Region three times over her career and this is the second time in which she has been placed on region's first team. McTigue will leave La Jolla with career totals of 28 goals, 13 game-winners and 14 assists.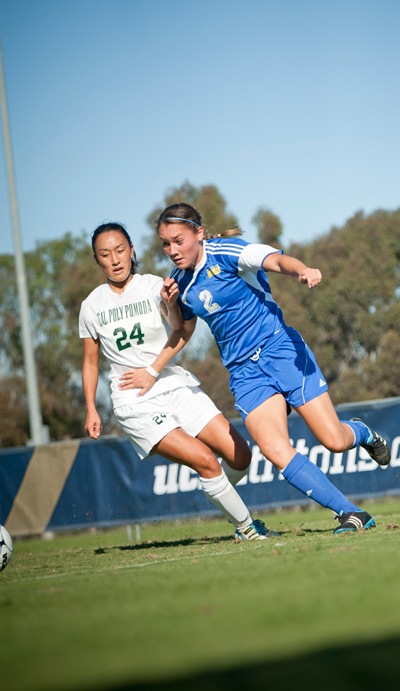 Armstrong was selected to the West Region First Team for the third consecutive season by leading a Triton defense that ranked first in NCAA DII in goals against average (.211), total shutouts (14) and four goals against during the regular season. She was named the CCAA's Defensive Player of the Year and the Daktronics West Region Player of the Year earlier this season. She finished the regular season ranked first in the CCAA in shutouts (11), save percentage (.892) and goals against (7).
Wethe, who also earned First Team honors in 2009, will graduate as a three-time All-West Region Team honoree. A 2011 CCAA First-Teamer, she started 89 of 90 possible games over her four-year career and totaled eight goals, 15 assists and five game-winners. This season, Wethe's lone goal was the decider in UCSD's 2-0 win over No. 10 Seattle Pacific on Sept. 3.
Johnson's offensive worth showed this season, as the junior registered 13 assists. Her total is UCSD's third-most in a single season and she tied for seventh in all of Division II. She totaled eight assists in five games between September 18 and October 2, including three multiple-assist games. Named first team all-conference and Daktronics All-America Second Team, Johnson played one-third of a Triton back line that boasted the lowest goals against average in NCAA DII (.211) and had the lowest amount of goals allowed in the regular season with four.
Wong is a NSCAA West Region Second Team selection for the second consecutive year. An All-CCAA First Teamer, Wong finished second on the team with five goals on the season, two of them for game-winners. She scored the game-winner three minutes into overtime on September 16 at San Francisco State and also had a hat trick in UCSD's 5-0 rout of Humboldt State on October 21 at Triton Soccer Stadium.
The CCAA's Freshman of the Year, Callahan is the first Triton to earn All-West Region Third Team honors. She scored three goals and added four assists while putting 42-percent of her shots on-frame during her maiden season. Callahan earned CCAA Player of the Week for the week of September 12-18 after scoring a goal in each of UCSD's wins at San Francisco State and Cal Poly Pomona.
UCSD was also one of 789 collegiate soccer teams to earn the NSCAA Team Academic Award for the 2011 school year. The Tritons posted a team grade point average of 3.0 or higher to be eligible for the award.
UCSD will have much work to do in the offseason to offset the departure of nine Triton seniors. Six starters will return for the 2012 campaign, including Callahan and Johnson.
Stay in the Know
Keep up with all the latest from UC San Diego. Subscribe to the newsletter today.