Q&A with Edwina Welch, Director of the Cross-Cultural Center, on Her Retirement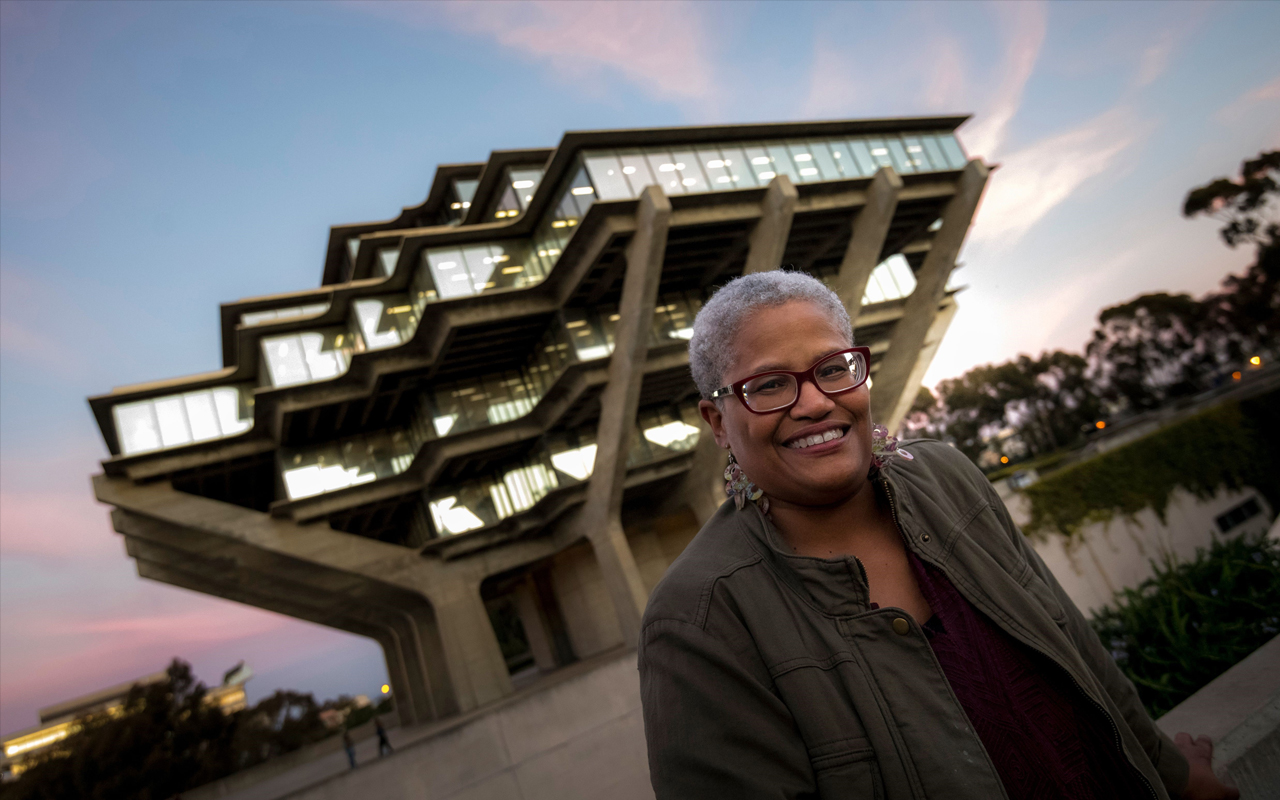 Published Date
Article Content
The Cross-Cultural Center was established in 1995 as UC San Diego's first space dedicated to belonging and community building as well as education about equity, diversity and inclusion. Students were the driving force behind its creation, fueled by activism surrounding the acquittal of Los Angeles police officers in the Rodney King case as well as defacement of the Che Café murals on campus. It has continued to be a place for all students, staff and faculty to engage in social justice work, hold meaningful conversations and improve equity.
As the center's inaugural director, Edwina Welch, Ed.D., arrived with a sense of excitement and possibility that has not subsided during her 25-year tenure at the university. She shares her path to UC San Diego, how the center took shape, origins of her passion for community building and more.
Q: You have served as the inaugural director of the Cross-Cultural Center for 25 years. Tell us about some of your early experiences in launching the center.
Welch: I first arrived on Apr. 15, 1996. UC San Diego was hosting the annual Cultural Celebration Weekend at Marshall College, and I thought, "Okay, I'm home." There had been a lot of questions about the advantages and disadvantages of starting one center for all people versus individual centers for specific communities. The launch was sparked by a really amazing symbiosis between student enrichment programs OASIS and TRIO as well as the Department of Ethnic Studies and the Student Affirmative Action Committee (SAAC). All of these students were organizing at the time, and they were doing it intersectionally, uniting across social, political and cultural identities. The two goals were to improve belonging and educate the campus community.
The first student I met was Rochelle Leakey, who took me to the space that was going to be the Cross-Cultural Center. It was an old mail room with a pole in the middle. She apologized for the status of the space. And I go in and it's 5,500 square feet. It's its own building. And it's two stories high. And I'm like—oh, no, this is fantastic. And when you look at the current center, all of those elements are there—we had a library, a lobby area where people could come and study, a little kitchenette, a big programming room where you can have dances and speakers. And we've just been recreating that in every place the center's been on campus.
Q. What was the most exciting part about creating the center?
Welch: Early on, and particularly when I got to UC San Diego, I realized I like starting things. If there's something that's written down in a plan, or if a group of people want something to happen, I am more than happy to try to make that thing a thing. I'm organizationally creative. I love to think, what are the possibilities?
It was so exciting to start the Cross-Cultural Center because at the time, there was a debate around "multicultural" and "cross-cultural" and "intercultural" and what kind of space to set up. What I loved about the title here was that it automatically was a verb—it meant that everybody is going to be included. We were actually going to be crossing across identities and intersections and histories. And we were going to be doing critical engagement around social justice.
Q: What is the role of the Cross-Cultural Center, and is everyone invited to visit and take part in programming?
Welch: From the beginning we have been dedicated to critical engagement. This means creating a welcoming environment where all students, staff and faculty can learn about equity, diversity and inclusion. We are also committed to supporting the cultural, academic and professional development of students, staff and faculty from underrepresented and underserved communities.
Some people hesitate to visit the Cross-Cultural Center—or any of the campus community center spaces—because of a fear of not being accepted. I can't tell you how many times students have walked through the door for the first time and said, "I've never seen this place. This is so cool! Can I check out books? I didn't know I could come in here." They start studying with their friends; they look at the art; they discover hot sauces available in the kitchen; and suddenly they start to feel belonging and begin to frequent the space often. That's what we want to see more of.
Q: An important part of building community is holding meaningful conversation. How do you define this, and why is it so difficult?
Welch: It's difficult to have an uncomfortable conversation. Cognition shuts down because you think something is going to happen to you. Maybe you start to become anxious because it's a topic you have never heard about, or you wonder if you may say the wrong thing; I call the physical response the saber tooth tiger defense. Meaningful dialogue is letting yourself be okay with feeling uncomfortable and not needing to be right. Growth happens often when we are uncomfortable.
It's such a hard skill because we don't teach it anywhere. What is often taught—and I used to teach this as well—is the concept that cognition will result in meaningful conversations. In other words, if we learn about people's histories, learn facilitation skills, learn about bias - that once we have all of that knowledge, the conversations will be meaningful. And they will not. It helps, but it's not sufficient. It's a matter of both the head and the heart.
Q: What is one program that you launched at the Cross-Cultural Center that you are most proud of?
Welch: I am most proud of the All-People's Recognition Ceremony. It was something that a colleague helped start at the University of Oregon and I wanted to bring it to UC San Diego. Each year in June, everyone could nominate a person they wanted to thank for their contributions. Anyone who got nominated got recognized. Students could acknowledge each other, or faculty could recognize students. We did this for 23 years. At one point it got so popular that we had over 100 nominations. It was a way to build community and moment of celebration for everyone.
Q: How did your family inspire you to develop a passion for community building?
Welch: I grew up in Vallejo, California, which is a small town outside of the Bay Area. I am the youngest of six children, and also the shortest and quietest—though nobody believes me! Both of my parents came from the South during the World War II era when folks were doing the great migration. My siblings all played sports, were in the pep band or did cheerleading. My parents were also active at church and at our school. Seeing them, I started to realize that I should be doing things in the community and serving others.
By middle school I had started to join all of the clubs available. In high school I joined the Black Student Union, the Associated Student Body, the homecoming court. I attended Cal State Sacramento to study communications and business administration, and got involved in the Pan African Student Association, Associated Students and the Early Academic Outreach Program. I understood the importance of service but didn't know how to translate that into a job.
Q. Can you share more about the path that led you to UC San Diego?
Welch: Prior to coming to campus, I worked at the University of Oregon as the director of their Women's Center and an academic advisor and recruiter for students of color. Out of college, my first job was at JC Penney's as a merchandise and sales manager. I will always love my experience in retail, but after about the third Christmas, I realized it was not as fulfilling as I would like it to be as a career. At the time my brother was working in higher education and encouraged me to consider working at a university. He sent me a job description to be a recruiter for the University of Oregon and to work in multicultural affairs. Securing that position solidified my passion.
Q: What will you miss most about the Cross-Cultural Center?
Welch: I'm nostalgic, but not sad. People ask me about the future of the center, but I'm not worried because it's going to become what it needs to become. I will say that you will see me around campus; there's still so much to do at UC San Diego and I want to stay engaged.
I do have a lot of special memories. I will miss the buzz of Monday nights when student organizations would meet at the center, especially the 20-minute passing period when meetings ended, and everyone chatted in the hallway. I will miss the impromptu conversations from people who would come by my office to get candy, or rest on the couch, or de-stress with a foam roller on the floor.
Q. What are your plans after retirement?
Welch: Prior to this, I could not even imagine spending 25 years in one role. It has only felt like six because there has been so much change on campus. I plan to continue my work in equity, diversity, inclusion and anti-racism. My goal is to create a blog, website or news podcast where I can really dig into questions of complexity on how one moves in institutions like higher education.
There are so many people who believe they are not enough because of the way the systems and structures in our world currently function. We are enough; we have everything we need in ourselves. I love holding complexity and supporting people in navigating this complexity, because life is not binary, there is no one answer. I believe that global issues like famine and climate change are a result of how people see each other, and how people feel valued. My work will continue to delve into these topics.
---
The Cross-Cultural Center is one of six campus community centers at UC San Diego that build affinity among a diverse population of students, staff and faculty. They are places of belonging, where traditional notions of diversity are challenged. Where self-awareness is learned, leaders are developed, and open dialogue and expression are encouraged.
Stay in the Know
Keep up with all the latest from UC San Diego. Subscribe to the newsletter today.