Q&A: How Are Campus Health Records Protected?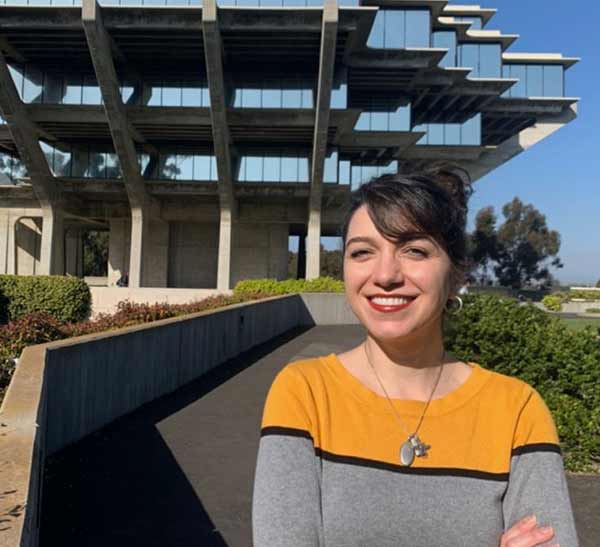 UC San Diego's fall plan is continually evolving, informed by the university's Return to Learn program. We invited students, faculty and staff to submit their questions, including inquiries about how student and employee health records are protected, what information is stored, who is informed of test results and more.
To address these important topics, we spoke with UC San Diego's campus privacy officer, Pegah Parsi. In her role she helps the university handle personal data appropriately and ethically and advocates for those who have privacy concerns.
Q. How are student and employee health records protected?
A. UC San Diego is committed to treating all medical information, including that which is generated as a result of the Return to Learn program, with a high level of privacy and security protections. We maintain technical, physical and administrative safeguards to protect the security, integrity and privacy of personal data. To ensure a high level of privacy and security protections, UC San Diego will store information related to COVID-19 testing in UC San Diego Health's electronic health record system known as Epic. Epic meets the high standards of privacy and security required by the Health Insurance Portability and Accountability Act (HIPAA).
Health information is not part of employment or personnel files nor student education records.
Q. Where are student and employee health records stored?
A. Information related to COVID-19 testing is stored in UC San Diego Health's electronic health record system known as Epic. This record is used to administer university-paid health services, including testing and vaccinations.Symptom and exposure screening information is not maintained in electronic health records.
All students have an electronic health record in Epic so that the care they receive from Student Health Services, and any referrals to UC San Diego Health, are maintained in one place. Students can access their health information through the MyStudentChart portal, which is protected by the same enhanced privacy and security safeguards that are provided to UC San Diego Health patients.
Electronic health records have also been created for all employees in Epic, using name, date of birth, address, gender and Social Security Number (by consent only) to ensure correct identification. Employees can access their health information through the MyUCSDChart portal. If an employee already has a UC San Diego Health electronic health record, this information is used to associate their existing record with their status as an employee.
Q. What information is gathered during the daily symptom and exposure screening?
A. Self-screening for COVID-19 symptoms is an important part of UC San Diego's Return to Learn program. In accordance with the current San Diego County Health Order, all UC San Diego faculty, staff, contractors who are reporting to campus or any other physical location for work, as well as students living on campus or traveling to campus for in-person classes, work and other activities, must conduct a daily symptom and exposure screening.
Employees and students have separate screeners, and both require registration before the initial screening. During the one-time registration, the university collects a registrant's name, email address, preferred phone number and registration date. For employees, campus/Health affiliation, job category, primary work site, specific campus location and supervisor's name and email is also collected. Individuals registering will be asked if they would like to receive daily email reminders. Those not coming to campus are also encouraged to take the daily symptom screening.
On days that employees and students will be physically on campus, they will access their respective symptom and exposure screening survey and will be asked if they are experiencing any COVID-19 symptoms or have been exposed to an individual who has tested positive. The "yes" or "no" response will be recorded. Note that the survey does not ask which of the symptoms you have, just whether you have any symptoms.
If an employee responds "yes," they will be instructed to not report to work and to contact their healthcare provider. Students who respond "yes" are asked to begin isolation, speak with a clinical provider and not to attend in-person classes or come to campus. Those who screen symptomatic can be tested for COVID-19 at UC San Diego Health or Student Health Services at no additional cost to the student, staff or faculty member, regardless of healthcare provider.
Q. If you report symptoms and/or receive a positive COVID-19 test result, who is informed?
A. For employees who report symptoms on the daily symptom and exposure screening, the supervisor identified during their initial symptom screening registration will be notified that they will not be reporting to work that day. Supervisors do not have access to answers to specific symptom screening questions, any test results, or any other medical information about you. In addition, the UC San Diego Testing Support Line will contact you to inquire if you'd like to be tested through UC San Diego Health.
For anyone who tests positive for COVID-19, results are reported to San Diego County health officials per county requirements. Contact tracing will commence to notify any close contacts of potential exposure. For our campus community, UC San Diego's School of Public Health contact tracing team will conduct contact tracing. And the Emergency Operations Center (EOC) will help transport students who need isolation housing as well as coordinate residential housing and worksite cleansing.
If a staff or faculty member chooses to be tested with their own healthcare provider, it is incumbent upon the employee to inform the Center for Occupational and Environmental Medicine (COEM) or HR if the result comes back positive. If a student receives a positive test from a non-UC San Diego Health location, they must report their results to UC San Diego's Student Health Services by calling (858) 534-3300.
If you have any general questions about how your personal information is used, please contact ucsdprivacy@ucsd.edu. You may learn more about UC San Diego's Return to Learn privacy protocols here.
We invite the campus community to continue to submit questions about the Return to Learn program online. A new Q&A will be published each Thursday in This Week @ UC San Diego for the next several weeks.
Stay in the Know
Keep up with all the latest from UC San Diego. Subscribe to the newsletter today.