Published Date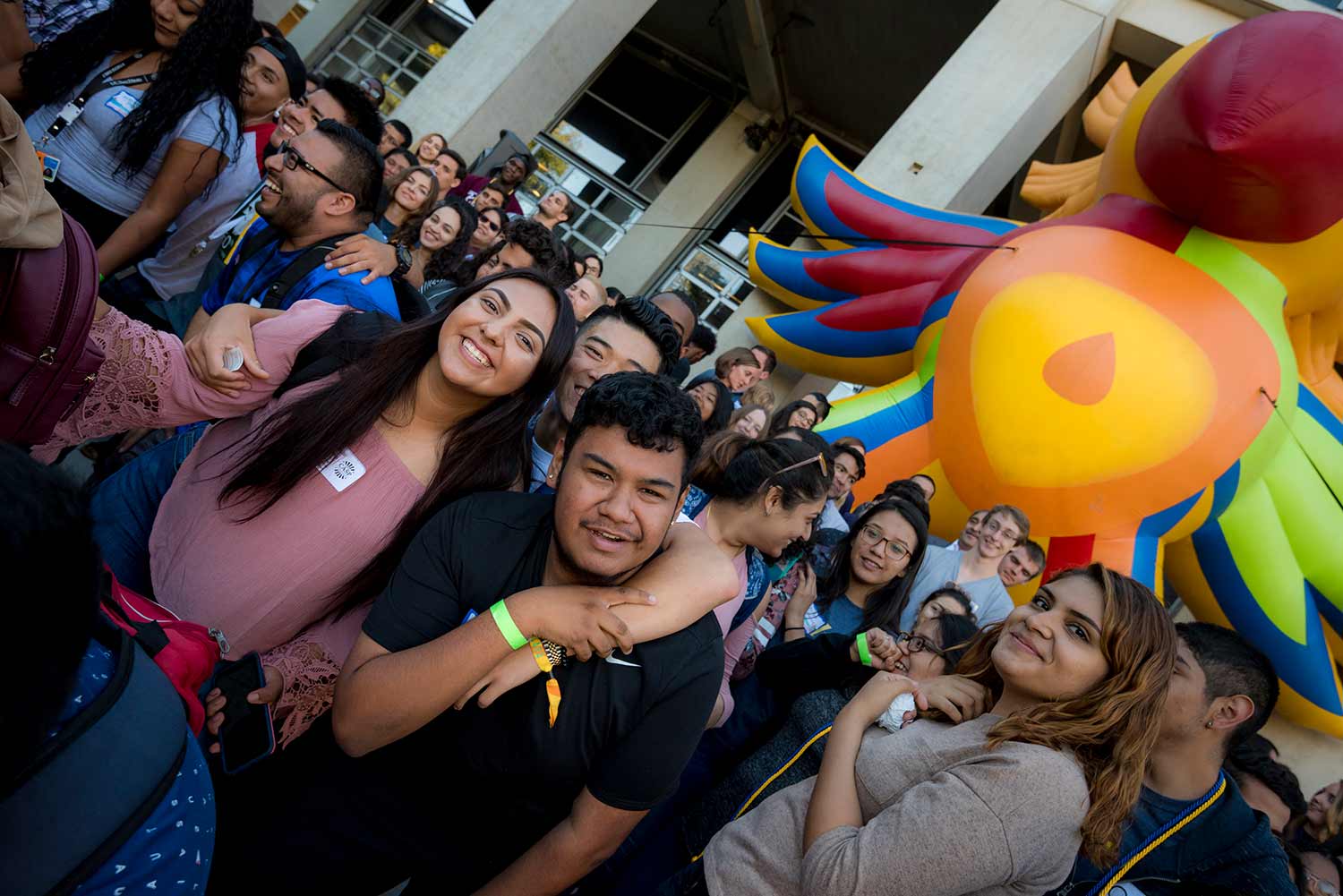 Putting First-Gen Students First
Upward social mobility efforts earn campus designation as a "first forward" institution
As a first-generation college student, UC San Diego sophomore Ikran Ibrahim knows just how difficult the transition to college freshman can be.
"I came in with no prior knowledge of what to do, what resources may be available, or who to reach out to when I'm struggling," said the Southeast San Diego native. However, Ibrahim, a biochemistry and cell biology major, found support in the campus's Office of Academic Support and Instructional Services (OASIS) Summer Bridge Program. The initiative provides an intensive five-week residential program for incoming students—many of whom, like Ibrahim, are the first in their family to attend college. Summer Bridge is designed to ease the transition for incoming freshmen by helping them adjust to the academic, social and cultural life of UC San Diego.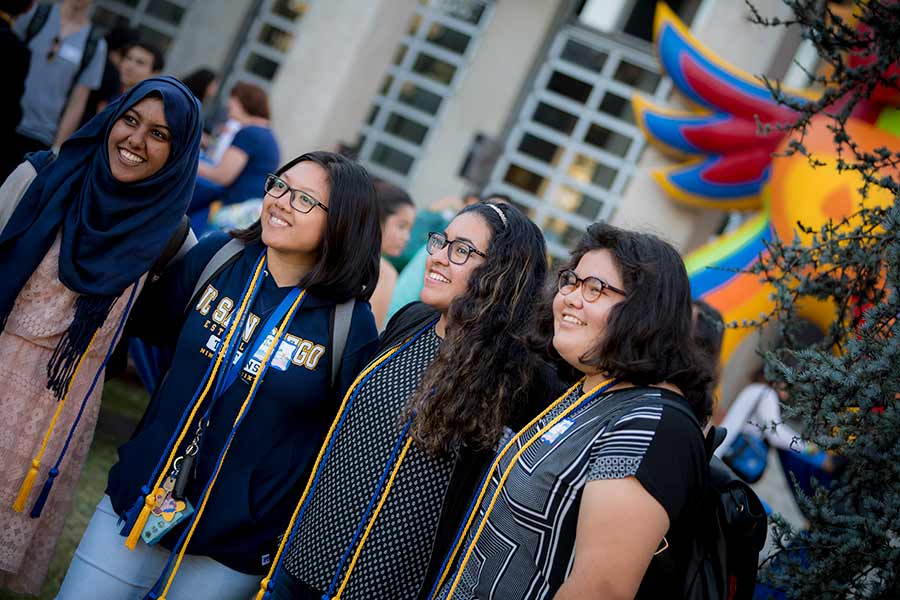 "Summer Bridge put me in contact with hundreds of other students who come from similar backgrounds," Ibrahim said. "OASIS has been a great resource. They have provided me with lots of mentoring and tutoring, as well as opportunities to work and thrive."
Programs such as Summer Bridge recently helped UC San Diego earn the designation as a "first forward" institution in the National Association of Student Personnel Administrators (NASPA) inaugural list recognizing universities for their commitment to improving experiences and advancing outcomes of first-generation college students. NASPA is the leading international association for the student affairs profession. As a "first forward" college, NASPA will provide UC San Diego and other selected universities with professional development, community-building experiences, and advance access to the center's research and resources.
New Rankings Cement Campus's Commitment to Accessibility
With nearly 40 percent of UC San Diego's undergraduate student body identifying as first-generation, UC San Diego's commitment to these scholars aligns with the university's mission of remaining accessible and affordable to diverse student populations. The "first forward" designation came just days after UC San Diego was included in Forbes Best Value Colleges list as the No. 13 university in the nation for delivering the greatest value for the money: education quality; net price; net student debt; alumni earnings; timely graduation; and access for low-income students.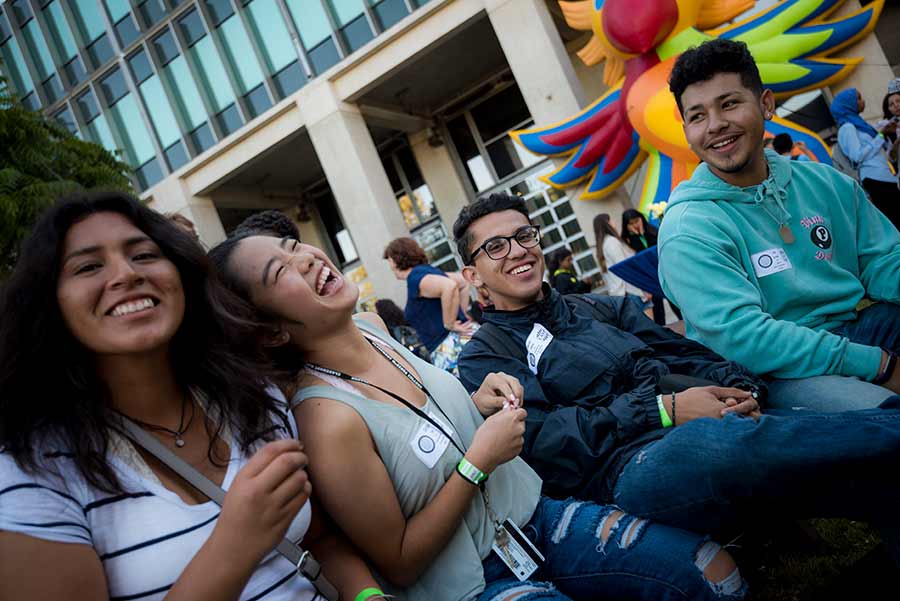 In addition, Money Magazine recently rated UC San Diego the nation's 6th best in the publication's list of top colleges for transfer students. The university topped the rankings list—based on student enrollment and its graduation rate for transfers—because of its strong partnership with California Community Colleges. More than 90 percent of UC San Diego's transfer students come from community colleges across the state and 50 percent of all transfer students on campus are the first in their family to attend a four-year university.
"UC San Diego's commitment to first-generation students is a critical part of the university's efforts to increase upward social mobility for talented and hard-working students who deserve access to higher education," said Chancellor Pradeep K. Khosla. "We go above and beyond to attract and enroll such students and provide them with the resources essential for them to thrive as undergraduates and, eventually, alumni."
An "It Takes a Village" Approach to Fostering Student Success
According to NASPA, UC San Diego was included in the cohort of "first forward" institutions for cultivating a culture of inclusivity, providing engaging educational opportunities, and rallying the campus community to recognize the unheralded strengths of first-generation college students. For example, UC San Diego launched the Triton Firsts initiative to engage first-generation professors, lecturers, researchers,staff, graduate students, and alumni to inspire and equip first-generation students to excel during their undergraduate journeys.
Other programs include first-generation communities at the campus's undergraduate colleges and TRIO programs. TRIO programs are federally funded initiatives that help first-generation as well as low-income students transition into college, provide support during students' undergraduate years and assist them in the attainment of doctoral degrees.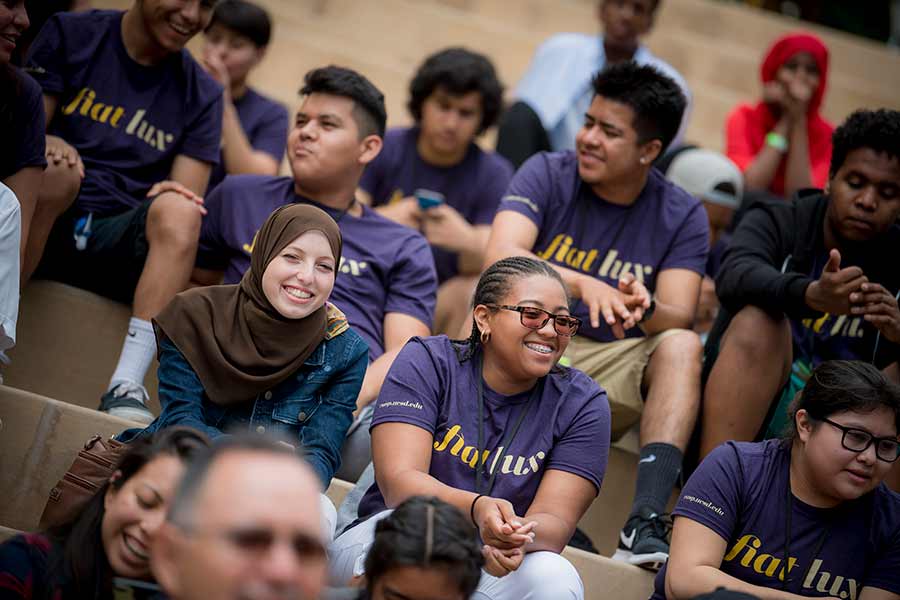 Additionally, Student Success Coaching helps scholars achieve their goals by connecting first-generation students to high-impact experiences such as student involvement, faculty interaction and more. And the campus offers the Chancellors Associates Scholars Program to help first-generation students gain admission and then support them through the time it takes to earn a degree. These first-generation student-supporting programs are just a snapshot of the resources the university provides to help students succeed and are essential components in NASPA's decision to honor UC San Diego
Strengthening this student support structure, first-generation students at UC San Diego also have access to a network of academic support resources available through the campus Teaching + Learning Commons. At the Commons, students receive tutoring, build learning strategies, participate in peer-assisted study sessions, and develop their writing skills. Whether in a group setting or through one-on-one assistance, these services and resources help students develop effective learning and problem-solving strategies to be successful at UC San Diego and beyond.
The six undergraduate colleges also support students through courses like the First Year Experience and Transfer Experience.
"UC San Diego's support of first-generation students is truly a broad and a campus-wide collaborative effort," said Elizabeth H. Simmons, Executive Vice Chancellor of Academic Affairs. "We offer the expertise, resources, and personal and professional commitments needed to ensure that first-generation college student success is of the utmost priority for all stakeholders across campus."
As a "first forward" institution, select UC San Diego faculty and staff will have multiple opportunities to engage with peer and aspirational institutions who are also creating environments that improve the experiences and outcomes of first-generation students.
For more information about NASPA's "first forward" cohort of colleges and universities, visit their website. For more information about how UC San Diego supports students, including first-generation students, please visit the Student Retention and Success (SRS) website.
Stay in the Know
Keep up with all the latest from UC San Diego. Subscribe to the newsletter today.