Public Health is the Next Big Thing at UC San Diego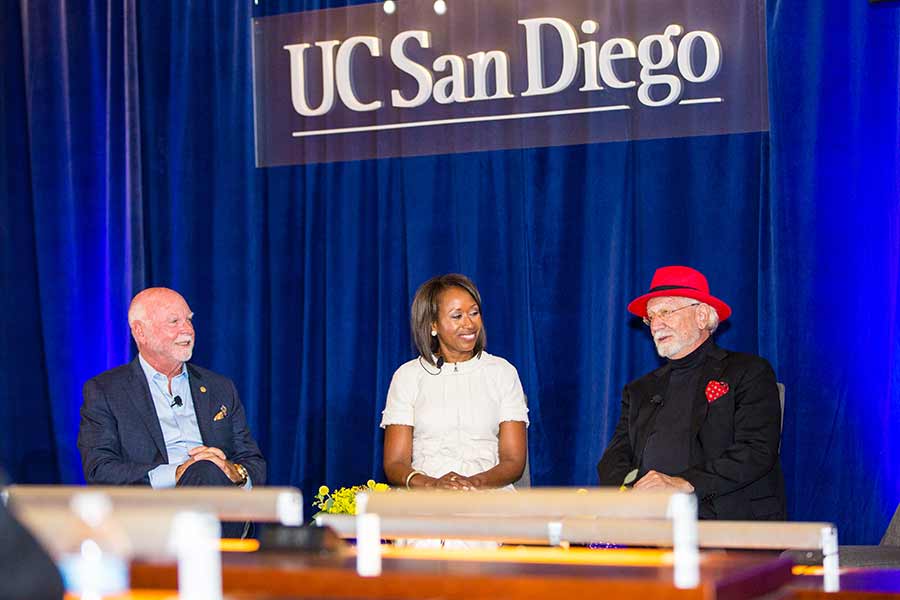 According to the American Public Health Association, public health is prevention, education and wellness combined together to make our shared environment a happy and healthy one. The University of California San Diego is taking a big step in researching and understanding public health with a focus on the overall health of various communities. As part of that focus, on May 4 the university convened experts from across the campus in public health, including those from Family and Preventative Medicine, Engineering and Scripps Institution of Oceanography.
A symposium entitled "Disruptive Innovations for the Greater Good: The Future of Public Health at UC San Diego" was presented to honor Herbert and Nicole Wertheim and the Wertheim Family Foundation in celebration of their contributions to public health and human longevity initiatives at UC San Diego. Held on campus at the T. Denny Sanford Medical Education and Telemedicine Center, the event was hosted by Chancellor Pradeep K. Khosla and Vice Chancellor David A. Brenner, M.D.
The public health conversation and exploration featured keynote speaker and UC San Diego alumnus J. Craig Venter, founder, chairman and CEO of the J. Craig Venter Institute; a panel with leading health scholars led by Cheryl Anderson, professor and interim chair of the UC San Diego Department of Family Medicine and Public Health and director of the UC San Diego Center of Excellence in Health Behavior and Equity; and featuring Herbert Wertheim, optometrist, innovator and philanthropist.
"Thanks to Nicole and Herbert's transformative generosity, we're recognizing them for their amazing vision of imagining public health here at UC San Diego," said Chancellor Pradeep K. Khosla. "With a focus on public health, we can define the future where medicine, biology, engineering and public policy come together. We can look at how we, as human beings, can live in a better society and create better health outcomes for each and every one of us, regardless of our socioeconomic background."
The Dr. Herbert and Nicole Wertheim Family Foundation has pledged $25 million to UC San Diego as a lead gift to usher in a new era of public health research, education and advances that will promote healthier populations on a local, national and global scale because of the university's increased focus on public health. Wertheim, the inventor of UV-blocking eyeglass tints, is the founder and CEO of Brain Power Incorporated (BPI), the world's largest manufacturer of ophthalmic instruments and chemicals. The transformative gift will support UC San Diego's current public health initiative including critical faculty growth, expanded educational offerings and key research needs in perpetuity, while enabling faculty members to pursue collaborative research projects.
The gift is contingent on the establishment of a school of public health at UC San Diego if approved by the University of California. The campus will commit $25 million to the public health initiative, and hopes to raise an additional $50 million to construct a building if the school of public health moves forward.
"Hopefully, our school of public health will begin to get into the secondary schools and talk about the responsibilities of life. I always say prevention is the best medicine and all of us here have two things in common," said Herbert Wertheim. "It's our time and our humanity. What we do with those two things—very valuable things—defines who we are. So, as I say to my students and friends, use those two things wisely."
"I think the timing of this generous gift from The Wertheim Family Foundation is critical," said Venter. Introduced by Brenner as UC San Diego's most famous alumni, Venter is known for leading the first draft sequence of the human genome. "What we view as public health is changing dramatically and the number of preventable deaths has now reached an all-time high," he said. "A significant part of that statistic can be attributed to the anti-vaccine movement and new synthetic drugs, so now more than ever public health education is becoming absolutely necessary."
Because public health is focused on the overall health of communities and not individual patients, it often crosses disciplines and incorporates aspects of social science as well, such as political science, anthropology and sociology. It's about understanding all the factors that divide communities and don't allow certain people access to healthy lifestyle and, thus, leave them more susceptible to preventable illnesses.
At UC San Diego, there is a focus on interdisciplinary research and bringing together experts in various fields. "The UC San Diego campus has no boundaries, no borders. We can walk across the street and in five minutes, be sitting with faculty and engineering," said Anderson. "We can walk not too far away and be at the hospital. What it allows us to do is approach problems with diverse perspectives."
UC San Diego is an ideal place to study public health and pursue solutions in medicine and prevention thanks in part to its unique cooperative philosophy. "There's this culture of collaboration we have, which I've never seen at any other institution," said Brenner. "Not only are there many people on this campus interested in public health from across departments and fields of study, but our collaborative nature allows us to think critically about solutions and come up with new ideas that were impossible to conceive of a very short time ago."
The university noted that this type of public health symposium will now be an annual event held every spring, bringing visibility to UC San Diego's vast strengths and resources in the area of public health.
View the complete video of the symposium. For more information about UC San Diego's public health initiatives, visit publichealth.ucsd.edu.
Stay in the Know
Keep up with all the latest from UC San Diego. Subscribe to the newsletter today.