Promising Preuss Composers Learn the Art of Music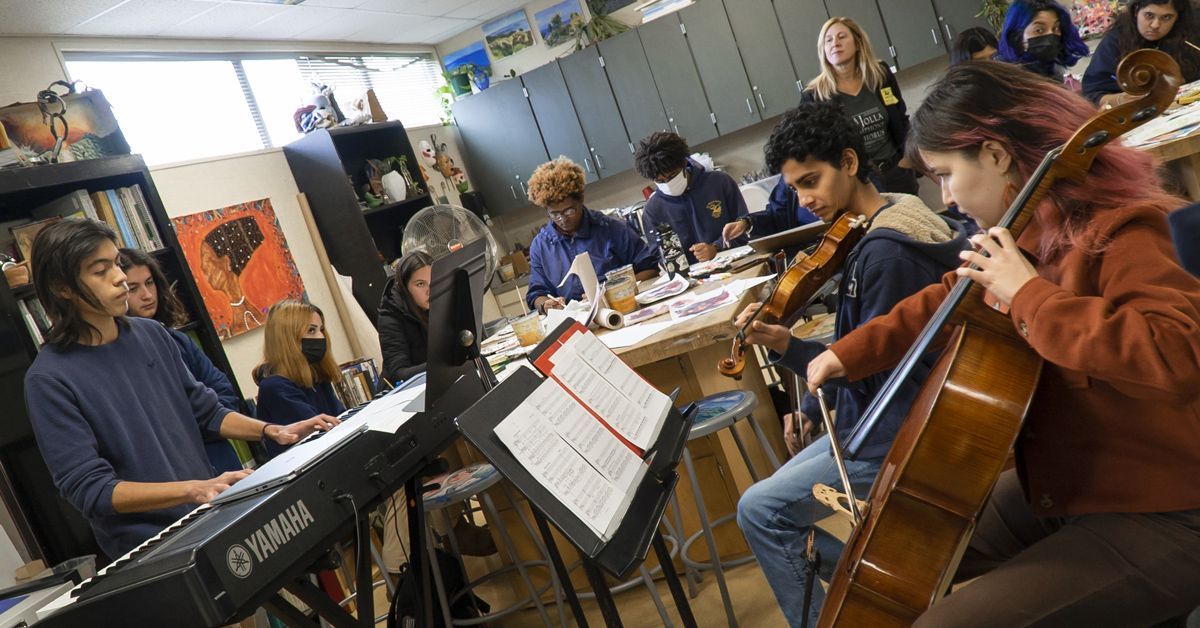 Published Date
By:
Topics:
Share This:
Article Content
This was no ordinary day for art students at The Preuss School UC San Diego. They waited in anticipation for their subjects to begin moving—a quartet of professional musicians including two violinists, a violist and a cellist seated in the center of the room. Some art students held paint brushes, others chose markers; one opted for their own fingers as their tool. As the musicians began to fill the space with melody, students started splashing color on their paper, an abstract representation of the harmonies they heard and the shapes they saw.
The notes that enveloped the room were not just any—they were a series of special compositions created by three promising student musicians at The Preuss School. For the past several months the students have been working with composer Alex Stephenson, a doctoral candidate in music at UC San Diego. Each one built a two-to-four-minute piece that involved three or four instruments.
And the highlight? Hearing their brand new compositions played by professional musicians in their own classroom. The quartet comprised members of the La Jolla Symphony & Chorus and UC San Diego's Symphonic Student Association.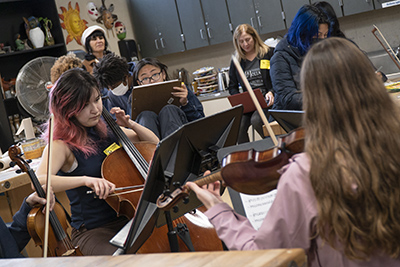 "I thought it was brilliant; they composed years beyond their age," said Gaby Carr, a UC San Diego graduate student studying nanoengineering and minoring in music. Carr played cello in the quartet and serves as president of the Student Symphonic Association. "There were rhythms that I've never played before in my entire life that sounded so cool and captivating."
The conductor of the unique collaboration was Jay Wolf Schlossberg-Cohen, known as "Mr. Jay" to students at The Preuss School where he is an artist-in-residence. This is the second year that Schlossberg-Cohen—who leads socially-conscious, community-oriented art projects nationally—has orchestrated a collaboration between Tamima Noorzay's art class, Mercy Hwong's music class and the La Jolla Symphony & Chorus.
Throughout the session, Schlossberg-Cohen would remind students to embrace the experimental process. He encouraged students to depict both the musician and the music, paying attention to any images that arose as they felt the pitch and tones; "If you see an image when you hear the music, add it in." Other tips he suggested were to watch the repetition of the musicians' fingers as they moved across the piano and strings, to fill their papers with a range of colors and to paint based on their talent and preferred tempo.
The original student artwork produced by artists at The Preuss School will be on display at the upcoming La Jolla Symphony & Chorus concert, "Music of the Spheres," to be held March 18 and 19 at Mandeville Auditorium. The performance will include "An Elemental Music" by Stephenson, whose work ranges from acoustic and electroacoustic concert music to sound installations and interdisciplinary collaborations.

Shaping musical minds
Each of the three Preuss student composers had the chance to work with Stephenson virtually on their compositions, gaining feedback and getting exposure to other musical inspiration. Senior Liam Rodriguez learned how to make connections and integrate inspiration from other artists into his own work. He embraced the opportunity to compose for the three-instrument quartet as a way to challenge himself and extend his creativity.
"On my score I wrote notes like, 'barely touching the surface of the melody,' to be interpreted by the musicians," explained Rodriguez. "There isn't an exact instruction; rather it should be all based on emotion, feeling. If they don't interpret it the same way I do, that's even more interesting because it opens up my mind."
Rodriguez started playing music at age seven when his parents encouraged him to begin pursuing an extracurricular activity. When presented with the option to learn karate or guitar, he chose music. "There is just something about sound art that makes you feel certain emotions; sometimes I feel like I can portray those emotions more efficiently through music than I can through words," shared Rodriguez.
Sophomore Mauricio Salas' musical awakening happened a little differently. "I remember when I was nine years old my parents took me downtown in the evening and I saw some jazz street performers. I looked at these musicians and thought, wow, that music is beautiful. Ever since I've been inspired to learn an instrument, and that got me to where I am today. I love music. I don't think I could have made a better decision."
Salas took an active role in the performance of his piece during the class session. He played piano while the two violinists and cellist joined him in bringing his composition to life. Though Salas did not have a particular emotion to evoke in his work, he explained that it was motivated by feelings of happiness and joy that he felt at the beginning of the year.
On his reaction to hearing his creation played live, "It's refreshing to hear it in person because when you do it digitally it's not the same; but when you hear it in person it's so atmospheric, you really feel it. There's a sense of accomplishment; I feel proud and satisfied."
For junior Jefferson Lam, the project was a chance to stretch his skills by writing for instruments for which he has never composed—as well as write music to be played by live musicians. His song was full of excitement, dramatic crescendos and quick tempos.
"Something that I often struggle with when I write music is how to write something from the player's perspective," said Lam. "In this piece I tried to keep my high-octane style while trying to mellow it down enough where I think people can actually play it."
Lam fell in love with music in elementary school when his class was introduced to a variety of instruments. He resonated with the violin; today his favorite is piano. In the future Lam would like to pursue a creative career such as an animator, artist or video game music composer.
While students at The Preuss School have many opportunities to engage in the arts and music, there is room for growth—like a new facility that will elevate their curricular offerings and performances, on their wish list. There is certainly no lack of talent. Tonight the campus and local community are invited to explore the talent of scholars at the Festival of the Arts, happening from 5:30-7:30 p.m., featuring music, dance, poetry, a fashion show and a rock band performance.
The charter middle and high school is located on the UC San Diego campus and enrolls low-income students who are the first in their family to graduate from college. Recognized as the best high school in the county by U.S. News & World Report, The Preuss School empowers scholars, elevates families and transforms communities.
Topics:
Share This:
Stay in the Know
Keep up with all the latest from UC San Diego. Subscribe to the newsletter today.