"You Belong Here": Prioritizing Equity in Mental Health on Campus
New series aims to empower UC San Diego employees with education, tools and strategies to boost mental health and well-being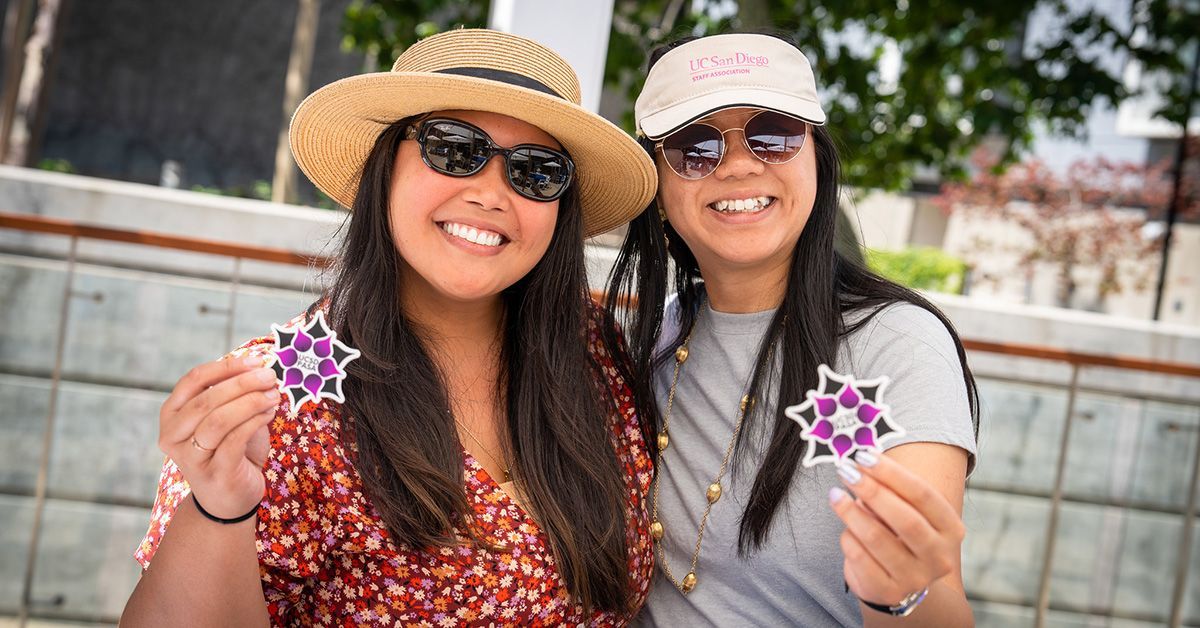 By:
Published Date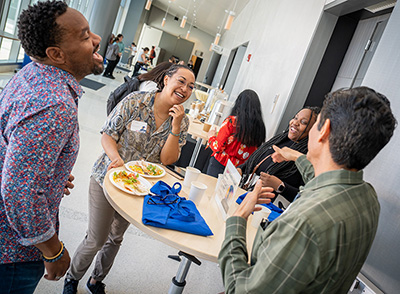 Made possible by funding from the University of California Office of the President, the series kickoff event brought together over 100 campus colleagues at the Qualcomm Institute for a resource fair, catered lunch and a conversation facilitated by licensed counselors from FSAP. Attendees were also invited to participate in guided meditation, movement exercises from Employee Wellness, an ice cream social and more.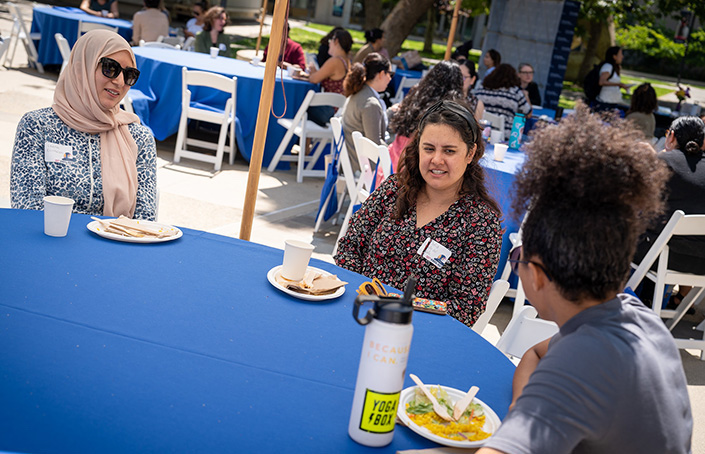 With programming tailored specifically for UC San Diego staff members, the series aims to foster a sense of connection and belonging while boosting awareness of the mental health and wellness resources available at the university. Additionally, it will equip participants to return to their respective areas of campus as ambassadors for equity in mental health who can share their improved knowledge of those resources with others who might benefit from them.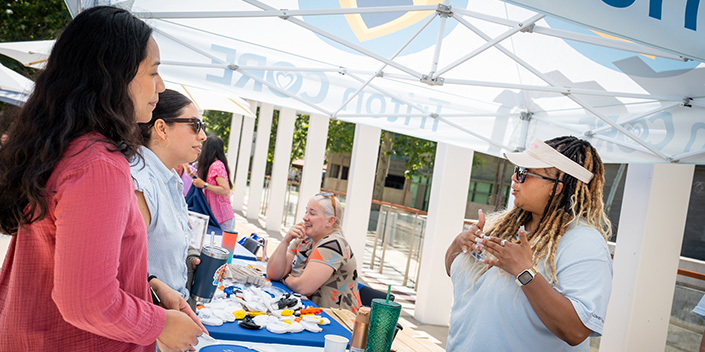 "At UC San Diego, we recognize the importance of mental health equity for all members of our campus community. We started the Equity in Mental Health initiative with an emphasis on staff because we know that our staff members can only thrive when they have equal access to resources to support their mental wellness," said Becky R. Petitt, vice chancellor for Equity, Diversity, and Inclusion. "Through intentional collaborations with FSAP and other campus organizations, we have developed this timely event series to promote and celebrate the well-being of our staff."

"We want you to have the sense that you're a Triton, you belong here, and you bring your whole self to this campus," said Crystal Green, director of FSAP, as she addressed the attendees. Green encouraged them to use the series speakers and available campus resources to fill their own "personal toolbox" of coping skills they can use to respond to changing situations that might cause stress, challenges and learning opportunities.
A program of UC San Diego Campus Human Resources, FSAP is a confidential, in-house employee assistance program that provides campus faculty and staff, postdoctoral and visiting scholars, emeriti and retirees with access to licensed professional counselors at no cost. The team provides one-on-one information, support and counseling as well as a variety of educational workshops and support groups. Earlier this year, FSAP expanded by nearly doubling the number of counselors available and diversifying the team to represent many intersectional identities so that employees of all backgrounds can feel safe and seen. The program's prominence within the university's HR structure is a manifestation of the UC San Diego People Proposition, which emphasizes that equity, inclusion, care, growth and purpose are fundamental to employee satisfaction.
During the kickoff event, representatives from both EDI and FSAP took to the podium to share insights related to equity-centered and trauma-informed approaches to mental health.
Frank Silva, associate vice chancellor for Equity, Diversity, and Inclusion, acknowledged the increased stress and anxiety that many have felt over the past few years due to the pandemic and other societal events, particularly among members of communities that have been historically marginalized.
"We want to make sure that our staff understand that we care about you," Silva said.
According to Green, achieving equity in mental health on campus involves evaluating the fairness and accessibility of services and offerings, as well as ensuring that providers strive to view each participant as an individual, unique person and tailor their interactions accordingly. She encourages members of the campus community to be aware that different people react to trauma in different ways, explaining that when we are informed about trauma and its triggers, impacts, signs and symptoms, we can work to reshape those experiences into qualities such as strength and resilience.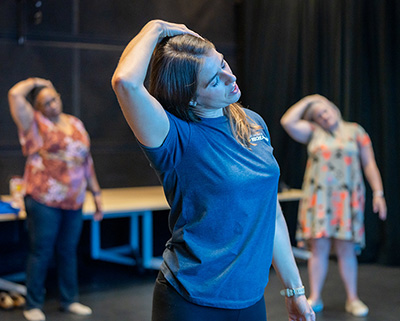 During the kickoff, Cathy "Cat" Thompson, a licensed clinical psychologist and FSAP counselor, delivered an impactful presentation on equity-centered, trauma-informed care and shared a quote by renowned physician and author Gabor Maté that resonated with the audience: "Trauma is not what happens to you; trauma is what happens inside you as a result of what happens to you.
For a 10-minute meditation on self-care, FSAP counselor Izabel Caetano-Franzy led the group through a customized experience set to calming music.
Toward the end of the session, FSAP counselor and licensed psychologist Christina Lambert asked participants to divide up into pairs or small groups, if comfortable, to answer a simple question: "What's your plan?" From improving nutrition or spending more time outdoors to scheduling an appointment for counseling or joining a support group, attendees were encouraged to commit to one action to support their own well-being or the well-being of the campus community.
Participants also were invited to come up to the microphone to share insights or feedback with the staff from EDI and FSAP. One individual shared that they were proud to work for an employer that values the mental health of its employees and is willing to take action on it. Another addressed concerns about how to reach out to students they encounter through their work who may benefit from mental health resources. A third suggested that departments consider hosting mental health and wellness activities in the workplace, such as yoga or meditation, for the benefit of their staff.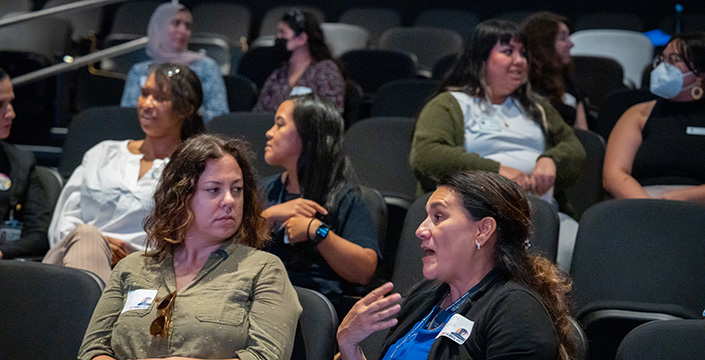 With one event planned for each quarter of the upcoming academic year, the Equity in Mental Health series will continue to focus on education, tools and strategies to help staff members thrive at UC San Diego. This fall, neuroscientist Mays Imad will visit campus to speak on the topic "Resilient Places," sharing how to create environments that support and nurture all, as well as how to actively reduce adversity, mitigate harmful stressors, boost resilience and more. The event also will include mindfulness exercises and small group learning.
Due to the popularity of the kickoff event—which reached capacity within an hour of registration opening—interested individuals are encouraged to keep an eye out for announcements regarding the upcoming quarterly sessions. As they prepare for the remainder of the series, leaders in the Office of EDI, FSAP and other campus partners are encouraged by how well-received the program already has been.
"The overwhelming response we have received is a reflection of our staff's unique needs. By prioritizing mental health equity, we are fostering a healthier and more inclusive environment where our staff can thrive personally and professionally," said Petitt.
Stay in the Know
Keep up with all the latest from UC San Diego. Subscribe to the newsletter today.