UC San Diego Doubles Down on Behavioral Health Counselors for Campus Employees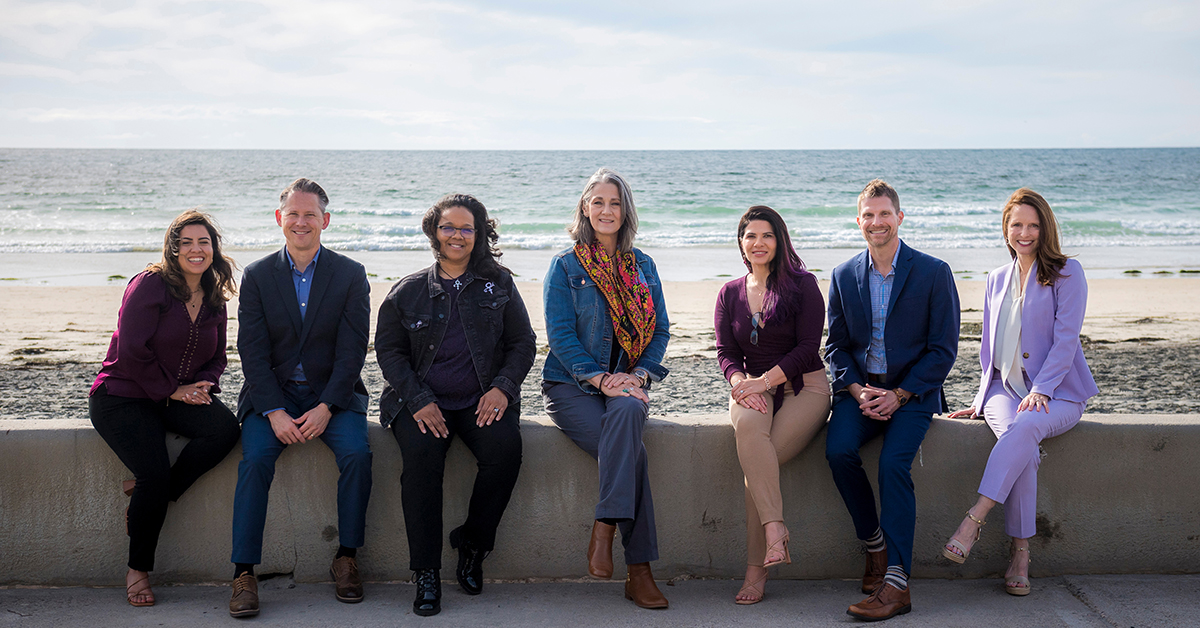 Published Date
By:
Share This:
Article Content
For more than 30 years, the Faculty Staff Assistance Program has been helping campus employees with well-being and relationships, both professional and personal. Thanks to a recent expansion in staffing, the program looks to help a broader and more diverse campus community, and also to train a new generation of counselors for employee assistance programs.
The Faculty and Staff Assistance Program (FSAP) is a confidential Employee Assistance Program (EAP) which provides access to licensed, professional counselors at no-cost. This service is available to campus faculty and staff, postdoctoral and visiting scholars, UC San Diego emeriti and retirees.
"An embedded, or in-house, Employee Assistance Program counseling service is a tremendous benefit to employees and the workplace," said Crystal Green, director of the Faculty and Staff Assistance Program, a highly-lauded program that is chosen by campus employees in the annual Customer Satisfaction Survey as one of the highest-rated departments. "Our team has increased and we have broadened services to provide a richer experience for employees and their families. We assist with both personal relationships and professional concerns, including support for organizational change. Some concerns need only brief interventions, while others take time to create the desired change."
FSAP is prepared to help in almost any relational situation, from any corner of campus, and often partners with various campus leaders, human resources partners and other campus service providers like the Office of the Ombuds, the Sexual Assault Resource Center, the Faculty Wellness Committee and Recreation.
The FSAP team provides one-on-one information, support and counseling, but also a wide variety of educational workshops and support groups. The program was recently expanded by nearly doubling the number of counselors available to campus employees and retirees. While expanding the number of counselors, the team also expanded the diversity of the team to better reflect the identities of our employees', our region and our campus.
"In response to many requests from staff and faculty to increase our diversity profile, we have assembled a group of highly experienced and professional Employee Assistance Program providers," said Green. "We hope more and more employees, with their many intersectional identities, will find a sense of familiarity and safety with us, and more readily reach out for support."
Some of the support group offerings include:
Spanish-speaking employees have a new resource in Jennifer Triana, a licensed clinical social worker fluent in Spanish. Triana has started to make connections to learn how she can best serve the needs of the campus community with Spanish-language counseling.
Employees and their family members who identify as neurodivergent will benefit from several support groups led by licensed psychologist Christina Lambert.
Campus employees identifying as BIPOC (Black, Indigenous, and People of Color) can join a monthly online conversational space led by Triana and licensed psychologist Cat Thompson. Thompson is also planning a series of Solidarity Circles with our Black Staff Association.
Services have been increased for working parents, as well. Izabel Caetano-Francy, who is certified in perinatal mental health, is now offering parenting groups supporting working moms, working parents and caregivers of children, and a new group for working parents of teens.
For those looking for a sense of community and encouragement toward healthy self-care, Tritons Flourish, one of the longest running FSAP groups, meets every month. William Youngblood, a licensed marriage and family therapist, hosts the group, which welcomes new participants at any time.
"As a Latina and therapist, I subscribe to the philosophy, 'La Cultura Cura,' which means healing comes from our culture and shared values," said Triana. "Latinx values include warmth, resilience and collective pride in our work. That makes cultivating space for Latinx at UC San Diego a particularly fulfilling and natural role for me. My desire is to provide a space where Latinx can be their authentic selves while at work and to address and increase awareness about our community's specific behavioral health needs."
A new pilot program to promote employee assistance counseling
UC San Diego is about to launch its first program focused on helping new graduates with master's and doctoral degrees in the behavioral sciences to attain experience in the employee assistance program world and earn hours towards the Certified Employee Assistance Professional (CEAP) credential. This new pilot is a two-year traineeship starting this fall supervised by licensed psychologist Bryan McNutt.
Trainees in the pilot will be paid a fulltime salary with benefits while obtaining great experience, meeting colleagues and getting hours towards their license and EAP certification. The pilot is focused on early career professionals in order to make sure the field is alive and well for generations to come.
"We are deeply committed to making sure UC San Diego employees get top quality behavioral health services," said McNutt. "This pilot will create our own talent pipeline and increase service providers for our campus, and later, also provide well-trained counselors to other employee assistance programs. UC San Diego is known for its professional training programs, and we want employee assistance program counselors to be included in that reputation."
Give wellness a chance
Over the past few years, telehealth and a heightened acceptance of seeking support for mental health has boomed across the country. Increased access and acceptance provide a great opportunity for our campus community.
"Overcoming barriers to behavioral health has been a positive societal change that FSAP is building on for a better workplace and a healthier community," said Green. "We hope every campus employee will feel comfortable to reach out to us when they have questions, need referrals or are seeking help to make a change in their life."
Whether you would like to learn more about the five elements that contribute to well-being, how to manage stress or are just looking for some reading recommendations—FSAP offers many resources to support the campus community. You can easily make an individual, confidential appointment with a counselor online by using your SSO credentials.
Stay in the Know
Keep up with all the latest from UC San Diego. Subscribe to the newsletter today.