Published Date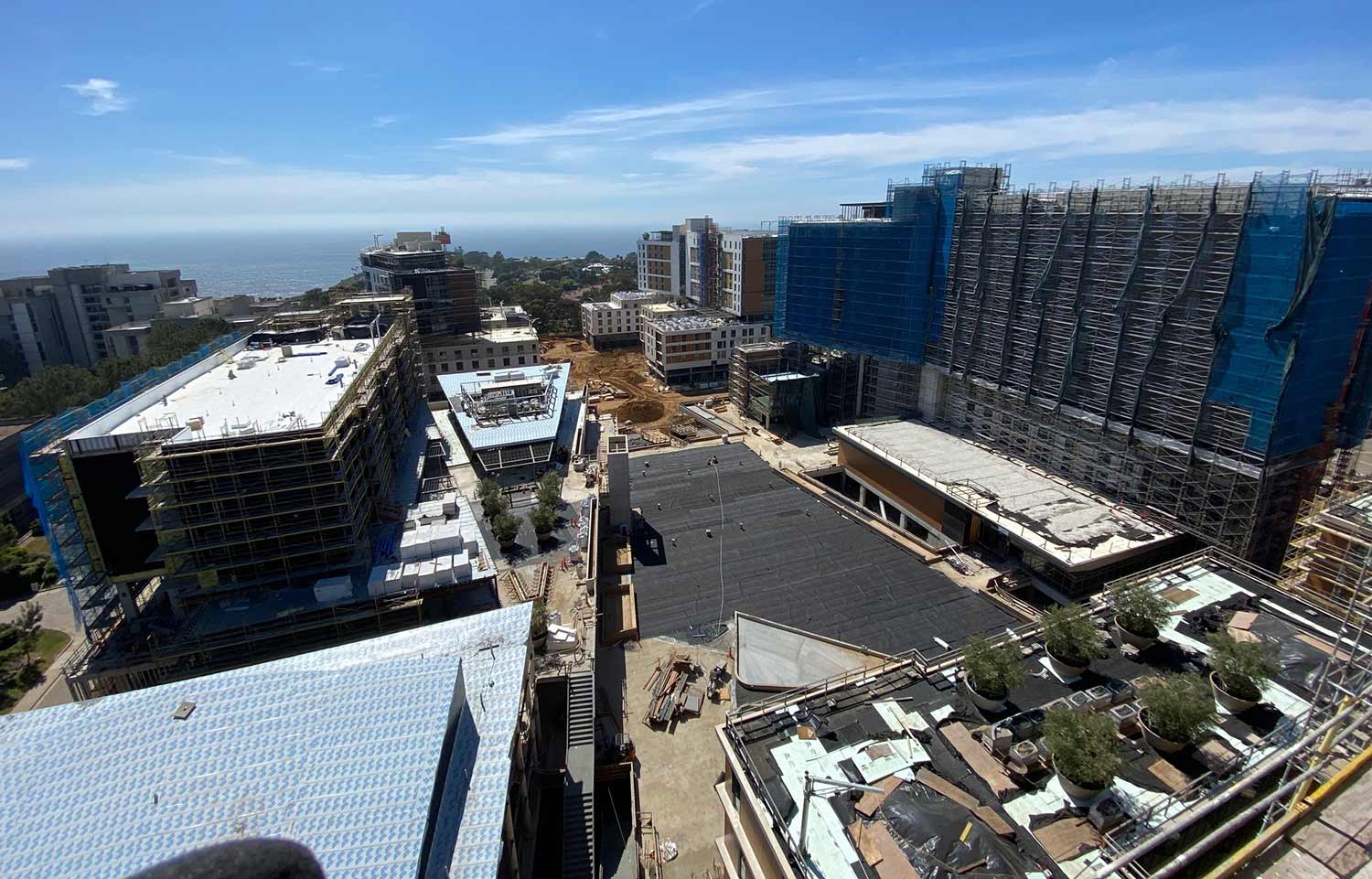 Pandemic Response Places Some Campus Transformation Projects on Pause
UC San Diego is in the advanced stages of executing a long-range development plan, with multiple construction projects underway to transform the university into a premier destination for students, patients, faculty, staff and the community.
There is no question, however, that the response to the coronavirus pandemic will continue to have serious effects across the world, in the State of California and on campus. This includes a significant financial impact for University of California and UC San Diego for an unknown period of time.
"The coronavirus pandemic has left no industry and no system unchanged," said UC San Diego Chancellor Pradeep K. Khosla. "As of today, we estimate the financial impact of pandemic-related disruptions to UC San Diego to be in the hundreds of millions of dollars. In order to maintain our fiscal health, we have taken steps to reduce costs and expenses."
One step the university will take to respond effectively to changes in the economic situation is to temporarily pause some planned campus transformation projects, including the Triton Pavilion and Hillcrest Outpatient Pavilion. The goal is to be able to quickly restart these projects when circumstances have improved and the campus is in a stronger position to move forward.
"These projects are critical to our mission and vision and will position the campus favorably in the long term," said UC San Diego Chief Financial Officer Pierre Ouillet. "UC San Diego is responding to the financial challenges created by the pandemic with a comprehensive operational and financial plan. Our goal is to decisively mitigate the financial impact and to emerge from the pandemic in a position of strength."
While some projects are on pause, many projects will proceed, largely because they are already under construction and funded, provide essential student housing and academic space or support health and safety on campus.
Creating space for our students
The university's first Living and Learning Neighborhood, North Torrey Pines Living and Learning Neighborhood, is a ten-acre neighborhood that will become the new home of Sixth College and two new academic buildings, one for the Division of Social Sciences and one for the Division of Arts and Humanities. Blending cultural, residential and retail spaces among the classrooms, this neighborhood will also include the reimagined UC San Diego Craft Center. The student housing will be ready for the fall of 2020, with the academic programs space completed by the end of the year.
"Sixers are some of the most vibrant, inventive, fun students I have ever seen, unafraid of new ventures and ground-breaking ideas, who very much live up to our motto of 'Innovative, Interconnected, Aware,'" said Lakshmi Chilukuri, the Provost of Sixth College. "Our brand-new permanent home with its amazing innovations and unexpected bonus surprises reflects our intrepid nature. I fully anticipate our students will find audacious and intriguing new ways to turn this new environment into opportunities for collaborations in experiential learning."
Future College Living and Learning Neighborhood is designed to accommodate residential life for 2,000 undergraduate students and academic space for a new undergraduate college. This project will also improve UC San Diego's Joan and Irwin Jacobs Theatre District with meeting space, retail, dining, additional parking and a significant amount of open space and outdoor gathering areas. The project is pending UC Regent approval, with the goal of opening in the fall of 2023.
Pepper Canyon West Undergraduate Housing will provide housing for approximately 1,300 upper division and transfer students and specialized student advising at a Transfer Student Success Hub. The project is pending UC Regent approval, with the goal of opening in the fall of 2023.
Inspiring collaboration through connection
Design and Innovation Building, scheduled to open in the spring of 2021, is a 74,000-square-foot collaborative facility that aims to encourage new ideas, products and services that contribute to UC San Diego's entrepreneurial spirit. Specifically, the goal is to encourage more collaboration between the Jacobs School of Engineering, Visual Arts, Cognitive Science, the Office of Innovation and Commercialization, campus departments and the Alumni Association.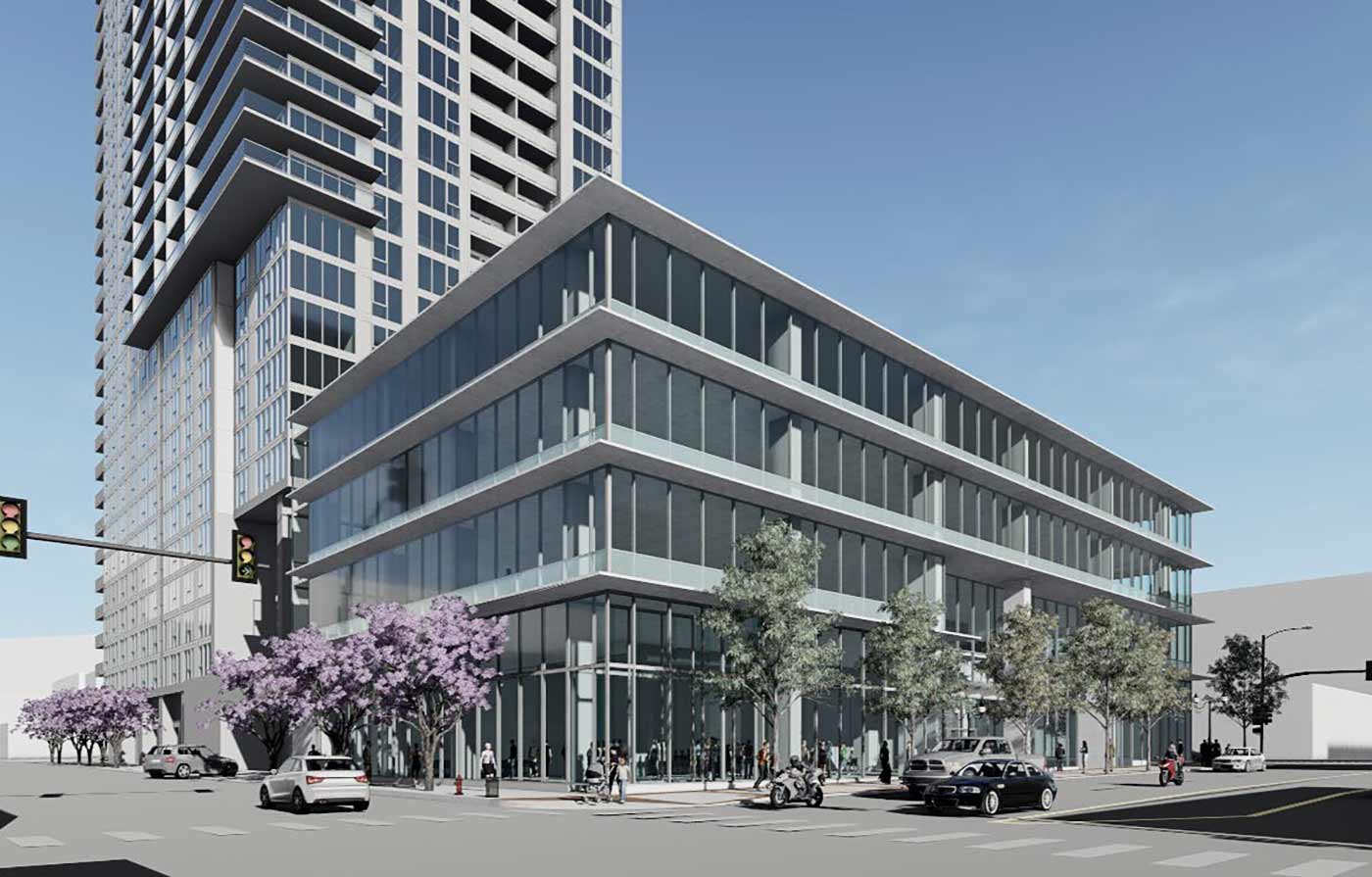 UC San Diego Downtown Center, scheduled to open in the fall of 2021, is a full-block site at the northwest corner of the intersection of Park Boulevard and Market Street in downtown San Diego. The downtown center is designed with a purposeful mix of public, meeting, arts and educational spaces for civic engagement, learning, collaboration and cultural experiences unlike anywhere else in the region.
Creating specialized space for instruction and research
Marine Conservation and Technology Facility, scheduled to be ready for winter quarter of 2022, will provide undergraduate and graduate coursework in marine biodiversity, conservation, resource management, advanced statistical analysis and associated disciplines. The facility will house the Center for Marine Biodiversity and Conservation (CMBC) and the basement will be almost entirely devoted to a saltwater research aquarium that will have chilled, ambient and warm seawater pumped directly from the Pacific Ocean from the Scripps Pier seawater system.
Franklin Antonio Hall, ready for move-in late spring 2022, will bring approximately 200,000 additional square feet of space to the Jacobs School of Engineering. The building will house laboratories, classrooms, project spaces for student engineering teams, facilities for entrepreneurship activities, an auditorium and café, and will provide space for additional faculty, improving the Jacobs School's student-to-teacher ratio.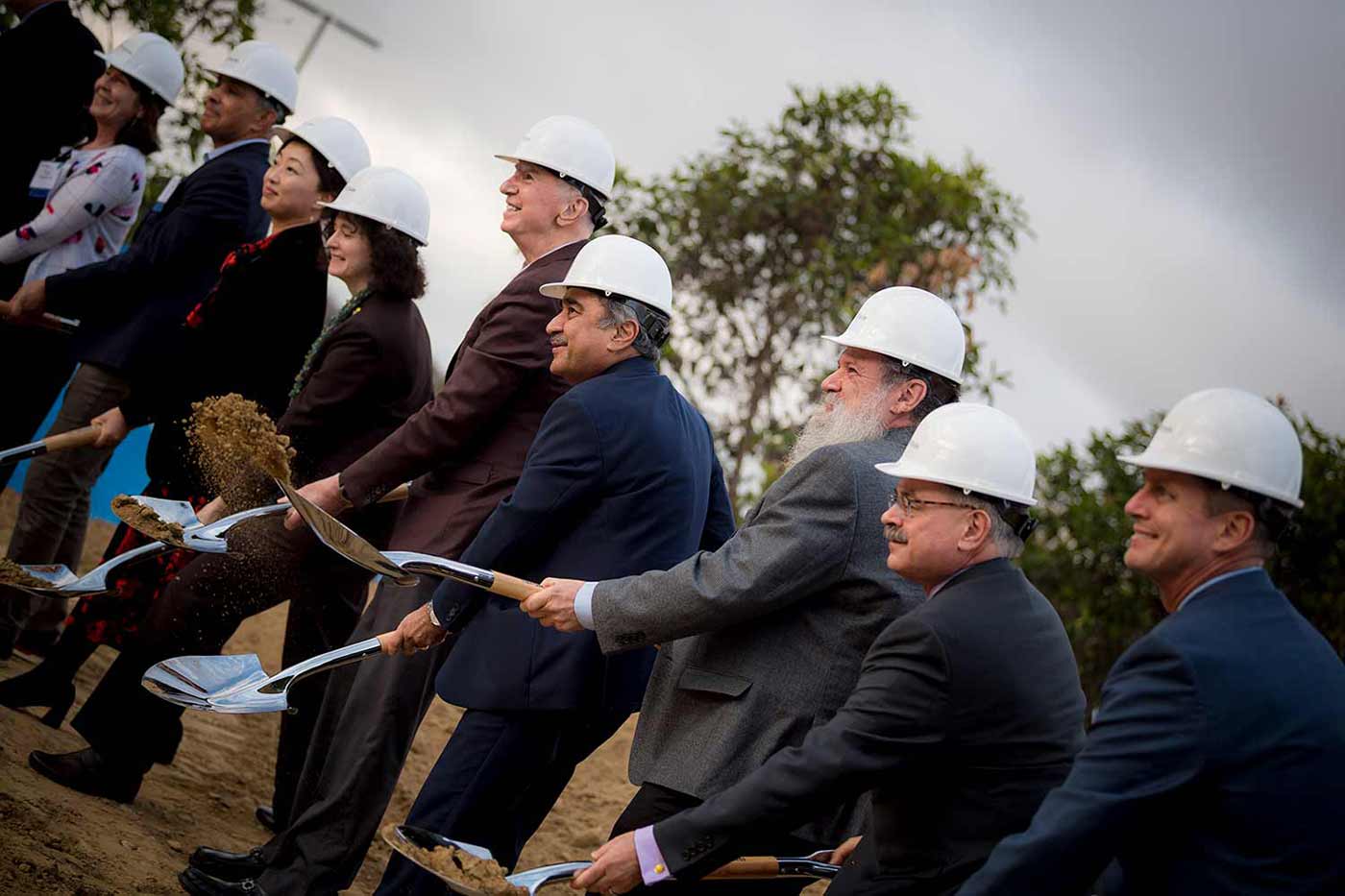 Enhancing access and safety
UC San Diego Blue Line Trolley extension, scheduled to open in late 2021, will provide faculty, staff and students with a reliable alternative to driving. It will also help San Diego communities gain better access to the educational, cultural, employment and health care opportunities offered on the UC San Diego campus.
Also greatly benefiting the community will be a new City of San Diego fire station. The university has provided the city with funding and the land where it will be built on the UC San Diego campus.
"Even during this time of uncertainty, UC San Diego is in a unique position to move forward with projects currently under construction and funded before the public health crisis occurred," said Khosla. "Key projects will continue, providing UC San Diego with the opportunity to enhance the student experience, cultivate community, provide essential student housing and support interdisciplinary research."
For more information on the construction projects enabling UC San Diego's physical, cultural and intellectual transformation, visit the Planning, Design and Construction website.
Stay in the Know
Keep up with all the latest from UC San Diego. Subscribe to the newsletter today.