"Pandemic Bread" Pushes People to Remember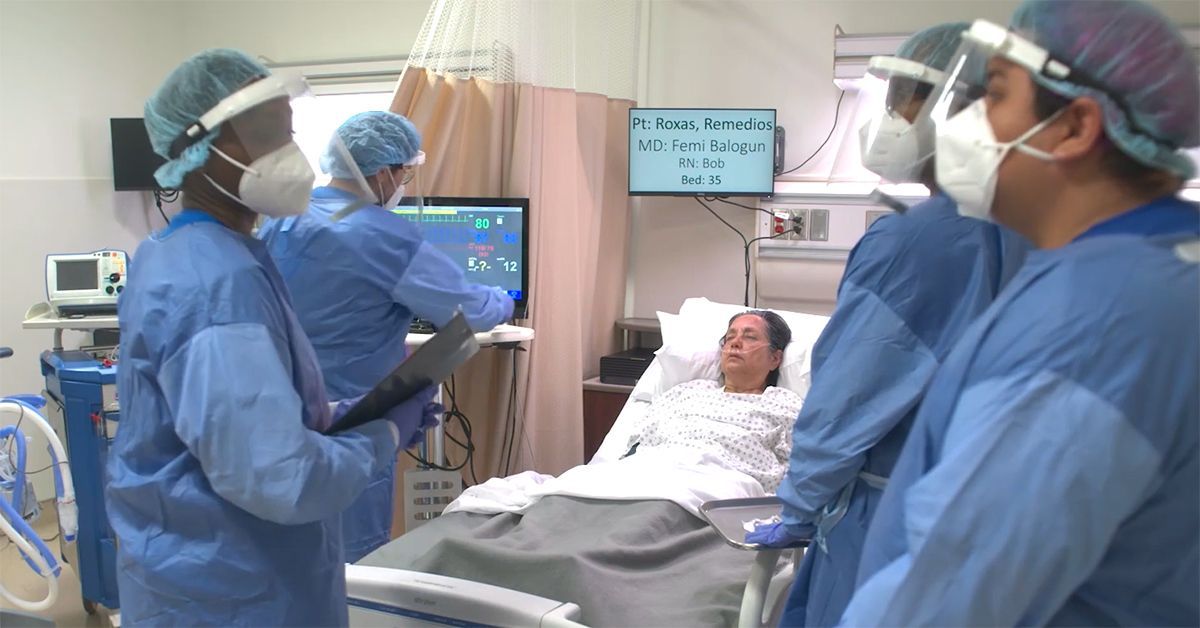 By:
Media Contact:
Published Date
By:
Media Contact:
Topics:
Share This:
Article Content
In 40 years of filmmaking, UC San Diego Communication professor and indie filmmaker Zeinabu irene Davis has never had a producer to lighten the load—she's produced and directed herself. That all changed when Nicoletta Vangelisti, a PhD candidate in communication whom Davis advises, joined her to work on her latest project, "Pandemic Bread."
"Nicoletta coming into the process was a gift, and one that I don't take lightly," Davis said. She explained that creating narrative films requires a lot more money and a quicker turnaround time than documentaries; it was only through the help of Vangelisti, the Department of Communication and the married associate producers Christina Ree and K. Wayne Yang—the provost of Muir College—that "Pandemic Bread" was feasible.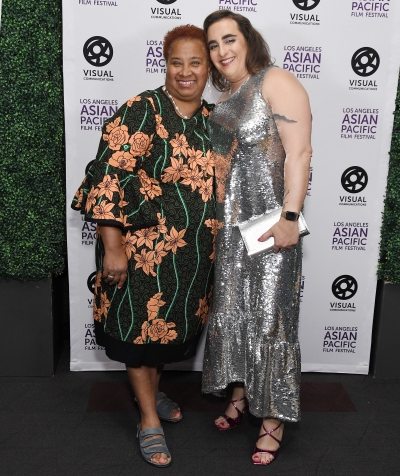 "Because I had that help, we were able to finish the film within a year, which is kind of crazy. We wanted to make sure that we delivered it in a timely manner so that people can discuss the issues that the film raises about COVID-19 while still being close enough to remember their own experiences."
The 22-minute short film follows Luz, an English-Tagalog interpreter who takes an end-of-life call from a San Diego hospital during the COVID-19 pandemic. Set in June 2020, Luz bakes bread as she translates an intense conversation between a doctor and Remedios, an elderly Filipina woman diagnosed with COVID-19 in her quarantined hospital room.
The film is based on a short story (also titled "Pandemic Bread") by Marivi Soliven, a San Diego-based award-winning author who found inspiration for the story from her day job as an interpreter. Davis found the story through the San Diego Decameron Project, which invited San Diego County authors to submit previously unpublished stories about the pandemic to an online database.
Much of Davis' filmmaking is structured around communication, and the story of an interpreter resonated with her in particular.
"Zeinabu was really drawn to this central question of 'How do you communicate these really incredibly powerful moments in this specific time in our collective history, and how do you honor the lengths that people go to connect with others,'" Vangelisti explained. "By focusing on the interpreter as the central character, Luz becomes the node that the other people in the film center around and connect with. She becomes what connects us in a time of isolation."
A feeling of isolation is one we all experienced in some way during the early days of the pandemic, Davis says, and the film was created in hopes of avoiding simply brushing under the rug that experience and the tragedies of surviving when those around you might not have.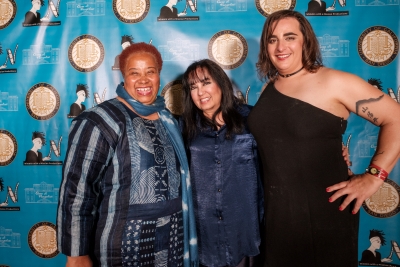 Healing through Film
Most of the people connected with the film, Davis notes, had some direct experience of pandemic loss or trauma.
Davis lost her brother-in-law early in the pandemic to COVID-19. Only being able to communicate with him through a thick pane of glass while he was in the ICU was extremely difficult for her and her husband, Marc Chéry, who wrote the script for "Pandemic Bread." That experience drove her desire, Davis said, to create a film that not only forces audiences to remember the darkest days of the pandemic but can also serve as a form of catharsis.
Becca Godinez, the actress who plays Remedios, also drew on personal experience for her performance. Godinez had COVID-19 and was in the ICU; she flatlined and almost died from COVID-related heart complications. She knew that filming the highly emotional hospital scenes would be difficult. Yet, the team filmed those scenes first due to time constraints with using the UC San Diego School of Medicine Simulation Training Center for their set.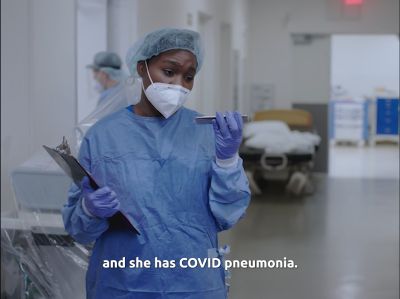 "It was really powerful for all of us to be on this set, because while we knew we were all double-vaccinated at this point [May 2022], walking onto a film set that felt like such a change in time was really an emotional shift for everyone that was there," Vangelisti said. She added that, even for those who didn't lose someone or weren't in the hospital, the sense of isolation triggered by being on set was palpable.
"For a lot of us, once those vaccines were in our arms, it was easy to not think about that time of isolation because it felt like it was too close, too soon. We really wanted to create an opportunity for people to process that—we're trying to honor, depict, and name that time in order to process the grief we all still carry."
Filmed over just six 12-hour days, the production process was an intense journey for the 27-person cast and 56-person crew. Davis and Vangelisti began fundraising and working on the screenplay in February 2022; the goal was to film by May. With a cast and crew largely drawn from the UC San Diego community, "Pandemic Bread" was the first film to be created on the UC San Diego campus since before the pandemic.
"There was so much enthusiasm and emotions on set about being together in person again and doing creative labor together," Davis said, remarking that there was a lot of collective will and energy to make sure the story was told correctly and with as much authenticity as possible. "That experience of making the film was a very positive, incredible experience—both as something you do as being a part of this campus and something that is so much larger than this community."
Creating community was key to bringing "Pandemic Bread" from page to screen. Vangelisti noted that bringing together different parts of campus–people from social sciences, arts and health–was a goal. And, she added, "Getting to create a film of this quality through almost entirely university funding has been such a wonderful opportunity. We've really been able to highlight the experiences of the Filipino community and of frontline workers during the pandemic."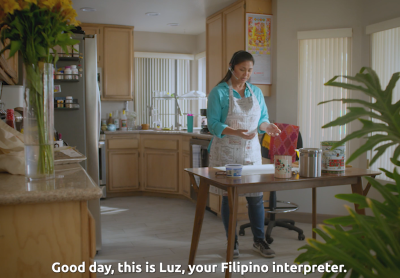 Davis' work often centers around community representation. While pursuing her MFA in Film and Television Production at UCLA, Davis was a part of the LA Rebellion, a group of primarily Black filmmakers coming out of the UCLA film school that aimed to take control of how communities are represented in film and media production and to move beyond stereotypes and unrealistic depictions. She explained that this philosophy guides how she continues to make films today, saying that she prioritizes going out into communities and asking them to be a part of creating her films.
"When I make a film, it's not my film anymore," Davis explained. "It belongs to the people in the community."
Premiering

Pandemic Bread
"Pandemic Bread" had its world premiere at the 2023 Los Angeles Asian Pacific Film Festival and was also selected for the Blackstar Film Festival in Philadelphia.
Before "Pandemic Bread" went on the film-festival circuit, about 100 special guests were invited to a private screening at UC San Diego a week prior to the official premiere. Chancellor Pradeep K. Khosla gave opening remarks and the film showing was followed by a question-and-answer session with Davis, Vangelisti and Soliven that was moderated by Assistant Director Alexis Hithe. It quickly turned into a space for audience members to share their testimonials. Each table came with a box of tissues, and these were widely used by audience members, Davis said.
"It was good to see people cry and react," said Davis. She's glad, she said, to see audiences "think about things that are easier for us to push down and put in a box - but we won't be healthy as a society if we don't deal with them and talk about it."
Topics:
Share This:
Stay in the Know
Keep up with all the latest from UC San Diego. Subscribe to the newsletter today.