Number of UC San Diego Freshman Applications Continue to Rise
Campus's world-class education remains in high demand from high school seniors throughout the state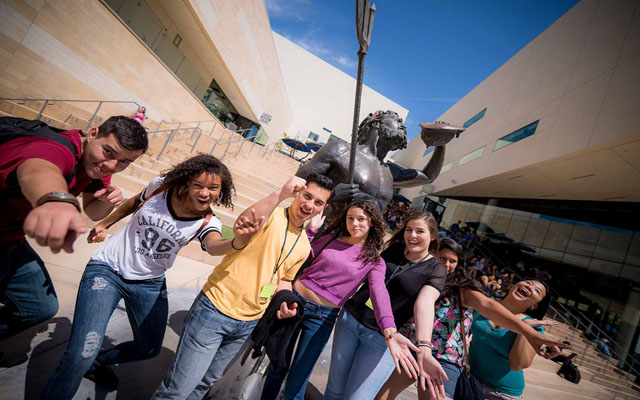 Published Date
Article Content
The University of California San Diego has received a record of 88,451 freshman applications for fall 2017, a five percent increase from the previous year. The university had the second highest number of applicants among the University of California campuses.
"UC San Diego's continued increase in applications is a testament to the university's excellence in research and education, and our efforts to enhance the student experience," said Chancellor Pradeep K. Khosla. "We are proud to attract top scholars who will contribute to the vibrancy and diversity of UC San Diego's community."
UC San Diego had a seven percent increase among California resident applicants. The largest number come from the Los Angeles area (34 percent) followed by San Francisco/Bay area (16 percent).
In addition, the diversity of UC San Diego's applicants continued to increase with 35 percent of California resident freshmen coming from historically underrepresented populations, up 10.6 percent compared to last year. The largest increase came from African-American applicants (up about 12 percent), followed Latino and Mexican-Americans students (up approximately 11 percent) and Native Americans (up slightly by 2 percent), compared to fall 2016.
UC San Diego saw more women than men among freshman applicants, with 52 percent females compared to 46 percent males and two percent of applicants not reporting their gender.
The most popular majors chosen by freshman applicants are in social sciences, engineering and biology.
UC San Diego has already begun to review freshman applications for admission and will release admissions decisions by spring 2017. At that time, the campus will host visits and events for all students who are offered admission. During UC San Diego Triton Days, admitted students are encouraged to visit the campus and learn more about the benefits of enrolling in one of the top ten universities in the U.S.
Undergraduate students at the campus have unique research opportunities in which they get hands-on experience to be change-makers, contributing knowledge and solutions to the pressing problems UC San Diego seeks to address. Whether its discovering genes that are linked to mental illness, or developing tools to prevent poaching endangered wildlife, and finding new evidence that older mothers live longer, UC San Diego's research pushes boundaries to make a positive difference in the world.
Data on transfer applicants is not yet available, as the deadline for these applications was extended this year until Jan. 3.
For more on UC San Diego's admissions, click here.
Stay in the Know
Keep up with all the latest from UC San Diego. Subscribe to the newsletter today.