Novel Leukemia Treatment Puts Patient in Remission and Allows Him to Live Fully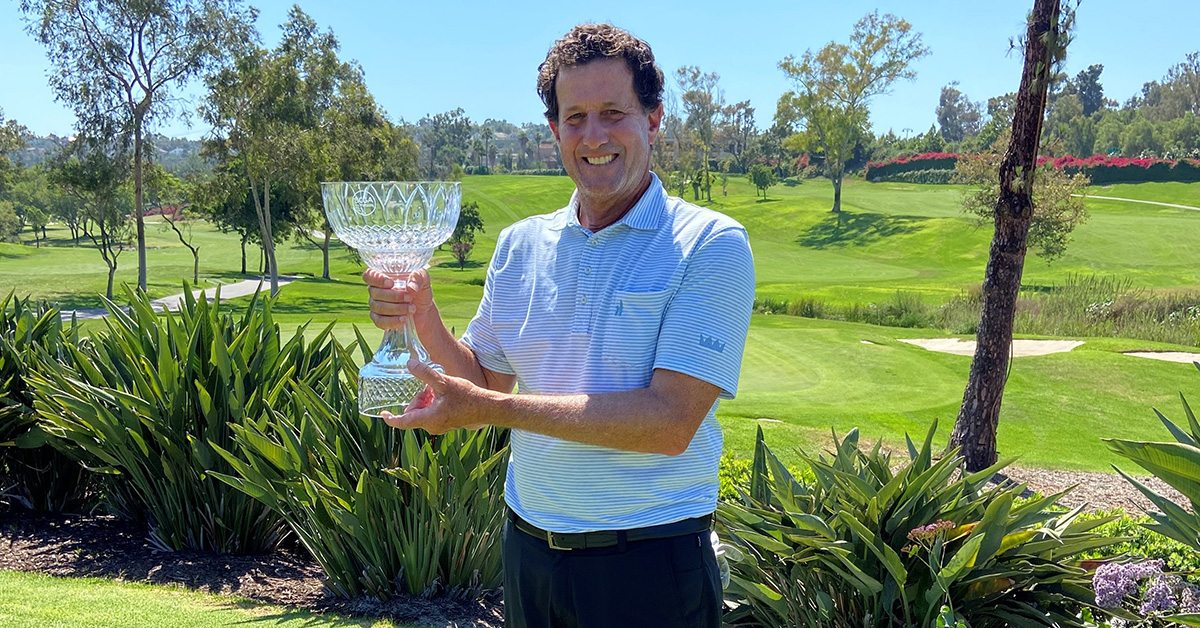 Published Date
By:
Topics:
Share This:
Article Content
In 2018, Jim Plotkin, a father of two and former pro golfer, underwent routine blood work for an upcoming doctor's appointment. He didn't expect his results would identify elevated white blood cell counts — a potential sign of cancer.
After additional blood work and a CAT scan, which identified swollen lymph nodes and a swollen spleen, Plotkin received the news from his doctor no one wants to hear: "you have cancer."
"Being diagnosed with cancer is a day you'll never forget," said Plotkin. "It consumed my thoughts, and while we started treatment soon after the discovery, it took me about a year to actually accept the diagnosis."
Plotkin was diagnosed with a form of leukemia called chronic lymphocytic leukemia (CLL). Approximately 20,000 new cases of CLL are diagnosed each year.
CLL starts in certain white blood cells, called lymphocytes. The slow-growing CLL tumor cells eventually spread to other areas of the body, including the lymph nodes, liver and spleen.
According to the American Cancer Society, there are very few known risk factors for CLL, and while the cancer has a high survivorship rate, there is no cure for the disease.
Current treatment options available help patients manage CLL, but some can come with significant side effects.
"For the first two years of my treatment, I received infusion treatments along with a variety of daily pills," said Plotkin. "Unfortunately, I experienced significant side effects that were severely affecting my quality of life."
Eventually, Plotkin chose to switch to UC San Diego Health, which offers medical specialists and translational scientists focusing on the development of novel therapies for CLL.
Plotkin began receiving two medications together, called Obinutuzumab and Venetoclax, in 2019. The combination of medicine underwent clinical evaluation in Phase I, Phase II, and Phase III clinical trials conducted at UC San Diego Health. The combination received approval from the U.S. Food & Drug Administration in 2019 and became the standard of care for patients with CLL soon after.
"We are proud to have been involved in the early clinical development of this combination of therapy. It has proven highly effective in treating most patients with leukemia," said Thomas J. Kipps, MD, PhD, hematologist and principal investigator of the CLL clinical trials conducted at UC San Diego Health.
According to Kipps, Venetoclax is an oral drug that stops a protein called BCL-2, which protects CLL cells from dying and weakens the effectiveness of anti-cancer drugs in patients with CLL. Obinutuzumab, is a monoclonal antibody that binds to a protein called CD20, which is found on the surface of leukemia cells.
"When the Obinutuzumab antibody binds to CD20 on CLL cells, it tags the leukemia cell for destruction," said Kipps, professor of medicine and the Evelyn and Edwin Tasch Endowed Chair in Cancer Research at UC San Diego School of Medicine. "Although each agent is effective on its own, the combination is extremely powerful in destroying leukemia cells and can result in clinical remissions in patients after a fixed-duration of therapy in 15 months or less."
Patients with CLL or small lymphocytic lymphoma are eligible to receive the combination of Venetoclax (Venclexta) and Obinutuzumab (Gazyva).
The combination of medications provided Plotkin with a better treatment option that resulted in less side effects, allowing him to partake in hobbies he couldn't do before — including golf and surfing.
"In 2022, I won the Northern California Golf Association Senior Championship by three shots; I was the only participant to finish the tournament under par," said Plotkin. "It was an extremely cathartic moment to come back and win this tournament after the extremely challenging few years I've been through with my cancer diagnosis and treatment."
Plotkin ended treatment in September 2020 and is currently in remission. He is now under routine observation to monitor his white blood cell count in case his cancer returns.
Additionally, the experience has completely changed his outlook on life.
"Cancer is always hanging over my head, and the thought that it might come back never goes away," said Plotkin. "But I focus on the positive aspects of my life — I'm healthy, I get to spend time with my family and I'm golfing again. If the surf is up, I'm going out."
Moores Cancer Center at UC San Diego Health is the region's only Comprehensive Cancer Center, an NCI designation reserved for institutions with the highest achievements in cancer research, clinical care, education and community contributions. The NCI designation places Moores Cancer Center among the top 4% of approximately 1,500 cancer centers in the United States, and one of only 53 Comprehensive Cancer Centers in the nation.
In the most recent U.S. News & World Report 'Best Hospitals' survey, UC San Diego Health's cancer program was ranked 20th in the nation.
Disclosure: Thomas Kipps is a consultant for Abbvie Inc., as well as an inventor and holder of the Investigational New Drug application for a product licensed to Oncternal Therapeutics, which has financial interest and equity in the reported research.

Topics:
Share This:
Stay in the Know
Keep up with all the latest from UC San Diego. Subscribe to the newsletter today.