New UC San Diego Center to Empower Entrepreneurship and Innovation
Philanthropic support launches the Rady School of Management's new Robert S. Sullivan Center for Entrepreneurship & Innovation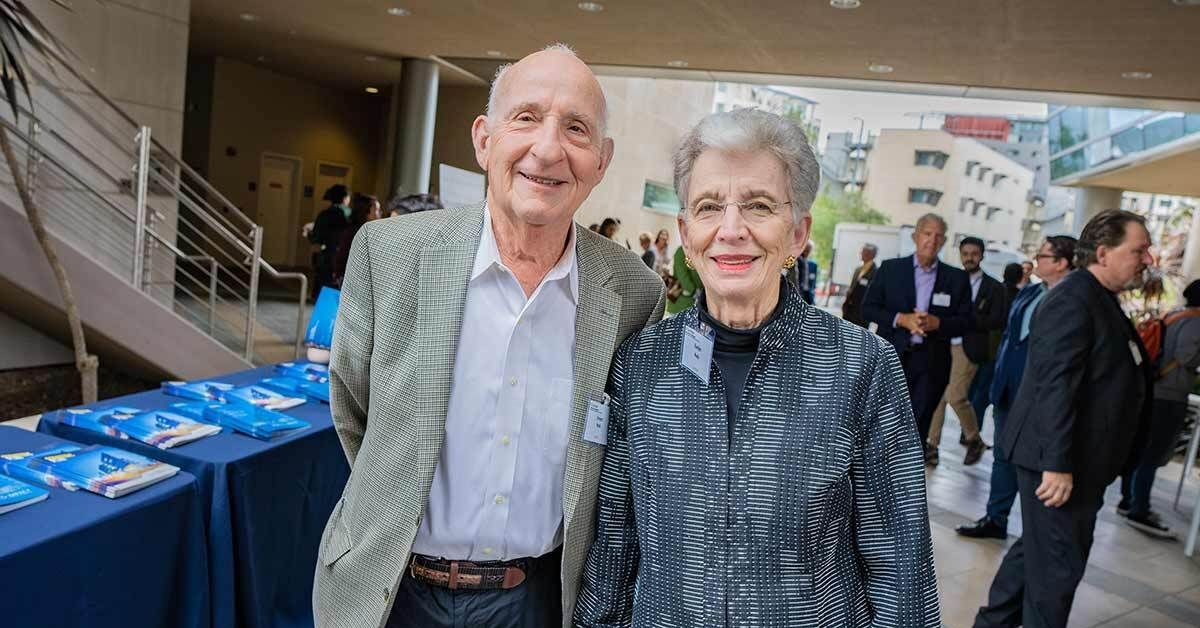 By:
Media Contact:
Published Date
By:
Media Contact:
Share This:
Article Content
The Rady School of Management at the University of California San Diego proudly celebrated the Robert S. Sullivan Center for Entrepreneurship & Innovation on May 8. The center — newly named in honor of the Rady School of Management's founding dean Robert S. Sullivan — is focused on continuing to cultivate the Rady School's legacy and impact in entrepreneurship and innovation among student, faculty and alumni entrepreneurs across the UC San Diego campus.
The Sullivan Center is being launched thanks to a $5 million philanthropic commitment from Ernest Rady, founding donor of the Rady School and his wife, Evelyn, as well as gifts from approximately 30 Rady School alumni and supporters, bringing cumulative support for the newly named center to $5.5 million.
The vision for the Sullivan Center is to be a national leader in empowering cross-disciplinary and inclusively trained students to boldly address audacious problems through new ventures and innovation. The center will empower UC San Diego students, alumni and faculty to view disruption as an opportunity to develop impactful solutions that drive positive change.
"We are so grateful to the Radys for their visionary support of San Diego's innovation economy," said Rady School Dean Lisa Ordóñez. "The Rady School has a strong legacy of creating entrepreneurs who spur social change and improve the way people live and work. Thanks to this philanthropic support, the newly named Sullivan Center will allow the Rady School to continue to be a leader in positioning even more entrepreneurs prominently in areas such as tech, life sciences and the blue economy — solving complex problems that will have a meaningful impact on people's lives."
The Sullivan Center will build upon the success of the California Institute for Innovation and Development, founded in 2012 by Robert Sullivan, which serves UC San Diego students from the Rady School and from other disciplines on the campus.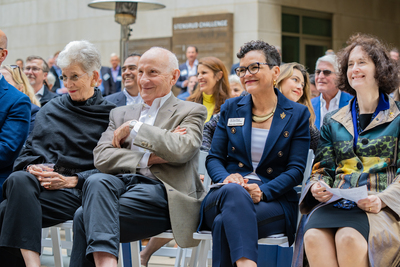 "We are proud to help establish the Sullivan Center, which honors the visionary leadership of the Rady School's founding dean, Robert Sullivan," said Ernest Rady. "This naming is particularly fitting since he played a key role in building the prominence of the Rady School and establishing such strong and impactful industry ties. Today, Dean Lisa Ordóñez is taking the foundation Dean Sullivan established by expanding the Rady School's academic programs, developing the business leaders San Diego needs."
Ordóñez has built on Rady's legacy of innovation during her tenure in many ways, including expanding undergraduate, master's, Ph.D. and executive education programs, as well as its data-driven and quantitative curriculum. The efforts have attracted record numbers of high-caliber students to the school.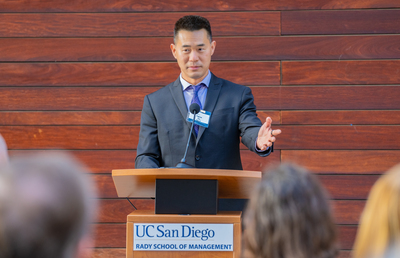 Recognizing Rady's bold entrepreneurs who are making an impact
As part of the celebration for the newly named center, Gene Yeo, MBA '08, received the inaugural Rady School's Entrepreneurial Achievement Award as its first recipient. This award celebrates the impact of entrepreneurship in the San Diego region and beyond. Yeo, a professor of cellular and molecular medicine at UC San Diego, has founded five biotech companies, authored more than 200 peer-reviewed scientific publications. With technology licensed from the university with the support of the Office of Commercialization and Innovation, Yeo's companies aim to create the tools and medicines to help solve difficult biological problems. One of his companies, Locanabio, focuses on developing genetic medicines for incurable human diseases.
Yeo attended the Rady School after earning his BSc in chemical engineering and a BA in economics from the University of Illinois, Urbana-Champaign and a Ph.D. in computational neuroscience from the Massachusetts Institute of Technology.
With a background in science and engineering, he decided to pursue an MBA at the Rady School to apply his expertise in RNA and computational biology to create innovations focused on solving problems related to RNA processing, neurodegeneration and stem cell biology.
"The Rady MBA and my Rady network helped me develop a more realistic sense of risk tolerance on these tumultuous, unexpected journeys to build new companies," Yeo said. "I emerged equipped to be an entrepreneur to take our innovations to create new medicines and products for society."
The Sullivan Center is designed to build an ecosystem for entrepreneurs, wherever they are on their journeys – exploring, accelerating or launching and achieving impact and success locally and globally. For more information, please click here to visit the Rady School of Management's Robert S. Sullivan Center for Entrepreneurship & Innovation.

Stay in the Know
Keep up with all the latest from UC San Diego. Subscribe to the newsletter today.