New Study Holds Promise for "Critically Endangered" Giant Sea Bass
Scripps-led study recommends new assessment of giant sea bass species using data from both sides of U.S.-Mexico border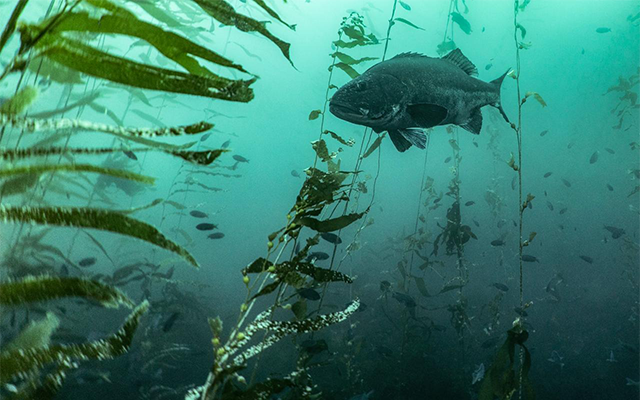 Published Date
Article Content
A new study led by Scripps Institution of Oceanography at UC San Diego and colleagues suggests that the original assessment and current listing of the giant sea bass as a critically endangered species might be inaccurate, and recommends a reevaluation of the species' status using comprehensive biological and fisheries information from Mexican as well as U.S. waters.
Since 1996, the giant sea bass (Stereolepis gigas) has been classified as a critically endangered species by the International Union for Conservation of Nature (IUCN) due to overfishing. Native to the North Pacific Ocean, the fish is a transboundary species that can be found in the waters off Northern California down to the tip of the Baja California peninsula in Mexico, including the Gulf of California. While strong conservation regulations have been imposed in U.S. waters, regulations in Mexico have been minimal.
In a study published Aug. 4 in Fish and Fisheries, researchers from Scripps Oceanography, NOAA, Comunidad y Biodiversidad A.C., and several other binational organizations reveal a broad asymmetry in management, regulations, research efforts, fishery trends, and economic value of the giant sea bass across the U.S. and Mexico. This asymmetry has led to a biased view of the species' population status, said the authors.
"Our study is the first to incorporate historical and contemporary perspectives of the giant sea bass fishery throughout its entire geographic range and an exceptional case of binational research cooperation," said lead author Arturo Ramírez-Valdez, a marine ecologist at Scripps Oceanography and recent PhD graduate. "Our analysis suggests that the population of this iconic fish is likely much larger than biologists previously thought, especially in Mexico."
The study incorporates a systematic literature review of scientific knowledge about the giant sea bass, a historical reconstruction of fishery landings, results of biological monitoring of the Mexican fishery, and the consumptive and non-consumptive economic value of the species on both sides of the border.
Based on this research, the authors suggest that the giant sea bass species may be less endangered than its current status listing, and they recommend an updated assessment by the IUCN Red List. The last IUCN assessment occurred in 2004 and was based mainly on data from the U.S. population, citing a lack of information on the Mexican fishery.
The authors found that the number of scientific publications and annual funding related to giant sea bass are 7 times and 25 times higher in the U.S., respectively, despite the fact that 73 percent of the species' range occurs in Mexico, where it is also more abundant. This means that the majority of what is known about the giant sea bass comes from studies carried out in only a quarter of the distribution of this species.
Study co-author Timothy Rowell said that within the U.S., the giant sea bass has received "a lot of attention and investment" as steps have been taken to better understand the life history of the species and effects of the current management actions on population restoration in California. Yet given the findings of the study, the proportion of individuals within U.S. waters is likely a small fraction of the entire population, but it has been the subject of an unproportionate amount of research and likely has influenced perceptions about the species.
"The asymmetries that we have exposed in this study highlight that transboundary fish stocks are often not treated as single connected populations, representing a barrier to how different nations monitor and manage resources that future research should help to address," said Rowell, a research biologist at NOAA's Northeast Fisheries Science Center and a Scripps alumnus.
Ramírez-Valdez said this study shows the need for more data to be able to see, "in a very solid way," the giant sea bass population status across the entire distribution. While the study indicates that the giant sea bass might not be "critically endangered," the species is likely still considered "endangered" or "vulnerable," he said, so current protections in the U.S. should remain in place, and management regulations should be imposed in Mexican waters to support the rebuilding of the population.
The study highlights the need for better collaboration and sharing of information between both countries so they can adequately assess, manage, and protect shared fish populations.
"My first goal is to see fishing managers from the U.S.—specifically from California—and fishing managers from Baja get together and start a conversation about how to manage fish in a collaborative way," said Ramírez-Valdez. "While my focus is on the giant sea bass now, this model could be used for successfully managing and sharing information about other species."
The giant sea bass is known for its enormous size, growing as long as 2.7 meters (8.9 feet) and weighing over 560 pounds. Ramírez-Valdez first encountered one of the behemoths while doing a scientific diving exercise off La Jolla. This encounter and subsequent dive sightings in Baja inspired him to pursue research on this species for his PhD dissertation. He also founded Mero Gigante, a program that works closely with coastal communities and stakeholders to obtain as much information as possible about the giant sea bass in Mexican waters.
Currently, Ramírez-Valdez and colleagues are leading an effort to submit a new assessment for this species to the IUCN Red List.
Co-authors of this study include Brad Erisman and Matthew Craig of NOAA's Southwest Fisheries Science Center; Katherine Dale of UC Santa Cruz; Larry Allen of California State University, Northridge; Juan Carlos Villaseñor-Derbez of UC Santa Barbara; Andrés Cisneros-Montemayor of the Simon Fraser University, Vancouver; Arturo Hernández-Velasco and Jorge Torre of Comunidad y Biodiversidad A.C.; and Jennifer Hofmeister of the California Department of Fish and Wildlife.
This study was funded by the University of California Institute for Mexico and the United States, Grant Number: 160083; PADI Foundation, Grant App. 29020 and 33095; Mia J. Tegner Memorial Research Fellowship at Scripps Institution of Oceanography, UC San Diego; the Mohamed bin Zayed Species, Grant Number: 192521063; and the Link Family Foundation.
Stay in the Know
Keep up with all the latest from UC San Diego. Subscribe to the newsletter today.