'Divine Nine' Plaza Honors the Legacy of Historically Black Fraternities and Sororities
Plaza is the first of its kind in California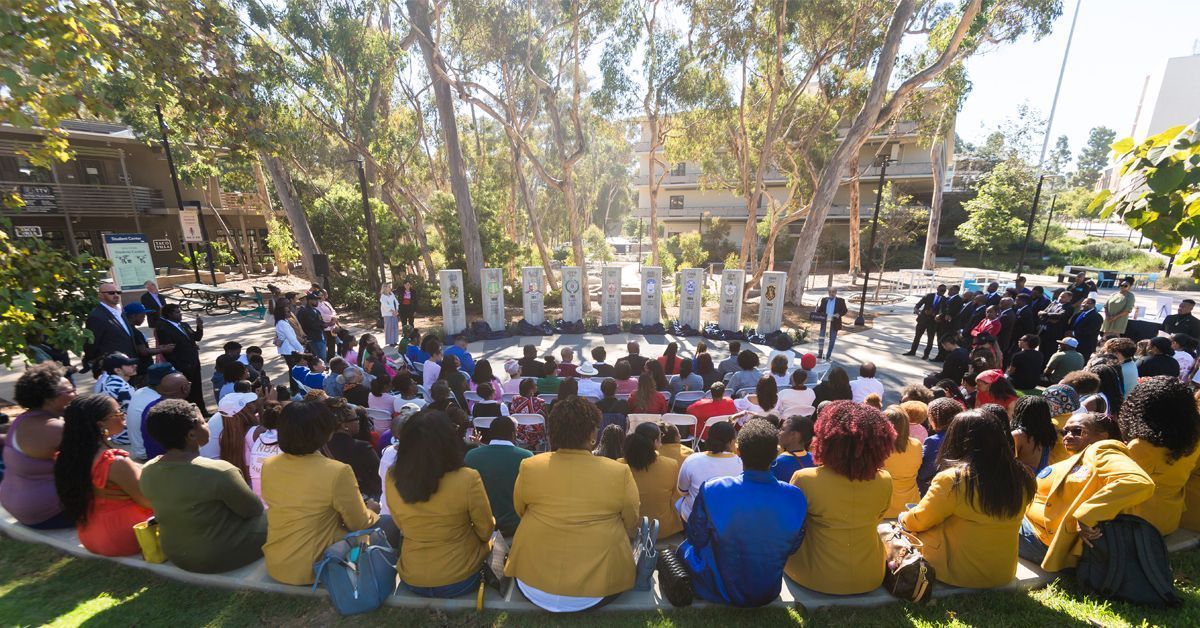 Published Date
By:
Topics:
Share This:
Article Content
UC San Diego recently became the first University of California campus—and first college in the state of California—to unveil a National Pan-Hellenic Council Plaza. The space recognizes the "Divine Nine," a collection of historically Black Greek-letter organizations dedicated to community building and changemaking through fellowship. The courtyard is designed for the sororities and fraternities to host step shows, membership reveals and more. In addition, all Tritons and local community members are invited to learn about Black culture and identity.
The joyful celebration, held Oct. 21, was attended by a cheering crowd of sorority and fraternity members; campus leadership, students, alumni, faculty and staff, as well as local community members. Many attendees wore their fraternity or sorority paraphernalia, representing the long legacy of the National Pan-Hellenic Council (NPHC), the governing body that was first founded in 1930 at Howard University to support student success as well as build community at a time when Black students experienced exclusion from social organizations.

The celebration included the dramatic unveiling of nine pillars, each representing the original fraternities and sororities:
Alpha Phi Alpha Fraternity, Inc. | Founded 1906 at Cornell University
Alpha Kappa Alpha Sorority, Inc. | Founded 1908 at Howard University
Kappa Alpha Psi Fraternity, Inc. | Founded 1911 at Indiana University Bloomington
Omega Psi Phi Fraternity, Inc. | Founded 1911 at Howard University
Delta Sigma Theta Sorority, Inc. | Founded 1913 at Howard University
Phi Beta Sigma Fraternity, Inc. | Founded 1914 at Howard University
Zeta Phi Beta Sorority, Inc. | Founded 1920 at Howard University
Sigma Gamma Rho Sorority, Inc. | Founded 1922 at Butler University
Iota Phi Theta Fraternity, Inc. | Founded 1963 at Morgan State University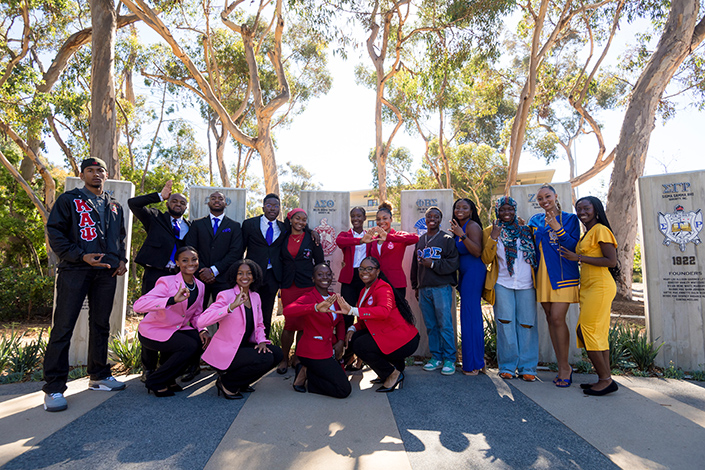 UC San Diego currently has seven active National Pan-Hellenic Council chapters. These include the Eta Delta Chapter of Sigma Gamma Rho Sorority Inc., Nu Upsilon Chapter of Delta Sigma Theta Sorority, Inc., Mu Iota Chapter of Alpha Kappa Alpha Sorority, Inc., Eta Sigma Chapter of Alpha Phi Alpha Fraternity, Inc., Delta Epsilon Chapter of Kappa Alpha Psi Fraternity Inc, Pi Mu Chapter of Omega Psi Phi Fraternity, Inc., and Xi Kappa Chapter of Zeta Phi Beta Sorority Inc.
On being part of the Eta Delta Chapter, current NPHC President and UC San Diego student Jaliyah Journigan (second from the right) said, "It's a sisterhood you can't find anywhere else. I do everything with these ladies. They have made me feel so comfortable and loved and allowed me to be myself. That's what we try to bring to this campus as well through community service and events. We let other people be their true authentic self." Journigan is a third-year undergraduate double majoring in psychology and ethnic studies.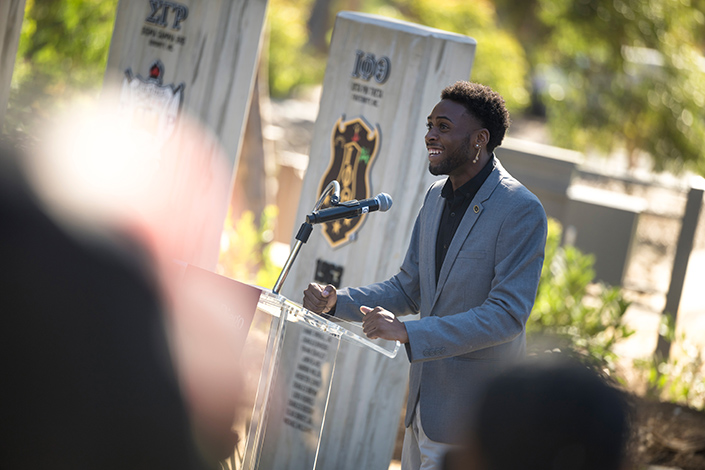 UC San Diego's Sorority and Fraternity Life (SFL) community is a place for undergraduate students to form lifelong bonds, develop as leaders, celebrate identity and culture as well as learn about social justice through an equity, diversity and inclusion peer learning programs.
The National Pan-Hellenic Council was recognized at UC San Diego in 2021. When SFL Advisor and Program Manager Malik Samson (pictured above) first joined the university to support the NPHC organizations, he actively engaged students in sharing their ideas and contributing to community building initiatives. "I'm so thankful for the Black students at this university," he shared at the event. "My goal was to make sure their voices were heard in every room I entered. I'm so happy to see this plaza come to fruition."

The National Pan-Hellenic Plaza was conceived by students and supported by university leadership—including Chancellor Pradeep K. Khosla (left), Executive Vice Chancellor Elizabeth H. Simmons (right), Vice Chancellor for Equity, Diversity and Inclusion Becky Petitt (middle right), Vice Chancellor for Student Affairs Alysson Satterlund (middle left), the Black Resource Center staff and the Student and Fraternity Life team.
Chancellor Pradeep K. Khosla opened the event. "The NPHC Plaza demonstrates that our students and their diverse identities and interests are essential components of our campus culture. This space supports the University's Strategic Plan for Inclusive Excellence by creating a meaningful space where students can find representation for their identities and history, and I appreciate all of the students who contributed to this effort to expand inclusion on our campus even more."
Executive Vice Chancellor Elizabeth Simmons also emphasized how the new plaza represents the university's commitment to inviting and respecting student voices. "At UC San Diego, we're putting students at the center of everything that we do. We honor their intersectional identities and hold each other accountable for transformational action that will ensure equity, inclusion and success across all aspects of the student experience."
It was a full circle moment for alumna Abria Diaz-Shelby (right), who served as a lead catalyst for the project. After transferring to UC San Diego, she became Basileus (president) of the Eta Delta Chapter of Sigma Gamma Rho Sorority Inc., as well as president of the new National Pan-Hellenic Council on campus in the spring of 2021.
Diaz was familiar with NPHC plazas from summer visits to her great grandfather's house. Living adjacent to a Historically Black College and University (HBCU) campus with a view of a plaza, she was inspired in her senior year to propose a similar plaza be constructed at UC San Diego. After conducting research, site visits and gaining leadership buy-in, the project took off.
Seeing the plaza unveiled was a moment of pride for Diaz. Reflecting back, she explained the task seemed impossible at the time as she cared for her children as a single parent, kept up with the rigors of a double major and served in multiple leadership roles. "I worked hard at that time to support our Divine Nine and our Black students on campus," said Diaz. "The plaza is a legacy for future students who come to this campus looking for a sense of belonging. It is for the students looking for unity. This is my legacy to my neos [neophytes, or new members] and my children."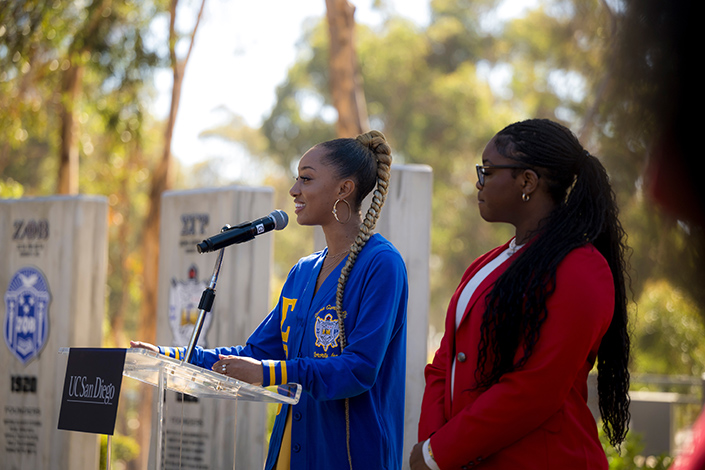 Current NPHC President Jaliyah Journigan (left) expressed gratitude for the community support and student advocacy that led to the creation of the plaza; "It feels like possibility; it feels like the beginning of something incredible. Talks regarding the project began in 2019 by my prophytes, including UC San Diego alumna Abria Diaz-Shelby. It was a lot of hard work, but seeing everyone contributing makes me feel like we're moving forward in creating something special for our community."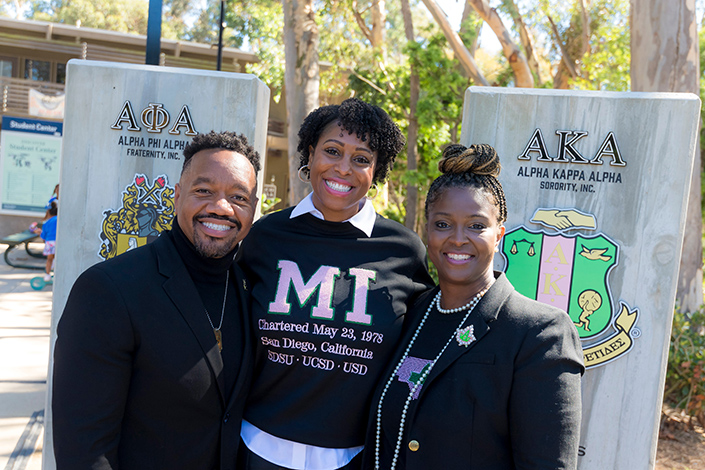 As current Campus Diversity Officer and Black Resource Center (BRC) Director John Rawlins III described during the event, it's all about planting seeds for future bounty. The BRC was created 10 years ago in 2013 to provide support services and foster community for current undergraduate and graduate students—from leadership and mentoring to academic support and extracurricular programs—centered on the Black experience.
Inaugural BRC Director Stacia Smith Solomon (right) helped set an initial strategic vision for the new center when she arrived in 2013. Following, alumna Porsia Curry (middle)—part of the Mu Iota Chapter of Alpha Kappa Alpha Sorority, Inc.—led the center's development the next five years, including preliminary conversations about the plaza construction.
Today Rawlins is continuing to grow the center's impact. A Life Member of Alpha Phi Alpha Fraternity Inc., he explained the significance of the new space, "I think it helps our students get a better sense of belonging to see themselves and their culture as a part of the fabric of this campus. Having this visual representation is really something special for students, faculty and staff as well as the greater San Diego community."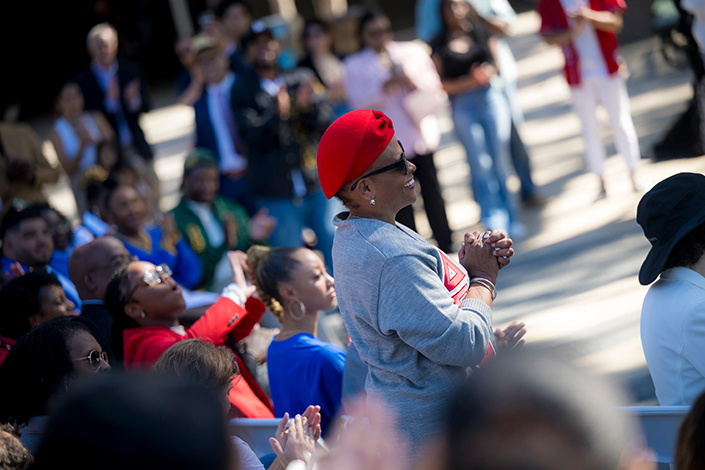 During the ceremony, former senior diversity officer Glynda Davis was recognized for her contributions to making the plaza possible. A member of Delta Sigma Theta Sorority Inc., herself, Davis acclaimed the new space as a future-facing gathering place to celebrate success, grow connections and work together to promote better outcomes for all.
"To me, this plaza represents the campus embracing the Black community's commitment to scholarship, leadership and service through the Divine Nine Organizations," said Davis. "It is a visible reminder of what the Black community brings to the campus and shares with the campus. The work of these organizations aligns with the mission of UC San Diego, and this installation helps to elevate a mutually beneficial partnership with the goal of fostering a diverse and inclusive campus community."
Topics:
Share This:
Stay in the Know
Keep up with all the latest from UC San Diego. Subscribe to the newsletter today.