New AI Platform Addresses Challenge of Food Deserts in Low-Income Communities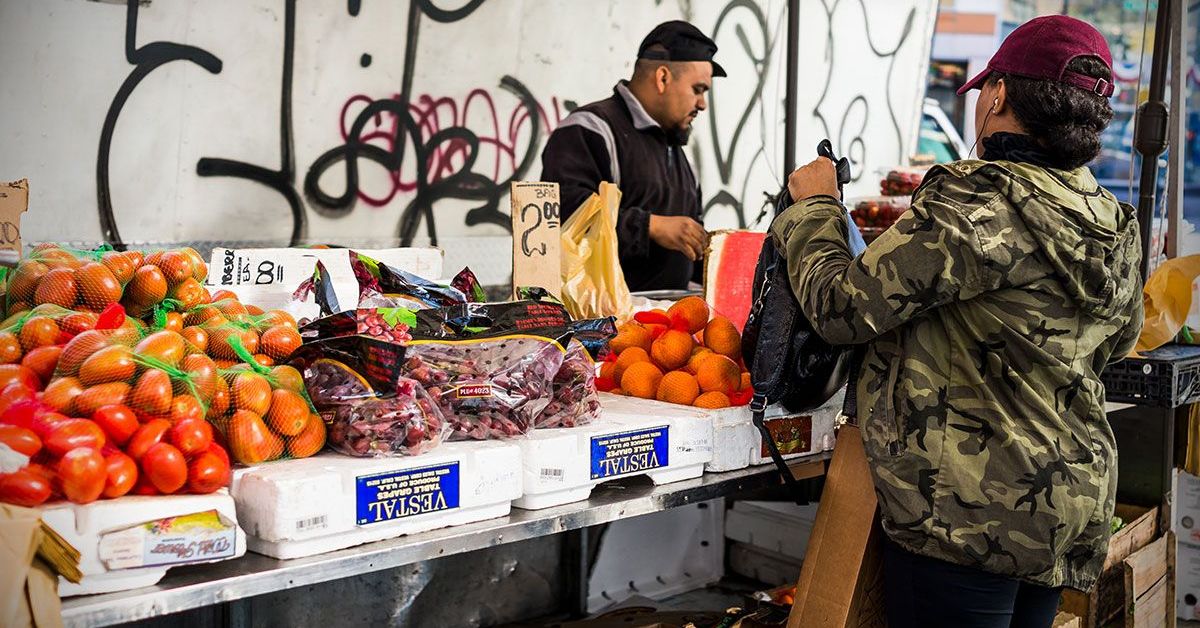 Published Date
By:
Share This:
Article Content
An innovative food and nutrition project is uniquely combining artificial intelligence (AI) and social enterprise business models to help address the challenge of food deserts in the U.S. These are places across the country where supermarkets are more than one mile away in urban neighborhoods or 10 miles away in rural communities. Residents in these places often turn to nearby mini-marts and fast-food stands where food items can be more expensive and/or less healthy. To address this problem, the new project aims to develop an AI-powered platform called NOURISH which will help small business owners in food deserts provide convenient, affordable and healthier food resources to people in their communities.
With a grant from the National Science Foundation (NSF), UC San Francisco's Laura Schmidt leads the project's researchers who include: Amarnath Gupta and Ilya Zaslavsky, both of the San Diego Supercomputer Center at UC San Diego; Keith Pezzoli, UC San Diego; Matthew Lange, UC Davis; Paul Watson, Jr., president/CEO of the Global Action Research Center in San Diego; Tera Fazzino, University of Kansas and Hans Taparia, New York University. The team's expertise spans multiple disciplines—from public health, computer science and business to psychology, regional planning and community organizing for food justice.
Together these experts are designing NOURISH to be accessed from a mobile phone and through the web. Users of the platform will include current and aspiring small businesses and community based organizations. The small businesses will be paired with one or more funding resources using AI techniques. NOURISH will also connect local food growers (including urban gardens and food businesses) to create direct access to fresh food ingredients for meal preparers to lower the cost of healthy food. The community-based organizations will use the platform to advise them on market opportunities in different neighborhoods. As affordable fresh food businesses grow, and healthy eating options become more available, the team expects food deserts to shrink and finally disappear.
"For many years, I've been studying ways to prevent obesity-related chronic diseases by reducing the saturation of ultra-processed 'junk' food in low-income communities. But up until NOURISH, I hadn't seen the power of open source AI for making these food systems healthier," said Schmidt, principal investigator for the project.
According to Gupta, the problem is complex and requires the assimilation of a wide variety of information from governmental, business and private sources. "We are approaching it as a knowledge-based recommendation challenge, and we are developing a number of information integration, natural language processing, graph analytics and conversational AI techniques to offer a comprehensive solution for several user categories."
Computer scientists on the team, led by Gupta, will combine publicly available data and crowdsourced information to create a dynamic, interactive map of local food systems across the U.S. The NOURISH platform will include specific recommendation algorithms that allow users to explore opportunities for funding and scaling up small businesses that sell fresh food in high-need parts of the country.
"This civically engaged research project is being developed with the end user in mind. The desired outcome is to increase opportunities for improved health and well-being of the community members," said Watson, adding that many hours have already been spent interviewing a broad slice of the San Diego food production community to identify how best their needs can be met.
The platform has already undergone user testing. Bryce Fluellen, executive director of Social Equity Franchise & Philanthropy at Everytable, has been pleased by the platform's ability to promote culturally appropriate food. "A major asset of so-called 'food deserts' are immigrants who bring diverse cuisines featuring traditional dishes that are typically healthier than the standard American diet. This platform will help people from the community make wholesome food for the community," he said.
The NOURISH team will test the platform in lower-income areas within San Diego and Imperial Counties, before scaling it up nationally. Efforts will focus on identifying community assets through interviews and workshops with small business owners, community-based organizations, local planners and social impact investors.
"NOURISH is an excellent example of our culture at SDSC's CICORE (Cyberinfrastructure and Convergence Research and Education) Division, built upon combining our data science and knowledge management experience with the needs of our cross-sector, cross-disciplinary partners to co-design an equitable and societally impactful solution to a challenging problem," said Ilkay Altintas, division director of CICORE, as well as chief data science officer for SDSC.
Stay in the Know
Keep up with all the latest from UC San Diego. Subscribe to the newsletter today.