Modeling Sustainable Health Care at UC San Diego Health
Published Date
By:
Topics:
Share This:
Article Content
As sea levels, temperatures and atmospheric CO2 levels rise, the pace of sustainability efforts within health care has accelerated in recent years, as such organizations account for more than 4% of global CO2 emissions, according to the World Economic Forum.
UC San Diego Health — the region's only academic medical center — has become a leader in advancing and modeling sustainable health care practices, with a goal of achieving carbon neutrality by 2025.
"It is incumbent upon all of us to fully understand and to mitigate our own emissions because we are all in this together," said Patty Maysent, CEO at UC San Diego Health. "To help move everyone in the right direction, innovative leaders like UC San Diego Health often conceive and pilot novel solutions. We are leading the way by partnering with the nation's leading researchers on climate science at UC San Diego."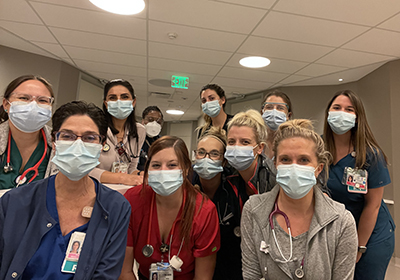 "Together, we are creating and achieving a new standard for sustainable, climate-smart health care while continuing to provide the highest quality of care to our patients."
Sustainability in the hospital setting has specific challenges. In addition to around-the-clock energy demands, hospitals have areas of environmental controls that are much more stringent than in non-clinical facilities. Heating, cooling, lighting, air circulation and infection prevention are all highly regulated in hospitals because they have measurable effects on patient care.
To address such challenges, UC San Diego Health launched the region's first health care program focused solely on sustainability, which guides efforts across the system in ten specific areas of sustainable practice. This includes: climate protection, clean energy, green building, transportation, sustainable operations, waste reduction and recycling, sustainable procurement, sustainable food service and sustainable water systems.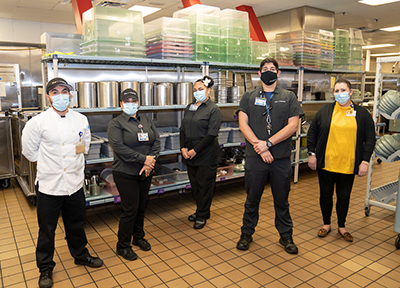 In 2021, the institution also became the first health care provider in San Diego to join the United Nations' Health Care Climate Challenge, Race to Zero. Additionally, UC San Diego Health joined the White House-HHS Health Sector Climate Pledge to reduce greenhouse gas emissions by 50% by 2030.
"We're committed to doing this because we know that it's the right thing to do for the health of our planet, our community and our patients," said Barbara Hamilton, director of sustainability at UC San Diego Health. "By focusing our efforts on sustainable practices, we're not only lessening our carbon footprint, but we're improving the health of our community by reducing air pollution."
Recently, UC San Diego Health was named a 2022 Climate Champion by Health Care Without Harm. This year's cohort of champions includes more than 50 health care institutions from over 15 countries. UC San Diego Health was the only institution in the region to be recognized.
Hamilton credits the award to a number of climate change initiatives recently launched at the institution.
These initiatives include:
Carbon neutrality by 2025, and net zero emissions by 2045
Utilizing 34% renewable energy across both the Hillcrest and La Jolla hospital campuses
Achieving 100% clean electricity at both hospital campuses by 2025
Eliminating the use of desflurane, an anesthetic gas that is 2500 times more harmful to the atmosphere than CO2
Establishing a "Green OB" by reducing plastic bag use in the Labor & Delivery Units
Participating in the Health Care Without Harm Cool Food Pledge, which incorporates more plant-based foods into hospital meal offerings
Eliminating single-use plastics in hospital cafeterias
Operating a new, sustainable high-efficiency dehumidification system in the operating rooms
Utilizing thermal storage tanks to power air conditioning systems, which reduces energy use
Even with the challenges of the COVID-19 pandemic, UC San Diego Health continued to innovate ways to reduce waste, increase procurement of local, sustainable food and other products, reduce energy and water demand and increase engagement across the organization.
In 2022, the institution also named its inaugural Medical Director of Sustainability: Shira Abeles, MD.
"It's important for us to understand that our relationship with the environment has a direct impact on our health," said Abeles. "And while climate change is a culprit in driving disease in every aspect of our health, from emergence of new infectious diseases to asthma, premature births, and beyond, if we optimize our health care practices, we will help curb these impacts and prevent disease from occurring in the first place."
Abeles joins a group of passionate health care providers made up of physicians, pharmacists and nurses at UC San Diego Health who consistently advocate and identify new ways to practice medicine that maintain a high level of patient care and is also environmentally sound.
Providers represent services across UC San Diego Health, including anesthesiology, allergy/immunology, family medicine, hospital medicine, infection prevention, nephrology, ophthalmology, radiology, urology and more.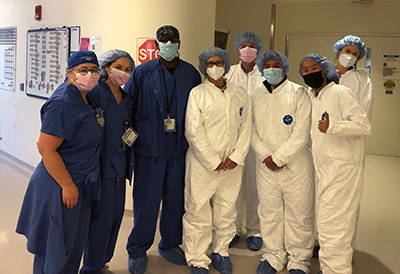 UC San Diego Health sustainability milestones also include developing a Green Clinic/Unit Certification program, initiating a "Greening the OR" working group that focuses on reducing waste and energy demand in the operating room, and growing a single-use medical device reprocessing program.
The University of California's (UC) sustainability commitment began in 2003 with a Regental action that led to the adoption of the Presidential Policy on Green Building Design and Clean Energy Standards in 2004. Since adopting that policy, the UC system has expanded the scope of the Sustainable Practices Policy to include climate protection, transportation, sustainable building operations, zero waste, procurement, food, water, health and well-being, and health care facilities.
"We're doing the work and we're setting the bar when it comes to sustainable health care, and I'm so proud to be a part of this team," said Abeles. "Looking at the impact we've made so far gives me hope for the future, and it's exciting to see other organizations around the world are taking on and owning this critical aspect of health as well."
Topics:
Share This:
Stay in the Know
Keep up with all the latest from UC San Diego. Subscribe to the newsletter today.