Model Citizen
Alumna sculptor makes a lasting impact at UC San Diego.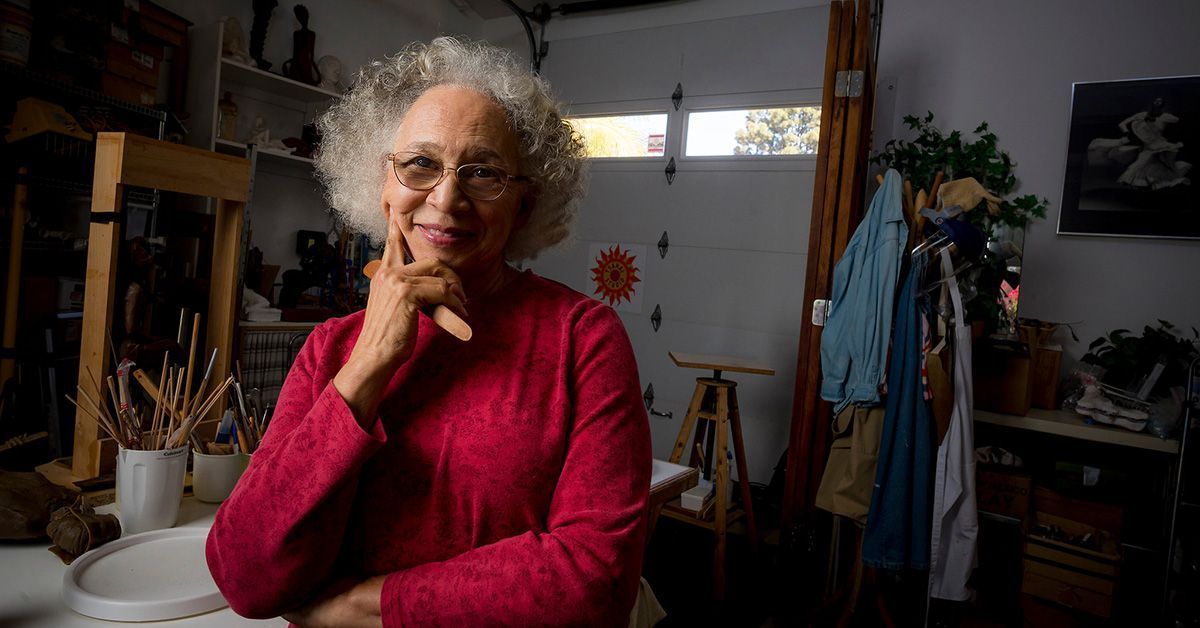 By:
Media Contact:

Published Date
By:
Media Contact:

Topics:
Share This:
Article Content
This story was published in the Fall 2023 issue of UC San Diego Magazine.
It's part mascot, meet-up spot and photo op. "Triton," the 750-pound bronze sculpture located at the steps to Price Center East, has integrated seamlessly into the student life at UC San Diego. Since its campuswide unveiling in October 2008, it has donned a college shirt, a graduation gown and even a surgical mask during the pandemic.
"The face of 'Triton' is one of my husband's students," says artist Manuelita Brown, MA '76, who has kept this secret about the iconic sculpture. "I promised no one would ever know the model's identity."
When she created "Triton," Brown intended for the sea god's beard and mustache to help obscure the student's identity. But a few years later, when the student grew a beard and mustache of his own, he looked even more like the statue than he had before. She laughs about it now.
"I think he's still anonymous," she says, "and I'm pleased that he agreed to be my model."
The notion that "Triton" bears the face of a UC San Diego student, now alumnus, is a testament to Brown's overall approach to her work: It's all about community. Community is integral to her process every step of the way. She uses friends, family and community members as models. She employs local foundries, or metal-casting factories, to cast her sculptures. And she creates public works with the intention that they will become an invaluable part of a community — just as she has in her 53 years at UC San Diego.
In 1970, she arrived on campus with her husband, now Professor Emeritus Willie Brown, who taught microbiology. Since then, she has been a faculty member's wife, a teacher's assistant in the Department of Mathematics, the director of the Thurgood Marshall Honors Achievement Program, a graduate student, the recipient of a master's degree in psychology, and mother to a UC San Diego graduate from the class of 1990.
"UC San Diego has been an integral part of my life," says Brown.
And through her artwork, which includes three bronze sculptures on campus, Brown has become an enduring part of the university's character.
She took her first sculpture class in 1962 while an undergraduate at Oregon State University. She loved it. But after earning a bachelor's degree in mathematics, an early career teaching math to junior high and high school students, plus two children of her own, sculpture took a back seat until 30 years later when she began taking sculpture and foundry classes at Mesa Community College. Just a year later, in 1993, Brown gifted a 12-inch bronze sculpture to UC San Diego: a bust of Thurgood Marshall, the first Black Supreme Court justice. The gift was made in commemoration of his recent death and the renaming of Third College to Thurgood Marshall College.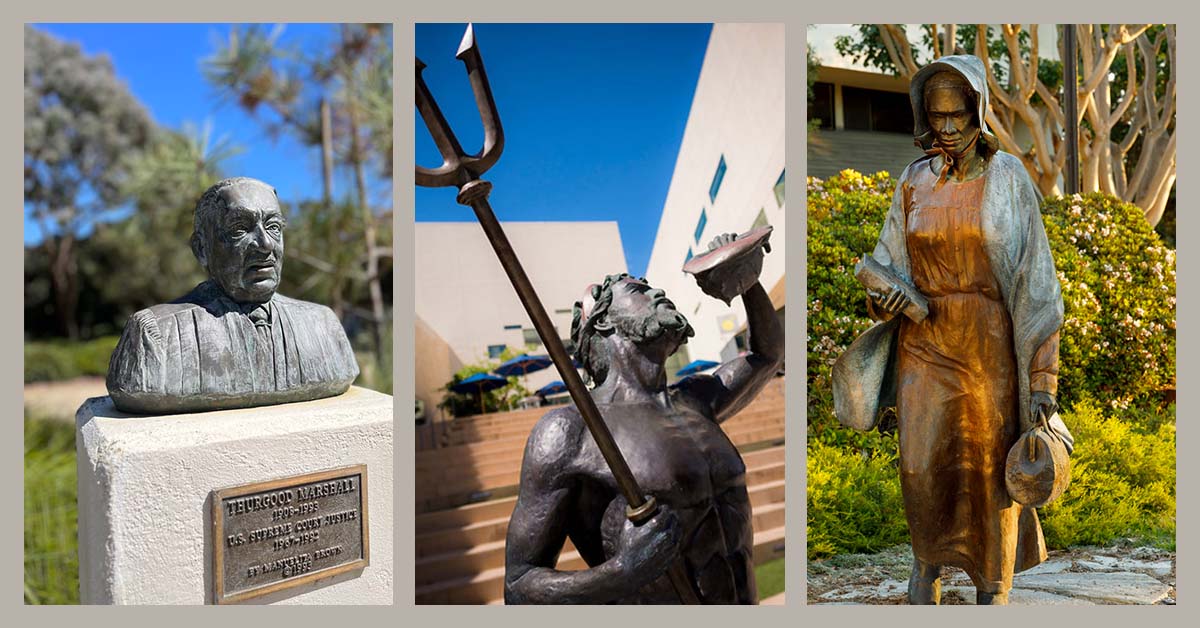 Less than four years later, Brown received a commission to create the "Almas del Mar," a massive public sculpture with eight life-size dolphins and a water feature at University Town Center mall in La Jolla.
"It was my first major installation, and I did it to prove I could do large projects," she says.
Her ultimate goal, however, was to create life-size human sculptures. She did not want to be known as "the dolphin lady." So when she was chosen as the sculptor to immortalize UC San Diego's mascot, she was thrilled. "Triton" is an important landmark on campus that is also inextricably linked to Brown's growth as a creative professional.
Years later, Brown's six-foot-tall bronze sculpture "Sojourner Truth" (2015) started as a personal project and became a campus community collaboration. Brown had originally created a 24-inch model of the sculpture to submit to a call for artists from the Massachusetts town where Truth, an abolitionist and suffragist, was born in 1798. Although Brown's submission was not selected, she felt compelled to see the project through on her own. And so she did, first with the help of donations from Kickstarter, then with support from UC San Diego. "Sojourner Truth" now stands on Ridge Walk, in the heart of Marshall College.
"It's not just my work," says Brown. "It's the work of the engineers who were employees of the university, and it's the work of the men from the foundry. All of us created this piece together. Yes, it's my vision, but it's a vision that can only be materialized if I work with other people."
Brown is intentional about working with and for communities, not just through her artwork but also in other roles on campus. For 23 years, she has served as chair of the Black Alumni Scholarship Fund, the university's first alumni-endowed scholarship. In the 30 years since its inception, the organization has grown from giving out a handful of $1,000 scholarships per year to over 60 $2,500 scholarships per year. By helping to draw more Black students and continuing to increase campus diversity, the scholarships benefit not only the individual recipients but the community as a whole.
Brown hopes her legacy at UC San Diego will continue through student scholars, as well as her inspirational artwork.
"I do bronze because I want my sculptures to last," she adds. "I like endowed scholarships because I want them to last, too."
Stay in the Know
Keep up with all the latest from UC San Diego. Subscribe to the newsletter today.