Making Voices Heard: UC San Diego Commemorates Sexual Assault Awareness Month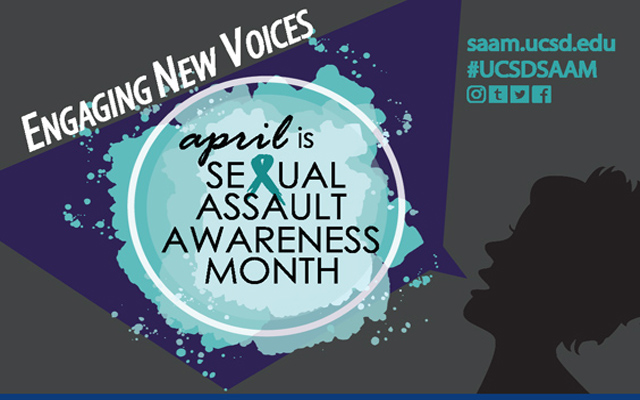 By:
Christine Clark

Laurel Wilkinson
Media Contact:
Published Date
Article Content
Throughout the month of April, the University of California San Diego will recognize Sexual Assault Awareness Month (SAAM) as part of the campus's mission to provide resources, education and support for the prevention of sexual violence. This year's SAAM theme, "Engaging New Voices," was established by the National Sexual Violence Resource Center to encourage and inform a wider audience about how to take action and stop sexual violence before it happens.Campus community members are invited to get involved with SAAM events, including the National Day of Action, Denim Day and more, all aimed at cultivating community awareness.
"UC San Diego's recognition of Sexual Assault Awareness Month demonstrates the campus's continued commitment to maintain an environment of respect and support in preventing, reporting and responding to instances of sexual assault and sexual violence," said Chancellor Pradeep K. Khosla. "I encourage the UC San Diego community to participate in the dynamic events, which are designed to empower students, faculty and staff to ensure a safe and respectful campus community that does not tolerate sexual assault, relationship violence and stalking."
SAAM at UC San Diego is organized by the SAAM Coalition, a group of various university organizations and departments including CARE at the Sexual Assault Resource Center.
According to Nancy Wahlig, director of CARE at the Sexual Assault Resource Center, the SAAM coalition hopes that this year's theme will continue to foster a supportive campus culture in which survivors and their supporters are encouraged to speak out. "Survivors of sexual assault are often silenced both directly and indirectly through a culture of victim-blaming and shaming," Wahlig said. "In order to overcome this silence, the coalition is seeking to 'Engage New Voices' on campus to contribute to dialogues about prevention and support."
Established at UC San Diego over 25 years ago, CARE is an on-campus confidential advocacy and education office for UC San Diego students, faculty and staff impacted by sexual assault, relationship violence and stalking.
A highlight of SAAM events are provided below. For a full list of events, click here.
Circle of Truth, All Month Long, Outside of Price Center Ballroom East: All UC San Diego community members are invited to pin a ribbon on the wreath if they or someone they know was sexually assaulted.
National Day of Action, April 4, 11 a.m. to 2 p.m., Library Walk, Block 1967-69: SAAM kicks off with a day full of activities designed to encourage action and provide the campus community with the tools to achieve awareness and prevention. The event encourages attendees to engage with policymakers by writing a postcard in support of survivors and campus violence prevention resources to local, state or federal legislators, take part in a #Selfies4SAAM photo-op and fill out survivor shoutouts.
Succulents for SAAM, April 18, 11 a.m. to 12 p.m., The Zone (located at Price Center next to Jamba Juice): In conjunction with Earth Month, participants are invited to recognize the resilience of sexual assault survivors by planting their own succulents. This joint Earth Month and SAAM event is sponsored by the Zone.
Denim Day, April 26, 3 to 5 p.m., Library Walk, Block 1994-1995: Help fellow UC San Diego community members fight for an end to sexual violence by wearing denim all day. The event commemorates the ruling of an Italian Supreme Court Case that initiated international support for the recognition of sexual violence.
Outside of SAAM, campus efforts to energize and expand violence prevention throughout the year will be carried out through campus departments' Colors of Change Campaign. Promotional and educational messaging will appear in various locations throughout campus to encourage UC San Diego, staff, faculty and students to be responsive bystanders, support survivors of violence and maintain a campus culture of consent.
In 2009, President Barack Obama became the first United States president to nationally proclaim April as Sexual Assault Awareness Month. SAAM has been observed by UC San Diego since 2007. To learn more about the campaign or to find more information about CARE at the Sexual Assault Resource Center, click here.
Stay in the Know
Keep up with all the latest from UC San Diego. Subscribe to the newsletter today.