Japanese Biotech Startups Learn the Ropes from UC San Diego Innovation Experts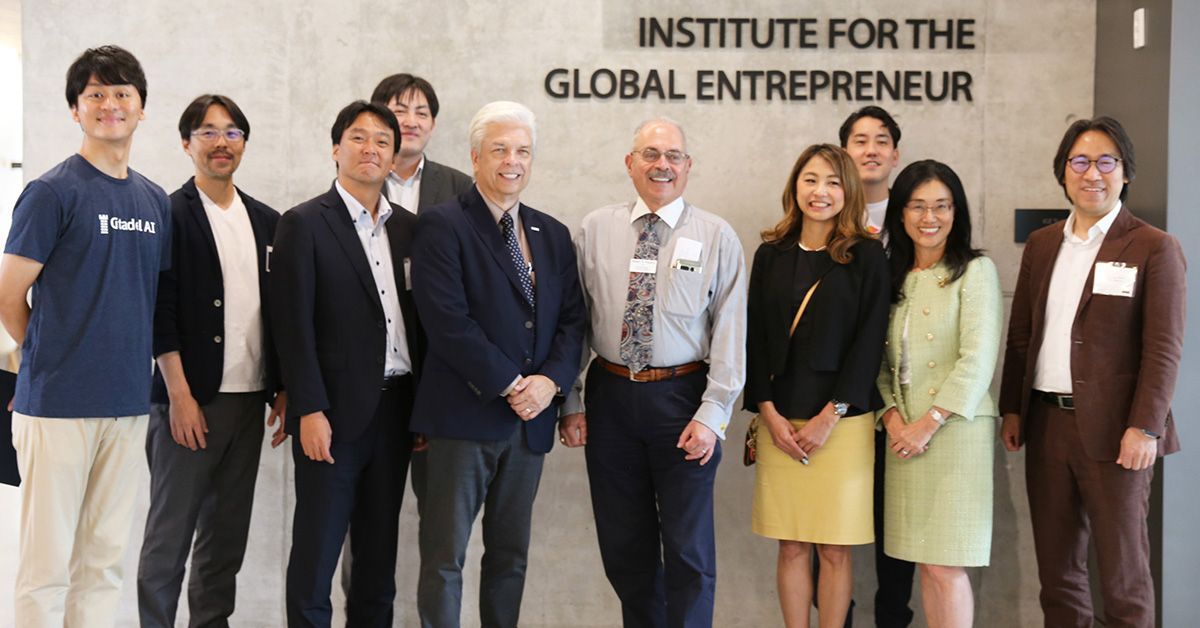 Published Date
By:
Topics:
Share This:
Article Content
An implant that strengthens bones affected by osteoporosis. A cream that could ultimately help treat autoimmune diseases. A device for home dialysis that requires no water. These technologies are being developed by Japanese startups interested in bringing these innovations to the United States market, but not sure where exactly to start. They were among seven Japanese startups that spent two weeks at the University of California San Diego's Institute for the Global Entrepreneur this fall learning about the startup market in the United States as part of the first cohort of the Beyond JAPAN program.
The Beyond JAPAN program, an initiative of the Japanese government's Ministry of Economy, Trade and Industry (METI) and Japan External Trade Organization (JETRO), is a five-year effort meant to nurture entrepreneurial talent that can expand global business by sending 1,000 participants to overseas training programs over these five years.
Beyond JAPAN launched in three cities in the United States– San Diego, with a focus on biotech and medical device companies; Los Angeles for media and consumer tech companies; and Austin, Texas, focused on agricultural tech, cybersecurity and manufacturing firms.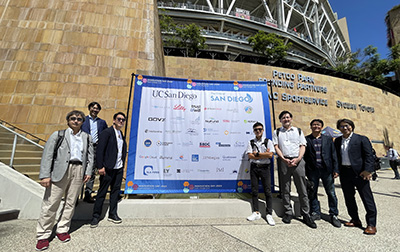 For the San Diego site, JETRO LA partnered with the UC San Diego Institute for the Global Entrepreneur (IGE) to develop an intensive entrepreneurship bootcamp. During the two weeks the selected startup representatives were on campus, they learned about everything from business models and customer discovery to regulatory strategy, clinical strategy, and fundraising in the United States. They were connected with IGE's network of potential partners, investors and customers in their space to learn more about the opportunities and potential roadblocks in their expansion.
The Institute for the Global Entrepreneur at UC San Diego is a collaboration between the Jacobs School of Engineering and Rady School of Management, with a mission to educate, train and empower engineers to become changemakers and technical leaders who are prepared to drive innovation and advance research from the lab to the marketplace. In addition to global entrepreneurship programs such as this, IGE runs the campus' NSF Innovation-Corps and MedTech Accelerator programs, meant to accelerate the translation of discoveries into new solutions that benefit society.
"When we created this institute for entrepreneurship and innovation, I was adamant that 'global entrepreneur' be in the name. The world is in need of great ideas from everywhere possible. Here at the UC San Diego Jacobs School of Engineering, we have built a strong culture of empowering researchers at all career stages to become successful entrepreneurs. I look forward to seeing the many ways this expertise can further stimulate the San Diego economy and strengthen the local biotech ecosystem by engaging with talented biotech startups from Japan and elsewhere," said Albert P. Pisano, Dean of the Jacobs School of Engineering.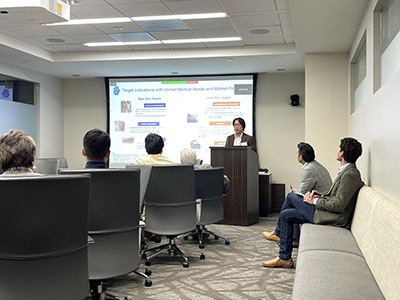 San Diego was selected as one of the three inaugural sites for the program in the United States thanks to its reputation as a global biotechnology hub.
"We are looking for ways for Japanese startups to be more active in the international market, and this is really a good opportunity for that," said Kenko Sone, Consul General of Japan in Los Angeles, at the Beyond JAPAN San Diego final pitch event at UC San Diego. "Many well known global companies are competing here in San Diego on a daily basis and I look forward to seeing Japanese startups joining that competition, being successful, and contributing to resolving the global issues we face today."
An intro to entrepreneurship in the United States
The seven startups, all based in Japan, were selected from a pool of 36 applicants and range from earlier-stage startups to more well-established firms with a product in the market.
"Most of these teams are more mature; they have traction in Japan and they're looking to leverage that into the U.S. market," said Dennis Abremski, director of the Institute for the Global Entrepreneur. "Most programs like this are shorter and more of an introduction to ecosystems, versus actually interacting with stakeholders and making strong connections, which is what these two weeks were all about."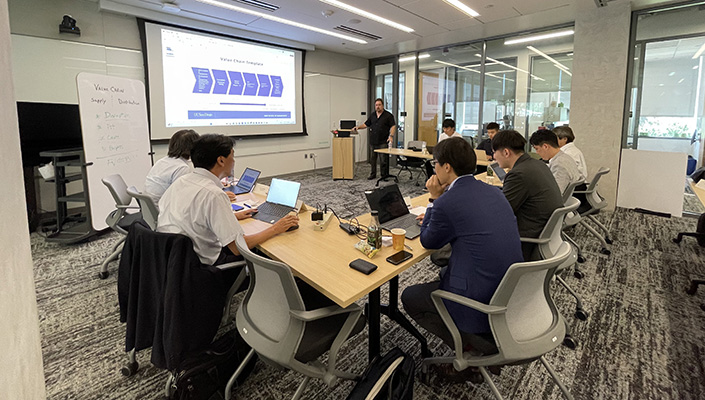 Abrax Japan is one of the more mature teams that has licensed technologies from the University of Pennsylvania related to the therapeutic use of the protein thymic stromal lymphopoietin to treat skin issues and, later, autoimmune and inflammatory diseases. Joon Paek, COO of Abrax, said that making these connections through IGE will be key for the company as they look to expand into the US.
"I learned that San Diego is the place to be," said Paek. "Being a part of the IGE family and being an honorary member of the San Diego ecosystem means that I know where we can get help, that there are people who are willing to spend their time and sweat with you who genuinely want you to succeed, and that it's a really great environment in San Diego."
Ryo Kitagawa, a spine surgeon on the team at Spine Chronicle Japan, a company developing a spinal implant for osteoporosis, is new to entrepreneurship and appreciated learning about tools to objectively obsess business strategies and success metrics.
"I'm an active spine surgeon in Japan," said Kitagawa. "I know very little about business and startups so these two weeks I learned a lot. Every day I felt uncomfortable- that's when I know I'm growing. I'm willing to take on this challenge."
Physiologas Technologies is a Tokyo, Japan-based startup developing a home dialysis device for patients with kidney disease. Unlike the few existing companies in either the United States or Japan offering home dialysis, their system requires no water at all– and therefore no plumbing components– making it significantly easier to install and use.
"We have to make a go or no-go decision to enter the US market," said Kazuyoshi Miyawaki, managing director of Physiologas Technologies. "These two weeks gave us a lot of information to help make that decision."
The Institute for the Global Entrepreneur will continue to provide mentoring virtually to the initial cohort of startups for the rest of the first program year. Using the newly acquired skills and connections, the startups will attend international conferences and meet with potential partners to expand business opportunities in the US and global markets. The Institute for the Global Entrepreneur is expected to serve as the San Diego accelerator for this program in the years to come.
Topics:
Share This:
Stay in the Know
Keep up with all the latest from UC San Diego. Subscribe to the newsletter today.