Jacobs School of Engineering and Halıcıoğlu Data Science Institute Participate in RobotX Competition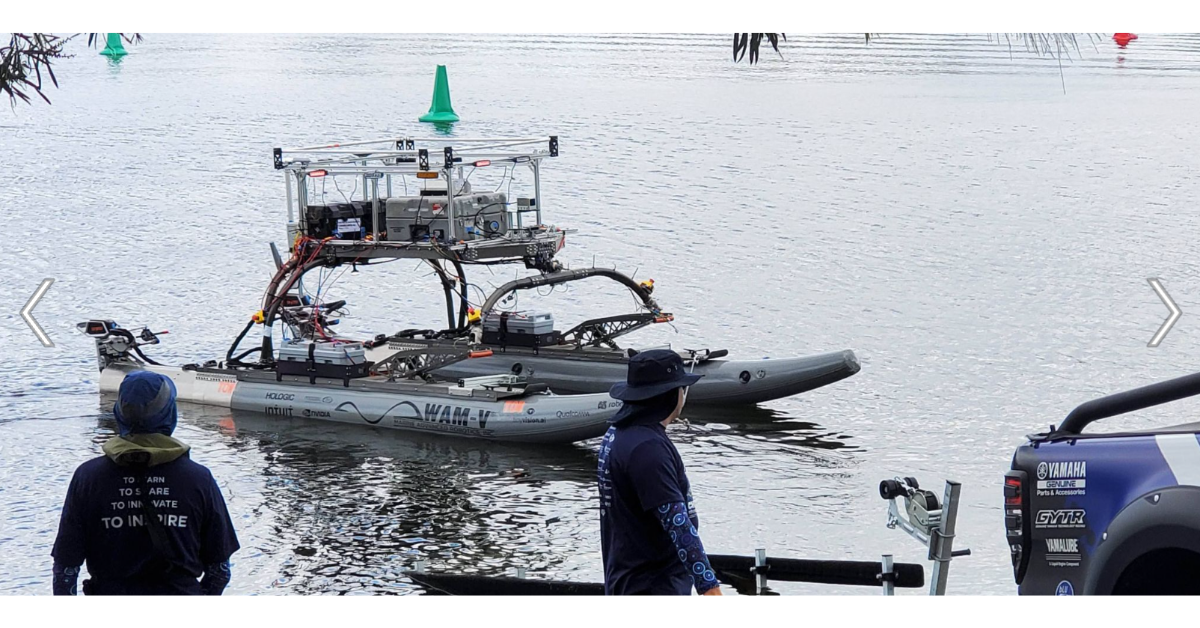 Published Date
By:
Share This:
Article Content
If you haven't yet heard about the RobotX, then you probably haven't heard about the Maritime RobotX Challenge. It's an international, university-level competition designed to foster student interest in autonomous robotic systems operating in the maritime domain, with an emphasis on the science and engineering of cooperative autonomy. This competition facilitates the building of international relationships between students, academic institutions, and industry partners.
This year's event was held in Sydney, Australia, November 11-17. JSOE and HDSI and other partners participated in the event hosted by RoboNation. JSOE & HDSI's Triton-AI team associated with Team Inspiration raised enough money to develop, build, break, re-build, and ship the robot to and from Sydney, Australia. This year's robots were a 16' autonomous boat and drone working cooperatively to detect targets from air, surface and underwater to accomplish the mission.
"In what may be a lifetime opportunity for the students, more than 8 electrical and computer engineering students at the Jacobs School of Engineering did their capstone on our robot over the summer of 2022. Another 4 JSOE and 1 HDSI students worked on the project as part of the Triton-AI. Moreover, we had two alumni from Intel and Google joining us at the team. We had a hybrid team with high school students from Team Inspiration, by far the youngest team around RobotX. We were awarded a WAM-V 16, and received a lidar and hyperspectral camera loaners from RoboNation. Team members paid for their own travel expenses including the volunteer alumni. We got 4 awards during the competition competing against some of the best universities around the world. . We received 1st place in Design Presentation, 1st place in Team Introduction Video, 2nd place in Design Documentation, and Excellence in Logistics Compliance", says Jack Silberman P.h.D., Principal Investigator of Titon-AI and Mr. Alex Szeto Principal of Team Inspiration.
We are so proud of our students and hope the team continues to break records in innovation and excellence. To learn more about RobotX, please visit RobotX , Triton-AI, and Team Inspiration websites.
Stay in the Know
Keep up with all the latest from UC San Diego. Subscribe to the newsletter today.