It's a Match! UC San Diego Medical Students Receive Residency Placements on Match Day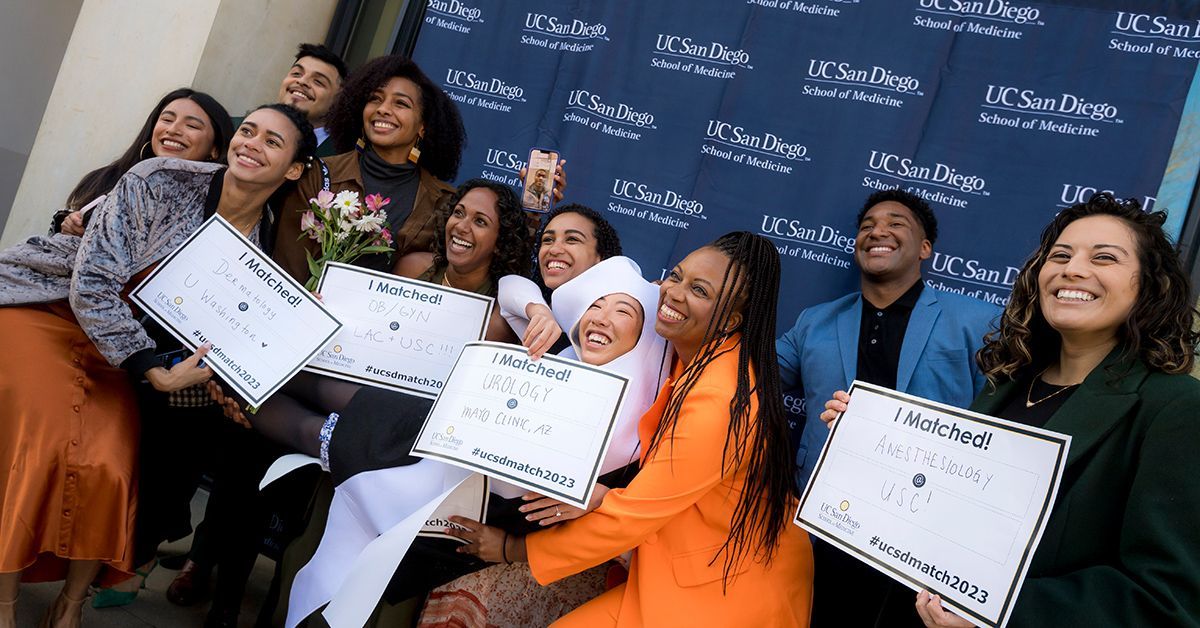 Published Date
By:
Share This:
Article Content
One of most important days in student's medical education journey has finally arrived – Match Day.
Graduating University of California San Diego School of Medicine students gathered bright and early on St. Patrick's Day morning, March 17, with their classmates, families and faculty mentors to find out where they will attend graduate medical training at residency programs across the country. Residency can last for three to seven years, depending on the specialty.
Excitement filled the air as everyone anxiously awaited their match results. Fourth-year medical student Shady Solimon is about to become a three-time degree recipient from UC San Diego. Originally from Los Angeles, Solimon came to the university as an undergraduate student, completed a master's degree and is now two months away from earning his Doctor of Medicine.
"There is so much anticipation around today," Solimon said. "Today is a unique moment with thousands of students across the nation doing something just like this – gathering together with their loved ones and colleagues, getting ready to know where they will spend the next three plus years of their lives."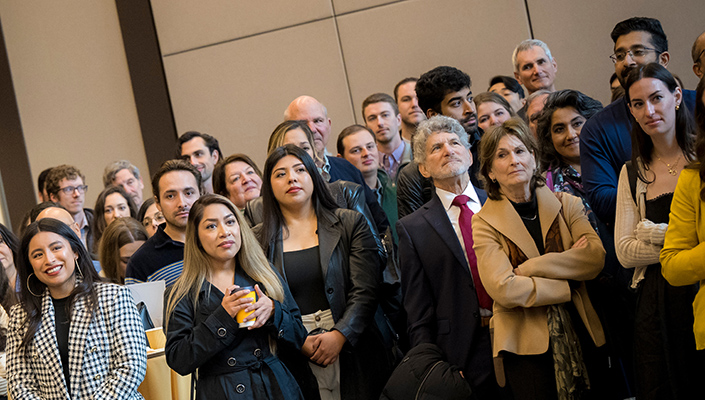 What is Match Day?
An annual celebration, medical students across the country receive their residency placements from the National Resident Matching Program (NRMP) on Match Day. Placements are released simultaneously to all medical students on the third Friday in March at 9 a.m. PT.
During the final year of medical school, students select a medical specialty to pursue and interview with residency programs and institutions of interest. Once this recruitment season is complete, students rank residency programs in order of preference and in turn, residency programs rank their applicants. The ranking lists are submitted to the NRMP, where a mathematical algorithm is used to match students and residency programs for the best possible outcome. This year was the largest match process in NRMP's history, with nearly 43,000 student participants.
Prior to 9 a.m., UC San Diego School of Medicine faculty shared congratulatory messages before the match results were revealed.
"Just remember, Match Day isn't the end. Those envelopes with your match results represent the very beginning of the rest of your careers," said Steven R. Garfin, MD, interim dean of the School of Medicine. "I hope these last few years of medical school have brought you a clearer understanding of why you're here and why you have chosen this profession. Nothing compares to this field – you will be saving people's lives and advancing medical care and scientific breakthroughs. We are incredibly proud of all of you."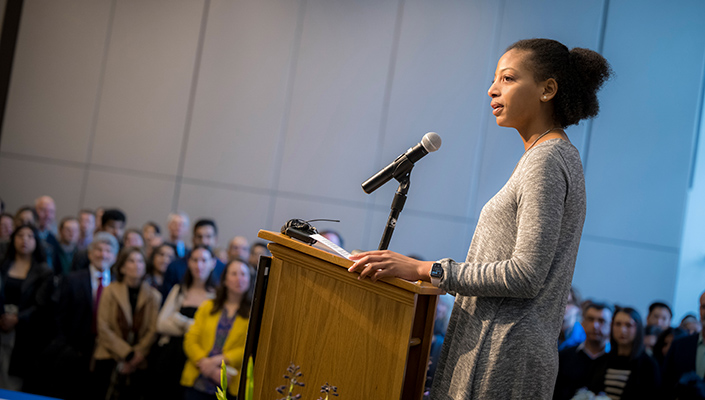 Class president Haley Moss also shared encouraging words with her classmates moments before the match results were released.
"No matter what's inside of that envelope, stand tall and be proud of yourself," she said. "Not only did you complete medical school during a pandemic, but you have come out of this place with your compassion, humility and humanity intact. Take that with you wherever you go and remember that any program in this country is lucky to have you."
The results are in
When the clock struck 9 a.m., students were finally able to open the envelopes containing their long-awaited match results. The room was immediately filled with cheers, congratulatory embraces, and a few tears of joy.
UC San Diego School of Medicine had a very successful match this year. Of the 114 students participating in the 2023 match process, nearly 20 percent of students will remain at UC San Diego and its affiliates for residency, and 60 percent of the students matched into residency programs throughout California. In addition, one student is moving onto a military match, which is conducted separately from the NRMP. This year's most popular specialties were internal medicine (30 students), psychiatry (15 students) and family medicine (10 students).
Solimon was thrilled when he received his otolaryngology match placement. "I'm going to UCLA! I am going back home, and my family is ecstatic. UCLA Medical Center has an exceptional program and I feel so blessed and relieved to know where I will be spending the next five years of my life."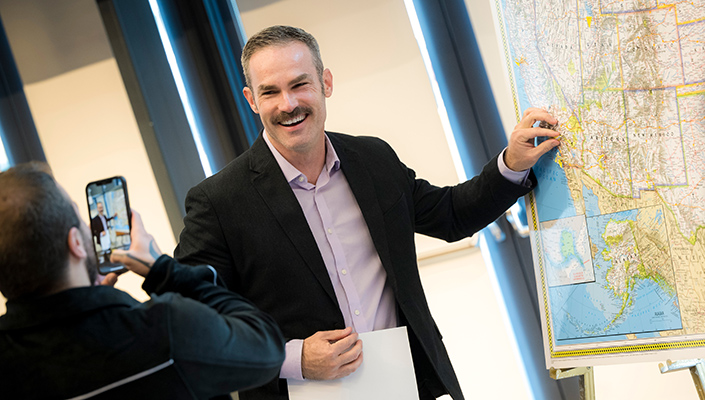 For Waylon Whitley, who will complete a psychiatry residency at UC Riverside, the journey to today was a bit unconventional. Prior to medical school he was classical musician and journalist.
"Changing careers is scary," he explained. "When you tell people you are going to become a doctor in your late 30's, some people respond cautiously. I've always marched to the beat of my own drummer. Maybe I did it backwards since being a musician is usually what people would do after their career in medicine. But for me, it was the right order, and today is an affirmation that I could do it."
Kate and Mason Price are two of several UC San Diego students that participated in what is known as a "couples match," a process in which students submit their rank list to the NRMP in conjunction with a partner. The Prices submitted 60 different combinations of their programs of interest to the NRMP database.
"We're very happy and are feeling slightly shocked right now because we weren't expecting to match with our first choice," Kate said.
The Prices and their two children are heading to Cincinnati this summer. Kate will complete her pediatrics residency at Cincinnati Children's Hospital and Mason will pursue orthopaedic surgery at the University of Cincinnati Medical Center.
"Both programs we matched with are incredible," Mason added. "It's a good feeling to know that someone wanted to take a chance on us."
"UC San Diego School of Medicine has prepared you well to become the doctors of our future," said John Carethers, MD, vice chancellor for health sciences. "As you go on your journey, whether that is here or anywhere across the United States of America, I know you will be fantastic doctors and representatives of UC San Diego. Congratulations to you all."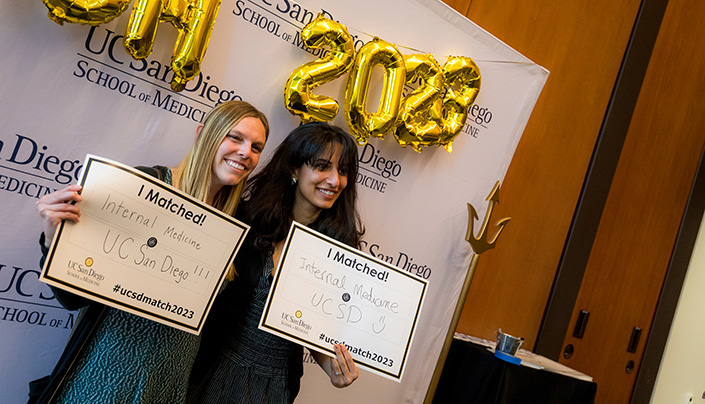 Stay in the Know
Keep up with all the latest from UC San Diego. Subscribe to the newsletter today.