'I Am Forever Grateful'
Graduates thank their biggest cheerleaders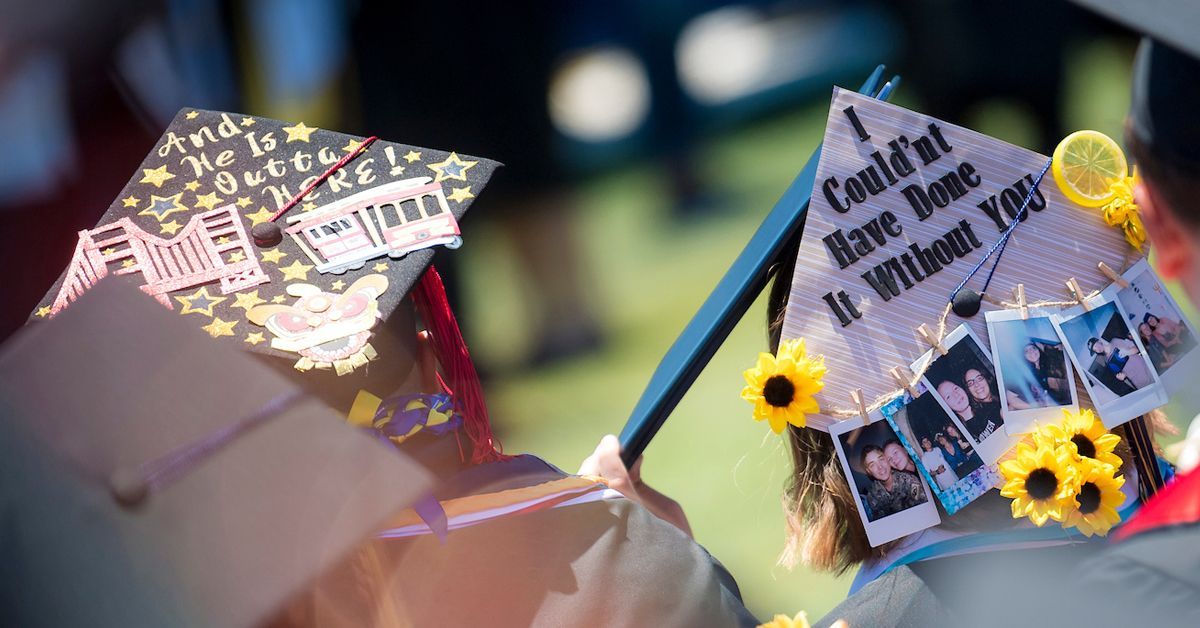 Published Date
By:
Topics:
Share This:
Article Content
When we reached out to UC San Diego's graduating students, we posed many questions. One of the most important – who at the university made a difference in your life?
The result was an outpouring of love for students, postdoctoral researchers, faculty and staff who went above and beyond to support their success. There was appreciation for those who sincerely listened, invested extra time to ensure unfamiliar concepts were grasped, awakened new possibilities for future studies and careers and encouraged the pursuit of growth opportunities.
And more than that, these mentors and advocates were a source of light during times of darkness and self-doubt. They provided comfort when a loved one passed away; they gave permission to make mistakes in the pursuit of knowledge; and they shared their own successes and challenges as a way to demystify different pathways in research and learning.
Following is a selection of these words of gratitude from our graduates.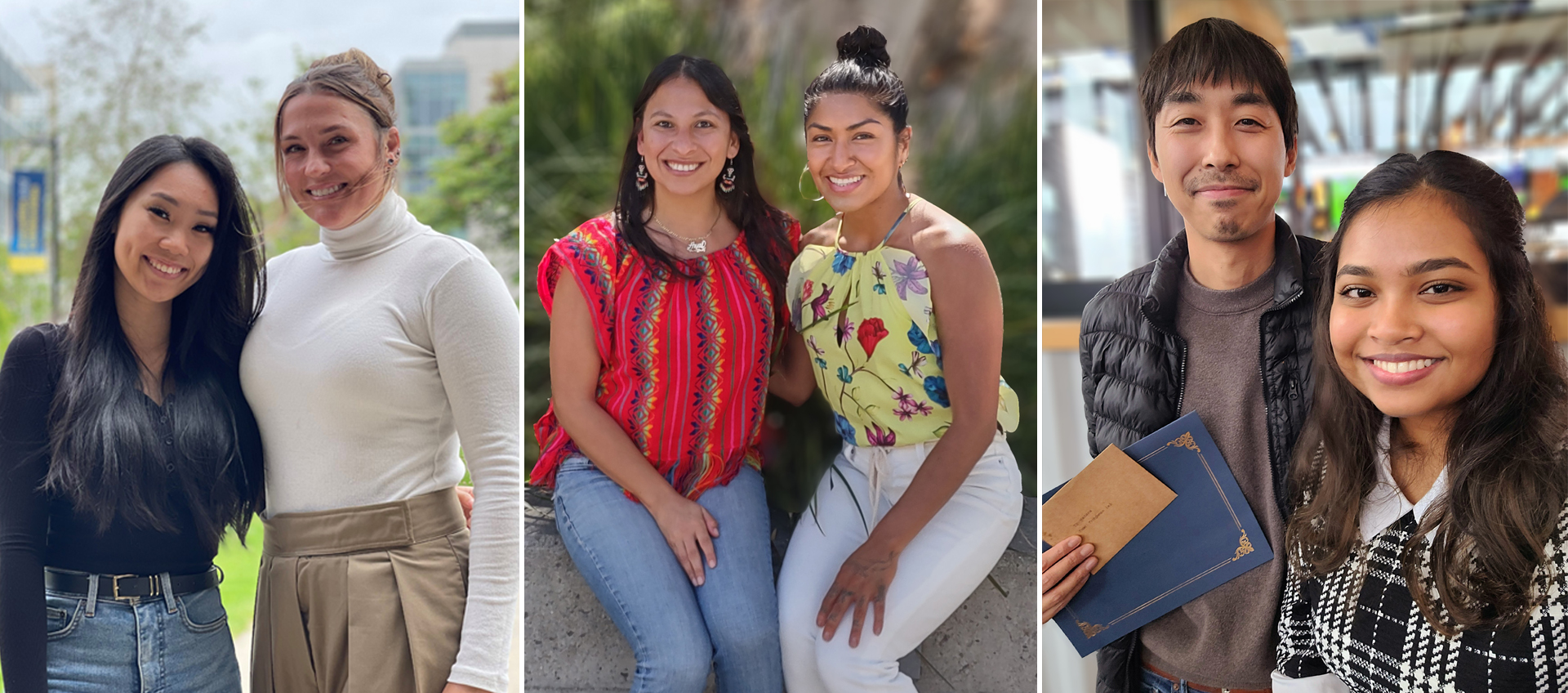 "I lost my grandpa to cancer the first week of Fall Quarter 2021 when I first transferred from community college, and I was not prepared to deal with the loss. Georgia Sadler, MD had some students of hers reach out and ask me to join the Cancer Outreach Team so that I could use my grief as a spark to educate others around me about cancer. She gave me an outlet to cope with the loss of a loved one and I used that feeling to help those in my local community learn more about cancer and how to prevent it through screenings and advocating for vaccines to prevent cancer later on in life."
Catalina Nguyen, BA in global health, on her mentor Georgia Sadler, BSN, MBA, PhD, professor emerita in the Department of Surgery
"Haley Ciborowski is not just my professor and mentor, but someone I can truly call my friend. She made a difference for me during my time here at UC San Diego by opening my eyes to all of the possibilities for public health in academia. She also helped me through really tough times by offering a listening ear and a genuine heart. She gave me advice on how to get through the passing of my grandpa and has shared words of encouragement to keep pursuing my dreams. I am forever grateful for the true mentorship and care I received from Haley."
Helen Ma, BS in public health with a concentration in medicine sciences and minor in psychology, on her mentor Haley Ciborowski, lecturer at the Herbert Wertheim School of Public Health & Human Longevity Science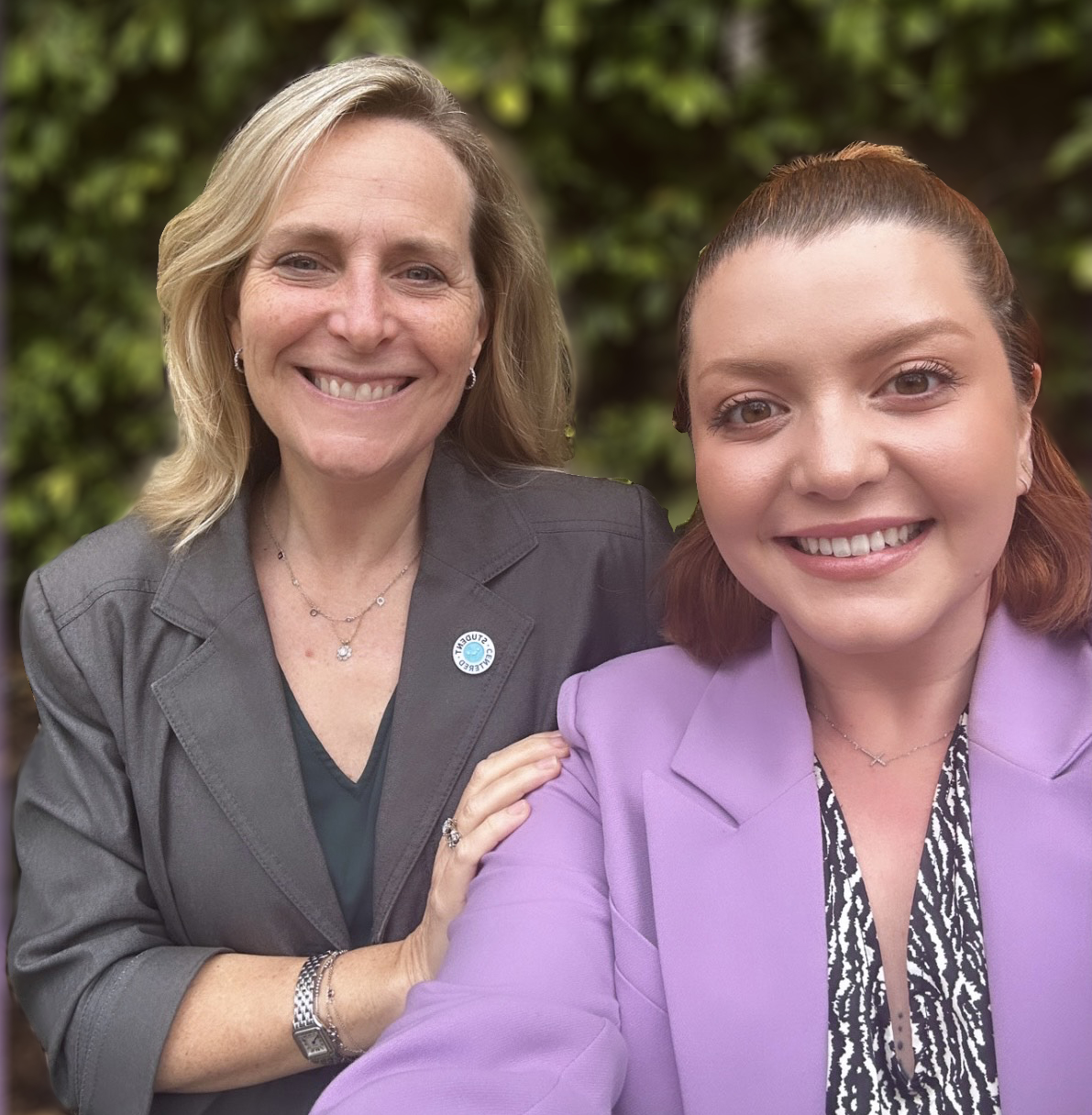 "Alysson Satterlund, whom I connected with through the Chancellor's Associates Scholars Program, provided invaluable support. She offered me a platform to share my story with donors and the UC San Diego community. She was always available to help me seize professional development opportunities and has been a reliable and kind person I know I can count on."
Isabella Newell, BS in psychology on her mentor Vice Chancellor for Student Affairs Alysson Satterlund
"I have to shout out my PhD mentor, now Dr. Anaí Novoa [who was getting her PhD at the time]!" She has helped ground and guide me throughout my very fast-paced one-year program, all while managing the final months of completing her dissertation. There were definitely moments when I was very stressed or confused about decisions I needed to make and she'd share with me her own struggles, and the outcomes of past actions she took. This gave me a practical perspective of how I should move forward. She has truly been an academic role model for me. Thank you, Dr. Anaí!!
Analisa Freitas, Master of Advanced Studies in Marine Biodiversity & Conservation at Scripps Institution of Oceanography on her mentor Anaí Novoa, graduate student researcher at Scripps Institution of Oceanography
"My mentor, Yuzuru Ninoyu, MD, PhD made a difference for me. A reputable researcher and a successful ear surgeon, Yuzuru treated me with kindness, respect and patience. No matter how tired or busy he was, he always sat down with me when I needed help. He drew out ear anatomy on lab napkins, taught me how to analyze results and improve weak areas, and discussed his life experiences with me. Above all, he taught me that no matter what experiment or hardship I go through, I need to remember my purpose and persist. He strengthened my belief in science and medicine and is a significant factor in my decision to do my master's and MD/PhD. I also implement many of his teaching habits, including visual learning and a 'practice makes progress' mindset with my own students now as a TA. I hope to be a doctor and professor like Yuzuru one day."
Sameeha Rashid, BS in neurobiology and MS in biology on her mentor Yuzuru Ninoyu, postdoctoral researcher in the Department of Surgery
"Isaac Brandl and Robert Jaffe have really pushed me to grow and given me space to develop professionally and as a person. I have changed so much since I started working for Recreation and a lot of it is because I had two people that believed in me telling me I could do it."
Marnie Aagard, BS in biochemistry with a minor in psychology on her advocates Isaac Brandl and Robert Jaffe who both serve as experience coordinators at UC San Diego Recreation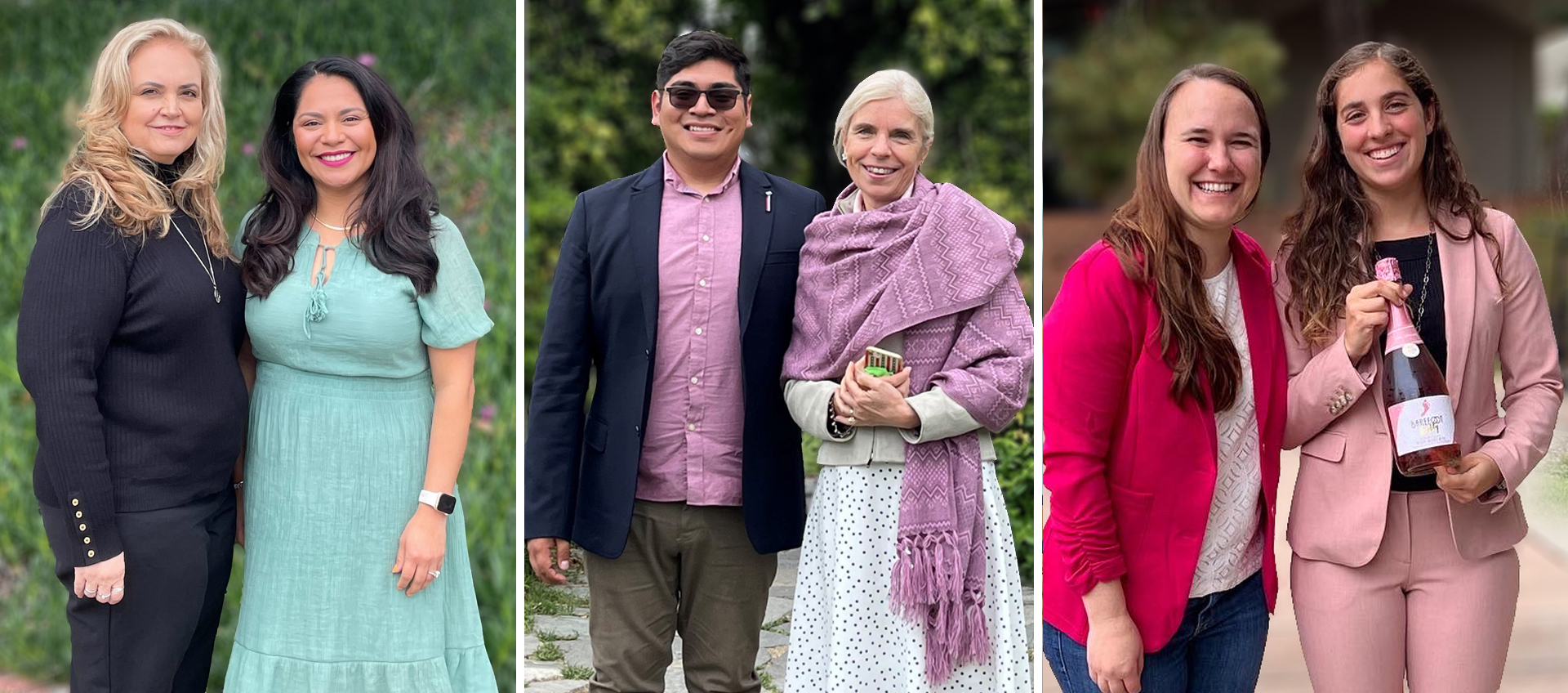 "Theresa Meyerott (a.k.a Dr. M!) was like an angel sent from heaven to help me navigate the doctoral process and even navigate life after the JDP. I recall one night she stayed on Zoom with me for 4+ hours as I made sense of my 150-page qualifying paper! Her presence was supportive, open and she always made me feel seen and capable!
Amanda Corona, EdD Educational Leadership on her mentor Theresa Meyerott, lecturer in the Department of Education Studies
"Without Marie-Pierre Murry, who has been my supervisor since my arrival at UC San Diego in the fall of 2021, my marvelous experience at the university would not have been possible. Marie-Pierre gave me the opportunity to work in a high-level leadership environment when she first hired me as a student worker in the Office of the Dean of the School of Global Policy and Strategy, and a few months later, in the Office of the Vice Chancellor Resource Management & Planning. I am grateful for her patience and dedication during my training. It was a delightful surprise to recently be awarded the 2023 Triton Student Employee of the Year for Vice Chancellor Area: Resource Management & Planning."
Saul Perez-Aragon, BA in political science-international relations with a minor in human rights and migration on his mentor Marie-Pierre Murry, executive assistant to the Vice Chancellor of Resource Management & Planning
"My Principal Investigator Alina Schimpf gave me the support to grow. It was okay to make mistakes, ask questions and give bizarre and strange ideas. The intellectual sanctuary of our lab is something I will miss dearly."
Liana Alves, PhD in Chemistry on her mentor Alina Schimpf, assistant professor of chemistry and biochemistry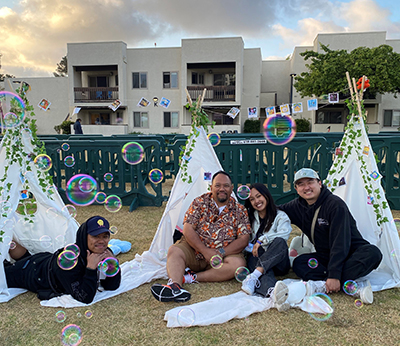 "I met Ace Antonio, Nelson Llorin and Andy Tran during such a critical and pivotal point during my time of self-doubt and self-discovery. I never knew there was much more than a career in STEM for me; it was essentially all I grew up knowing in efforts to follow a familiar and stable path my parents wanted me to take. But Ace, Nelson and Andy showed me that people who looked like me and people who looked like them are resilient and creative. They showed me that we belong in these artistic and innovative spaces in music and entertainment. They believed in me and my talents when I was doubting myself and my capabilities and encouraged me to shoot for the stars. I don't believe I'd be the person I am today—earnestly pursuing my passions and becoming a mentor for others wanting to pursue a career in this field—if it wasn't for their love for what they do and their never-ending support.
Princess Labrador, BS in cognitive science-design and interaction on her mentors within the University Events Office. Ace Antonio is campus events manager; Andy Tran is events coordinator; and Nelson Llorin formerly served as campus production manager
"The story of my success is incomplete without acknowledging the pivotal role my supervisor and mentor Dulce Dorado had in allowing me the opportunity to finish my degree. She held unwavering confidence in me to maintain my responsibilities as office manager at the International Students & Programs Office while balancing a full-time course load. The flexibility she offered with my work schedule opened a door that had been kept shut by all my previous employers who were unwilling to discuss a common ground that would allow me to achieve the life goal of earning my undergraduate degree as a first-generation student. Dulce's sincere compassion and enthusiasm when checking in during my academic journey is a genuine representation of a kind soul that wanted nothing more than to help a friend succeed. My degree would not have been possible without her."
Casey Donovan, BA in political science/public policy on his mentor Dulce Dorado, director of the International Students & Programs Office
Topics:
Share This:
Stay in the Know
Keep up with all the latest from UC San Diego. Subscribe to the newsletter today.