Horror & Hope: A Conversation with 'Man in Love' Director Stephen Buescher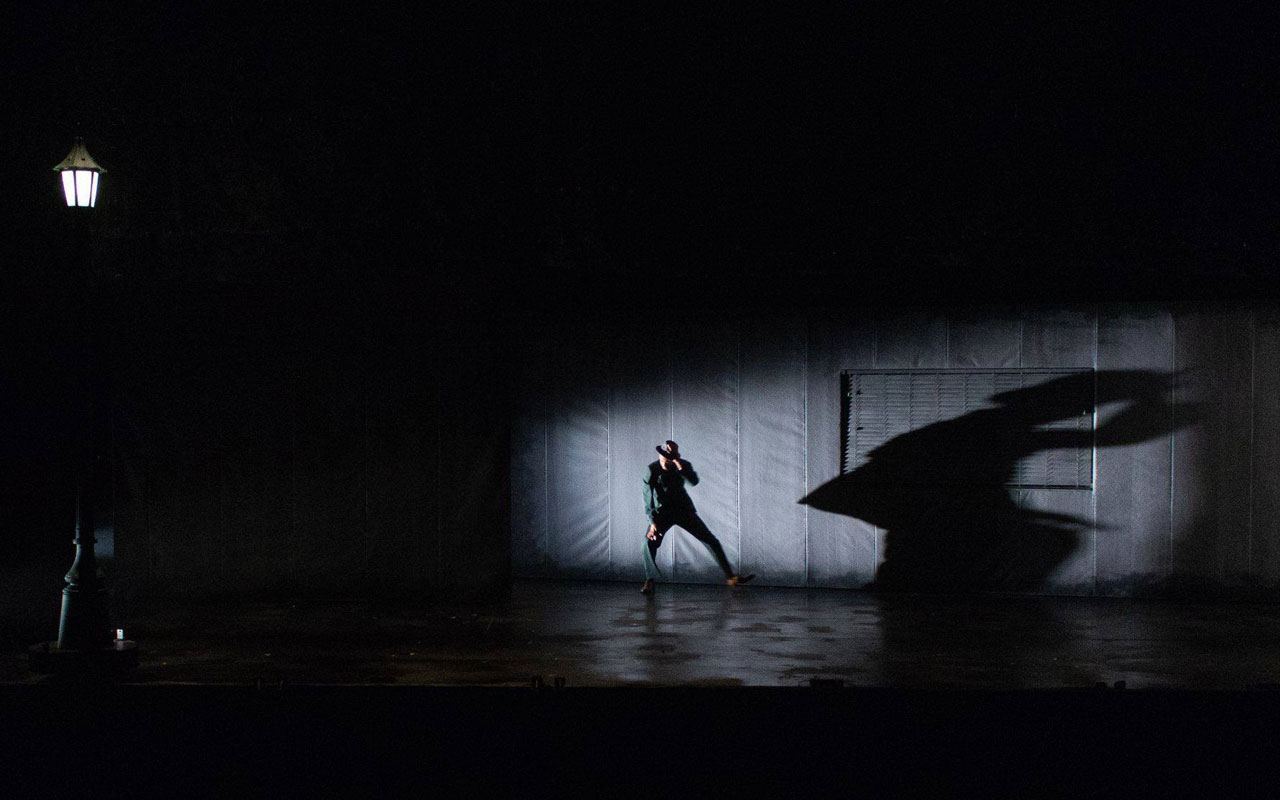 Published Date
Article Content
Opening Nov. 20 for a limited, four-show run, the second production in UC San Diego Department of Theatre and Dance's fall season is "Man in Love," a "horror and hope" play about race, love and terror.
First time directing at UC San Diego, Stephen Buescher said working with each and every student — actors, designers, stage managers and choreographers — has been incredible.
"The feeling as a whole is not that I am working with students necessarily, but with early career young artists," Buescher said, just one week before opening.
"Man in Love" features MFA actors Xavier Clark, Assata, Rebecca Futterman, Cody Sloan, Mary Rose Branick and undergraduate student Roberto Perez. The show has a large ensemble cast as well — 12 total — with plenty of movement and dance.
The creative team runs 20 deep, with MFA student Samuel Keamy-Minor leading scenic design, Dorottya Vincze on costume design, Lindsay Stevens on lighting design and MaeAnn Ross heading sound design. Ph.D. student Madison Mae Williams serves as dramaturg, and production stage management is led by MFA student Nicholas Lambros Smith.
"Man in Love" by Christina Anderson and directed by faculty member Stephen Buescher
graduate theater production
Show dates: Nov. 20, 21, 22 and 23 @ 7:30 p.m.
What's your impression working with all the Department of Theatre and Dance students on "Man in Love," from actors and designers to stage managers?
Stephen: This being my directing debut at UC San Diego, I have been so impressed by the level of creativity, talent and inquiry of the students. The actors dove headfirst into the process. I love what actors bring to the table and I try to stay out of their way as much as possible.
They have been totally game, the whole rehearsal process, and even went with 'running the show' on our first day of rehearsal. It was a wild idea, but one I believe paid off in their ability to understand and embody the world of the play.
There are not only actors in this show but amazing dancers as well. They brought a focused discipline and a sense of craft to the play that has deepened the story-telling in a visceral way. They pick up where the text leaves off.
The design team has been fantastic. They all realized their ideas, in collaboration, beyond anything I had ever imagined. They were able to articulate, within their various métiers, a practical and poetic dimension to the story telling. The outcome is stunning!
The back-bone of the whole show is the stage management and production team. The level of precision and detail in everything they do gives me pause. I am in awe of each one of them.
With so many great ideas on the table at any given time, the challenge is always "what will have the most impact?" What needs to be seen, heard, felt, or illuminated that will shock the audience in some way?
Sometimes the students have the perfect shock. Sometimes the shock comes from me, and if you are really tuning in, the shock comes from the least expected place. I am desperately trying to listen to the play, listen to the students, and listen to the moment when I am in the act of creation.
"Man in Love" is an important work about race and social equality — why is this important to present? What do you hope the audience will take away from the experience?
Stephen: "Man in Love" is a difficult play. "Man in Love" is a dangerous play.
The echoes of the 1930's still resound in contemporary America, as we continue to segregate ourselves and our ideas. The play lives in the segregation and the brief crossover moments where people share company with each other even as they share contrary points of view.
The questions the play asks continue to haunt me, even as we get closer to opening: Why do we continue to devalue the voices of Black people generally, and Black women specifically? What do you do if you are a white man caught in the middle of a system that has turned its back on you? When will trans-identified women have the luxury of feeling safe?
The content of this play bothered me when I first read it, it bothered me in rehearsals, and I hope that it bothers the audience when they come to see it.
Hopefully this will lead to more uncomfortable conversations.
Individual tickets and more information can be found at the Department of Theatre and Dance's complete 2019 – 2020 season webpage, with special $5 discount tickets available to those affiliated with UC San Diego. "Man in Love" is included in the department's season subscription: six plays for $50 (PDF). All productions are performed in the Joan and Irwin Jacobs Theatre District at UC San Diego.
Stay in the Know
Keep up with all the latest from UC San Diego. Subscribe to the newsletter today.