Honoring the Veterans in Our Lives
To commemorate Veterans Day, Tritons share tributes to loved ones who have served in the U.S. Armed Forces
By:
Published Date
By:
Share This:
Article Content
In honor of Veterans Day, Nov. 11, UC San Diego Today asked members of the campus community to tell us about the U.S. military service members and veterans in their lives and share messages of gratitude for their contributions to their nation. These veterans are Tritons' spouses, parents, grandparents, children, friends and loved ones from different generations, backgrounds and branches of service—and together, their stories paint a picture of what it means to selflessly serve.
(Some submissions have been edited for length and/or clarity)
Staff Sergeant Jacob Romero, U.S. Air Force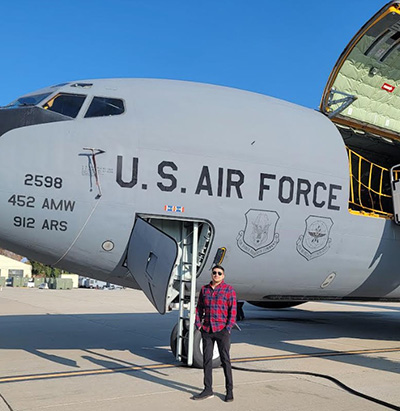 "Jacob Romero embarked on his journey in the U.S. Air Force in January 2012, taking on the vital role of a KC-135R crew chief. With an impressive track record that includes three deployments, he is now preparing for his fourth deployment, a testament to his unwavering commitment to service. As a staff sergeant, Jacob serves as a program manager in the consolidated tool krib, where his expertise and leadership shine. His responsibilities involve overseeing crucial programs that are essential for mission success and the safety of his fellow airmen. Jacob's dedication to his duties and his relentless pursuit of excellence make him a highly respected figure in the Air Force, setting a commendable example for all those under his command.
I wanted to take a moment to express my deepest gratitude for your dedicated service to our country. You are a shining example of the very best our military has to offer, and your leadership is an inspiration to me as your partner. Thank you for your sacrifices, your dedication, and your service before self."
-Submitted by his significant other, Cynthia Grande (Staff)
Oscar Brobak, U.S. Navy
"Thank you for all that you have done in your years of service and continue to do as a veteran. I know you serving this country for 24 years was a challenge. Thank you again, Dad."
-Submitted by his daughter, Natalia Brobak (Student)
Captain Duane "Dr. Gus" Gustafson, U.S. Navy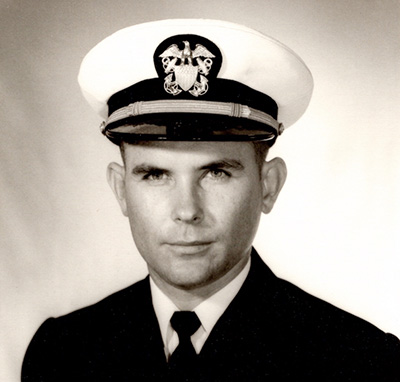 "Thanks to my Dad, the 'first' Dr. Gus, for making our lives a continuous adventure filled with curiosity, fun and love, and for instilling in us a deep value for the things that really matter.
Proud of his roots as a corpsman, my dad was a Navy dentist for his entire career, eventually retiring after I was in college. He brought compassion and healing, with a good joke and an infectious smile to countless sailors and officers, including those on an aircraft carrier off Vietnam, U.S. personnel in Taiwan and Indonesia, submariners in Guam, recruits at Naval Training Center San Diego, pilots at Naval Air Station Lemoore, SEALS on Coronado, and students from allied countries at the Naval Postgraduate School. And through all the countless moves, he was our family's north star, providing stability, safety, wisdom and more fun than anyone could imagine. My moniker, 'Dr. Gus,' is meant to honor my father, Doc Gus, every day."
-Submitted by his daughter, Cindy Gustafson-Brown (Faculty)
Brandon Holley, U.S. Army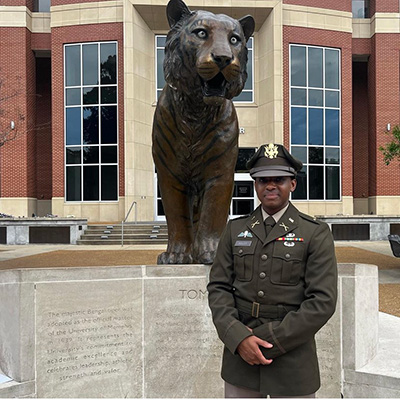 "Brandon, I miss you. Hope everything is going well for you and I can't wait to meet up with you again in the near future. Thank you for your service to your community and to this nation.
Brandon and I were high school classmates back when I used to live in Memphis, Tennessee. We were also in band together—I played trombone and he played baritone. I remembered that we always had a good time during band. Brandon would always do something stupid and the band director would get mad and we would all laugh and giggle. After high school, we went to college together at the University of Memphis. At first, I did not even realize that we went to the same school. It wasn't until one day when I was walking back from class that I saw Brandon running on the track field. At first, I couldn't recognize him. He was in full Army uniform, buzz cut, and sweating in the sweltering Memphis heat. But he kept on running and when they finally finished (after doing like 30 laps), I walked up to him and said, 'Brandon?' He immediately recognized me and said, 'What's up David?' By then, I learned that Brandon had joined the Army ROTC and was on his way to become an officer. Fast forward to today, Brandon is a 2nd Lieutenant in the U.S. Army. I am really proud of him and what he has achieved. He serves as a role model for me and his story motivates me everyday."
-Submitted by his friend, David Du (Student)
Charles Edmund Dawson, U.S. Army
"Thank you for showing us what service looks like."
-Submitted by his son, Mark Dawson (Staff)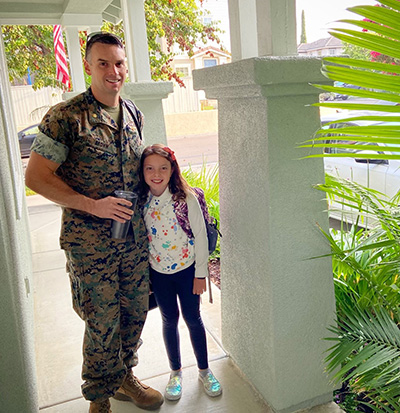 Major Brooks Brown, U.S. Marine Corps
"Major Brown has served for 19 years in the Marine Corps as both an active-duty C-130 pilot and in the Marine Corps Reserve. I am grateful for all of the sacrifices he has made throughout his career in support of our national security. It's inspiring to see his hard work and dedication to his fellow Marines and our country."
-Submitted by his spouse, Jess Brown (Staff)
Maximo Arias, U.S. Navy
"Thank you, Dad, for serving the country. I am grateful to you because when on active duty, you were not only protecting the country but your family as well."
-Submitted by his daughter, Brianna Arias (Student)
Kevin Goodson, U.S. Navy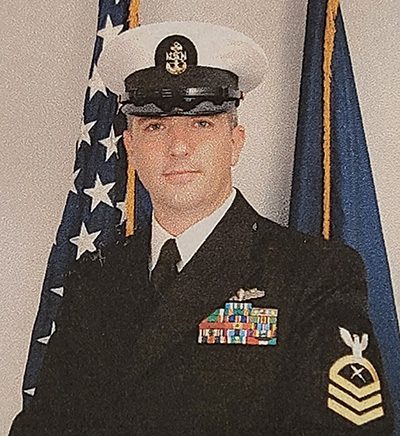 "Kevin spent 23 years serving in the Navy, with much of it spent at sea for both short and long periods. He was stationed in both Spain and Germany, and on both coasts of the United States. I can thank the Navy for introducing me to my future husband, as Kevin served on a ship with and became friends with my brother, who was also in the Navy for many years.
Kevin, thanks for everything you sacrificed to serve our country, both before we were together and since. Like other service members, you've missed birthdays (yours and those of your loved ones), holidays, and countless milestones in your children's lives, including first steps, first words, school activities, celebrations, injuries and illnesses, and so much more."
-Submitted by his spouse, Kymberly Goodson (Faculty)
Sergeant Jack Brayton, U.S. Marine Corps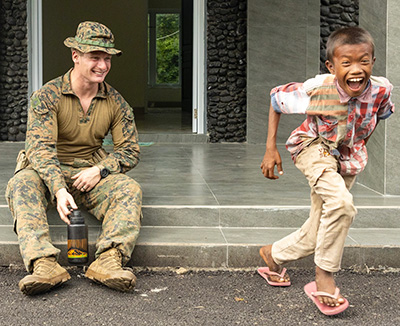 "Graduating high school early to enlist at 17, Sergeant Brayton has continued to grow in his 0313 military occupational specialty as a Light Armor Reconnaissance Marine, spending his first enlistment at Twentynine Palms, going on two deployments. He obtained a Joint Fires Observer certification and was promoted to sergeant meritoriously. He continued on to receive his Master Gunner Certification and received class Honor Grad, and then went on his third deployment on the 13th Marine Expeditionary Unit for seven months. He came home and received a Navy and Marine Corps Achievement Medal, an award only awarded when a Marine goes above what is asked of them in their job. Wanting to do even more, he is in Combat Instructor School to learn to train incoming Marines to become future warfighters.
Jack, you continue to better yourself both as a husband and a Marine, and lead those under you with great courage and respect. You never fail to keep pushing the limits of what is asked of you, and you go above and beyond. I am so endlessly thankful to you for working so hard every day, and providing for us so I can focus on school. I am forever proud of you, and I am so excited to be with you in the next step in your career. I love you."
-Submitted by his spouse, Hana Brayton (Student)
Johnathan Lloyd, U.S. Navy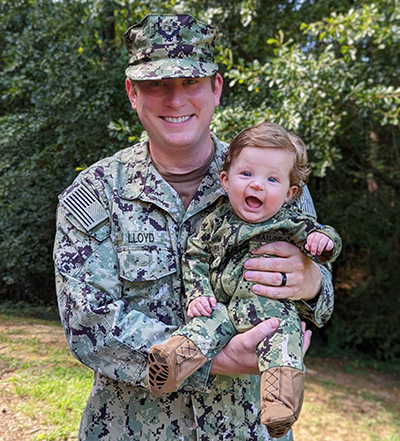 "Johnathan was in the U.S. Navy for 11 years and was stationed in Texas, Rhode Island, California and Mississippi throughout his time as a Hospital Corpsman. He completed two international deployments on USS Theodore Roosevelt (CVN-71), including one during the height of the COVID-19 pandemic where his medical team was pushed to their limits.
In 2017, the U.S. Navy brought my sailor to San Diego and our love story began. Fast forward six years, two long deployments, a couple cross-country moves and a new baby later and I couldn't be more proud to call him my partner for life. Johnathan is smart, hardworking, caring, reliable and such a goofball. I've learned a lot about what it looks like to live a life of service through him and am so happy to watch as he continues to grow and thrive as a veteran following his 11-year career in the military. We love you so much, Johnathan!"
-Submitted by his significant other, Autumn Monteforte (Staff)
Ruby Perez, a UC San Diego student, shared messages of gratitude for her uncles, Daniel Zuniga, U.S. Marine Corps and Tony Zuniga, U.S. Army:
"My Tío Danny served in the Vietnam War. He went to serve with some of his friends. The war was a hard time for him but it's what made him the person that he is today. I'm thankful for him and I thank him for his service. Thank you for always supporting me in school and being the silly tío that makes everyone laugh. Thank you for your service."
"My Tío Tony served in the Army, in the band. He played the trumpet and spent a few years serving in other states such as Kansas. He came home to California when he finished his service. I'm thankful for him and thank him for his service."
Captain Worthington, U.S. Army
"Captain Worthington is an ROTC Assistant Professor of Military Science. Thank you for all the early mornings and late nights teaching cadets and guiding them to become great Army officers and leaders. We know you're making a difference."
-Submitted by their spouse, Olivia Verreault (Staff)
Vice Chancellor for Student Affairs Alysson Satterlund shared a message to her grandfathers and uncles, Mason Mauldin, Clayton Johnson, Robert Mauldin and Jeff Herrick, who served in the U.S. Air Force and U.S. Marine Corps:
"Thank you for the many sacrifices you made that resulted in life-changing opportunities for so many of us in the Mauldin-Johnson-Satterlund family."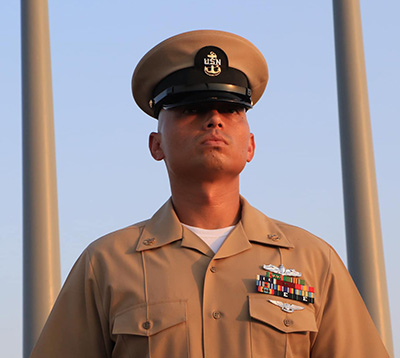 Matthew McNurlan, U.S. Navy
"Wishing my son, Matthew McNurlan, a very happy Veterans Day. Thank you for your 15+ years of service to our country. Matthew is a Chief on USS Stethem, which is currently deployed in the Middle East."
-Submitted by his mother, Alma Palazzolo (Staff)
Ike Berch, U.S. Army
"My Grandpa had the tenderest heart and was drafted for World War II at 18 years old. On D-Day, he landed in the second wave on Omaha Beach, was able to make it up the bluffs and was separated from his unit. As he made his way alone across the French countryside, he accidentally captured three German soldiers when he stumbled into their machine gun hollow—he said they were more scared than he was— and received a knee wound in the process. His war experiences deeply impacted his tender heart, and yet he was the best Grandpa I could imagine, even encouraging us as small children to run circles through the house when he played Spike Jones. I will always be grateful for his quiet love and unwavering support of me and my brothers."
-Submitted by his granddaughter, Amy Clay (Staff)
James Gates, U.S. Army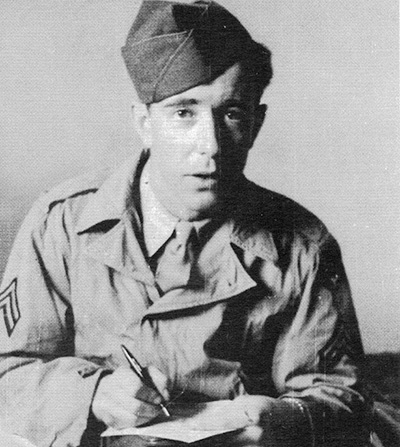 "Thank you to all who put their life and well-being on the line to preserve our freedoms. My father, James, served well and it took a lot out of him. I'm very grateful to him for his sacrifices and example of service to others, despite the impact it had on him personally. He was a good man who loved his country with all his heart!
James trained as a pilot, but during World War II was a tail gunner in a B-24 Liberator bomber. He flew several missions over German occupied locations and his plane was shot down twice, both times being the only survivor. Once, he was rescued by the someone in the Belgian Underground and smuggled back to his unit two weeks later."
-Submitted by his daughter, Marlayna Christensen (Staff)
Staff member Gabriela Montoya shared tributes to her father, Gabriel, who served in the U.S. Army; her nephew, Carlos, who served in the U.S Navy; and her nephew, Aramis, who served in the U.S. Air Force:

"I pay tribute to these three brave men in my family who helped preserve the security of our country and defend the liberties we all hold dear. They will always remind me of the spirit of service to a cause, sometimes greater than our own lives.
My 93-year-old father (Gabriel) joined the Army in 1953 and boarded USS R.L. Howze to defend South Korea. My father spent three years in Japan and South Korea and likes to share that his essential role was protecting the abandoned bases that former American troops left behind. The bases were occupied with ammo, guns, airplanes, machine guns and military vehicles. But he prefers to recall when the guys would grab their guitars and sing to pass the time. We're so fortunate to still have him around to share his stories with his children, grandchildren and great-grandchildren.
My nephew Carlos joined the Navy in 2004, serving his country for more than 14 years as a Gunner's Mate. Carlos lived with travel, military duty and service, seeing more parts of the world than most people will ever see. Our family lost Carlos at 34 years of age, but we all remain incredibly grateful and proud of him. My nephew Aramis joined the Air Force in 2007. He did one tour in Afghanistan and two tours in Iraq. During his last tour, his squad patrolled Camp Bucca in Basrah before being shut down. Aramis is married and has a 12-year-old son and two stepsons. When he's not working, he volunteers his time with Active Heroes, Wounded Warriors, and his local VA branch."
Timothy Stockton, U.S. Navy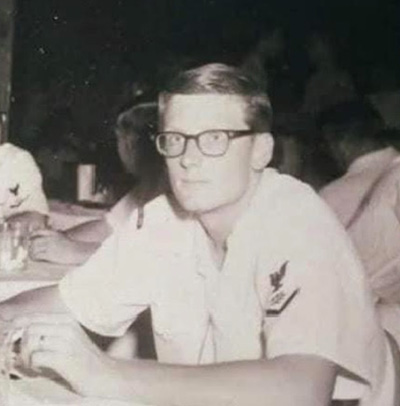 "You have been amazing this year, through your struggles. You are what it means to be an amazing veteran and husband.
Tim always goes above and beyond when helping others. In the '60s, he volunteered to serve in the Vietnam War as a teletype repairman for the U.S. Navy. He trained at what is now Liberty Station. He was transferred to his ship, USS Guadalupe, via Guam. He machined parts by hand with materials he could find to keep teletype machines working, instead of waiting for parts to arrive. While onboard, he was sent temporarily to work his magic in Vietnam. He used jet fuel to clean the parts. He was treated due to his suffering aircraft fuel burns from continuous exposure, requiring medical attention. Since his service, he has been a scuba instructor, has continued as a drummer, was an incident commander for search and rescue, teaching others to climb, rappel and find lost hikers in Lake Tahoe, Yosemite and Anza-Borrego. He received his JD in law, was a regional manager for stock brokerage companies, a private investigator, and too many more to name in his 77 years. His love is animals and as an oil on canvas artist. For the 15 years I've known him, Tim has suffered from a chronic cancer caused by his service called CLL. He has gone through many treatments, always bouncing back to be there for his siblings, his kids and his grandkids. Like other veterans that have worked tirelessly while away from their families to help others live with human rights and peace, my husband tirelessly does this in his daily life for those around him. He is an amazing American U.S. Navy veteran. We are fortunate to have him and feel the loss so many families have endured when their loved ones have fought in these awful wars and conflicts. Thank you, Tim, from your wife, siblings, kids, grandkids and your many friends that appreciate you and your service."
-Submitted by his spouse, Patricia Stockton (Student)
Stay in the Know
Keep up with all the latest from UC San Diego. Subscribe to the newsletter today.