Heart to Heart: Seven Couples Share Their UC San Diego Love Stories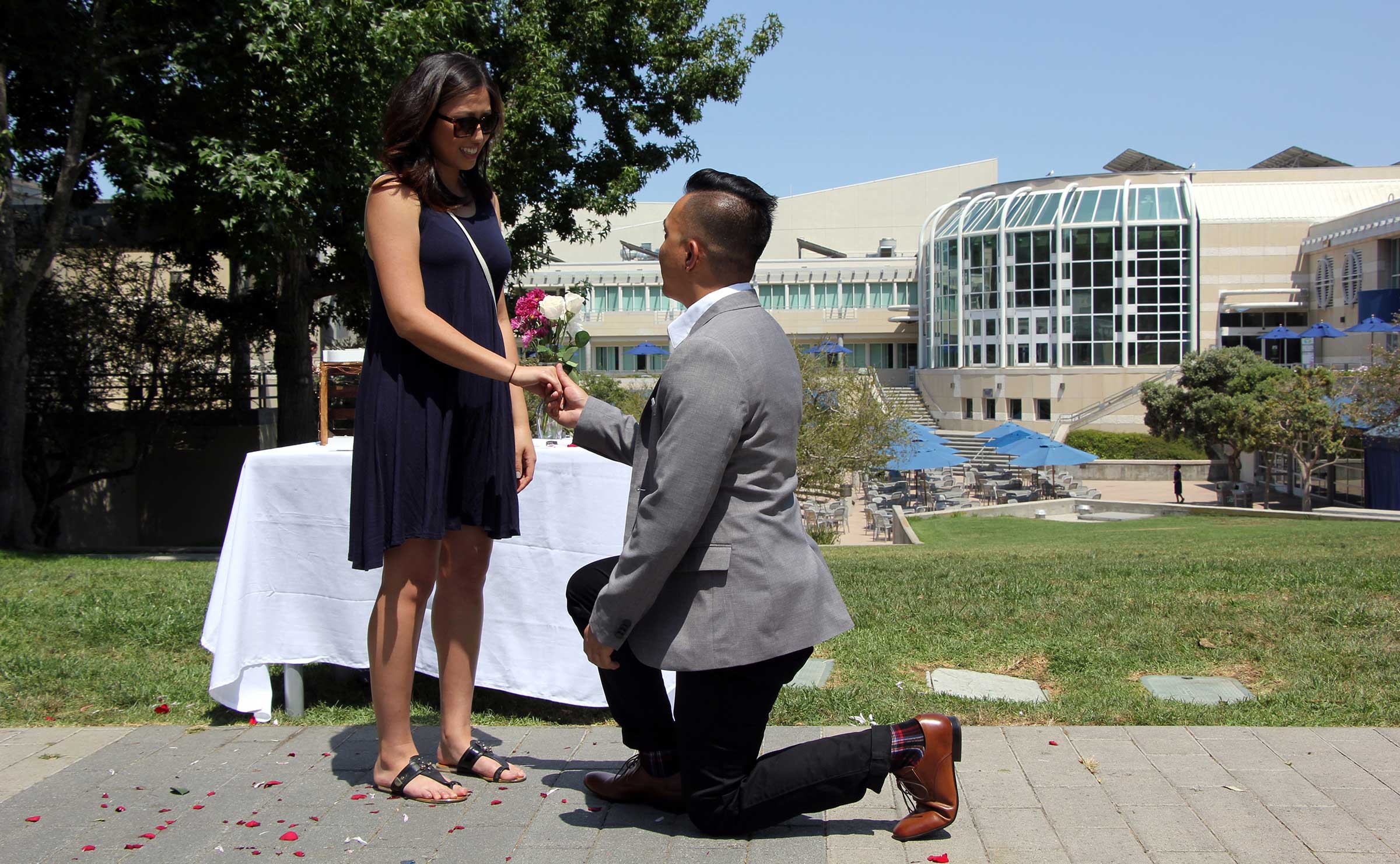 As Valentine's Day approaches, we are celebrating all the lasting love stories that got their start right here at UC San Diego. To honor the day dedicated to love, we asked the Triton community to share their magical first encounters and the sweet memories that followed. From instant connections to international love stories, see what seven couples shared about each of their relationships:
---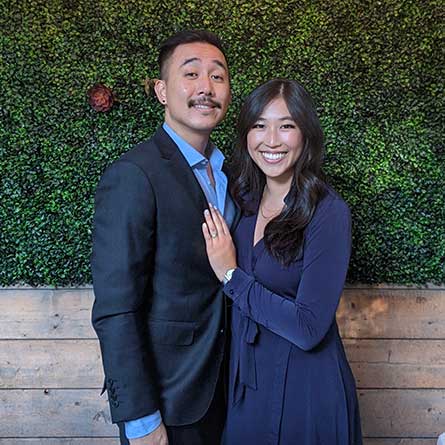 Jeff Li, '12 and Annie Li, '13
It was Welcome Week at UC San Diego when Jeff Li, '12, first met his future wife, Annie Li, '13. She was on Library Walk flyering for her church when Jeff approached her while flyering for his fraternity. To this day, he still has the flyer Annie gave him.
Library Walk holds a special place for the couple for more ways than one—not only was it where they first met, but it is where Jeff planned an elaborate proposal and asked Annie to marry him.
When the pair are not enjoying time in their new home in San Diego, you can find them exploring exciting places around the world. "We love to travel. So far, we've been to 10 countries together in our five years of marriage," the couple said. "More recently, we have been traveling domestically, visiting places like the Grand Canyon, Maui, and Atlanta, to name a few."
Today, Jeff is a Marketing Manager at Agilent Technology and is currently attending the Rady School of Management for his MBA. Annie, who worked in human resources at UC San Diego Health for over eight years, recently transitioned to a role at SDG&E.
This year, the couple will be celebrating their ten year 'dating anniversary' a couple of days before Valentine's day by grilling some steaks and "maybe finally opening up that nice bottle of champagne that has been sitting on our shelf for the past few years waiting for such an occasion."
---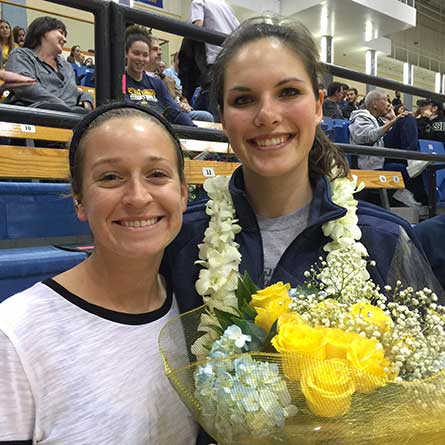 Dana Webster, '15 and Megan Perry, '14
Dana Webster, '15, and Megan Perry, '14, first met as teammates on the UC San Diego women's basketball team in 2011. Both students in Muir College, Dana was an incoming freshman studying management science and Megan was a sophomore studying psychology.
During the first year of knowing each other, the couple quickly connected as close friends before becoming official in 2012. "Our teammates were so supportive of our relationship and were such a big part of us growing together as a couple," said Dana.
Currently based in the Bay Area, the scholar-athlete alumni couple is still finding ways to stay active and loves spending time outdoors. "We recently started bouldering at a local rock climbing gym and we usually make time to do that on Sundays together," the couple shared. "We still love to play basketball, and recently joined an all-women's team in the Bay Area to help get us back in shape."
2022 is also set to be a big year for Dana and Megan. After a two-and-a-half-year-long engagement, they will be tying the knot this April at a venue very close to UC San Diego and honeymooning in Costa Rica. "We are also planning to move to Denver, Colorado in May of this year to settle down, explore a new area and start expanding our family with a furry friend or two," shared Dana.
The couple will also share a special milestone this Valentine's Day as they pick up their wedding rings at a local jewelry shop before spending the weekend in Big Sur. They will be hiking and exploring the coast as part of their farewell tour of the Bay Area.
---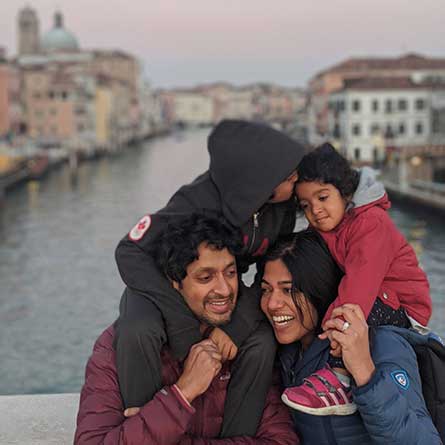 Jyoti Mishra, '08 and Dhakshin Ramanathan, '09
Jyoti Mishra, '08, and Dhakshin Ramanathan, '09, first met in 2003 as students in the UC San Diego Neurosciences graduate program. While they both had crushes on each other, they were too shy to ask each other out on a date.
Despite this shy start, during winter break that year, Jyoti reached out to Dhakshin for a ride back from the airport after visiting family in India. That memorable car ride was their first one-on-one time together, kicking off their relationship.
Their first date was at an old Chinese restaurant in UC San Diego's neighboring Pacific Beach community. Jyoti shared, "I don't remember the food being so great, but we were there chatting for hours!"
Now happily married, a pastime that Jyoti and Dhakshin continue to enjoy is hiking and connecting with nature. "We have done so many memorable hikes together—Mt. Langley in the Sierras and Grand Canyon are some of our all-time favorites," said Jyoti. In fact, Dhakshin proposed to Jyoti on an evening walk by La Jolla Cove in late 2007. They now have two children, ages 10 and 4, with whom they share their love of nature.
Jyoti and Dhakshin are both faculty in UC San Diego's Department of Psychiatry and founders and directors of the NEATLabs. Jyoti is also finishing her MBA at Rady School of Management. While she has a class on the evening of Valentine's Day, she said, "We don't let busy schedules get in the way. We are up in Julian that weekend, spending our time in nature again, hiking with our little ones."
---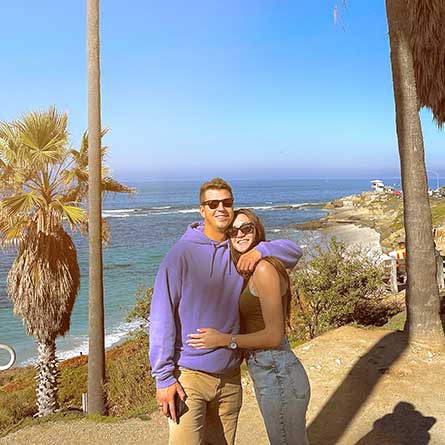 Jovana Papaz and Vedran Latkovic
It was a match made in the Spanos Athletic Performance Center for scholar-athletes Jovana Papaz and Vedran Latkovic. UC San Diego women's volleyball player Jovana was in a workout session when she met Vedran, who plays on the university's men's water polo team.
Jovana, who is from Bosnia and Herzegovina, was speaking on the phone with her parents when Vedran, who is from Montenegro, overheard her speaking Serbian. The couple first bonded over the fact that they shared the same language.
"We actually live very close to each other, as those countries share the same border. It is funny because we met here, on the other continent, not back home," recalled Jovana. "He heard me speaking, and he came to ask me where I am from and if he can get my number. Within the next couple of days, he texted me and that's how it all started."
Since the start of their relationship in 2021, the couple has built fond memories at the Torrey Pines Gliderport that borders the UC San Diego campus. "We go there at least once a week—we pick up some food and enjoy watching the sunset. It never gets boring," said Jovana.
When they have free time from studying or practicing with their respective teams, the couple loves watching Netflix and going to the beach. Both scholar-athletes also plan to graduate in 2022—Jovana is studying international business and Vedran is studying psychology.
---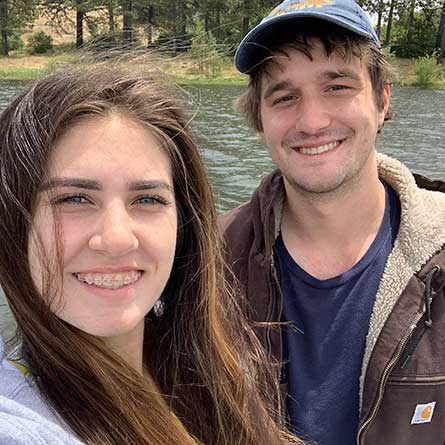 Samantha Bell, '21 and Trevor Tilston, '20
The love story between UC San Diego alumni Samantha Bell, '21, and Trevor Tilston, '20, got its start before either had even set foot on campus. The pair first met in 2016 while attending the same community college. While they both liked each other, Trevor was set to transfer to UC San Diego, which put their blossoming relationship on pause.
The following year, however, Samantha learned she was also going to become a Triton: "I was excited to go to UC San Diego, but deep down, I was really excited that I would get to see Trevor again," she shared.
While in college, the couple—who both graduated with a degree in political science—loved going to eat at Blue Pepper Asian Cuisine. "It was our favorite place to eat on campus and it's truly where we both fell in love with Thai food. To this day, we make it a point to try all the Thai places around where we live because we love the cuisine so much," said the couple. "The next time we make it on campus, we'll definitely be stopping by there to have lunch."
Today, Samantha and Trevor live in Los Angeles with their two dogs named River and Lulu. For Valentine's Day, the couple will be celebrating with a dinner at Duke's in Malibu, which also has a location in La Jolla. "We already have reservations and it's a tradition now that started back in San Diego where our love began," said Samantha.
---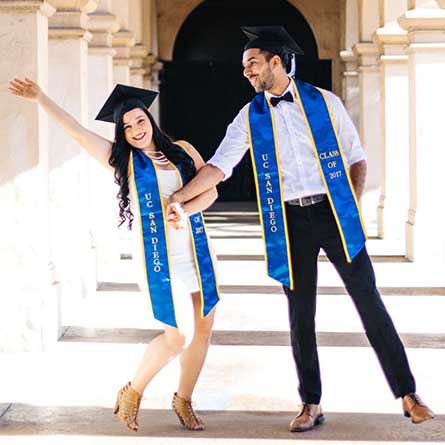 Crystal King, '17 and Jordan King, '17
While Crystal King, '17, and Jordan King, '17, saw each other around on campus and were both involved in Residential Life at UC San Diego as undergraduates, the couple didn't get to know each other until 2016 when they both began their resident advisor training for Eleanor Roosevelt College (ERC).
Crystal shared, "We really hit it off and became good friends rather quickly. We spent a lot of time together, just about every single day, because we genuinely enjoyed each other's company and we found out that we had a lot of 'small world' connections." Not only did they learn that they shared the same hometown of Los Angeles, but also that their respective high school volleyball coaches had gotten married to each other!
When it comes to fond memories at UC San Diego, the couple loved going to get food on campus—like Santorini's gyro fries and Tapioca Express boba drinks—and sit and talk in Price Center, or take them back to one of their apartments and watch movies.
Jordan added, "ERC definitely holds a special place in our hearts as a couple because that is where we met and spent a lot of our time together. We went back to visit this past August and it was nice to walk down memory lane and remember all the places we hung out together, studied, ate, and more."
Now married for over four years, the couple lives in the Central Valley with their rescue dog, Luna. Crystal, who studied human development and education studies, now works as a high school counselor. Jordan, who studied communication, currently serves as the Director of Student Ministries at a local church.
---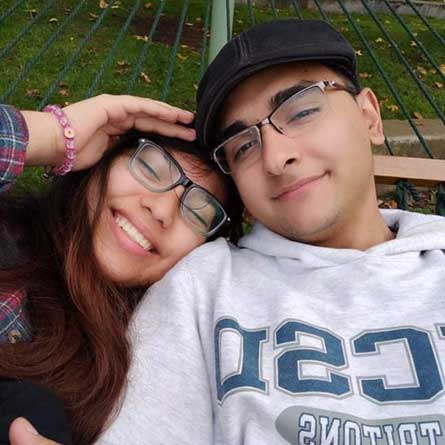 Maria Walker and Anthony Ostia, '20
The self-described "shy but ambitious" sophomore Maria Walker met senior Anthony Ostia, '20, in spring 2019 while working at the UC San Diego Bookstore. While Anthony initiated conversations early on to get to know his new coworker, their schedules never fully aligned until the next fall.
Once reunited, though, Maria tried her best to strike a conversation or catch Anthony's attention. "One Saturday, I brought my homemade cookies for everyone and gave Anthony his own bag—he still didn't get the memo," she said. After a few times hanging out—watching his favorite movie "Ip Man" and having an unofficial dinner date—Maria realized she liked Anthony. The feelings of young love were mutual.
Their first official date on campus was when everything clicked. After their shifts at the bookstore, the pair met at Price Center for a meal at Tapioca Express. Anthony fondly said, "I was standing in line when Maria came up to me and immediately held my hand."
Looking back, the long-distance couple says the hammocks in Price Center were a memorable spot on campus for their relationship. "The hammocks were a relaxing place for the both of us to catch up about our days and support each other when the quarter was getting too tough," said the couple.
Today, Maria continues to work at the campus bookstore and plans to get a degree in urban studies and planning in 2022. Anthony, who graduated in 2020 with a cognitive science degree, lives in Los Angeles and works as a Site Reliability Engineer for a startup company.
Stay in the Know
Keep up with all the latest from UC San Diego. Subscribe to the newsletter today.