Harry Markowitz, Economic Sciences, 1990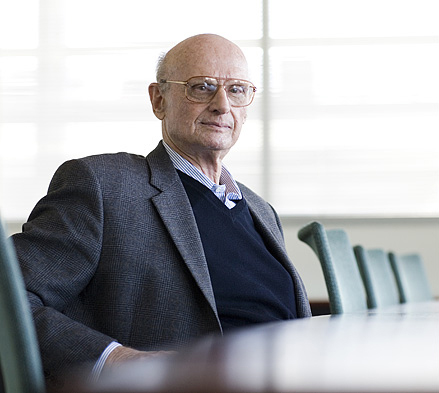 Harry Markowitz
Harry Markowitz is best known for his pioneering work in modern portfolio theory, for which he received the Nobel Prize in Economic Sciences in 1990. Modern portfolio theory outlines the concept of investment diversification to optimize reward while minimiz­ing risk. This year has special significance for Markowitz, an adjunct professor at UC San Diego's Rady School of Management, as it marks the 60th anniversary of the publication of his seminal work on portfolio theory, which was published in 1952 by the Journal of Finance.
Currently, Markowitz is in the process of writing a four volume, comprehensive book entitled "Risk-Return Analysis: Which, Why, When & How." The first volume of the book is expected to be published by McGraw-Hill in 2013.
Markowitz teaches Portfolio Theory in Practice at the Rady School, giving his students the opportunity to learn about the applications of his revolutionary theory.
Current Faculty Nobel Laureates
"Rady has given me the opportunity to teach portfolio theory the way it's actually used in the field," Markowitz said. "Not only do students learn the theory, but more importantly, they learn how the theory works in practice. "By allowing students to become actual advisors, they are able to get a feel for what happens in the field. I very much value the opportunity the Rady School has given me to teach my students in the same way I advise my clients."
In addition to teaching at the Rady School, Markowitz consults at the Harry Markowitz Company. He is also active on the advisory boards of several investment management firms.
Beyond economics, Markowitz has a love of the arts, particularly music. "I have a passion for music," he said. "I played the violin in my high school orchestra, but gave it up when I went to college. I am not a very good violinist; I play for my own entertainment. I enjoy Shakespeare, especially live performances rather than reading his plays. I also enjoy poetry, especially Robert Frost, Robert Browning and Shakespeare."
Stay in the Know
Keep up with all the latest from UC San Diego. Subscribe to the newsletter today.