"Happy Birthday To You" – Dr. Seuss' 112th Birthday Celebration Set for March 2nd
Published Date
Article Content
The University of California, San Diego campus is making preparations for its annual birthday party to celebrate one of the campus's most beloved luminaries, Theodor Seuss Geisel, better known as Dr. Seuss. The fantastically creative children's book author's 112th birthday celebration coincides with national Read Across America Day and comes on the heels of the UC San Diego Library's recent announcement to name its new café in honor of the author's wife, Audrey Geisel.
The party, which is open to Dr. Seuss fans both on and off campus, will be held at noon on Wednesday, March 2, in front of Geisel Library, the campus's flagship building named in 1995 for Theodor and Audrey Geisel. The event will be hosted by University Librarian Brian E. C. Schottlaender. Birthday festivities include a giant inflatable Cat in the Hat as well as free cake and Seussian musical entertainment by The Teeny Tiny Pit Orchestra, directed by the Library's Scott Paulson.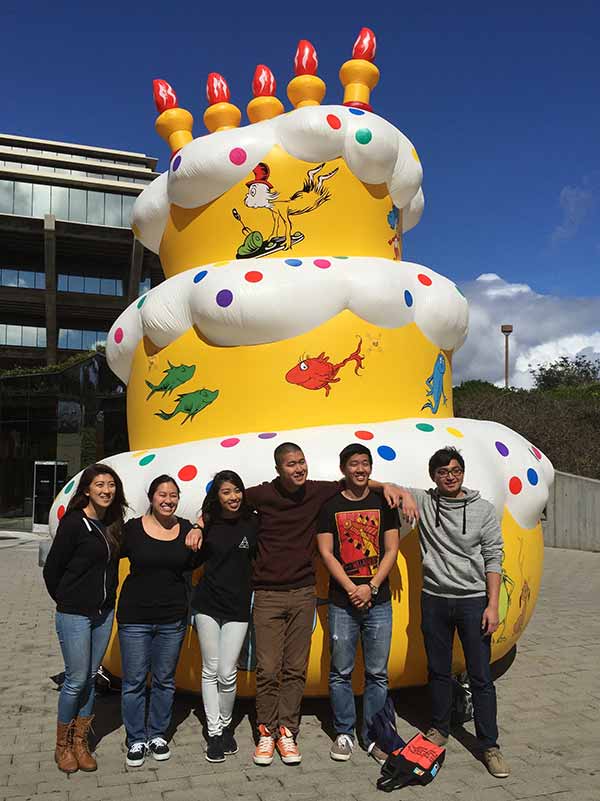 In addition to the birthday party, a modest exhibit of materials from the Dr. Seuss Collection will be on view from February 23 through March 7, 2016 in Geisel Library.
The UC San Diego Library received Theodor Seuss Geisel's collection of drawings, manuscripts, notebooks, and other memorabilia after his death in 1991. In 1995, Audrey Geisel made a substantial donation to support the university's Library, which was subsequently named Geisel Library. Last year, Audrey Geisel made a $3 million donation to the Library to refurbish the building's main public spaces. The Library's Special Collections & Archives is the world's main repository for the original works of Dr. Seuss. The Dr. Seuss Collection holds more than 15,000 items, including original drawings, sketches, manuscript drafts, books, notebooks, photographs and memorabilia, documenting the full range of Geisel's creative achievements, from his high school activities in 1919 through his death in 1991.
For more information about the Dr. Seuss Collection at the UC San Diego Library, visit Dr. Seuss Collection.
Stay in the Know
Keep up with all the latest from UC San Diego. Subscribe to the newsletter today.