Halıcıoğlu Data Science Institute (HDSI) Held Undergraduate and First-Ever Graduate Orientation
Halıcıoğlu Data Science Institute (HDSI) held its undergraduate and first-ever graduate orientations for the Fall 2022-2023 year.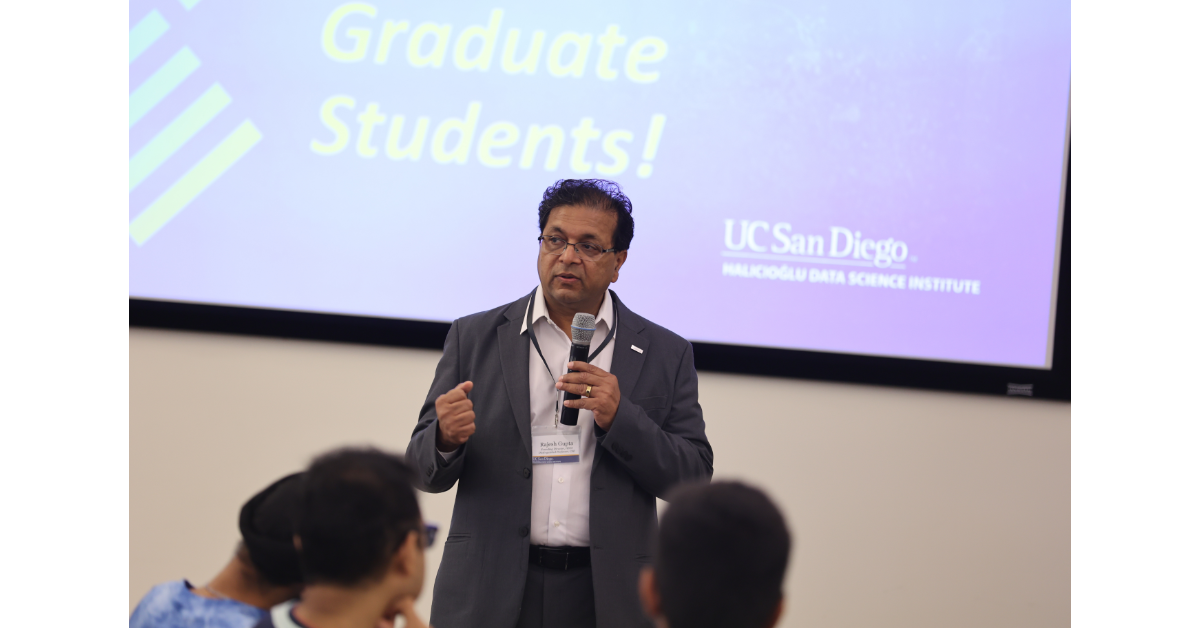 Published Date
By:
Share This:
Article Content
The graduate Student Affairs team at HDSI held its first HDSI Graduate Students Orientation on Sept. 15th, to welcome the first-ever cohort of Data Science (DSC) graduate students! There was a planned poster session and lunch as a way both to showcase their research and an opportunity for new graduate students to meet HDSI faculty members. Current Ph.D. students or postdocs were asked to present a poster at the event to highlight the diverse research activities at HDSI to the new grads and industry partners.
Over 60+ MS and Ph.D. students attend the morning session, which included a program review from Dr. Yusu Wang, an information guide from our data science librarian, and lightning talks from 6 faculty members representing different research areas of HDSI. After the formal orientation, students were invited to attend a poster session where current students, faculty, and postdocs share their research and which provided new students the opportunity to socialize with faculty and our industry partners.
"It is really exciting to see the launch of our Data Science Graduate Program at HDSI, which has been several years in the making. It was amazing to welcome our first cohorts of DSC graduate students, and to see their excitement as well! We look forward to providing these young bright minds the best education in data science so as to prepare them to become major players in DS across industry and the academy," said Dr. Yusu Wang, who is also a professor at HDSI.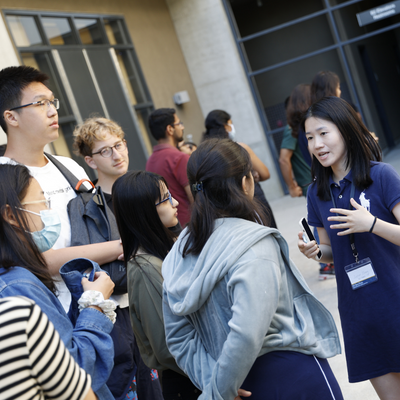 The Undergraduate Student Affairs team also hosted their New Student Orientation on Wednesday, September 21, in the SDSC Auditorium.
They hosted a morning session for incoming freshmen and the transfer student orientation in the afternoon. Both Orientations featured a welcome message from the Director of HDSI, Dr. Rajesh Gupta, with presentations from Faculty/Student Affairs, Career Services, Industry Relations, and the Data Science Librarian. Following the presentation, Student Organizations and all presenters will break out into tabling sessions. This portion of the event will allow students an opportunity to ask questions in smaller groups. Student Affairs hosted a combined 234 students across two sessions (190 First Years in the morning and 44 Transfers in the afternoon)
Suraj Rampure, Lecturer, at HDSI, who also attended the event commented, "The energy in the room was amazing - our incoming cohort of students is extremely motivated and we're excited to work with them."
Stay in the Know
Keep up with all the latest from UC San Diego. Subscribe to the newsletter today.