Get to Know Frances Contreras, César E. Chávez Celebration Kickoff Speaker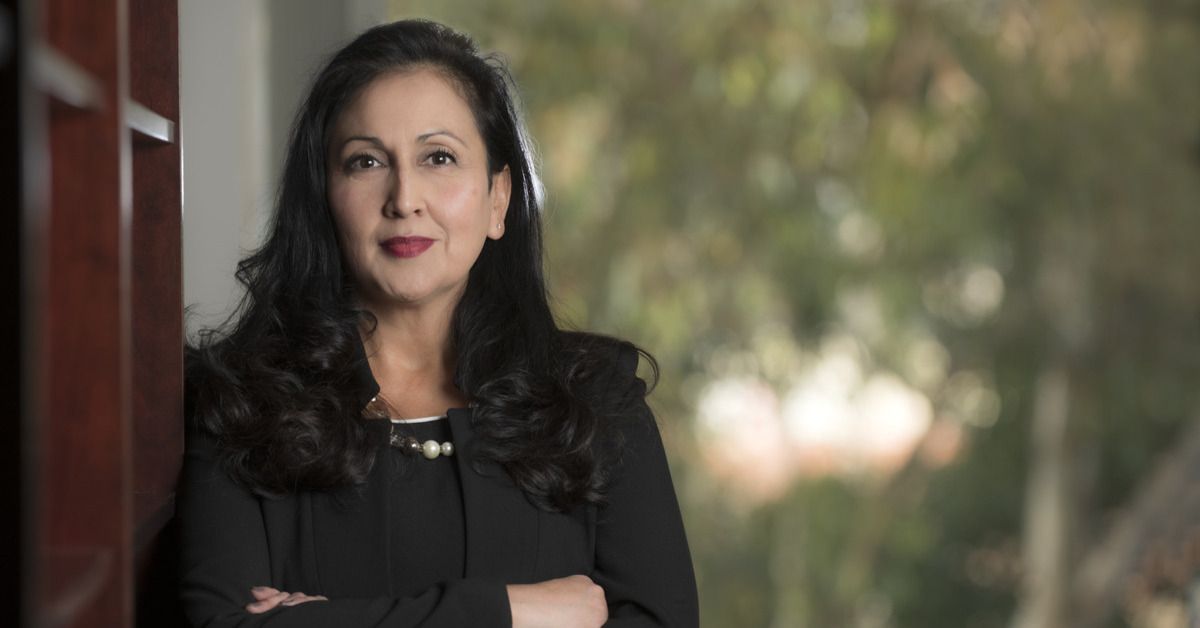 Published Date
By:
Share This:
Article Content
To help kick off the start of UC San Diego's César E. Chávez celebration month, UC Irvine School of Education Dean and Professor Frances Contreras is visiting campus on April 6 to deliver a special keynote address. The trip will be a homecoming of sorts for Contreras, who previously served as associate vice chancellor for faculty diversity, equity, and inclusion at UC San Diego.
Contreras has achieved many "firsts" throughout her career in higher education. Alongside being a first-generation student and faculty member, she is the first Chicana/Latina dean to head a school of education in the University of California system. In 2021, she was honored by the San Diego City Council when they declared December 17 "Dr. Frances Contreras Day."
As a campus community member for over a decade, Contreras played a major role in guiding UC San Diego in its journey toward becoming a Hispanic-Serving Institution (HSI). She was a member of the team that designed the university's Latinx/Chicanx Academic Excellence Initiative, which is committed to actively transforming UC San Diego into a student-centered university for the success of current and future Latinx/Chicanx students, families and communities.
To this day, Contreras maintains close ties to the university and is affiliated with the Department of Education Studies as a dissertation advisor for doctoral students. She earned her bachelor's degree from UC Berkeley, a master's degree from Harvard University and a doctorate in Administration and Education Policy from Stanford University.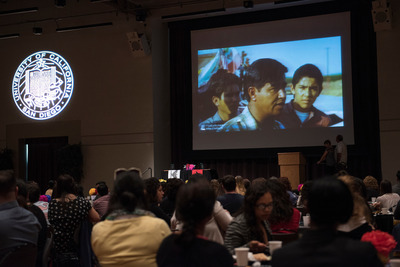 As part of UC San Diego's 22nd Annual César E. Chávez Celebration Kickoff and Scholarship Awards on April 6, Contreras will be speaking to a sold-out crowd about how to advance progress for the greater Chicanx/Latinx community in higher education. In advance of her visit, UC San Diego Today spoke to Contreras to learn what inspired her career path, what are some beloved memories she has from her time at the university, and more.
This interview has been edited for length and clarity.
What inspired you to lead a career journey of expanding equity and access for students of all backgrounds?
The most important factor that really inspired me to pursue a career in higher education was the potential to influence the next generation of scholars, coupled with the lack of Latinx faculty, Chicanx faculty and Latina faculty—specifically Latinas in higher education.
Going through some of the most elite institutions of higher education such as Berkeley, Stanford and Harvard and not seeing someone like myself—who looked like me, who dressed like me, who cared about community—was really somewhat of a challenge and culturally isolating.
I knew that I wanted to be a role model for the next generation. I saw that higher education and doing research on Latinos and students of color was really work that fed my soul.
From your work at UC San Diego to your current role at UC Irvine, what inspires you as you strive to create welcoming, inclusive campus environments?
What inspires me every day is the incredible research, teaching and engagement that's happening at these institutions. But I think more importantly, what inspires me is the hope and passion that students have for their own journeys. For example, witnessing students learn a new theory, learn research methodologies, or be inspired to go back and give back to their communities. That's the work that's critical and needs to be happening.
For me, it's seeing students in action! Students that are active and engaged, students that care about the environment, students that are trying to change our everyday practices and students that are pushing us to be better.
Can you talk about your role and impact in elevating UC San Diego as an emerging Hispanic-Serving institution?
UC San Diego was the first campus to have a Latinx/Chicanx Academic Excellence Initiative. They were the first of the UC system and we take great pride in being one of those first institutions to really call out what many of the leaders at the time were thinking, "We want to be strategic about becoming an HSI." A Hispanic-serving institution is an institution that has a 25% or greater composition of Latinx students. This label without strategy would not get us to the point of being an institution that actually served its Latinx/a students.
We wanted to be strategic and we wanted to be inclusive. Of course, I have to give credit to the work of Frank Silva, who is now the associate vice chancellor and chief of staff for the Office of Equity, Diversity, and Inclusion and Vice Chancellor Dr. Becky Petitt who supported our efforts from day one.
In those early days of co-designing the initiative, Frank was very strategic about bringing the key players to the table—we had faculty, staff members, students and graduate students.
We were intentional that we were going to approach our HSI efforts differently and that we wanted all stakeholders at the table if we were going to have an initiative that was inclusive but also have longevity. We were working to create this blueprint for institutional transformation. It was one of the best organizations and committees that I was a part of during my decade at UC San Diego.
Can you share one of your top beloved memories while serving UC San Diego?
Of course, there are a few—personal and professional! The personal is that I had my daughter Victoria in San Diego. That's the top of all memories of being in San Diego. As a mother and scholar, centering familia is who I am. And I was able to prioritize my family and be part of a larger community at UC San Diego.
In terms of my beloved memories was really the family—this academic familia—that I was able to create and be a part of while I was there at UC San Diego. It was the Latinx/Chicanx Academic Excellence Initiative, where I knew I could call any one of them. It was my colegas, those faculty members that were doing comparable research, even if they were in engineering or if they were in history.
We would come together and think about how we were—or were not—supporting our students and what we needed to do to change the status of Latinx students on campus.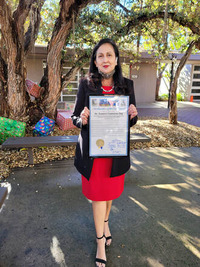 Some of César E. Chávez's core values include acceptance of all people, celebrating community, service to others, knowledge and innovation. Among these values, are there any that you particularly connect with and guide your work?
I would say a value that resonates most with me, particularly during my time at UC San Diego, is the notion that we need to celebrate community. Oftentimes institutions of higher education are not the most warm places, but I think celebrating one's comunidad and staying true to one's identity is really one of those values that I hold personally very high.
And then of course, as an institution of higher education, the core value of knowledge. That we're always seeking to develop new knowledge and innovation and inspire creativity.
In addition, César Chávez was very humble. So, supporting the creation of knowledge and innovation, but also being humble and having a sense of humility that there are many other great scholars out there doing cutting edge research—yet there are still also many other great innovations yet to be determined and created! His sense of humility resonates with me.
What is something about you that might surprise people?
What might surprise people about me is that—and people always say this—you'll never go hungry in my home. I'm very much one of those individuals that if you come to my home and celebrate a meal with me, it quickly becomes a party and a celebration! Many consider academics introverts or focused on their research 100 percent of the time, but we also lead lives beyond our work.
I think what also might surprise people is just how open I am to not only hosting, but breaking bread with multiple individuals and working alongside multiple communities to advance our common efforts. Collaboration is a value I try to practice and is necessary in higher education. It's so incredibly important to me to reach across the aisle and support the work of multiple communities of color and not just focus on one particular community.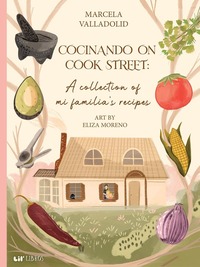 Can you tell us a Latinx book, tv show or movie that you'd recommend?
So, I'm going to have to put my "mom hat" on for a second. One of the books I'm thoroughly enjoying is from a San Diego native, Marcela Valladolid. It's a children's book called "Cocinando on Cook Street: A collection of mi familia's recipes." I'm enjoying reading and trying those recipes with my daughter and with my son and just thinking about how we tell a story of the generations through our food.
As I honor the life of my grandmother who just passed away and was 96 years old, I think about and resonate with how she passed on many of those recipes and stories through food and through our interactions. It is how she showed many children and grandchildren she cared while also passing on our cultural traditions.
That book holds a lot of memories for me as I work to create memories with my own children. If you're ever cooking with a young person, I highly recommend it.
Stay in the Know
Keep up with all the latest from UC San Diego. Subscribe to the newsletter today.