Gaining Confidence and College Credits
High school and incoming first-year students test drive college courses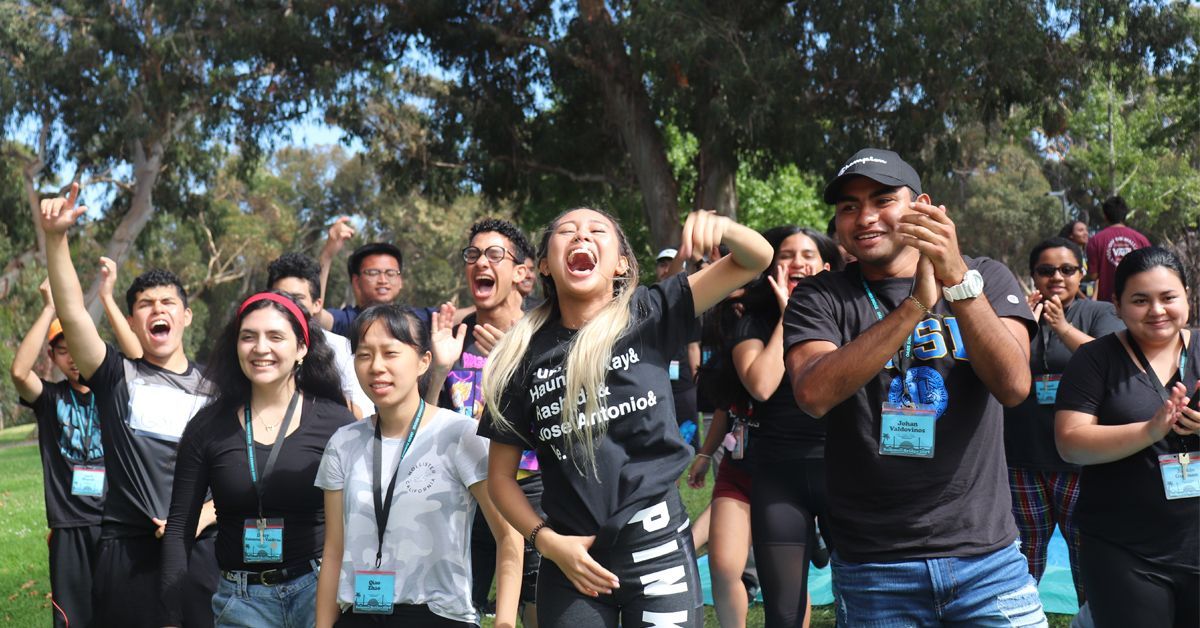 Published Date
By:
Topics:
Share This:
Article Content
It takes courage to begin something new—but that's what hundreds of local students did this summer as they explored topics they may have never considered before. Through an innovative series of online and in-person course offerings, students increased their confidence as a scholar while earning college credit and getting to know the UC San Diego campus.
Two unique opportunities were offered. Starting in June, local high school students were immersed in novel subjects while gaining essential insights about what it takes to succeed in college-level online courses through the new Discover UC San Diego program. Then in August, hundreds more students set to enroll at the university as first-years got a head start through Summer Bridge, a college transition program that celebrates 45 years this year.
How did it go? We connected with participants from both programs to learn about how the experience set them up for success.
High school students skip honors courses and head straight to college
When Gabriella Salas first read the course description for "Ethnic Studies: Land and Labor," she was unsure what to expect. As a student at Hoover High School in San Diego, she had never taken a college-level class, but she took the leap and signed up.
The course was one of three offered as part of the new Discover UC San Diego program, designed to give direct access to courses delivered by the university's world-renowned faculty. Beyond learning a new subject, students gained insights that may help them choose a major when applying to college, and the credits earned are transferable to any university accepting UC San Diego credits, helping them earn a degree faster.
"I didn't know what I was doing, I didn't have any time management skills and I wasn't even confident in the work that I had turned in," explained Salas during the program's summer celebration. "By the end of this course…I learned how to not always doubt myself, how to properly manage my time and I had gained a broader perspective of the world and other communities outside of my own."
The idea was sparked by several campus partners—including the Office for Educational Innovation, Division of Extended Studies and the Teaching & Learning Commons. Recognizing that not every high school in San Diego offers students the chance to take honors courses—which would enable them to get a head start once starting college—the team developed a new resource that could change a student's trajectory. This initiative is just one example of the university's collective impact approach where multiple experts come together to execute a shared vision and accelerate impact.
This summer more than 120 students from San Diego Unified School District enrolled in one of three courses offered in the pilot: "The Atmosphere," "Intro to Computer Science" and "Ethnic Studies: Land and Labor." Each class was uniquely developed to be accessible to high school students while maintaining the rigors of a college course that undergraduates would enroll in. Taught by UC San Diego faculty, students were able to explore a field of study they might like to pursue in college while also previewing what it takes to complete a college course successfully.

For Crawford High School student Kimmy Dang, enrolling in "The Atmosphere" opened a whole new way of seeing the world. "I learned about clouds and aerosols, balancing terrestrial and solar radiation, precipitation—topics that I could not have imagined touching upon in my high school education," she shared at the closing ceremony. "Everything was a surprise and they all led to a greater appreciation of earth and its beauty. Trust me when I say in all the best ways, I will never look at a cloud the same way again."
UC San Diego professors equally relished the experience. "I really enjoyed the energy, insight and creativity that the students of San Diego brought to the course," shared Lynn Russell, professor of atmospheric chemistry at Scripps Institution of Oceanography who taught "The Atmosphere." "Many students told me how much they appreciated learning about the 'real' environment and the practical applications of the physics, chemistry and math they had learned in school. They liked learning about how the atmosphere affects so many aspects of life, and learning how human activities affect the atmosphere."
What's next? A new cohort of high school students will enroll in fall quarter courses, with more options including American Sign Language that will have opportunities to learn in real time with their professor. Course offerings will continue to grow each subsequent quarter, and instructional leaders plan to translate content into Spanish. The ultimate goal is to scale the program to extend across San Diego County and Imperial Valley, improving educational equity for more students.
Summer Bridge accelerates math preparation at the 45-year mark
Confidence building was at the heart of another program this summer. More than 700 incoming UC San Diego students took part in Summer Bridge, a longstanding transition program that has become a beloved tradition.
Co-led by OASIS and the Teaching & Learning Commons, the program inspires fervent loyalty among participants, many of whom choose to return as mentors or staff members after graduating—like Martha Montoya Celedonio, a program alumna who is now a Summer Bridge staff member.
"Coming here was a big culture shock; it was a big thing to be the first person to go to college," said Montoya Celedonio, "As an English language learner, the writing hub helped me a lot, and being able to take courses early allowed me to mentally prepare and know what to expect. I'm very grateful for the experience."
The program has served thousands of first-generation and historically underserved students over the past 45 years. One of the newest is Marie-Joe Franci, a first-year pharmacological chemistry student who moved to the U.S. in 2020 from Beirut, Lebanon. She first attended Grossmont High School, then transferred to The Preuss School for her senior year. This fall she will enroll at UC San Diego, drawn to the university for the opportunity to do undergraduate research.
After taking part in the five -week Summer Bridge program, Franci had two realizations: "First, it's important to stop procrastinating; Summer Bridge courses are fast paced so once you fall behind it's hard to catch up. Second, I learned that asking questions is important. You cannot expect to receive answers without asking. Summer Bridge staff can give you a lot of information but all you have to do is ask."
Most of all, Franci feels more prepared to start her fall quarter. "Summer Bridge is a perfect program for students who are worried about getting lost in college," said Franci. "I've received a lot of support and guidance from a lot of mentors, and this makes me feel more confident about college life."
Like a rehearsal, Summer Bridge offers a glimpse of college life before the full premiere begins. Students can earn up to eight units of college credit while making friends, discovering resources and finding belonging within the UC San Diego community. And it doesn't stop there; though the program kicks off in the summer, students get the benefit of peer mentorship, academic support and social events throughout their entire first year.
These strategies have proven effective over decades. But the program continues to evolve to meet student needs. Here are just a few innovations that have happened:
Like an orientation for Summer Bridge, the Teaching & Learning Commons launched RAFT Week, which stands for "Readjust, Acclimate, Familiarize and Transform." This weeklong series helps students hone time management, communication and study skills so they can begin to build their success toolbox.
The Commons also prepares instructors to best serve students from marginalized backgrounds. This can look like creating a more inclusive syllabus and better understanding the responsibilities students undertake—for instance those who work multiple jobs in the summer as income providers for their families.
A new math pilot program was held this year that combined Math 2 and Math 3C to enable students to progress quickly enough to reach the foundational calculus course required for many STEM majors. The course relies heavily on community-based support, with supplemental instruction sessions held by student peers.
Summer Bridge has grown exponentially with the addition of virtual participation following the pandemic. Engagement went from 300 to over 700 students, with 75% enrolled virtually. Remote students who live in the San Diego area are invited to the campus to take part in social activities, with transportation provided if necessary. Virtual options are also provided for those who can only take part online.
Topics:
Share This:
Stay in the Know
Keep up with all the latest from UC San Diego. Subscribe to the newsletter today.