Faculty and Students Sharpen Skills in Teaching and Learning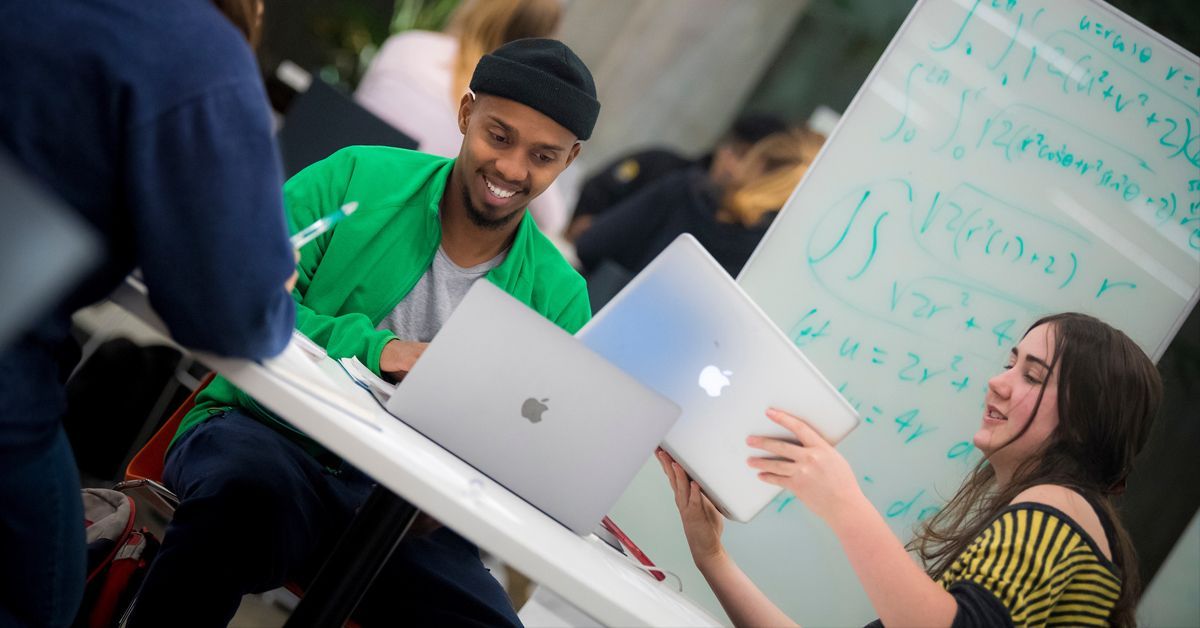 Published Date
By:
Topics:
Share This:
Article Content
On most days of the week, you'll find the Teaching + Learning Commons bustling with activity. There are white boards covered with complex mathematical equations, students quietly discussing essay structures, and groups of undergraduates teaching each other key concepts ranging from atomic theory to polynomial functions and bioenergetics.
Since its creation in 2015, The Commons has served a unique purpose at UC San Diego—to help students master the best ways to learn, and to assist faculty and graduate students in enhancing learning outcomes and student experiences in the classroom. The sunlit space on the bottom floor of Geisel Library has become a magnet for students; in the 2021-22 academic year alone, over 173,000 appointments were made for tutoring, supplemental instruction and writing consultations. And this intentional effort, done in collaboration with cross-campus partners, has translated into dramatically improving graduation rates while closing equity gaps.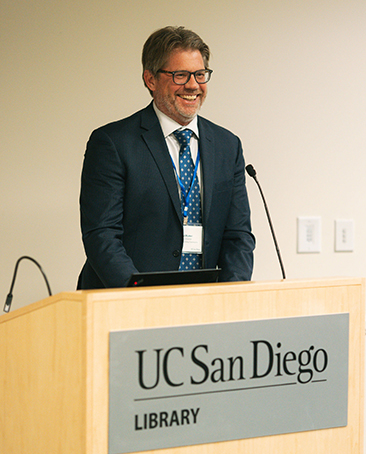 This success corresponds with a revitalization happening at The Commons with a new faculty director at the helm, David Ruiter, and the launch of a strategic plan. The campus community was invited to a special anniversary celebration at the end of January to hear about how services are evolving to meet the needs of a diverse student population. Ruiter also shared information about a highly anticipated Student Success Help Desk that will open in 2026 as part of the new Triton Center, to be co-led by the Student Retention and Success team.
Many expressed gratitude during the event to former inaugural faculty director Gabriele Weinhausen and past Executive Vice Chancellor Suresh Subramani, who helped launch The Commons. Executive Vice Chancellor Elizabeth H. Simmons lauded the program's novelty. "The Commons is really a true emblem of everything we do to be a student-centered and research-focused university. One of the really genius ideas was to make it a teaching and learning commons so that it would do everything necessary to support students as they learn…and also to help the faculty be the best educators they can possibly be."
Faculty uncover fresh approaches to inclusive student engagement
Today's college student population is a dynamic one. The idea of a "traditional student"—an 18 to 22-year-old who lives on campus, dedicates their time solely to studying and doesn't have any other competing demands—has largely diminished. In response, UC San Diego faculty have also evolved their teaching to be more inclusive and accessible. With the support of The Commons, they are discovering new methods of content delivery and ways to engage students in the classroom as well as virtually.
"Faculty are experts in their disciplines, and it is a primary function of ours to build their pedagogical confidence and help them think about the learning outcomes they want their students to achieve," explained Ruiter.
Instructors of all teaching levels and ranks, from those just beginning their careers to faculty with decades of experience, take part in a variety of professional development opportunities. One of the most impactful is The Commons' Changemaker Fellowship Anti-Racist Pedagogy Learning Community, which brings together graduate students and faculty fellows to critically examine teaching practices through a racial equity lens. The goal is to enrich their teaching practices to promote the well-being and outcomes of all students, with a particular focus on Black, Latinx, Native American and other underrepresented students.
"We continue to be inspired by the dedication to teaching excellence by those with whom we've had the pleasure of working," said Associate Director Carolyn Sandoval. "During these biweekly learning community sessions, we are able to come together to generate amazing ideas and break down barriers to support students in the best way possible."
To do this work requires a strong team built on equity, which according to Ruiter is a fundamental strategic goal and principle. The influx of requests that flooded The Commons during the start of the COVID-19 pandemic proved to be a trying test of capacity, which the team met with steadfastness. The sense of reliance on one another for expertise and the commitment to continued learning developed during this time will serve as a model for the years ahead.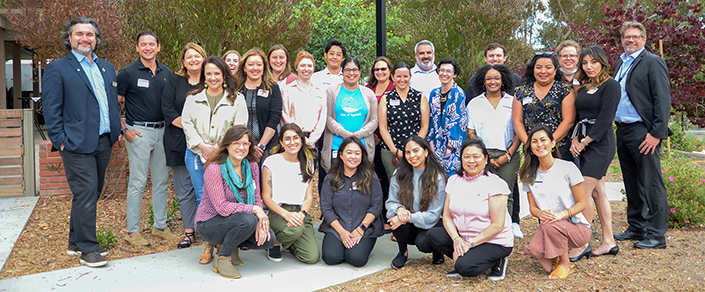 Students bond by finding solutions together
The Commons collaborates with numerous partners within Student Retention and Success, a department within Student Affairs led by Assistant Vice Chancellor Maruth Figueroa that includes programs such as the Office of Academic Support and Instructional Services and Student Success Coaching Program. Together these teams use a collective impact model to improve student academic success, belonging, engagement and wellness–all significant contributors to whether a student will persist through graduation.
Ruiter explains that the way students begin their first quarter at UC San Diego can foreshadow their future trajectory. "Student academic success in the first terms of their university experience is the most predictive indicator of their continued success and timely graduation," he said. "Therefore, we invest significantly in both student and faculty support in early courses that have been historically difficult."

It can be a domino effect. If a student struggles in their initial courses, that can extend time to degree and also the amount of tuition paid over the course of their degree. The Commons is addressing these potential pitfalls right from the start. A key program is Supplemental Instruction, which offers study sessions led by undergraduates who have had past success in a historically challenging course and work with faculty to identify key concepts to review with student peers.
This winter quarter, more than 180 of these study sessions are being held, with support for key gateway courses, such as introductory biology, chemistry, physics, mathematics and economics. Since the program launched, there has been a substantial decrease in the rate of drop, withdraw and fail rates among students in these gateway courses. As a result, UC San Diego's graduation rates are improving.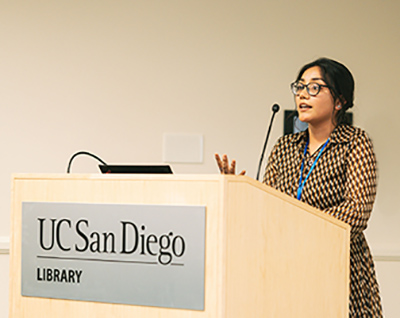 Student engagement and belonging also play an important role in academic success. Students have the opportunity to join a campus research project through the Undergraduate Research Hub, venture to another country through a Global Seminar, participate in a community service project through the Changemaker Institute and more. At The Commons, students are invited to explore the Academic Internship Program, which features opportunities like the UCDC program to gain on-the-job experience while living and studying in Washington D.C.
For senior Alba Reyes, having the chance to work at a policymaking organization in the nation's capital helped bring to life the lessons she was learning as a political science-international relations major (she is also majoring in literature/writing). After making an appointment with a program representative at The Commons, she was able to secure five internship offers, and pursued a strategy and client services position with marketing agency NJI Media.
"The hands-on learning was truly transformative," Reyes shared during the anniversary celebration. "Being at the company, learning how to balance sometimes a 40-hour internship while being in school, I learned that experience is eye opening, but education is invaluable. Having those at the same time is something not all college students can do."
Academic internship participants, like Reyes, develop career-readiness skills and competencies that are transferable from the classroom to a career through their applied-learning opportunities. Students that participate in experiential learning opportunities share, capture and reflect on their student involvement beyond the classroom in their Co-Curricular Record (CCR). Issued alongside the academic transcript, the CCR provides a more detailed account of student engagement and can be used when students apply for graduate or professional school as well as when seeking a career.
It is this holistic success model—helping students learn effectively and supporting faculty in strengthening their teaching practices and curriculum in innovative ways—that The Commons will continue to reinforce in the years to come. "We believe in the people we serve," said Ruiter. "They are talented, capable and have a desire to move forward. They come to us not because they lack strength, but because they want to achieve."
Topics:
Share This:
Stay in the Know
Keep up with all the latest from UC San Diego. Subscribe to the newsletter today.